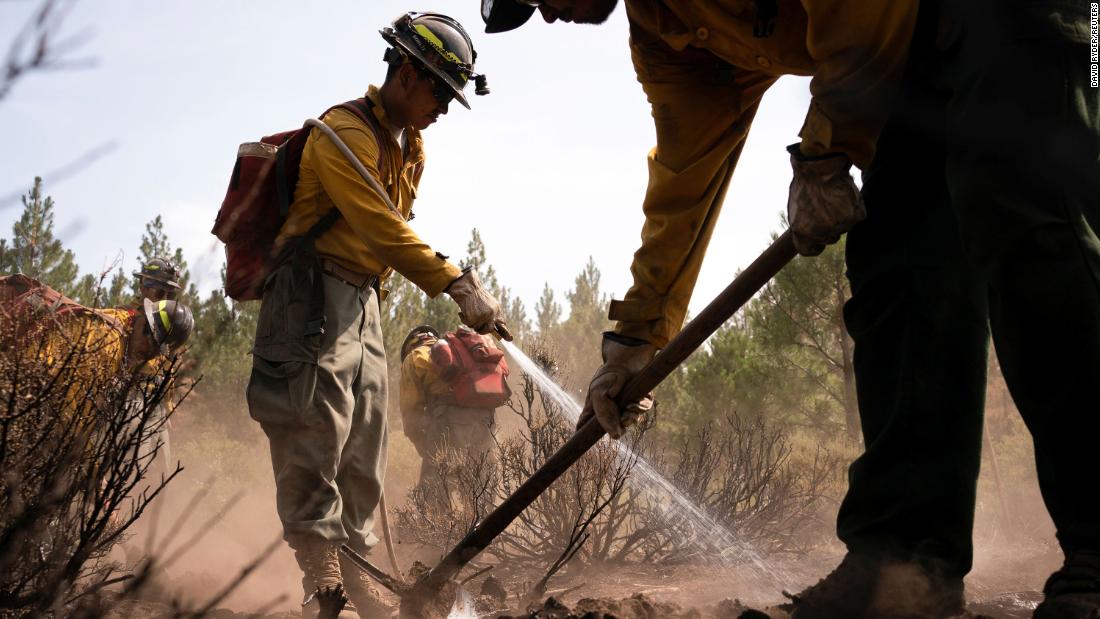 "We had a running crown fire, which means that the fire has reached the top of the trees and being pushed by the wind" moving at 30 mph, firefighter Eric West told CNN. "We all had to use our escape routes and pull back to a safety zone."
West and other firefighters spoke with a CNN crew in southern Oregon on Thursday about the hazards of battling the Bootleg Fire, which has consumed more than 400,000 acres and turned into the nation's largest active blaze since starting July 6.
The wildfire's growth
slowed late this week
, due partly to a change in humidity and lighter winds, and it was 40% contained Friday morning, according to
InciWeb
, a US clearinghouse for wildfire information.
But dry timber and grass should fuel the fire for some time yet, and firefighters won't relish what could come when gusts pick back up.
West and his crew were in an area where they needed to clean up spot fires Thursday. Another firefighter there, Dixon Wesley Jones, told CNN he was in a situation where he had to retreat, too, about a week ago.
"It sounds like a train, almost," he said of the oncoming flames. "It sounds like something crashing through the forest."
These clouds can act like thunderstorms, with lightning and strong winds — and they can endanger firefighters in the way.
"It falls apart, but it falls apart much more violently than a typical rainstorm, and winds come down right back toward the ground," Bootleg Fire incident manager Joe Tone said. "The winds go every direction, and they could be 30, 40, 50 mph."
That has pushed flames past containment lines during this blaze, sending firefighters back to safety zones and "start a new plan."
"I haven't ever been on a fire that's had as many pyrocumulus developments and collapses as this one has," Tone said.
More than 80 large fires burning in the US
Idaho is home to the most of the large blazes, with 23; Montana followed with 17.
CNN's Aya Elamroussi contributed to this report.
Source link