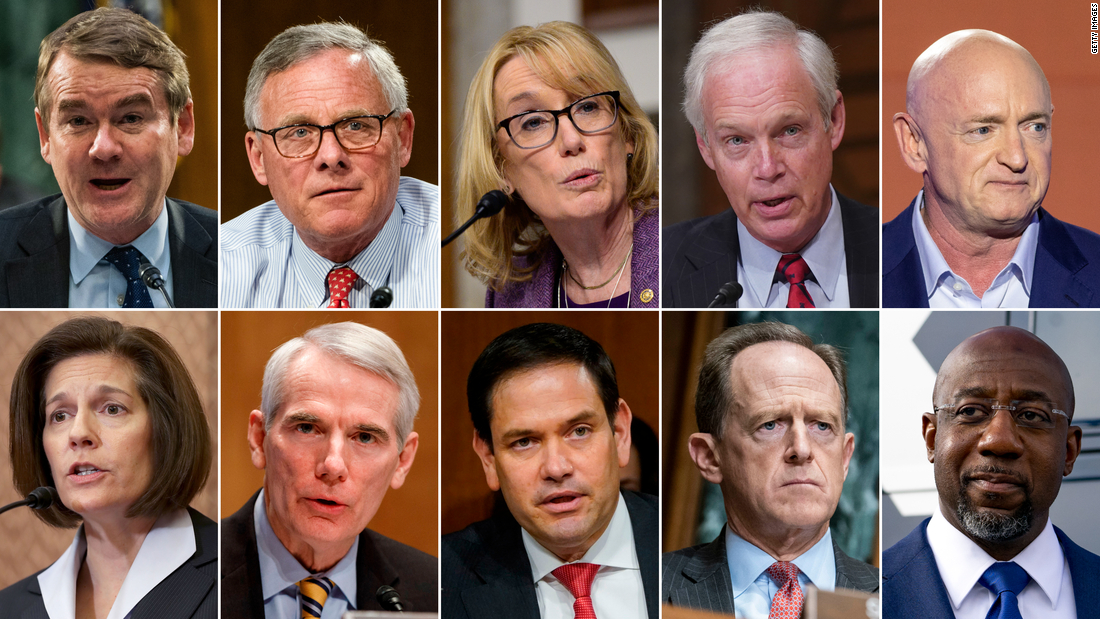 In this first edition, the top 10 slots happen to be evenly divided between GOP-held and Democratic-held seats. Three open seats are on the list, all currently held by Republicans who are retiring, making their seats more competitive than they otherwise would have been.
Regardless of historical precedent, the map of seats at play is important to consider. In 2018, for example, Democrats won the House by capitalizing on anti-President Donald Trump energy in the suburbs two years after he had been elected. But the Senate was a different story: Republicans gained seats because Democratic senators were up for reelection in rural red states where Trump had won.
This cycle, only one senator is running for reelection in a state carried by the opposite party's 2020 presidential candidate: GOP Sen. Ron Johnson. His Wisconsin seat is the third most likely to flip, but the two-term senator is the most vulnerable Republican incumbent.
Some states on this list will feel familiar. It wasn't too long ago that Georgia was the epicenter of the political universe, helping to deliver the White House and the Senate to Democrats. Expect the Peach State to be a big player again in 2022, with Democratic Sen. Raphael Warnock running for a full six-year term and control of the Senate on the line once more. Among the other states that were hotly contested in the 2020 cycle and again are on this list are Arizona, North Carolina and Colorado.
But long before the "Magic Wall" is coded in shades of red and blue, intra-party battles will dominate much of the news in 2021, with next year's nominating contests going a long way toward determining how competitive some of these general elections will ultimately be. Senate primaries — the fields nascent as they may be — are emerging as early indicators of where each party's base is headed. That's especially true for Republicans, who are very publicly grappling with what the GOP looks like with Trump out of the White House.
The extent to which Trump will get involved and will back candidates at odds with Senate GOP leadership remains to be seen. But he could be a potent factor in open-seat Senate races, like those in Pennsylvania, Ohio and North Carolina, where GOP incumbents — two of whom voted to convict him — are not seeking reelection.
A few other GOP-held states could eventually earn honorable mentions. For now, the only chance that Iowa becomes competitive is if the 87-year-old Sen. Chuck Grassley retires. He hasn't said what he's doing yet. But even Joni Ernst, the state's junior GOP senator, who was in a top-targeted seat last year, won reelection by more than 6 points.
The 10 seats below are ranked in order of most to least likely to flip. But it's still early in the cycle, with candidate fields in flux, so be sure to check CNN's next ranking to see how things have changed.
1. Pennsylvania
Incumbent: Republican Pat Toomey (retiring)
2. Georgia
Incumbent: Democrat Raphael Warnock
3. Wisconsin
Incumbent: Republican Ron Johnson
4. North Carolina
Incumbent: Republican Richard Burr (retiring)
5. Arizona
Incumbent: Democrat Mark Kelly
6. Nevada
Incumbent: Democrat Catherine Cortez Masto
7. New Hampshire
Incumbent: Democrat Maggie Hassan
8. Ohio
Incumbent: Republican Rob Portman (retiring)
9. Florida
Incumbent: Republican Marco Rubio
10. Colorado
Incumbent: Democrat Michael Bennet
CORRECTION: An earlier version of this story misstated Pat Toomey's title in one instance. He is a senator from Pennsylvania.