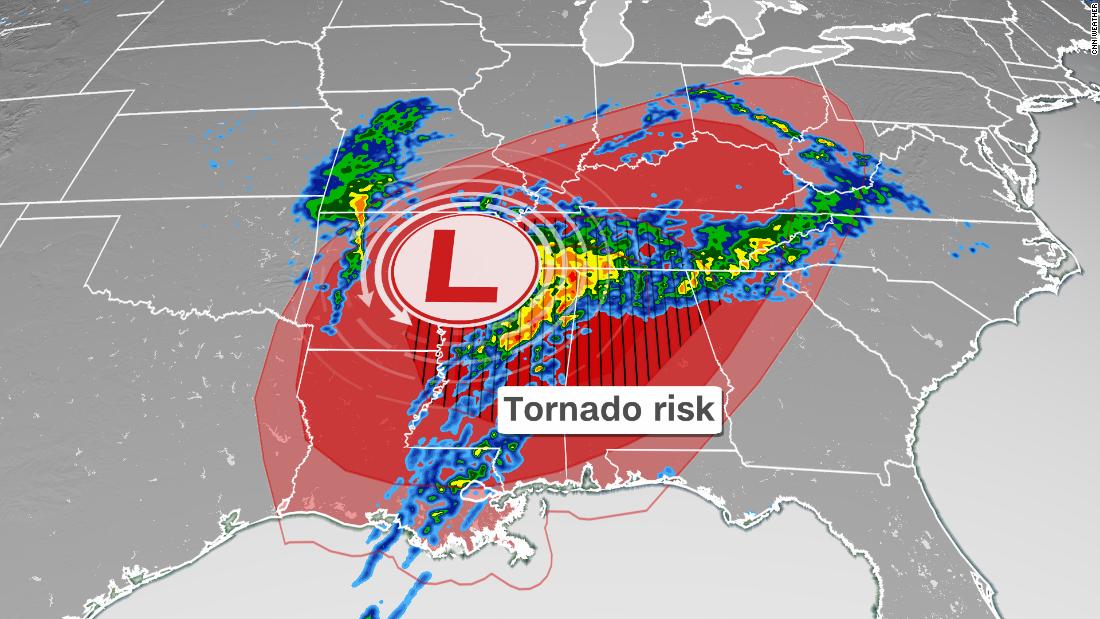 "A potential outbreak of severe storms including several long track strong tornadoes, large hail and damaging wind will exist Thursday into Thursday evening across a portion of the lower Mississippi Valley and Southeast States," said the Storm Prediction Center (SPC).
Long-track tornadoes are tornadoes that are on the ground for an extended period of time. The majority of tornadoes are on the ground for just minutes, but with some severe events, there could be tornadoes on the ground for hours. This kind of tornado is known for causing widespread damage.
The latest forecast shows a level 4 "moderate risk" for severe storms across northern Mississippi, southwestern Tennessee and northwestern Alabama. This level 4 out of 5 risk category means "widespread severe storms are likely," according to the SPC, with large hail, damaging winds and tornadoes all possible.
This "moderate risk" is an increase from yesterday's level 3 out of 5, "enhanced risk," meaning the threat and confidence in the forecast has increased.
"The ingredients will combine on Thursday for another severe weather outbreak in the South," said CNN meteorologist Chad Myers. "Very humid Gulf of Mexico air combined with strong rising motion will create multiple rounds of severe weather including rotating storms that could produce tornadoes."
Ingredients were there last week and tornadoes developed, but not as strong as forecasters thought possible. None of the 49 tornadoes were stronger than an EF-2 on a scale of 0 to 5.
Although the right atmospheric ingredients were present, they didn't mix-in precisely enough to produce the violent tornadoes that were forecast last Thursday.
"It's like if you put too many carrots in chicken soup, you end up getting a sweet carrot soup and not chicken soup," said Myers.
Tomorrow could be terrible and possibly another "high risk" day if the correct mixture of ingredients comes together.
Tornado chance appears first Wednesday night
Another active weather pattern setting up across the country is introducing storm systems that will instigate more storms.
A new storm system located over the southwestern US will eject into the Plains by Wednesday night. This will be the main driver for this new severe weather event.
Into Wednesday night, the SPC is forecasting the chance for severe weather from central Texas through Mississippi, with the greatest risk in central and northeastern Texas. This part of Texas faces a level 3 out of 5, "enhanced risk" category for severe weather.
During the day, scattered thunderstorms could break out across portions of central Texas, with a more widespread rain near the Texas Panhandle.
Wednesday night will become more active as a line of storms forms, bringing the risk mainly for strong winds and hail, but also the chance for tornadoes further east.
Flash Flood Watches are currently in effect for locations near the central Gulf Coast, including New Orleans, Baton Rouge and Gulfport, Mississippi.
Severe storm threat will be highest Thursday
Wednesday's storms will move east, centering Thursday across the Deep South as the severe storm risk area likely expands and becomes more significant. Strong storms will be possible from the Gulf Coast through as far north as Ohio.
A couple of stronger storms could be possible in this risk area Thursday morning, but the most active weather will begin in the afternoon when several supercell thunderstorms could form.
The forecast shows that the atmospheric conditions will be ripe and "will support supercells with low-level mesocyclones capable of producing strong tornadoes and large hail," the SPC said.
Into the overnight hours of Thursday, the storms are expected to evolve into a line as it tracks into parts of Alabama and Georgia.
By Friday, most of the South should dry out except for parts of Georgia and the Carolinas, where weakening showers and isolated thunderstorms could linger.