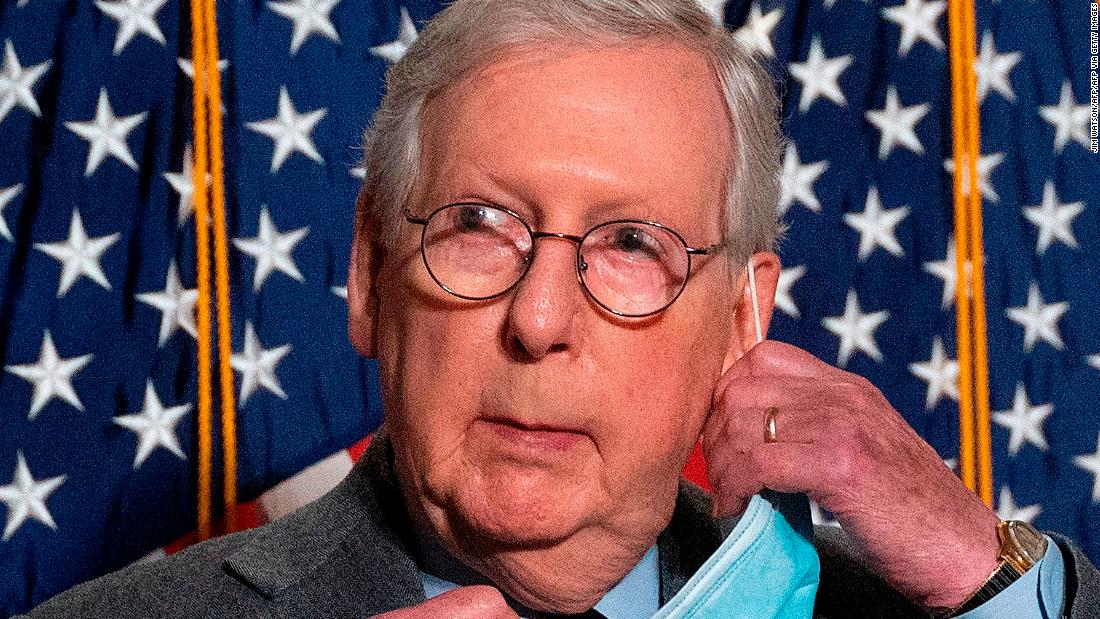 Then he made two additional comments this week that have placed him head and shoulders above his colleagues in acknowledging the danger the GOP is in as it looks to the future.
He praised Rep. Liz Cheney as "a leader with deep convictions and courage," after her recent vote, with nine other House Republicans, to impeach Trump for the second time. Republicans in the House, meanwhile, are meeting to discuss ousting Cheney from GOP leadership.
Now McConnell is condemning "loony lies and conspiracy theories," such as those issuing from Georgia Rep. Marjorie Taylor Greene (though he avoided naming her), including questioning whether 9/11 happened and her assertions that some mass shootings were staged. McConnell called them a "cancer for the Republican Party."
As a former chairman of the Republican National Committee and longtime McConnell observer, I enthusiastically endorse all of his recent moves. But it is fair to ask: What's gotten into Mitch?
I think it's two things: freedom from the shackles of the Trump presidency, and his astute political calculation that he has a now-or-never opportunity to lead the GOP away from the toxicity of Trump and QAnon crazies like Greene.
It was no secret in the Senate that McConnell had little use for Trump, indeed on occasion calling him "nuts." But the two men found common cause in appointing right-leaning judges, cutting taxes and moving the country in a conservative direction.
Indeed, McConnell undoubtedly had his eye on that cooperation ahead of the two Georgia runoff elections last month that could have (but didn't) secured his Senate leadership, when he said that Trump was "within his rights to look into allegations of irregularities and weigh his legal options" as Trump tried to prove that "voter fraud" had robbed him of the election (a claim that would soon be rejected dozens of times by the courts).
But their already-shaky relationship broke when McConnell acknowledged Joe Biden as president-elect on December 6, after the Electoral College certified him the winner. An enraged Trump accused McConnell of "jumping ship" and issued a graphic making the absurd allegation that he, Trump, had been responsible for McConnell's reelection.
The truth is that McConnell has won election seven times, beating his opponents by an average of 12 points and last year by a whopping 20 points. This was hardly Trump's doing.
The Trump-McConnell breakdown worsened with the loss of two Republican Senate seats in Georgia, followed by the Trump mob's violent assault on the Capitol. McConnell rightly held Trump culpable for both the election losses and the riot, pointing out that Trump's incessant claims of election fraud in Georgia and elsewhere depressed GOP turnout and ignited the violent insurrection.
McConnell has since hinted that he is open to convicting Trump in next week's Senate impeachment trial, depending on the evidence presented by the House impeachment managers. (He did, however, vote last week along with 44 GOP senators to keep alive an effort to dismiss the Senate impeachment trial on constitutional grounds.)
Unlike most of his colleagues, though, McConnell knows that the GOP is at a tipping point. Republicans can continue to embrace Trump's toxicity and big-lie tactics and continue to coddle extremists. Or, they can, like the fictional newscaster Howard Beale in "Network," declare that they are mad as hell, are not going to take it anymore, and are going to change their ways and reclaim their party.
McConnell knows the GOP still holds a winning hand. In the 50-50 Senate, they can block most liberal excesses. Moreover, House Speaker Nancy Pelosi holds the slimmest majority in over 20 years and will be unable to run roughshod. The 6-3 conservative edge on the Supreme Court also will serve as a further brake on the Democrats.
So have at him, Mitch. Will you really rise to the moment and gather 17 GOP votes to convict Trump, and ban him from ever holding federal office again? On behalf of many Americans who want to lower the volume in Washington and return to civility, I pray that you do.