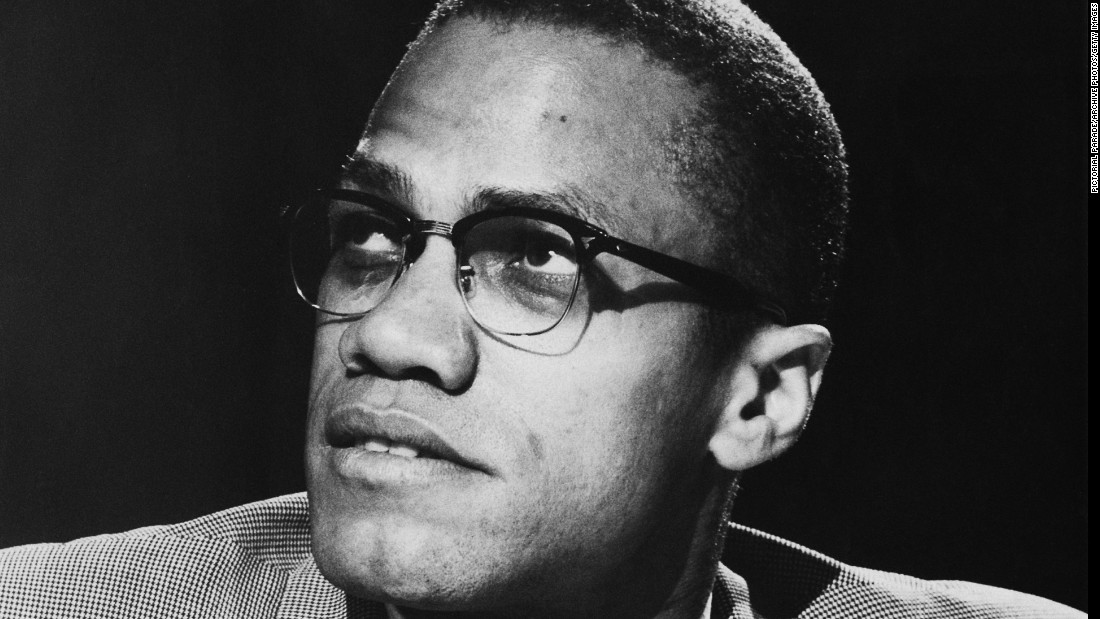 No less than Martin Luther King Jr., Malcolm X hovers over this national moment of reckoning around racial justice. His continued resonance in policy arenas related to ending mass incarceration, police brutality and the war on drugs is evident. So is Malcolm's indefatigable pursuit of a human rights agenda broad enough to recognize the universality of Black pain and joy, oppression and resistance. Perhaps the least recognized aspect of Malcolm's legacy that is finally coming to the fore is the personal.
The broad outlines of Malcolm X's life have, by now, become the stuff of legend but are worth remembering. Malcolm Little's trauma-filled childhood during the 1930s
turned him into
"Detroit Red," whose active involvement in the criminal underworlds of Harlem and Boston during the 1940s led to a nearly seven-year jail stint in Massachusetts.
In prison Malcolm Little found his métier in religion and politics via membership in the Nation of Islam (NOI), unorthodox practitioners of Islam who believed in racial solidarity, economic self-determination, and that their leader Elijah Muhammad was the literal messenger of God. By the late 1950s, through a documentary
hosted by Mike Wallace
and reported by Black journalist Louis Lomax, Malcolm X and the NOI became household names whose calls for racial separatism and indictment against White racism lent a radical veneer to a group that eschewed formal political engagement.
Malcolm X's bold denunciation of White supremacy attracted thousands of new converts to the NOI, many drawn by his audacious display of Black intelligence, charismatic speaking style and ability to outclass a wide range of debate opponents. This included King, whom Malcolm derided as an Uncle Tom; Malcolm believed King's nonviolent tactics invited further violence and humiliation on an already beleaguered race of people. Malcolm's increasing fame and popularity attracted envy and criticism from his opponents and allies alike.
By the time of his February 21, 1965 assassination, Malcolm's political evolution reflected a willingness to collaborate with former adversaries, most notably King, a recognition that politically progressive and sincere Whites could be part of a wider racial justice struggle, and an effort to convince the entire world that the struggle for Black dignity and freedom represented nothing less than a global human rights movement.
Bringing Malcolm X into new focus on the page
The book's title is a reference from one of Malcolm's early letters to Elijah Muhammad regarding his successful efforts to recruit new NOI members in Hartford, Connecticut (where the young Les Payne first drew inspiration to write this book after hearing Malcolm speak). The "dead" were Black folks with no sense of their racial history, who instead continued to remain in the "grave" of a decadent White and Western society. This biography offers, through scores of interviews with surviving family members and Blacks and Whites who knew Malcolm, the fullest exploration of Malcolm's early life.
In so doing, they discover that his father Earl Little, despite Malcolm's recollection in his autobiography, died in a streetcar accident and not at the hands of White supremacists. Racism, however, still harassed the family from Omaha, Nebraska, to Lansing, Michigan, and the insurance company's refusal to pay out Earl's life insurance policy represented a form of structural violence Malcolm would spend his life fighting. The Little family were considered political mavericks who followed the teachings of the Jamaican activist Marcus Garvey, and Malcolm's mother, Louise Norton, could have passed for White but was an indefatigable believer in Black pride.
Where the Paynes looked to recover the intimate familial experiences that shaped Malcolm X, recent film and television shows have tried to bring new shades to a screen portrayal that has been largely shaped by Denzel Washington's Oscar-nominated performance in Spike Lee's 1992 biopic. The actor Nigel Thatch brought a subtle and complex vision of Malcolm to the big screen in Ava DuVernay's 2015 film "Selma" and, portraying the same character on a larger scale, in the 2019 10-part series, "The Godfather of Harlem."
A more personal look at a legend
Malcolm, in limbo from the NOI but aware that forces within the group want to see him dead, is serving as mentor to the 22-year-old Clay, mere days away from being torn from his influence by Elijah Muhammad's gift of the name Muhammad Ali. Soul singer Sam Cooke and NFL running back Jim Brown are also on hand for an evening that evolves into a discussion about racial justice, civil rights, democracy and the possibilities of a liberated future for four Black male icons, two of whom (Malcolm and Cooke) would be dead within the year.
"One Night in Miami" offers the best depiction of the humanity of Malcolm X. His passionate denunciation, swaggering charisma and sparkling intelligence are, as they should be, on display. But so is his biting sense of humor, active listening skills and aching vulnerability that occasionally led to bouts of despair. Malcolm's unapologetic call for a political revolution capable of guaranteeing Black dignity and citizenship was, the film reminds us, rooted in personal sincerity, political integrity and an unabashed love for Black people, food, music and culture.
The unvarnished truth of Malcolm X's life leaves us with the gift of discovering Blackness in all of its flawed humanity. Parts of the Black experience relegated to the lower frequencies of society are too often siloed, forced to become what outsiders identify them as being. Malcolm X was always more than the sum parts of the most brutal aspects of his personal and political experiences.
A dedicated father, loyal husband and man of faith, he was also an extreme lover of ice cream, deployed a wicked sense of humor and enjoyed photography and recording movies of his sojourns abroad. In that sense Malcolm's profound legacy is not only in reminding us that Black lives matter, but that they can also reverberate with a purpose that continues long after death.
Source link