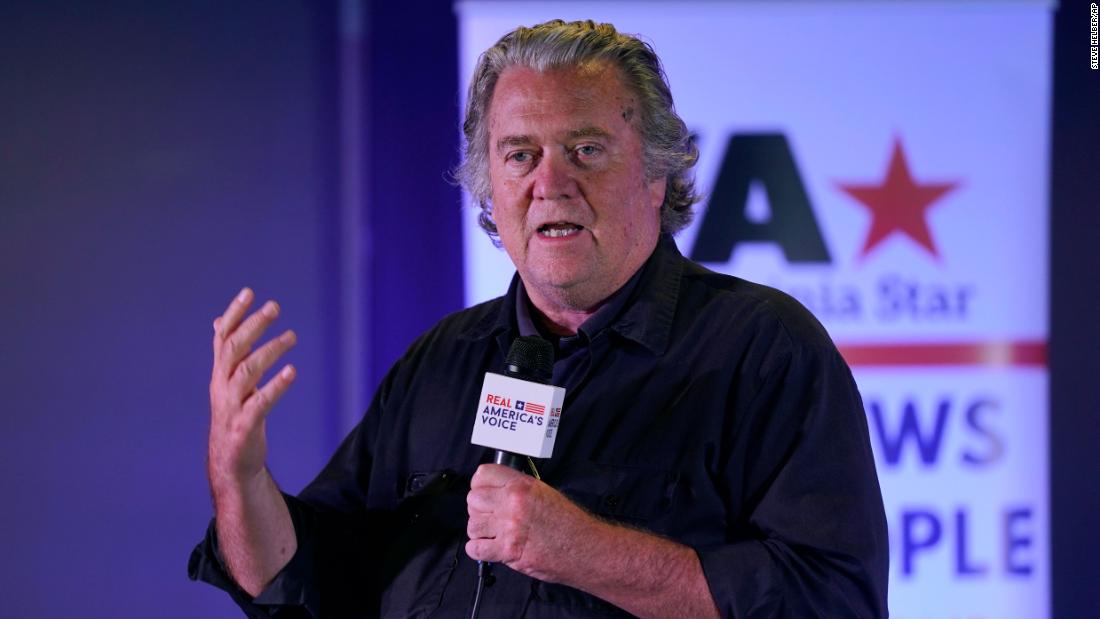 Following his stint as a White House strategist, Bannon ran into legal trouble when he joined an organization that raised millions for the stated purpose of building a wall along the southern US border; federal prosecutors charged him and three others with defrauding the donors. But Trump ended up pardoning Bannon in his last hours as president.
Now the Justice Department has another chance to consider Bannon's fate. Attorney General Merrick Garland will decide whether to prosecute Bannon after the House voted Thursday to hold him in criminal contempt of Congress.
Bannon has refused to cooperate with the House select committee investigating the January 6 attack on the US Capitol, citing Trump's controversial claim of "executive privilege."
As Democrats look back at the events of January, they're also looking ahead to the midterm elections next year — and the 2024 presidential race, in which Trump, at this very early stage, is the apparent frontrunner for the GOP nomination.
"Want to save our democracy from Trumpism? One approach is to follow the blueprint that led to last week's surprising defeat of Czech Republic Prime Minister Andrej Babis, who's also known as the Czech Donald Trump," wrote Dean Obeidallah.
Power trio: Two Joes — and a Kyrsten
But neither is a Joe Average. West Virginia Sen. Joe Manchin is a "friend" to the other, Joe Biden, the President said during a CNN town hall Thursday.
Yet it is Manchin — and Arizona Sen. Kyrsten Sinema — who are virtually dictating the shape of Biden's central domestic policy, determining which social programs and tax increases will live or die. As the most powerful man in the world observed, when your party controls only half of the 100 seats in the US Senate, "and you have 50 Democrats, every one is a president."
And there's another way the two senators are wielding power — their support for the Senate filibuster means there's no way Democrats can pass their high-priority voting rights bill.
Negotiating in public
Frida Ghitis observed that the Biden we saw in Baltimore "was the man who won the presidential election, a skilled politician, experienced at facing the voters, humane, caring, advocating plans that most Americans support."
For more:
RIP Colin Powell
When President Barack Obama was trying to decide what to do about the US troops in Afghanistan in 2009, and some in the Pentagon were calling for a military surge, his chief strategist David Axelrod got a call from "one of America's most celebrated military leaders." Colin Powell, who had broken ranks with his party and given a vital endorsement to Obama's presidential candidacy, wanted to make sure the president controlled the decision-making process.
The retired four-star general died Monday, of complications from Covid-19.
Behind the scenes, Powell was a skeptic about going to war against Saddam. But nearly two thirds of Americans trusted Powell on the issue, compared to less than a quarter who trusted President George W. Bush. So Bush asked Powell to argue for war at the UN, Bergen noted.
In the face of serious health challenges, Powell remained upbeat. In 2003, he announced he was being treated for prostate cancer, and in 2019, he revealed his diagnosis of multiple myeloma at an event benefitting the Multiple Myeloma Research Foundation, recalled Kathy Giusti, herself a cancer survivor and founder of the organization. Cancer patients, she noted, "may have a weak response to the Covid-19 vaccine, or no response at all."
What ifs
In the mid-1990s, Powell was considered a top candidate for the GOP presidential nomination. This week, columnists David Von Drehle and Bret Stephens speculated about what might have been had Powell run for president and denied Bill Clinton a second term.
Trump's farewell to Powell was of a piece with his response to the death of another war hero, Sen. John McCain.
As SE Cupp noted, Trump trashed the general for "big mistakes on Iraq and famously, so-called weapons of mass destruction." He also took the opportunity to complain that the media was treating Powell "so beautifully" and accused him of "always being the first to attack other Republicans." And then incongruously, Trump said, "but anyway, may he rest in peace!"
Facebook changing the wrong name
Facebook, the embattled social network, has "a new public relations strategy: changing its name," wrote Kara Alaimo, citing a report by The Verge. The reason? "The public has lost faith in Facebook. And rightly so. For all the family photos shared or funny videos consumed that the company has made possible, 'Facebook' is now also a name associated in recent years with misinformation, privacy violations, the spread of hate and autocracy."
To really overcome its problems, Alaimo argued, the company needs to change a different name — that of its CEO. "The fact that the company continues to deny that it has let us down is a big part of the problem here. And the person in charge of Facebook through all of this has been, of course, founder Mark Zuckerberg."
Tucker Carlson on parenting
Fox News host Tucker Carlson lashed out at Transportation Secretary Pete Buttigieg for taking paternity leave to spend time with his newborn twins.
The court and the Texas abortion law
On Friday, the US Supreme Court declined for the second time to block the controversial Texas law that bans abortions beyond about six weeks, but scheduled accelerated oral arguments on it. Justice Sonia Sotomayor dissented, saying women who need care "are entitled to relief now."
"I cannot capture the totality of this harm in these pages," said Sotomayor. "The impact is catastrophic."
Don't miss
AND…
From 'Succession' to 'Squid Game'
"Succession," the HBO drama series focusing on fear and loathing in a family that controls a worldwide media empire, returned for a third season to much critical acclaim. No one in it is particularly likable and some are particularly awful, though their conniving can be very entertaining to watch.
As Nicole Hemmer wrote, the show is "part of the waning age of antiheroes, those fundamentally amoral, craven and power-hungry protagonists who have been at the center of prestige television for at least two decades now. And while antiheroes have dominated some of 21st-century television's best shows thus far, from 'The Wire' and 'The Sopranos' to 'Mad Men' and 'Breaking Bad,' that era is giving way to shows whose protagonists are flawed and complicated — but still fundamentally good." Think "Parks and Recreation," "The Good Place" and "Ted Lasso."
Speaking of conflict, the top show on Netflix worldwide and. until recently, in the US is "Squid Game," a Korean drama. "Squid Game" is violent, emotional, and even comedic at times, but there are reasons beyond its shock value that make this drama so compelling, and for American viewers in particular," wrote Airielle Lowe, a senior at Howard University, editor-in-chief of the student publication The Liberato and an intern for CNN Opinion.
Source link