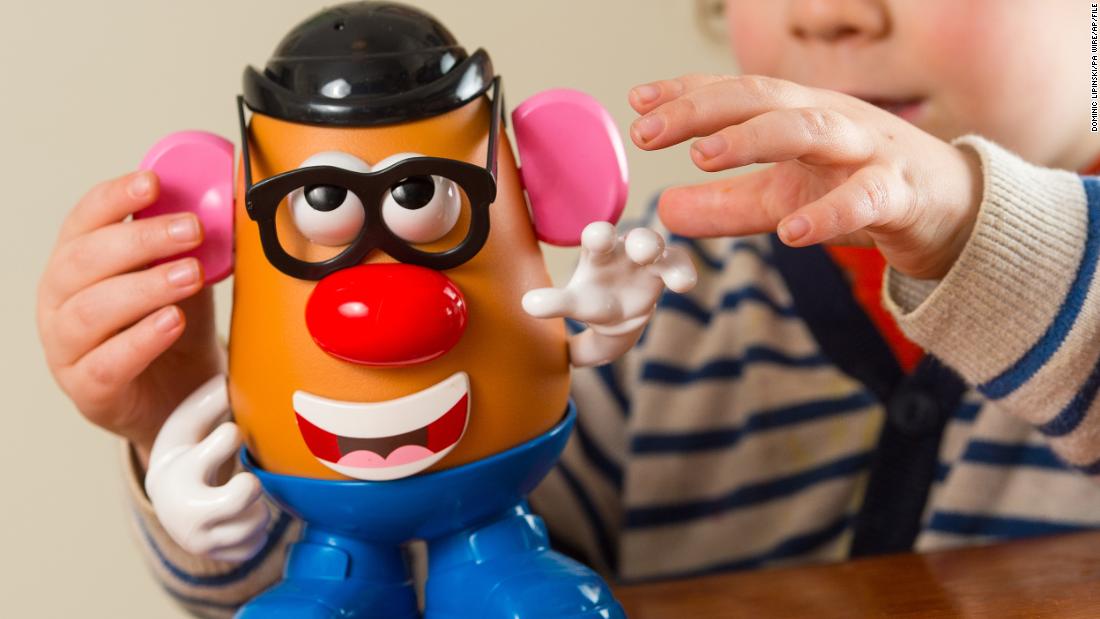 Hasbro
has announced
it is dropping the gendered honorific "Mr." from the brand name of its popular Potato Head toy. The move, a seemingly innocuous one that follows in the inclusive footsteps of other brands like
Mattel
and
Target
, has sparked
the fury of the internet mob
once again exposing its ugly underbelly of anti-LGBTQ hate.
It's a child's toy. It's — let's get real — a potato. Why such an overreaction? We all know the answer.
But for an additional reminder, we turn to Congress, which is having a slightly elevated, though at times inane, misinformed and Mr. Potato Head-level, debate about whether to extend equal protections for LGBTQ people though the passage of the Equality Act.
The sweeping legislation would extend the Civil Rights Act of 1964 to add sexual and gender identity to the list of protected classes. It would close gaping holes that exist in
more than half the states
, which marginalize LGBTQ people in their laws. It remains perfectly legal in many of these states to kick someone out of their house or public space or deny them services, including health care, simply because of who they are or who they love. The Equality Act acknowledges that discrimination against LGBTQ Americans is a national crisis that requires federal action.
The US House of Representatives passed the bill 224-206 on Thursday, and it now goes on to the Senate, where its future is uncertain for a few reasons.
Pocan was referring to Georgia Rep. Majorie Taylor Greene's egregious stunt earlier that day: she taped an anti-transgender sign outside of her office, a bullying response to her colleague, Illinois Rep. Marie Newman, who had hung a transgender pride flag outside on the door of her office across the hall in honor of her daughter, who is transgender.
While Greene's conduct was out of step with that of most adult public figures who purport to respect at least some level of decorum, her sentiment is sadly not far off from the positions expressed by some transphobic politicians and their supporters.
We heard them during the House floor debates for the Equality Act—they are familiar to LGBTQ advocates and community members. They go like this: If we are allowed access to the health care we need, and to adopt children who need homes, buy the wedding cake, feel affirmed and safe in school and in everyday life — that will somehow open up the floodgates for people to "take advantage" and cheat their way into sports and bathrooms with the intent of harming others. It's the 2021 version of the repulsive canard that gay people are incipient pedophiles.
But any Republican senators who plan to take this discriminatory tack are not "reading the room" in 21st-century America. They need look no further than their most important stakeholders, our nation's children, for a reality check about gender identity. I hereby invite them over to my living room (masks on, please) to observe my own toddler at play.
My 3-year-old happily swaps Potato Head's features and attire — a mustache and a purse, high heels — without any regard for assigned gender roles. Lipstick looks cool with facial hair, and so does an extra arm coming out of the nose hole. My kid uses gender pronouns interchangeably and we read books and talk about how some people might feel like boys, others like girls, some like both, some like neither. Others yet, feel more like girls sometimes and boys or something else other times.
My kid even gets it. It's not any more complex than that. One day, they will scratch their head about why so many people punish others simply because of how they identify or dress or what toys they play with.
The future is gender-neutral and gender-inclusive and we all need to get used to it.
The truth is, if you have never felt forced into a gender category or treated a certain way because of it — which doesn't just mean LGBTQ people — then you might not understand what's at stake here. If you have been told — in a job or opportunity or social encounter — that your attire or your gait or your weight or your tone don't match what they're looking for you may well have been a victim of gender policing. If you have ever been made to feel like you aren't worthy because of some trait or habit or passion that is deemed appropriate for others, you may well have been a target of gender bias.
If you've ever brought home a paycheck lower than someone with the same qualifications but different genitalia, you have a very good reason to make the fight for gender neutrality your own.
If signed into law, the Equality Act would extend protections to all LGBTQ Americans, from Portland to Miami and everywhere in between. We wouldn't have to fear that we might not be recognized as lawful spouse, parent–or just a human being deserving of equal treatment under the letter and spirit of the law.
My LGBTQ community needs to be able to maintain gainful employment and housing, to access the health care they need, to shop at a store, sit on a park bench and use a bathroom safely and without the bitter judgment of –or actual danger from–people stuck firmly in the year Potato Head was first born:
1952.