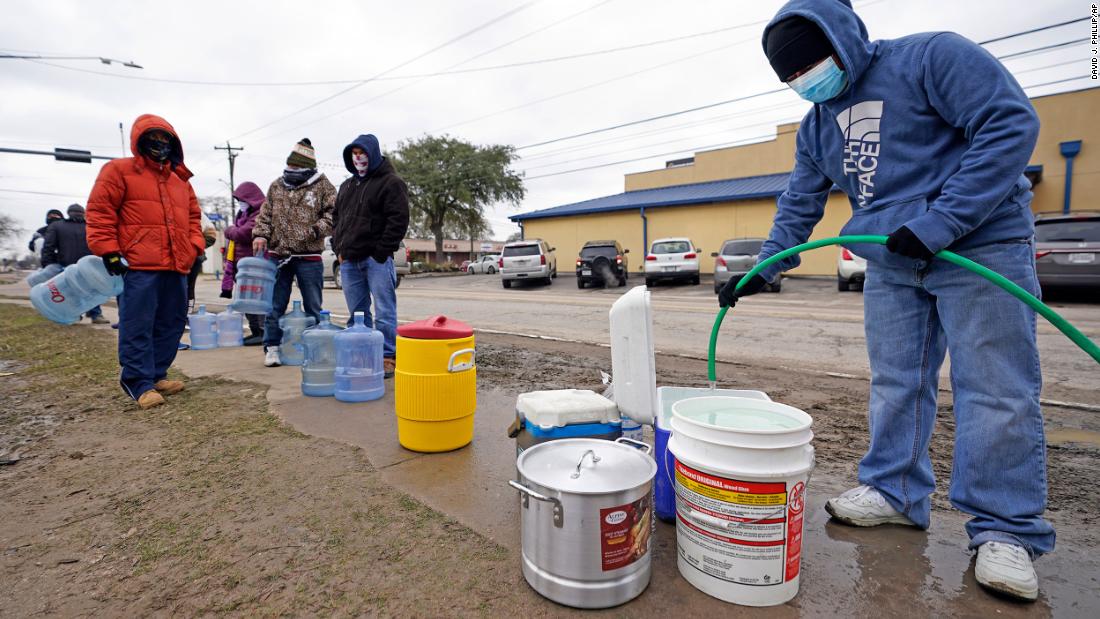 Nearly a year ago, the Covid-19 pandemic began bringing death, disease and economic distress to millions of households. But the disaster hasn't come alone — a host of others have struck the US in the past 12 months.
The 2020 hurricane season broke the record for the number of major storms, forcing meteorologists to dip into the Greek alphabet for new names. And this week freakish winter weather swept into the South, bringing record low temperatures to states such as Texas, Louisiana and Kentucky. At least 50 deaths have been attributed to the weather, including 10 hypothermia deaths in Harris County, which is home to Houston. Millions of people lost heat, power and access to food and clean water.
America isn't a failed state, Frida Ghitis noted, but "the way it has 'handled' recent disasters, from the pandemic to the current weather crisis in Texas", makes a "mighty nation" look like one.
Ted Cruz, the junior senator from Texas, isn't in charge of keeping the lights on, but his decision to leave with his family for a vacation in Cancun on Wednesday was spectacularly ill-timed, prompting him to rush back and admit his mistake.
Demonstrating that government can work effectively is key to the fortunes of President Joe Biden, wrote Julian Zelizer, who noted "there has been considerable confusion over the plan to reopen schools and the administration's contradictory statements on the issue have already drawn criticism."
Hitting the road
Sandy Tolan and his wife Andrea Portes spent Christmas in Tucson and were planning to head home to Los Angeles when they decided they didn't want her to get on a plane in the midst of a pandemic to pick up their 11-year-old son, who was visiting his biological father in Florida. So, like many Americans these days, they decided driving cross country would be a safer bet.
"We focused on staying healthy, not an easy task when so many fellow citizens — in gas stations, quick marts, even take-out restaurants — refused to wear masks," Sandy Tolan wrote.
"Nomadland," a film that is being touted for major awards this season, was filmed in 2018, long before anyone could foresee a road-trip boom provoked by a pandemic. "Two years later Covid lockdowns would send sales of RVs and camper vans skyrocketing," wrote Sara Stewart. "Suddenly, everyone wanted to hit the road in their own home on wheels — because that felt like one of the only safe places to be."
In Vermont, Scott Langley was "walking by a frozen lake, singing to his departed wife," wrote Thomas Lake.
He "was 65, diabetic, nervously enduring the unknown period of time between this afternoon and the day he could get his coronavirus vaccination. He'd been up since 5:30, and had taken his medicine, gotten his 14-year-old daughter to school, worn two masks into Hannaford, resisted the urge to punch the maskless customer in the produce section. He ate a low-carb lunch and vigorously pedaled the exercise bike, trying to keep his blood glucose down, doing whatever he could to keep Ailyn from becoming an orphan."
For more on coping with Covid:
Cuomo, Newsom and Covid-19
Last spring, New York's Andrew Cuomo and California's Gavin Newsom were feted as governors who had figured out how to fight Covid-19, in contrast to the Trump administration's erratic leadership. Cuomo wrote a book about it and even got an Emmy "Founders Award" for his daily pandemic briefings.
Now he's under fire for his handling of information on nursing home deaths, and Newsom is facing a potential recall vote.
"Late last month, New York State Attorney General Letitia James issued a scathing report about how nursing homes in the state handled Covid-19, including a finding that the state's Department of Health undercounted Covid deaths at nursing homes by approximately 50%," wrote Jennifer Rodgers.
Newsom's mistake was going to a birthday dinner for a lobbyist at the famous restaurant French Laundry, wrote Lincoln Mitchell. "This occurred while California was under a partial lockdown and gatherings of a dozen people like this were forbidden, even if held outdoors." Some Californians, including his Republican rivals, have never forgiven the governor for it. "This was an enormous misstep by Newsom, for which he offered a less than entirely convincing apology."
'Former guy' and Biden
For an hour on Tuesday evening, it was as if the last four years hadn't happened. In a CNN town hall hosted by Anderson Cooper, President Biden calmly set out his policy priorities, answered audience questions and reassured an 8-year-old girl that she had little reason to fear getting Covid-19. The biggest hint that he was succeeding a wildly controversial president came when Biden referred to the "former guy" and said, without naming him, that all the living former presidents but one had called him. ("I'm tired of talking about Donald Trump," Biden said at another point.)
GOP civil war
After voting to acquit Trump in the impeachment trial, Senate Minority Leader Mitch McConnell put the blame squarely on him for whipping up the crowd that stormed the Capitol on January 6. The civil war among Republicans is now out in the open, with Trump issuing a statement excoriating McConnell.
Mars
On Thursday, NASA's Perseverance rover, launched last July, landed in the Jezero crater on Mars, "which was once a river delta, disgorging into a lake," as physicist Don Lincoln pointed out.
Rush Limbaugh
"Limbaugh came to talk radio during the era of the shock jock, when hosts competed to see who could be the most outrageous," Hemmer noted. "So he would level vicious attacks on people suffering from AIDS, or on the poor and homeless, and then, when greeted with outrage, say that his critics just weren't in on the joke."
Lincoln
Our colleague Breeanna Hare asked six historians from CNN's new series "Lincoln: Divided We Stand" for their thoughts on the lasting myths surrounding the 16th President.
Don't miss
AND…
The binge watch
In the ever-expanding world of streaming television, the question of "what to watch" is inevitably leading to the "where to watch it" question. There's no doubt more quality television around than anyone could possibly binge.
Source link