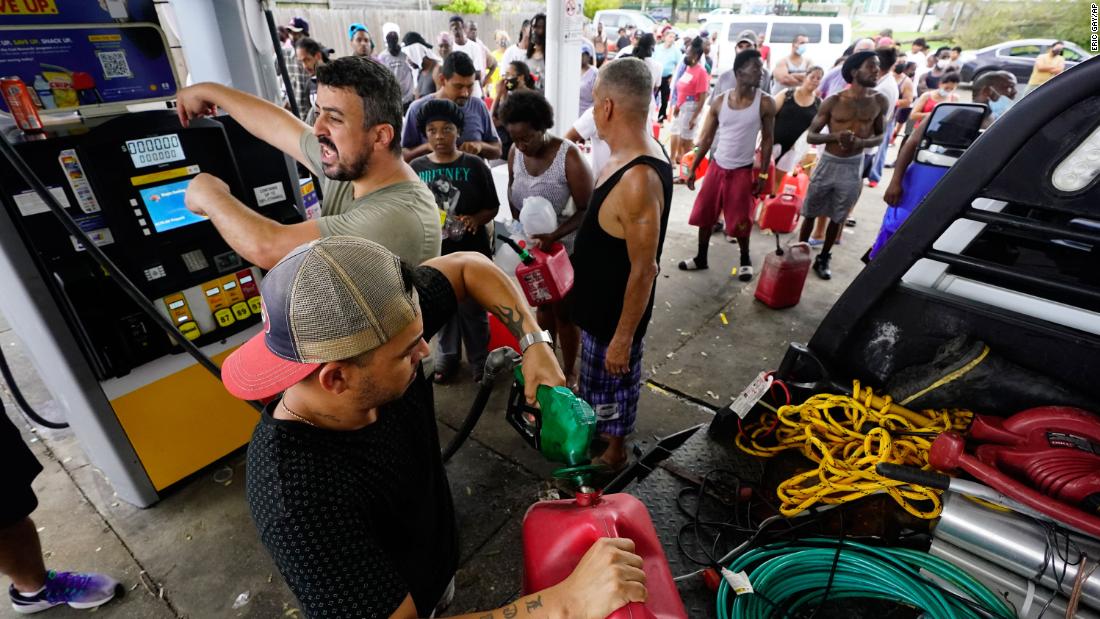 "We're in the heat. We ain't got no lights. It's been almost like five days," Myra Castro, a single mother in New Orleans, told CNN at a gas station where she said she'd waited two hours to fill her car, where she and her children have been sleeping.
"My kids are hot. We're hungry," she said Thursday, adding, "We need help now. Can y'all help us?"
Without power, many Louisiana residents are relying on gas-powered generators for electricity — and to stay cool: Heat advisories are in effect for southeast Louisiana, including Baton Rouge and New Orleans, where the heat index will top 105 degrees.
But access to gas continues to be one of Louisiana's biggest needs following Hurricane Ida, Gov. John Bel Edwards said. Gas station outages are mounting in Louisiana's two biggest cities, with a staggering 68.5% of the gas stations in Baton Rouge and 64.7% in New Orleans out of gas, according to outage reports compiled by GasBuddy.
Gas station outages are being driven by a combination of spiking demand as people drive out of the region and complications supplying the fuel caused by power outages, analysts said. Tanker truck drivers, for example, often can't fill up if there is no power at terminal racks that dispense fuel at refineries.
In some places, things are tense. Abdullah Hummus, an employee whose father owns a gas station in New Orleans, sat outside Friday with a gun. He told CNN's Adrienne Broaddus there had been "multiple incidents where people have pulled guns on us" after waiting in long lines for gas.
"We're trying our best to help the community in every aspect that we can," Hummus said, adding they have been charging the same for gas as they did prior to the storm and have been giving away ice and water. "Because that's what New Orleans is about — resilience, helping each other out."
"We're trying our best to keep peace and order," he said, "but our best, it's not enough right now."
Eric Mertz, a resident of St. Rose in St. Charles Parish, just west of New Orleans, told CNN he's been on oxygen after spending two weeks in the ICU last year with Covid-19. But now he has no power, no air conditioning and no lights.
"I'm just wondering where the help is," he said.
Biden to visit the state Friday amid federal relief effort
The storm made landfall Sunday as a Category 4 hurricane, leading to the deaths of at least 13 people in Louisiana and Mississippi and devastating infrastructure before Ida's remnants headed north, causing more flooding throughout the Northeast, killing dozens more.
His visit comes as the Federal Emergency Management Agency has sent more than 1,100 employees to support the response to the storm in the region. The agency has also awarded nearly $93 million in individual assistance, officials said.
For St. Tammany Parish, State Rep. Mark Wright said efforts to restore power were exceeding expectations.
"I know initially we thought we were talking three to four weeks, you know, we'll see where it goes from here, but things are moving along," Wright said.
But much of the work relies on gas, and many families need to stock up to supply their generators. Some residents braved the dark and the heat to find fuel.
This will "alleviate any logistical issues of moving crude oil within areas affected by Hurricane Ida to ensure the region has access to fuel as quickly as possible," the Energy Department said in a statement.
Death of 4 nursing home residents
Among those confirmed dead in Louisiana and Mississippi are at least 5 who have apparently died in connection to carbon monoxide poisoning, leading officials to sound the alarm on the improper use of generators.
"Many people who haven't used generators in the past are going and buying them from local warehouses and either keeping them too close to their home or inside of their home or inside of their garage," Dr. Emily Nichols, director of the New Orleans EMS told CNN Friday. "And all of those things are dangerous and potentially fatal, and we're seeing that as we respond to our calls."
Three of the deaths have been classified as storm-related, according to LDH.
The Department of Health said it heard reports about "deteriorating conditions" at the facility after Hurricane Ida made landfall and inspectors were sent to visit the site on Tuesday, but were expelled from the property and kept from doing a full assessment, according to LDH.
After that, health department officials began moving people out of the warehouse, starting with the most vulnerable. "In a little over 24 hours, all 843 residents were removed from the facility," Edwards said.
Authorities will investigate if the facilities failed to keep residents safe, if officials were kept from checking in on them and what the conditions of the facility were, Edwards said.
Power returns to hospitals
"For our customers, whether you're in Louisiana or Mississippi or other parts of our service territory, and you've been impacted by the storm, we see you," Entergy's Group President for Utility Operations Rod West told CNN Friday. "We hear the voices of those customers because we're there too, who are hot, who are frustrated."
"We want you to know that we're not going to stop working until the last person is brought back into service," West said.
Entergy Louisiana released an updated timetable Friday for restoring power to parts of the state after an assessment found "more than 14,000 damaged or destroyed poles, 2,223 damaged or destroyed transformers, and 155 destroyed transmission structures."
According to the company's statement, power is expected to be restored to East Baton Rouge Parish on September 6 and to Orleans Parish on September 8.
Entergy did not provide a timeline for much of the southernmost region, where parishes like Terrebonne, Lafourche, Jefferson and Plaquemines are still dealing with high water levels and impassable roads.
But, the statement said, "Specific restoration times down to the local area, including the coast and areas in the immediate path of the storm, are continuing to be developed and will be released in the coming days."
Power has also returned to the Children's Hospital New Orleans, but many of the staff have evacuated or lost their homes, Physician-in-Chief Dr. Mark Kline told CNN, and they're having a hard time staffing the hospital.
The hospital was already dealing with a Covid-19 surge, and "the same people who were exhausted after months of dealing with the Covid surge are the same people who are now doubly exhausted after dealing with Hurricane Ida," Kline said.
"The last thing in the world we needed at this point was a Category 4 hurricane," he said.
CNN's Adrienne Broaddus, Rebekah Riess, Matt Egan, Geneva Sands, Gregory Lemos, Keith Allen and Amanda Watts contributed to this report.