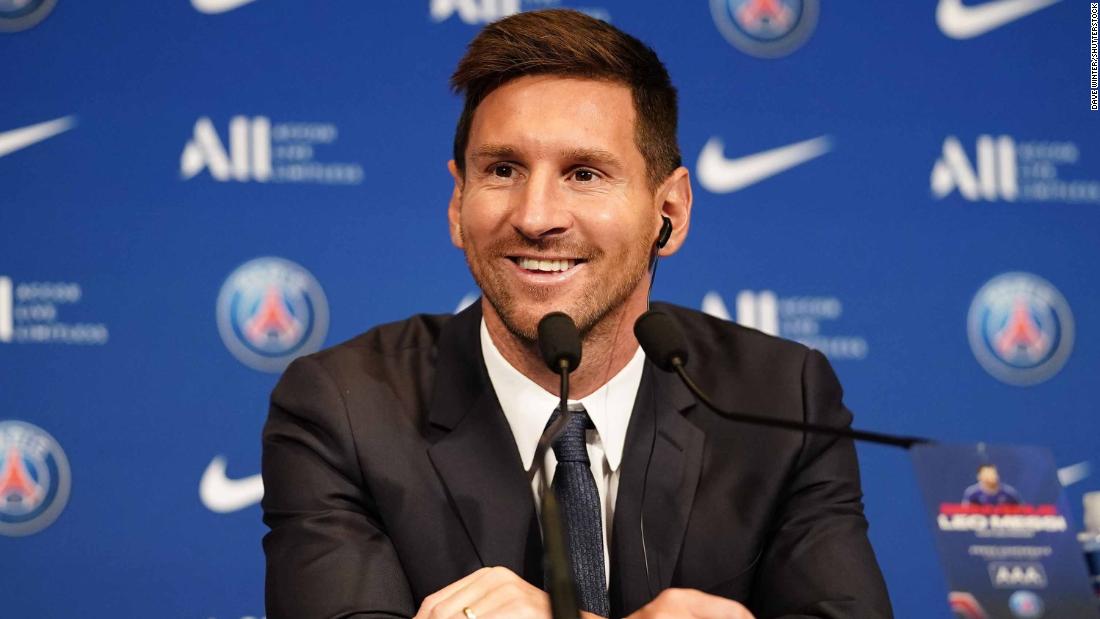 Speaking at his unveiling press conference, Messi stressed that both his and his new club's ambitions are aligned — to win the trophy that has so far eluded PSG and which Messi himself has won four times.
"They knew I would arrive in a strong team, a team aiming to win the Champions League," Messi told the media.
"When you see the squad, you really want to play with them […] There are many possibilities.
"I know that my goals and the goals of Paris are the same," added Messi.
Just a few days earlier, Messi was in tears during an emotional farewell press conference at Barcelona, the club at which he came through in European football and flourished.
During his time with the Catalan giants, Messi won ten Spanish league titles, as well as six Ballon d'Or honors.
Although he admitted that his departure from Barcelona was "very hard," he said that he was "very happy" at his new club and looking forward to the future.
"My exit from Barcelona was a hard moment — after so many years, it was a difficult change after so much time," he explained. "But the moment I arrived here, I feel very happy and I want to begin training and I wanted it to be a quick signing.
"I'm so happy to be here — I have a will to play and I still want to play and win as much as I wanted it at the first moment of my career. This club is ready to fight for all the trophies. This is my goal: to keep growing, keep winning titles and that's why I've come here to this club. I hope we can make it happen. I want to thank Paris, it's been crazy. I'm sure I'm going to enjoy my time with this team and we are going to fight for the aims of the club."
Upon leaving Barcelona, Messi admitted that his friends at PSG — including his former Barça teammate Neymar and fellow Argentinians Ángel Di María and Leandro Paredes — ultimately helped his decision to come to the "City of Lights."
Messi's arrival in Paris forms a frightening front three alongside Neymar and French superstar Kylian Mbappé. And the prospect of lining up alongside those two fellow superstars excites the 34-year-old.
"It's crazy to be able to share day-to-day life with them, with all the squad, there are some amazing transfers (that have happened this summer), and I really want to train and compete now because I'm going to be playing with the best players," added Messi.
However, there have been rumors linking 22-year-old Mbappé with a move away from the Parc des Princes, although PSG president Nasser Al-Khelaifi hopes Messi's arrival will convince him to stay.
"I think everybody knows the future of Kylian, he wants to win, he wants to win trophies," said Al-Khelaifi.
"He said it in public, he wants to have a competitive team and we have the most competitive in the world. There is no excuse for him now — he can't do anything else but stay."
Within the rules
With so many high-profile, expensive players in the PSG squad, the question of how the club can afford another superstar player and still remain within UEFA's Financial Fair Play (FFP) regulations was put to Al-Khelaifi.
However, when asked by a journalist how the club could afford to sign Messi, Al-Khelaifi said the club would not promise something they couldn't do within the rules.
He explained the club would remain in the regulations "from day one until the end."
Khelaifi said the deal would be of benefit not just for PSG but for the city of Paris as well as the French league from a sporting and commercial perspective, among others.
"I hope Leo will not ask for a greater salary," Al-Khelaifi joked.
Source link