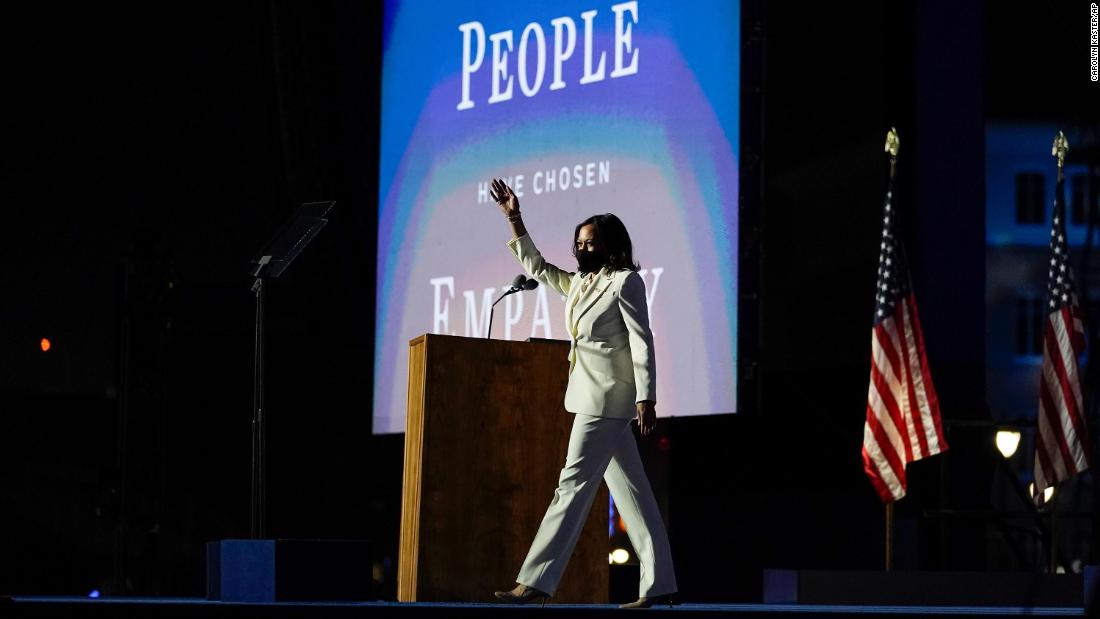 US Sen. Kamala Harris speaks during an economic forum in Las Vegas in April 2019.
Harris and her younger sister, Maya, pose for a Christmas photo in 1968.
Harris got her bachelor's degree from Howard University in Washington, DC.
Harris graduates from law school in 1989. "My first grade teacher, Mrs. Wilson (left), came to cheer me on," Harris said. "My mom was pretty proud, too."
Harris is joined by San Francisco Mayor Gavin Newsom, left, and the Rev. Cecil Williams, center, for a San Francisco march celebrating Martin Luther King Jr. in January 2004. Harris was the city's district attorney from 2004 to 2011.
Harris speaks to supporters before a "No on K" news conference in October 2008. The San Francisco ballot measure Proposition K sought to stop enforcing laws against prostitution. It was voted down on election day.
Harris looks over seized guns following a news conference in Sacramento, California, in June 2011. Harris became California's attorney general in January 2011 and held that office until 2017. She was the first African-American, the first woman and the first Asian-American to become California's attorney general.
Harris attends the Democratic Party's state convention in February 2012.
Harris watches California Gov. Jerry Brown sign copies of the California Homeowner Bill of Rights in July 2012.
Harris speaks on the second night of the 2012 Democratic National Convention.
In May 2013, Harris and California Highway Patrol Commissioner Joe Farrow place a wreath honoring Highway Patrol officers who were killed in the line of duty.
Harris officiates the wedding of Kris Perry, left, and Sandy Stier in June 2013. Perry and Stier were married after a federal appeals court cleared the way for California to immediately resume issuing marriage licenses to same-sex couples.
Harris is flanked by her husband, Douglas Emhoff, and her sister, Maya. Next to Maya Harris is Maya's daughter, Meena, and Maya's husband, Tony West.
Harris receives a gift from supporters in January 2015, after she announced plans to run for the US Senate.
Harris speaks during a news conference in February 2015.
Harris, as a new member of the Senate, participates in a re-enacted swearing-in with Vice President Joe Biden in January 2017. She is the first Indian-American and the second African-American woman to serve as a US senator.
Harris talks with former US Sen. Bob Dole on Capitol Hill in January 2017.
Harris attends the Women's March on Washington in January 2017.
Harris speaks to Fatima and Yuleni Avelica, whose father was deported, before a news conference on Capitol Hill in March 2017.
Harris greets a crowd at an event in Richmond, Virginia, in October 2017.
In November 2017, Harris was among the lawmakers on the Senate Intelligence Committee grilling Silicon Valley giants over the role that their platforms inadvertently played in Russia's meddling in US politics.
Harris and her husband attend a Golden State Warriors basketball game in May 2018.
Harris attends a rally with, from left, California Secretary of State Alex Padilla, gubernatorial candidate Gavin Newsom, and Newsom's wife, Jennifer, in May 2018. Newsom won the election in November.
Harris speaks with US Sen. Cory Booker during the confirmation hearing for Supreme Court nominee Brett Kavanaugh in September 2018.
Harris presses Kavanaugh during his confirmation hearing.
Harris arrives with staff for a Senate Judiciary Committee hearing in September 2018.
Harris reads from her children's book "Superheroes Are Everywhere" during a book signing in Los Angeles in January 2019. She also released a memoir, "The Truths We Hold: An American Journey."
A person holds a Harris poster during the Women's March in Los Angeles in January 2019.
Harris holds her first presidential campaign rally in January 2019. She had announced her presidential bid a week earlier on Martin Luther King Jr. Day.
Harris speaks during her CNN town-hall event, which was moderated by Jake Tapper in Iowa in January 2019.
Media members photograph Harris and the Rev. Al Sharpton as they have lunch at Sylvia's Restaurant in New York in February 2019.
Harris rides her campaign bus in Iowa in August 2019.
Harris and Biden greet each other at a Detroit high school as they attend a "Get Out the Vote" event in March 2020. Harris had dropped out of the presidential race a few months earlier.
From left, Harris, Senate Minority Leader Chuck Schumer and US Sen. Cory Booker stand near a Capitol Hill statue of abolitionist Frederick Douglass during a June 2020 event commemorating the life of George Floyd. Floyd, an unarmed Black man, was killed in police custody in Minneapolis.
Biden calls Harris from his Delaware home to inform her that she was his choice for vice president.
Harris and Biden sign paperwork to officially get on the ballot in all 50 states.
Harris waves to supporters at a campaign event in Lakewood, Ohio, in October 2020.
We Thank To Our Readers For Your All Contributes. We Still Seek Your Support In Pandemic CoronaVirus.
Donate Bellow For Better Future
[charitable_donation_form campaign_id=57167]