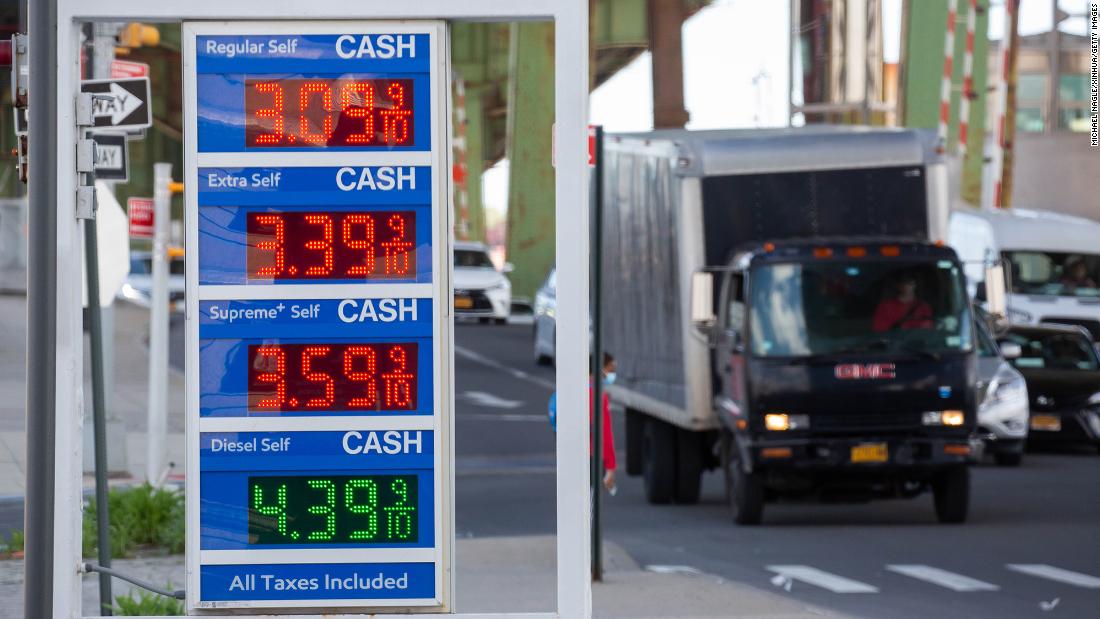 This time, the squeeze could be triggered by the lack of
tank truck drivers
to deliver the fuel, and a repeat of
panic buying
by travelers topping off their tanks.
"I think we have to worry about prices, supply and crowd behavior," said Tom Kloza, global head of energy analysis for the Oil Price Information Service, which tracks gas prices for AAA.
First the prices: The nationwide average cost for a gallon of regular gas is now $3.04, according to AAA, essentially matching the seven-year high set earlier this month, and up 58% from a year ago.
But prices vary greatly at the roughly 150,000 stations nationwide, due in part to varying taxes and fees, and partly due to the supply of fuel from refineries in specific regions. Only one third of US stations are selling gas for more than $3 a gallon, but the areas where prices are even higher are lifting the national average. Even so, the most common price nationwide is just one tenth of a cent below $3.
For example: virtually every station in California is selling gas for $3.75 or more, with an average price for regular at a national high of $4.17. Meanwhile Louisiana and Mississippi are at a national-low average of $2.72 a gallon, with almost no stations in either state charging $3.
A repeat of shortages?
High prices notwithstanding, a potential supply shortage of gas looms as perhaps the more serious problem this summer.
But experts aren't worried as much about another malicious hack as they are about a critical shortage of truckers qualified to drive the tankers that deliver gas to stations.
The supply shortage might initially hit only a few small, independent stations. But the worry is that even a handful of stations running dry could spark panic buying, particularly in beach communities and other vacation hot spots.
"I think the propensity for panic among the population is much, much higher than it has been," Kloza said.
Source link