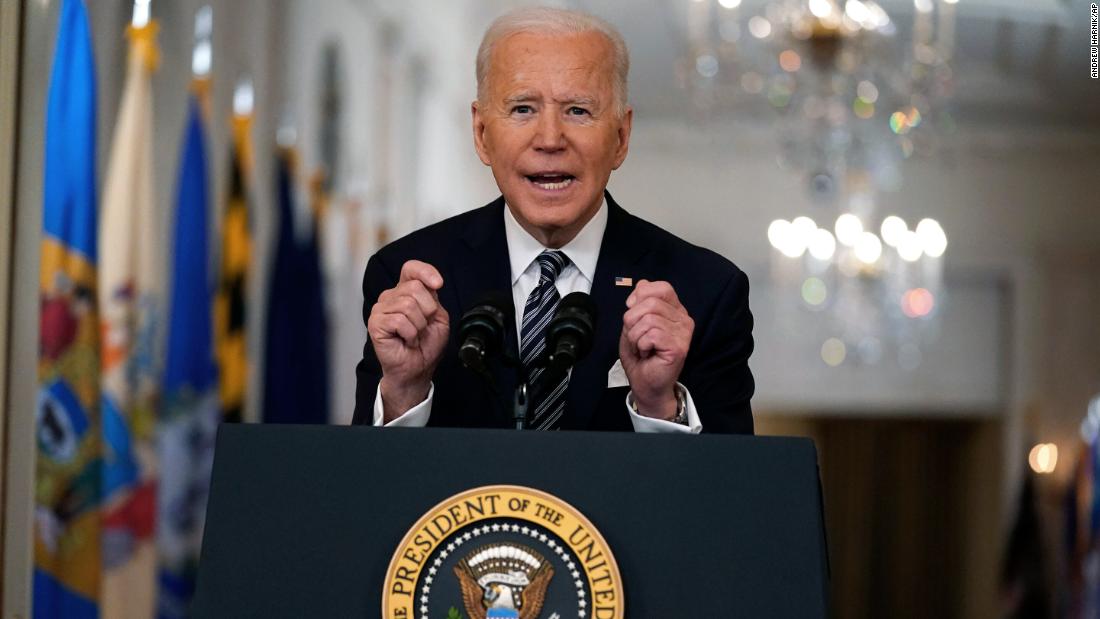 Biden's speech, which ran for just shy of 24 minutes, did not include a large number of fact-checkable assertions. But here is a breakdown of some of the checkable claims he did make:
In the opening moments of his speech, Biden said, "A year ago we were hit with a virus that was met with silence and spread unchecked. Denials for days, weeks, then months. That led to more deaths, more infections, more stress, and more loneliness."
US vaccinations
Biden touted the number of people vaccinated in the US during his speech noting that the country is "on track to reach this goal of 100 million shots in arms on my 60th day in office."
"No other country in the world has done this. None," Biden added.
Vaccinations for 65 and older
"When I took office 50 days ago, only 8% of Americans — after months — only 8% of those over the age of 65 had gotten their first vaccination," Biden said. "Today that number is 65%."
Vaccine Supply
Describing his administration's efforts to respond to the pandemic, Biden claimed, "Two months ago, this country didn't have nearly enough vaccine supply to vaccinate all or even near all of the American public. But soon we will."
Facts First: This needs context and depends on how the vaccine supply is being defined. If vaccine supply is measured by doses ordered or under contract, then that amount exceeded the US population prior to Biden's inauguration. But if it consists of the amount of doses distributed, then the vaccine supply two months ago was not enough to vaccinate all of the American public.
Covid-19 deaths
Facts First: This is misleading. If Biden had said that there have been more American Covid-19 deaths than American battlefield casualties from those wars, this would have been true. But it's incorrect that that there have been more American Covid-19 deaths than all kinds of deaths from those wars, including non-battlefield deaths.
When non-battle deaths, including those from war-related disease, are added to the tally, the number of Americans who died as a result of those wars and 9/11 rises to 583,112. And with non-American war deaths factored in, the death totals far exceed the current American coronavirus death toll.
Child poverty
Biden said the new law "will cut child poverty in this country in half, according to the experts."
The response to Biden's goal
Biden said, "When I came into office, you may recall, I set a goal that many of you said was kind of way over the top. I said I intended to get 100 million shots in people's arms in my first 100 days in office."
Source link