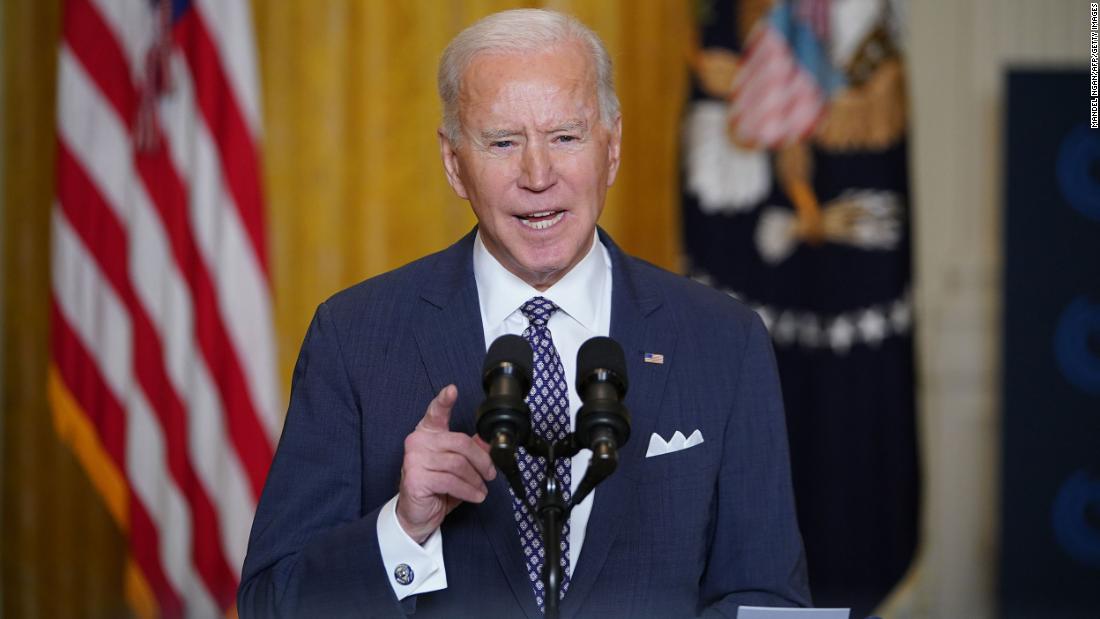 For this article, CNN looked into 40 of the claims Biden made from January 20 through February 19. Our fact checks are below — inaccurate claims first; then the claims that are disputed, complicated, or on which Biden could have been clearer if he had added some more context; then the claims that we can simply call accurate.
We invited the White House to comment on our findings. The White House offered comments only on the condition of anonymity. For fairness, we have included these anonymous comments in cases where they help explain where Biden was coming from.
Walter Reed visits
Vaccines to community health centers
Biden's travel with Xi Jinping
The White House official told CNN that Biden was making "a reference to the total travel back and forth — both internally in the US and China, and as well as internationally — for meetings they held together. Some travel was in parallel, some was separately to joint destinations." But that is very different than traveling "with" Xi, especially in the context a point about how familiar he is with Xi.
The plan for pharmacies
"When we first started talking to the Biden team during the transition, it was unclear what the federal pharmacy partnership program was going to look like, and key details…were missing. Those details were critical for us, obviously, as we needed to be prepared to activate. What we've seen over the last several weeks is a clear national plan emerge," said a source at one company participating in the partnership program.
A White House official — a different official than the one who responded to our other queries — said that when the transition team approached major pharmacies to ask what the specifics of the federal partnership program were, "They were like, 'We have no idea. We were going to ask you guys this question.'"
Suicide and the pandemic
Facts First: This claim is premature because complete national data on suicide in the last year is not yet available, two experts on the subject told CNN. Dr. Joshua Gordon, director of the National Institute of Mental Health, which is part of the federal National Institutes of Health, said in an interview that while it is very clear that surveys show that suicidal thoughts have increased among Americans during the pandemic, it is not clear if this increase has translated to a national increase in people actually going through with the act; he said "we always look at survey data with a grain of salt," since there is a lot it cannot tell us, and there are also some indications that the number of people reaching out for help is up. "If we look at deaths from suicide, the data so far that we have available does not yet show an increase for 2020," Gordon said.
Gordon also said that the mental health consequences of disasters are often "not fully realized until the disaster is over," so it is possible that the impact of the pandemic could show up in suicide data after the immediate threat of the virus itself has passed.
All of that is fair enough. But it doesn't change the fact that we don't yet know for sure whether Biden's general claim that "suicides are up" is correct.
Biden's role in the 2009 stimulus talks
Biden didn't claim that he was the only person responsible for securing the three Republicans' votes, so his claim isn't false. But he would've been more accurate if he had made clear he was part of a team and if he had not suggested that the three Republicans flip-flopped on the bill.
Specter died in 2012. Snowe left office in 2013, and her institute did not respond to a request for comment.
Hunger in January
Oil subsidies
Facts First: Biden has a reasonable factual basis for this claim, but it's worth noting that the accuracy of the "$40 billion" figure depends on what you consider a "handout to Big Oil" and what time period you are looking at.
Biden's "$40 billion" figure is very close to at least one estimate for annual US subsidies for fossil fuels. The estimate, provided to CNN by the research and advocacy group Oil Change International, which seeks to transition away from fossil fuels, is $39.4 billion. That $39.4 billion figure, however, also includes subsidies for coal (so not just to "Big Oil"), relies largely on figures from 2015 and 2016, and includes billions in subsidies from state governments (not only the federal government).
Masks and lives
Trump and health care
Facts First: This needs context. Actions taken by the Trump administration did make it more difficult for people to sign up for the Affordable Care Act or qualify for Medicaid. The question of whether those actions also made coverage more expensive is more complex.
According to Robin Rudowitz, Co-Director of the Kaiser Family Foundation's Program on Medicaid and the Uninsured, the Trump administration's proposals and actions "mostly focused around limiting the scope of Medicaid coverage."
For example, in a historic step, the Trump administration allowed states to apply for waivers to require certain Medicaid recipients to work, volunteer, take classes or search for jobs in order to receive coverage. A dozen states received permission to do so. About 18,000 people were stripped of their insurance in Arkansas — the only state to fully implement the rules before being stopped by a federal judge — within a few months of the mandate taking effect. The Supreme Court agreed in December to hear the case.
– CNN's Tami Luhby contributed to this item.
Biden getting 'shot at'
Facts First: What counts as being "shot at" is subjective, but there is enough evidence for Biden's vague claim that we say it is somewhat accurate at minimum. The White House pointed to five incidents during Biden's career as senator and vice president, at least two of them corroborated by media outlets.
The White House sent CNN a list of three other incidents Biden says occurred: another Green Zone mortar incident in 2005, an incident in 2005 in which Biden said a bullet narrowly missed a helicopter carrying him from the Green Zone to the Baghdad airport, and an incident in 2004 in which Biden said he was leaving Iraq in a military plane that had to take evasive action after its missile warning system was activated.
He could have been more precise then and now. Still, his claim that he has been with American diplomats as they were "shot at" is not baseless.
Racial disparities and the pandemic
The updated CDC data shows that, through January 30, Black people had died of Covid-19 at 1.9 times the rate of White people, down from 2.8 times in the previous data. Latino people had died at 2.3 times the rate of White people, also down from 2.8 times in the previous data.
Attitudes about climate change
"Over the last decade, we've seen little growth in the shares of Republicans and Republican-leaning independents who view climate change as a major threat to the U.S. or call it a top priority for the president and Congress," Cary Funk, Pew's director of science and society research, said in an email.
Pew asked all respondents about "global warming" from 2008 to 2014. In 2015, it asked half of respondents about "global warming" and half about "climate change." From 2016 onward, it has asked all respondents about "climate change."
Clean energy
Climate change and the military
Here are some other claims Biden was correct about: