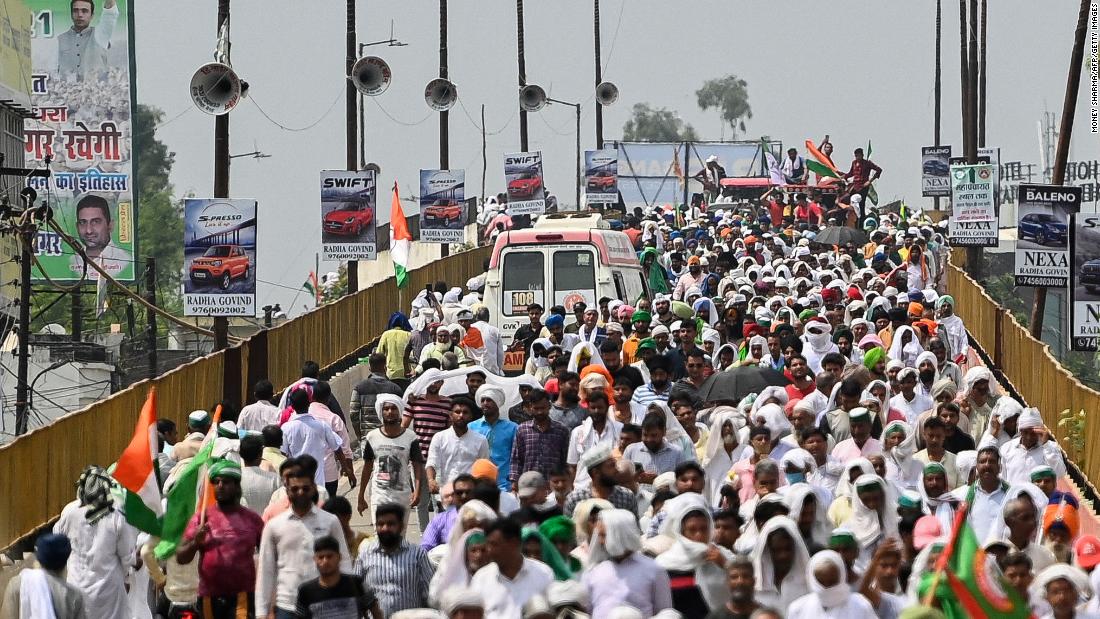 District official Amit Singh told CNN about 150,000 people attended the rally, in the city of Muzaffarnagar. The Samyukta Kisan Morcha (SKM) farmers' group said about 1 million protesters were present.
"When this protest succeeds, when the farmers and the youth of India win, then only will we leave," Tikait said.
Farmer leaders are now calling for a nationwide strike on September 27, although pleas for similar strikes in the past have met with limited success.
Challenges to Modi's government
For almost nine months, Indian farmers have been fighting three new laws, which they say will leave them open to exploitation by large corporations and destroy their livelihoods. The laws, which were passed last September, loosened rules around the sale and pricing of produce that have protected farmers from an unregulated free market for decades.
Under the previous laws, farmers had to sell their goods at auction at their state's Agricultural Produce Market Committee, where they were guaranteed to receive at least the government-agreed minimum price. There were restrictions on who could buy, and prices were capped for essential commodities.
The new laws dismantled this structure, instead allowing farmers to sell their goods to anyone for any price. The government say the reforms are needed to modernize the country's agricultural industry, but many farmers argue it will allow large corporations to drive prices down.
Modi has failed to quell the demonstrations, and negotiations between his government and the farmer's unions have been unsuccessful.
But the protests continued, with some farmers vowing not to leave until the laws are fully repealed.
Government criticism
Sunday's rally in Muzaffarnagar is of particular importance, as the state of Uttar Pradesh — India's most populous — will hold a state assembly election early next year.
SKM said the rally was a "warning" to the state government. "If the government does not repeal all three agricultural laws and does not give legal guarantee for the purchase of agricultural products, then the movement will be intensified," the group said in a statement.
India's Ministry of Home Affairs said the move was "in the interest of maintaining public safety and averting public emergency." However, protesters condemned the shutdown, with one farmer's union leader, Darshan Pal, calling the move "undemocratic."
In February, 16 opposition parties in a joint statement accused Modi and the BJP of using excessive force and being "arrogant, adamant and undemocratic in their response."
Anurag Thakur, a politician with the BJP, said Sunday that Modi's government is open to talks with farmers' groups and is working toward increasing their income.
Sunday's mass gathering also took place despite India being on alert for a potential third coronavirus wave.
"We have been reaching out to farmers and supporters to wear masks," Ashutosh Mishra, media coordinator for the farmers' groups, told CNN.
Source link