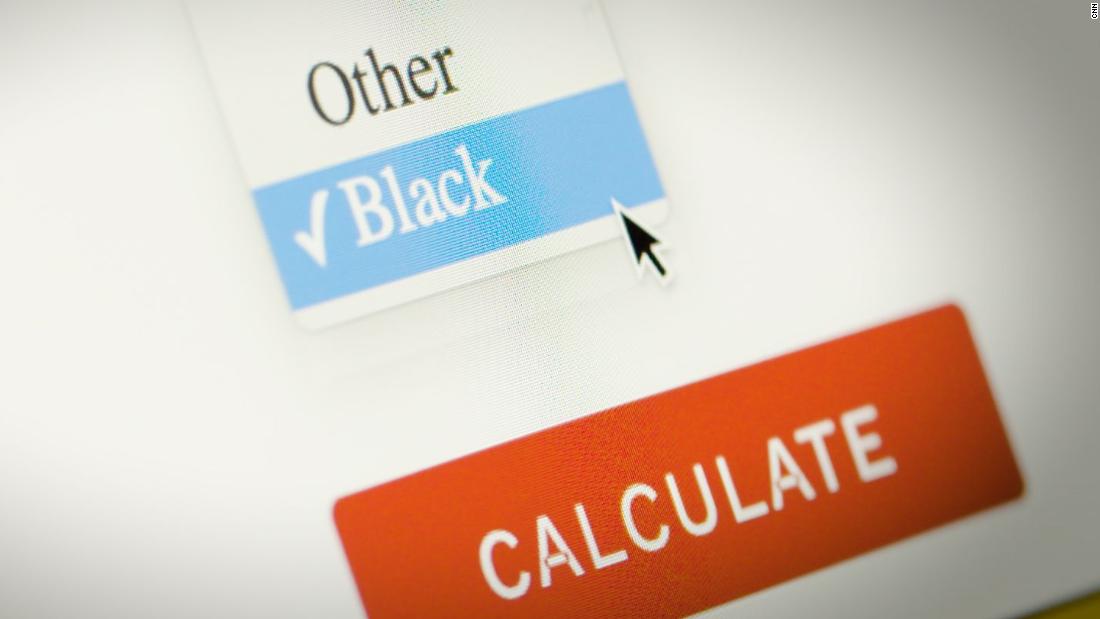 Nkinsi remembers the professor talking about an equation doctors use to measure kidney function. The professor said eGFR equations adjust for several variables, including the patient's age, sex and race. When it comes to race, doctors have only two options: Black or "Other."
Nkinsi was dumbfounded.
"It was really shocking to me," says Nkinsi, now a third-year medical and masters of public health student, "to come into school and see that not only is there interpersonal racism between patients and physicians … there's actually racism built into the very algorithms that we use."
At the heart of a controversy brewing in America's hospitals is a simple belief, medical students say: Math shouldn't be racist. Patients like Nichole Jefferson agree:
The argument over race correction has raised questions about the scientific data doctors rely on to treat people of color. It's attracted the attention of Congress and led to a big lawsuit against the NFL.
What happens next could affect how millions of Americans are treated.
Medicine has never been immune to racism
"They relied on one another to thrive," Roberts says.
The effects of Cartwright's falsehood, and others like it, linger today.
To fight this kind of bias, hospitals urge doctors to rely on objective measures of health. Scientific equations tell physicians everything from how well your kidneys are working to whether or not you should have a natural birth after a C-section. They predict your risk of dying during heart surgery, evaluate brain damage and measure your lung capacity.
But what if these equations are also racially biased?
Race correction is the use of a patient's race in a scientific equation that can influence how they are treated. In other words, some diagnostic algorithms and risk predictor tools adjust or "correct" their results based on a person's race.
Turns out, second-year medical student Carina Seah wryly told CNN, math is as racist as the people who make it.
Race isn't based on biology
The biggest problem with using race in medicine? Race isn't a biological category. It's a social one.
"It's based on this idea that human beings are naturally divided into these big groups called races," says Dorothy Roberts, a professor of law and sociology at the University of Pennsylvania, who has made challenging race correction in medicine her life's work. "But that's not what race is. Race is a completely invented social category. The very idea that human beings are divided into races is a made-up idea."
Ancestry is biological. Where we come from — or more accurately, who we come from — impacts our DNA. But a patient's skin color isn't always an accurate reflection of their ancestry.
Look at Tiger Woods, Roberts says. Woods coined the term "Cablinasian" to describe his mix of Caucasian, Black, American Indian and Asian ancestries. But to many Americans, he's Black.
"You can be half Black and half White in this country and you are Black," says Seah, who is getting her medical degree and a PhD in genetics and genomics at the Icahn School of Medicine at Mount Sinai in New York. "You can be a quarter Black in this country — if you have dark skin, you are Black."
So it can be misleading, Seah says, even dangerous, for doctors to judge a patient's ancestry by glancing at their skin. A patient with a White mother and Black father could have a genetic mutation that typically presents in patients of European ancestry, Seah says, but a doctor may not think to test for it if they only see Black skin.
"You have to ask, how Black is Black enough?" Nkinsi asks. And there's another problem, she says, with using a social construct like race in medicine. "It also puts the blame on the patient, and it puts the blame on the race itself. Like being Black is inherently the cause of these diseases."
An overdue reckoning
After she learned about the eGFR equation in 2018, Nkinsi began asking questions about race correction. She wasn't alone — on social media she found other students struggling with the use of race in medicine. In the spring of 2020, following a first-year physiology lecture, Seah joined the conversation. But the medical profession is nothing if not hierarchical; Nkinsi and Seah say students are encouraged to defer to doctors who have been practicing for decades.
Then on May 25, 2020, George Floyd was killed by police in Minneapolis.
His death and the growing momentum around Black Lives Matter helped ignite what Dr. Darshali A. Vyas calls an "overdue reckoning" in the medical community around race and race correction. A few institutions had already taken steps to remove race from the eGFR equation. Students across the country demanded more, and hospitals began to listen.
That reclassification is good and bad, says Dr. Neil Powe, chief of medicine at Zuckerberg San Francisco General Hospital. Black patients newly diagnosed with kidney disease will be able to see specialists who can devise better treatment plans. And more patients will be placed on kidney transplant lists.
On the flip side, Powe says, more African Americans diagnosed with kidney disease means fewer who are eligible to donate kidneys, when there's already a shortage. And a kidney disease diagnosis can change everything from a patient's diabetes medication to their life insurance costs.
Powe worries simply eliminating race from these equations is a knee-jerk response — one that may exacerbate health disparities instead of solve them. For too long, Powe says, doctors had to fight for diversity in medical studies.
Put simply: In the eGFR equation, researchers used race as a substitute for an unknown factor because they think that factor is more common in people of African descent.
Last August, Vyas co-authored the "Hidden in Plain Sight" article about race correction. Vyas says most of the equations she wrote about were developed in a similar way to the eGFR formula: Researchers found Black people were more or less likely to have certain outcomes and decided race was worth including in the final equation, often without knowing the real cause of the link.
"When you go back to the original studies that validated (these equations), a lot of them did not provide any sort of rationale for why they include race, which I think is appalling." That's what's most concerning, Vyas says — "how willing we are to believe that race is relevant in these ways."
Vyas is clear she isn't calling for race-blind medicine. Physicians cannot ignore structural racism, she says, and the impact it has on patients' health.
"We want to cure disparities, let's go after the things that really matter, some of which may be racist," he says. "But to put all our stock and think that the equation is causing this is just wrong because it didn't create those."
In discussions about removing race correction, Powe likes to pose a question: Instead of normalizing to the "Other" group in the eGFR equation, as many of these hospitals are doing, why don't we give everyone the value assigned to Black people? By ignoring the differences researchers saw, he says, "You're taking the data on African Americans, and you're throwing it in the trash."
The multi-million dollar lawsuit
Race correction is used to assess the kidneys and the lungs. What about the brain?
The players, Najeh Davenport and Kevin Henry, said the NFL race-corrected their neurological exams, which prevented them from being compensated.
According to court documents, former NFL players being evaluated for neurocognitive impairment were assumed to have started with worse cognitive function if they were Black. So if a Black player and a White player received the exact same scores on a battery of thinking and memory tests, the Black player would appear to have suffered less impairment. And therefore, the lawsuit stated, would be less likely to qualify for a payout.
Race correction is common in neuropsychology using something called Heaton norms, says Katherine Possin, an associate professor at the University of California San Francisco. Heaton norms are essentially benchmark average scores on cognitive tests.
Here's how it works: To measure the impact of a concussion (or multiple concussions over time), doctors compare how well the patient's brain works now to how well it worked before.
"The best way to get that baseline was to test you 10 years ago, but that's not something we obviously have for many people," Possin says. So doctors estimate your "before" abilities using an average score from a group of healthy individuals, and adjust that score for demographic factors known to affect brain function, like your age.
Heaton norms adjust for race, Possin says, because race has been linked in studies to lower cognitive scores. To be clear, that's not because of any biological differences in Black and White brains, she says; it's because of social factors like education and poverty that can impact cognitive development. And this is where the big problem lies.
This happens in nearly every field of medicine. Race is not only used as a poor substitute for genetics and ancestry, it's used as a substitute for access to health care, or lifestyle factors like diet and exercise, socioeconomic status and education. It's no secret that racial disparities exist in all of these. But there's a danger in using race to talk about them, Yale historian Carolyn Roberts says.
Vyas says using race as a proxy for these disparities in clinical algorithms can also create a vicious cycle.
"There's a risk there, we argue, of simply building these into the system and almost accepting them as fact instead of focusing on really addressing the root causes," Vyas says. "If we systematize these existing disparities … we risk ensuring that these trends will simply continue."
Change on the horizon
Nearly everyone on both sides of the race correction controversy agrees that race isn't an accurate, biological measure. Yet doctors and researchers continue to use it as a substitute. Math shouldn't be racist, Nkinsi says, and it shouldn't be lazy.
"We're saying that we know that this race-based medicine is wrong, but we're going to keep doing it because we simply don't have the will or the imagination or the creativity to think of something better," Nkinsi says. "That is a slap in the face."
Dorothy Roberts is excited to see change on the horizon. But she's also a bit frustrated. The harm caused by race correction is something she's been trying to tell doctors about for years.
"I've taught so many audiences about the meaning of race and the history of racism in America and the audiences I get the most resistance from are doctors," Roberts says. "They're offended that there would be any suggestion that what they do is racist."
Nkinsi and Seah both encountered opposition from colleagues in their fight to change the eGFR equation. Several doctors interviewed for this story argued the change in a race-corrected scores is so small, it wouldn't change clinical decisions.
If that's the case, Vyas wonders, why include race at all?
"It all comes from the desire for one to dominate another group and justify it," says Roberts. "In the past, it was slavery, but the same kinds of justifications work today to explain away all the continued racial inequality that we see in America… It is mass incarceration. It's huge gaps in health. It's huge differences in income and wealth."
It's easier, she says, to believe these are innate biological differences than to address the structural racism that caused them.