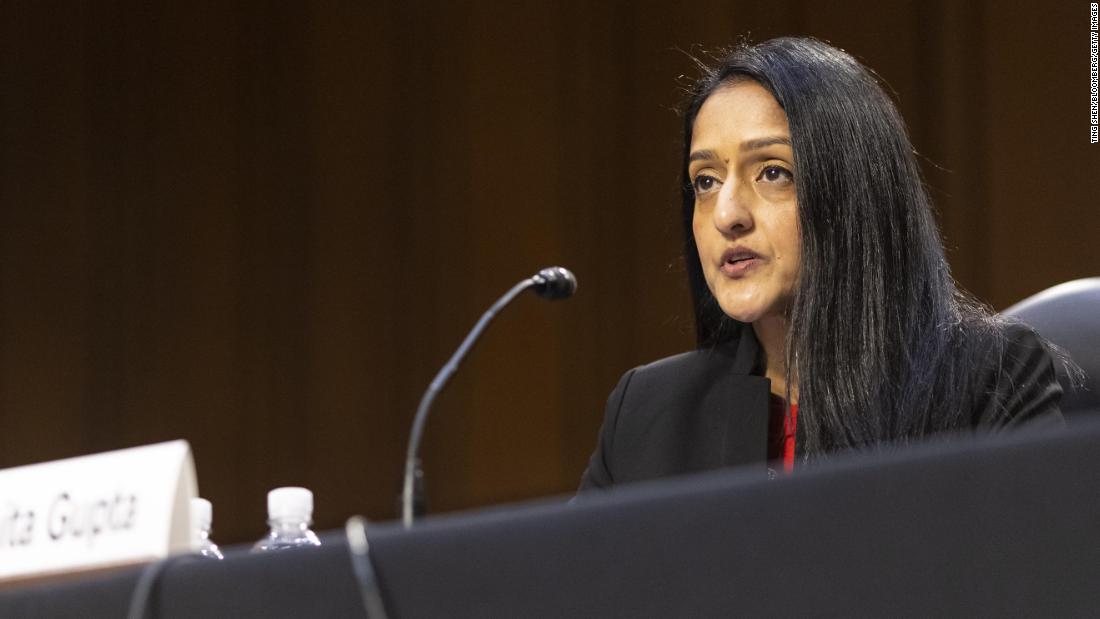 Vice President Kamala Harris was on hand for a procedural vote Wednesday morning in case she was needed for a possible 50-50 tie, but her vote wasn't necessary after Murkowski, a moderate Republican from Alaska, broke with her Republican colleagues to back Gupta.
With her confirmation, Gupta will be the first woman of color to be associate attorney general, joining Attorney General Merrick Garland and Deputy Attorney General Lisa Monaco as the No. 3 Justice Department official.
Murkowski explained her support for Gupta on the Senate floor, saying she was troubled by some of Gupta's statements but decided to back her confirmation following a lengthy conversation with the nominee.
"I asked her point blank, 'Why do you want this? Is this worth it?' Because this has clearly been very hard on her as a nominee," Murkowski said. "And she paused and reflected a moment, and just spoke to how she feels called to serve in a very personal way that I thought was impactful."
"I am going to give the benefit of the doubt to a woman who I believe has demonstrated throughout her professional career to be deeply, deeply committed to matters of justice," Murkowski said.
"She's levied attacks on members of this body, and during the confirmation process, she employed the loosest possible interpretation of her oath to deliver honest testimony," McConnell said.
But Democrats have accused Republicans and outside conservative groups of running a smear campaign to try to block Gupta's nomination, pointing to her lengthy record of endorsements from law enforcement groups to be the No. 3 official at the Justice Department.
"Not only is Ms. Gupta the first woman of color to ever be nominated to the position, she is the first civil rights attorney ever to be nominated to the position, the third-ranking official in the Justice Department," said Senate Majority Leader Chuck Schumer. "That's shocking, really. We never have had a former civil rights attorney serving in such a prominent serving in such a position of prominence at the Justice Department. In that sense alone, Ms. Gupta would bring a long overdue perspective to our federal law enforcement agency."
Ahead of a final vote on Gupta's confirmation, Senate Judiciary Chairman Dick Durbin, an Illinois Democrat, and Sen. John Cornyn, a Texas Republican, sparred in a lengthy debate over the nomination and Gupta's statements on drug legalization, underscoring the contentiousness of the vote.
While Harris did not have to vote on Gupta's nomination, she may be called into action for the President's nominees soon — even as early as later Wednesday. Several nominees heading to the floor soon, including Clarke and Colin Kahl, Biden's pick to be Pentagon policy chief, have faced stiff GOP opposition. A vote to discharge Kahl's nomination from the Armed Services Committee is expected later Wednesday.
Gupta's confirmation hearing in the Senate Judiciary Committee was contentious, and there was a procedural spat over last month's vote on her nomination in the committee. Republicans accused Democrats of cutting off debate to force the vote through, while Senate Judiciary Chairman Dick Durbin said he was forced to do so only because Republicans were going to invoke the Senate's "two-hour rule" in an effort to stop the vote from happening.
This story and headline have been updated to include additional developments.
CNN's Morgan Rimmer and Ted Barrett contributed to this report.
Source link