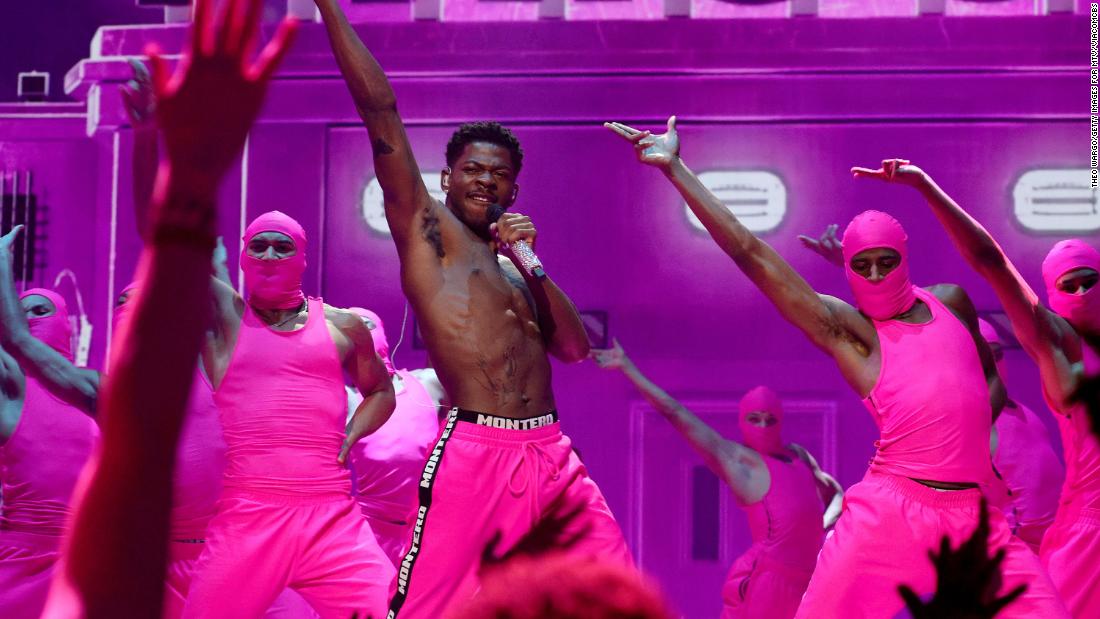 "I wanted to be even more authentic in my music and let people into my life. I'm much more confident now — in my music, myself, my sexuality, the things that I believe that I stand for."
That was Lil Nas X
in a recent interview with Variety
, laying plain his personal growth over the months and years leading up to the release of his highly anticipated debut studio album, "Montero," out on Friday.
Lil Nas X is confident, without a doubt.
In a music landscape where lyrics of overt queer intimacy remain a rarity, he sings defiantly and playfully into that stillness: "If Eve ain't in your garden, you know that you can / Call me when you want, call me when you need," he teases on his No. 1, "Montero (Call Me by Your Name)." Through his chart-topping songs, he explores tropes — longing, dreams and dreaminess, escape — in an explicit manner, embracing his desires as a gay Black man. He argues for his existence in an industry where
some continue to dismiss and threaten him
.
The 22-year-old Grammy winner, whose real name is Montero Lamar Hill, similarly takes power back in his music videos. In the visual extensions of his songs, he snatches sites that have long been associated with queer pain — the realms of scripture, the hallways of high school — and injects them with joy.
What's more, through activism, he strives to make reality match his aspirations.
Imagining a better world
He and his army of über-ripped fellow prisoners bopped around the stage. Then, they gyrated in the shower; they wore hot-pink underwear, of course.
Here, Hell is turned into a good time to underscore that the threat of eternal damnation has no real power over Lil Nas X.
The clip paints a moving portrait of Lil Nas X as a teenager. He's impossibly isolated from his classmates. He roams the hallways alone, stalked by his insecurities about his big lips and his dark skin. At night, he asks that God take away his gay thoughts. He considers suicide.
Then, a turn. After crying in the bathroom at prom, Lil Nas X, revivified by his future self, returns to the dance floor. And there he is, flipping out to the music as the crowd is swept into his orbit.
With "Sun Goes Down," Lil Nas X puts together an alternate reality, one that provides queer viewers with the sort of happy ending that straight kids — particularly straight White kids — have always enjoyed in pop culture, one John Hughes movie after another.
Just imagine what the world would be like if it were more like Lil Nas X's videos. If queer people weren't taught to be afraid of Hell or high school. If all this were ours for the taking — and the dancing.
Bringing reality in line with art
Lil Nas X takes his work beyond imagining a better world; he puts effort into making it a reality.
Source link