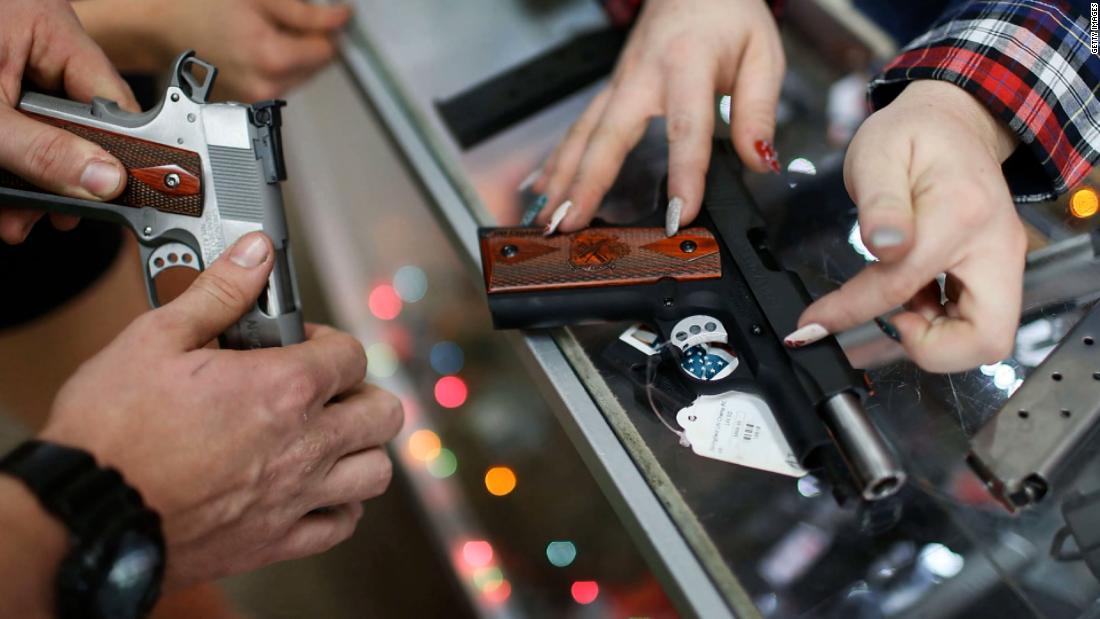 Tuesday's focus was on the horrible shooting that claimed 10 lives at a grocery story in Colorado.
But there have been
seven mass shootings in seven days around the country
, beginning with the bloody rampage in Atlanta against Asian women. There were also multiple injuries after shootings in Stockton, California; Gresham, Oregon; Dallas; Houston; and Philadelphia.
The shooter in Georgia bought his firearm the day he is alleged to have carried out the attacks, according to police. There's no waiting period to buy a gun in Georgia, making it a much easier process than, say, registering to vote, which takes more time there.
The Boulder shooting occurred 10 days after a county judge, Andrew Hartman, halted implementation of a ban on assault-style weapons and high capacity magazines. The bans had been passed by Boulder's local government after the 2018 shooting in Parkland, Florida. He said only state or federal law could ban such weapons.
Congress has tried to address these problems. The Democratic-led House of Representatives passed two bills on March 11 — less than two weeks ago! — that would expand background checks on all commercial gun sales.
While strong proposals like a ban on assault-style weapons or high capacity magazines are not currently seriously being discussed at the federal level, there are areas of agreement — though that may not be enough to get anything passed.
Here's what to know about what is being considered in Congress.
Background checks
This has bipartisan support. The final vote on the background check bill was 227-203 in the House. Eight Republicans supported the legislation and one Democrat voted against it.
But it needs a supermajority in the Senate. It's clear the legislation does not have the support it needs (at least not right now) to reach the 60 votes needed to overcome a filibuster.
Closing loopholes
A bill backed by Rep. James Clyburn of South Carolina had less support than expanding background checks. It passed the House 218 – 210, without any Republican support.
Using that loophole, Dylann Roof was able to legally purchase a firearm to kill nine people at a historically Black church in Charleston, South Carolina, in 2015.
It needs a supermajority in the Senate. This legislation also does not have the support it needs (at least not right now) to reach the 60 votes needed to overcome a filibuster.
Even bills with strong bipartisan support have failed to pass the Senate
In 2013, Sen. Joe Manchin, the West Virginia Democrat, and Sen. Pat Toomey, the Pennsylvania Republican, pushed a compromise bill: this bill would have required background checks on all commercial sales of gun (including private sales at gun shows and all internet sales), but would have allowed for individuals to sell their firearms to family, friends and other acquaintances without background checks.
The filibuster, again
Democrats now argue this intransigence means Senate rules must change. There are a lot of areas where Republicans will block Democrats — limiting gun rights, expanding voting rights, addressing climate change, rolling back tax cuts and more. Calls to end the filibuster will continue to grow.
Until every Democrat agrees, it's not possible to end the filibuster. Manchin supports gun control measures like the one he sponsored. But he's more committed to maintaining Senate rules, which currently require a supermajority before voting on any piece of legislation. Other Democrats, like Arizona Sen. Kyrsten Sinema, also support keeping the filibuster. It will require a simple majority to create a new precedent under Senate rules.
We don't know which will come first: Either Democrats must all agree to end the filibuster or Republicans must begin to support gun control measures in larger numbers. Until then, there will be no new federal gun laws.
Source link