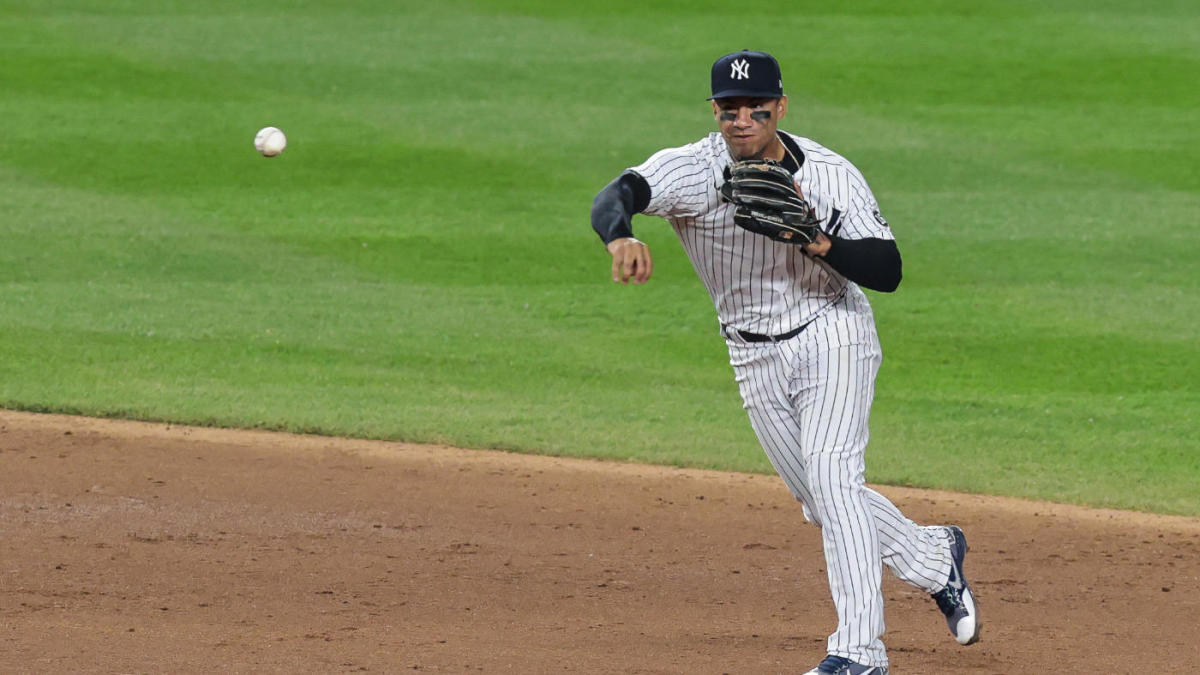 Ten games into the new season, the New York Yankees are 5-5 with a plus-7 run differential. They're hardly the only contender off to a slow start, and slow starts are nothing new for this franchise. The Yankees started 6-9 en route to 103 wins in 2019, and they started their 100-win 2018 season with six losses in their first 11 games. Bet on the Yankees going on a run soon.
Here are three notable Yankees trends two weeks into the 2021 season. More accurately, here are two trends and the possible thinking behind a recent trade.
Gleyber's defensive issues
When the Yankees let fan favorite Didi Gregorius leave as a free agent two years ago, they did so because they were comfortable with Gleyber Torres at shortstop, and because DJ LeMahieu became a mainstay at second base. Torres handled shortstop well while Gregorius completed his Tommy John surgery rehab in 2019, and the scouting reports said he was a natural at the position.
Here's what Baseball America wrote about Gleyber's defense back in 2018, the last time he was prospect eligible:
Defensively, there's no reason Torres can't stick at shortstop, but the emergence of Didi Gregorius in New York necessitated that Torres learn other positions quickly. He shuffled around during his brief (2017) season, playing 15 games at third base and 10 more at second base before the injury. He has the above-average range and arm to play those positions or shortstop.
Year 1 with Torres as the full-time shortstop did not go particularly well. In the shortened 60-game season, Torres committed the fifth most errors (nine) in baseball while playing the 169th most defensive innings (320 2/3). He was a below-average defender according to Defensive Runs Saved (minus-9), Ultimate Zone Rating (minus-5), and Outs Above Average (minus-1).
"(Torres) wasn't in the best shape to start the second spring training," Yankees GM Brian Cashman said during a YES Network interview in December. "On his return from the shutdown, (we spent the) first half of the season playing catchup, maybe in the first 40 or 45 games of the season playing catchup. Once we got him back online and in shape, we saw — towards the last 20 games including the playoffs — the Gleyber Torres we're used to seeing."
During that same interview Cashman said "I acknowledge he is a better second baseman than shortstop." Ultimately, the Yankees opted not to make a permanent decision about Torres' long-term position based on an unusual pandemic season. They re-signed LeMahieu to play second base this past offseason and Gio Urshela is locked in at third. The Yankees committed to Torres at short.
Year 2 with Torres as the full-time shortstop looks an awful lot like Year 1 in the early going. Torres made two throwing errors during the first week of the season and had several other poor throws that led to infield singles. Most egregiously, Torres played a Pedro Severino ground ball too nonchalantly last Wednesday, and his poor throw resulted in an error that allowed the go-ahead run to score.
"Made a really tough hop over there for Jay (Bruce)," Yankees manager Aaron Boone told reporters, including The Athletic's Lindsey Adler, following the game. "You've got to be more on target in that spot. It turned into a real tough play over there for Jay and ended up allowing them to grab the lead there."
One night earlier Torres nonchalantly played a Ryan Mountcastle ground ball that should have ended the game, allowing the Orioles youngster to beat out an infield single. The next batter, Rio Ruiz, went deep. The Yankees had a 7-0 lead at the time, so Gleyber's play didn't cost them the game or anything, but still, it can't happen. Here's a reel of Torres' defensive misplays early this year:
There's a lot of careless play in there, huh? Torres is not making mistakes because he lacks physical tools, such as range or arm strength. He's botching routine plays. The Mountcastle infield single and error on the Severino grounder are the most glaring examples. Derek Jeter lacked range throughout his career, though he turned every routine play. Torres is not doing that.
In theory, correcting carelessness is simple. You drill it into the guy's head that he needs to play with more urgency. In practice, it's not that simple, because the Yankees and Torres have been working on this for several years now. It's an internal clock issue as much as anything, and it's not always easy to change a player's natural tendencies. Clearly though, there's a problem here.
I wouldn't expect the Yankees to move Torres off shortstop based on two bad weeks to start the season, but, even if they did decide to do that, the alternatives aren't great. Recently demoted utility infielder Tyler Wade is a good defender who hasn't hit at the MLB level. Third on the shortstop depth chart is defensive wiz Kyle Holder, who the Reds returned as a Rule 5 Draft pick at the end of spring training. New York is thin at the position.
Because Luke Voit is hurt and Bruce hasn't exactly stood out at first base, the Yankees could put LeMahieu at first and Torres at second, with Wade at short. That would improve their defense without drastically hurting their offense given how little Bruce has provided in the early going. Trading for a shortstop (Trevor Story?) is always possible, though it's a little too early for that.
Either way, Torres must clean up those defensive issues, otherwise he'll find himself at another position. The upcoming free agent class is loaded with shortstops (Story, Javier Baez, Carlos Correa, Corey Seager) and while I'm not sure the Yankees have the appetite for another big long-term contract, it would be hard to pass those guys up should Torres remain mistake prone all season.
"I think the important thing is to continue to reinforce a lot of the good things, a lot of the progress he has legitimately made," Boone said following Wednesday's game. "All the reps we saw in spring training, the routine, the work he's doing, you've got to continue to lean on that and believe in that and trust it, because he has all the capabilities to be able to go out there and do it."  
Chapman's new splitter
Now 33, Yankees closer Aroldis Chapman is losing velocity off his trademark fastball. Since peaking with a 101.1 mph average — average — fastball velocity in 2016, his average heater dipped to 100.1 mph to 99.2 mph to 98.3 mph to 98.2 mph from 2017-20. Velocity loss at this age is normal, and besides, Chapman still throws really hard. It's not like he's sitting 92 mph now.
To compensate for the fastball velocity loss in recent years — I should note Chapman's average fastball velocity is up a bit at 99.3 mph in the early going this year — Chapman increased his slider usage. Here are his month-by-month fastball and slider usage rates from 2016-20:
We can chalk the divergence in 2020 up to small sample size. It was a short season and Chapman missed about four weeks after contracting COVID-19, so he only threw 11 2/3 innings a year ago. From 2016-19 though, the pattern is clear. As he lost velocity off his fastball, Chapman threw more sliders, and it helped him remain elite (second among all relievers in WAR from 2016-20).
Throwing more sliders to compensate for fastball velocity loss shows Chapman can make adjustments and is more than a velocity-fueled one-trick pony. Early on this year, he's made another adjustment, this time adding a splitter. Chapman added the splitter very late last season and is using it more this year. Some quick numbers (including postseason):
2010-19: 1 splitter in 572 1/3 innings
2020: 7 splitters in 16 1/3 innings
2021: 7 splitters in 4 innings
"I believe it's definitely a pitch for me. I feel that I've incorporated that pitch into my pitch mix," Chapman told reporters, including Dan Martin of the New York Post, in spring training. "I definitely feel really good with it. Definitely a weapon that's going to be used in the future."
The super small sample size returns on the splitter are excellent. The pitch has a low 1,379 rpm average spin rate — you want low spin on splitters to create tumbling action, and Chapman's average splitter spin rate is on par with peak Kirby Yates (1,385 rpm from 2018-19) — and hitters have missed with all eight swings against the pitch. Eight swings, eight misses. Tiny sample, but it is also the most swings on a pitch with a 100 percent whiff rate since pitch tracking began in 2008.
Chapman is now a legitimate three-pitch pitcher. He's still touching 100 mph with his fastball, so hitters have to respect that velocity, but he's also throwing his fastball less than half the time these days. The slider and splitter are real weapons and not just show-me pitches, and hitters have to guard against three speeds: upper-90s fastball, upper-80s splitter, low-80s slider. That's tough.
As a closer, Chapman almost exclusively pitches in tight games and high-leverage situations, and that's no time to toy around with a new pitch. He's throwing the splitter now because he believes in it as an out-pitch. We'll see how long this lasts, but given how Chapman embraced the slider a few years ago and really leaned on it, I'm guessing the new splitter is here to stay.
"I still feel like he's a dominant force in the league," Boone told reporters, including Ken Davidoff of the New York Post, in spring training. "… (The splitter is) something that certainly will play for him in the immediate, but I think something that will allow him to, as he gets to the second half of his career, be something that keeps him dominant moving forward."  
What the Yankees see in Odor
Late last week the Yankees sent two lower-level prospects to the Rangers for out-of-favor infielder Rougned Odor. Odor did not make Texas' Opening Day roster and the club is paying him $27 million to go away. They're committed to a youth movement and neither Odor nor his longtime double play partner Elvis Andrus are part of it. Both have been traded away.
"They're going to get a very good teammate and a guy that's probably got a lot of little chip on his shoulder right now, in a good way," Rangers manager Chris Woodward told reporters, including MLB.com's Bryan Hoch, following the trade. "… He's working hard and he knew that hopefully he was going to get another opportunity. He's going to a good team and they're obviously a contender. He's got a really good opportunity to reset things for his career. I'm happy for him to get to a good spot."
Odor, who turned only 27 in February, has already paid dividends for the Yankees. He made his first start Sunday afternoon and drove in what proved to be the game-winning run with a two-out, two-strike, 10th-inning single against the Rays. Odor has played the last two games at second base with LeMahieu sliding over to first and displacing the struggling Bruce.
"All (Odor's) at-bats were pretty competitive. I liked how he moved in the field and turned a nice double play. He's gonna play and get opportunities. It's a day-to-day thing," Boone told reporters, including Dan Martin of the New York Post, earlier this week. "I feel like the at-bat quality has been there. He's had hard-hit balls and like the energy he brings to the field every day and the hunger he's playing the game with. He's handled himself well at second base. He's earned some opportunities."
Sunday's single aside, Odor has been one of the worst players in baseball the last few years. He posted a 106 OPS+ with 49 homers during his age 21-22 seasons from 2015-16, the Rangers gave him a six-year contract extension, and his performance immediately cratered. One hundred and forty-one players have at least 1,500 plate appearances since 2017, and among those 141 Odor ranks …
… 140th in batting average (.215).
… 141st in on-base percentage (.279).
… 111st in slugging percentage (.418).
… 138th in OPS+ (77). 
… 137th in WAR (1.1).
The defensive stats have Odor as average to slightly below average at second base, so he's essentially a one-dimensional power hitter. Odor has three 30-homer seasons to his name and he averaged 30 homers per 162 games from 2017-20. Aside from that, you're not getting anything as far as batting average or on-base ability, nor will he make a difference in the field or on the bases.
What attracted the Yankees to Odor then? A few things. One, Odor has a history of strong exit velocities and the Yankees believe in exit velocity as an evaluation tool. You can't fake exit velocity — you can fake being a .300 hitter for a few weeks, but you can't fake hitting a ball 110 mph the same way a pitcher can't fake a 100 mph fastball — and Odor has it. It's loud contact when he connects.
Two, Odor is a left-handed pull hitter, and left-handed pull hitters tend to fit in well at Yankee Stadium thanks to the short right field porch. Here is Odor's batted ball heat map since 2017:
Three, Odor offers a little versatility. He has never played a position other than second base in the big leagues but the Rangers did work him out at third base in spring training, so the Yankees aren't asking Odor to assume a utility role without him ever being exposed to other positions. He's not that experienced at third base, but the experience he does have is better than nothing.
And four, Odor is essentially free. MLB Network's Jon Heyman reports the Rangers are paying his salary, so the Yankees aren't taking on any money or altering their luxury tax payroll. Wade, the incumbent utility infielder, has a minor-league option remaining and can be stashed in Triple-A. They're getting a free look at Odor, and if they don't like the fit, they can go back to way things were.
Furthermore, the two prospects the Yankees gave up, outfielders Antonio Cabello and Josh Stowers, have been trending down the last few years, and New York lost three affiliates to MLB's minor league contraction plan, so they have to clear a roster logjam anyway. Cabello and Stowers were worthwhile rolls of the dice for the Rangers. For the Yankees, they're easy prospects to trade.
I'm skeptical Odor will have much of an impact for the Yankees, Sunday's go-ahead hit notwithstanding. He's been really terrible the last few years and he's played his home games in a hitter's park his entire career, so I'm not sold on Yankee Stadium boosting his production. Also, their backup shortstop right now is Urshela, who has barely played the position. Their infield defense is sketchy as it is and Odor only exacerbates it.
That said, I understand what the Yankees are doing. They've had some success turning previously unproductive players into quality big leaguers (Urshela, Voit, Aaron Hicks, etc.) and Odor is reasonably young with the ability to hit the ball hard. The acquisition cost was minimal and you can never have enough infield depth. I wouldn't call it a high-upside move, but it is low risk.
"Hopefully we can help him get that talent out that we've seen flashed over the years," Boone told Hoch following the trade. "… He has the ability to really impact the ball from the left side at Yankee Stadium. We feel like that could play up. Hopefully just getting in our environment and our culture will unlock some things for him."     
require.config({"baseUrl":"https://sportsfly.cbsistatic.com/fly-240/bundles/sportsmediajs/js-build","config":{"version":{"fly/components/accordion":"1.0","fly/components/alert":"1.0","fly/components/base":"1.0","fly/components/carousel":"1.0","fly/components/dropdown":"1.0","fly/components/fixate":"1.0","fly/components/form-validate":"1.0","fly/components/image-gallery":"1.0","fly/components/iframe-messenger":"1.0","fly/components/load-more":"1.0","fly/components/load-more-article":"1.0","fly/components/load-more-scroll":"1.0","fly/components/loading":"1.0","fly/components/modal":"1.0","fly/components/modal-iframe":"1.0","fly/components/network-bar":"1.0","fly/components/poll":"1.0","fly/components/search-player":"1.0","fly/components/social-button":"1.0","fly/components/social-counts":"1.0","fly/components/social-links":"1.0","fly/components/tabs":"1.0","fly/components/video":"1.0","fly/libs/easy-xdm":"2.4.17.1","fly/libs/jquery.cookie":"1.2","fly/libs/jquery.throttle-debounce":"1.1","fly/libs/jquery.widget":"1.9.2","fly/libs/omniture.s-code":"1.0","fly/utils/jquery-mobile-init":"1.0","fly/libs/jquery.mobile":"1.3.2","fly/libs/backbone":"1.0.0","fly/libs/underscore":"1.5.1","fly/libs/jquery.easing":"1.3","fly/managers/ad":"2.0","fly/managers/components":"1.0","fly/managers/cookie":"1.0","fly/managers/debug":"1.0","fly/managers/geo":"1.0","fly/managers/gpt":"4.3","fly/managers/history":"2.0","fly/managers/madison":"1.0","fly/managers/social-authentication":"1.0","fly/utils/data-prefix":"1.0","fly/utils/data-selector":"1.0","fly/utils/function-natives":"1.0","fly/utils/guid":"1.0","fly/utils/log":"1.0","fly/utils/object-helper":"1.0","fly/utils/string-helper":"1.0","fly/utils/string-vars":"1.0","fly/utils/url-helper":"1.0","libs/jshashtable":"2.1","libs/select2":"3.5.1","libs/jsonp":"2.4.0","libs/jquery/mobile":"1.4.5","libs/modernizr.custom":"2.6.2","libs/velocity":"1.2.2","libs/dataTables":"1.10.6","libs/dataTables.fixedColumns":"3.0.4","libs/dataTables.fixedHeader":"2.1.2","libs/dateformat":"1.0.3","libs/waypoints/infinite":"3.1.1","libs/waypoints/inview":"3.1.1","libs/waypoints/jquery.waypoints":"3.1.1","libs/waypoints/sticky":"3.1.1","libs/jquery/dotdotdot":"1.6.1","libs/jquery/flexslider":"2.1","libs/jquery/lazyload":"1.9.3","libs/jquery/maskedinput":"1.3.1","libs/jquery/marquee":"1.3.1","libs/jquery/numberformatter":"1.2.3","libs/jquery/placeholder":"0.2.4","libs/jquery/scrollbar":"0.1.6","libs/jquery/tablesorter":"2.0.5","libs/jquery/touchswipe":"1.6.18","libs/jquery/ui/jquery.ui.core":"1.11.4","libs/jquery/ui/jquery.ui.draggable":"1.11.4","libs/jquery/ui/jquery.ui.mouse":"1.11.4","libs/jquery/ui/jquery.ui.position":"1.11.4","libs/jquery/ui/jquery.ui.slider":"1.11.4","libs/jquery/ui/jquery.ui.sortable":"1.11.4","libs/jquery/ui/jquery.ui.touch-punch":"0.2.3","libs/jquery/ui/jquery.ui.autocomplete":"1.11.4","libs/jquery/ui/jquery.ui.accordion":"1.11.4","libs/jquery/ui/jquery.ui.tabs":"1.11.4","libs/jquery/ui/jquery.ui.menu":"1.11.4","libs/jquery/ui/jquery.ui.dialog":"1.11.4","libs/jquery/ui/jquery.ui.resizable":"1.11.4","libs/jquery/ui/jquery.ui.button":"1.11.4","libs/jquery/ui/jquery.ui.tooltip":"1.11.4","libs/jquery/ui/jquery.ui.effects":"1.11.4","libs/jquery/ui/jquery.ui.datepicker":"1.11.4"}},"shim":{"liveconnection/managers/connection":{"deps":["liveconnection/libs/sockjs-0.3.4"]},"liveconnection/libs/sockjs-0.3.4":{"exports":"SockJS"},"libs/setValueFromArray":{"exports":"set"},"libs/getValueFromArray":{"exports":"get"},"fly/libs/jquery.mobile-1.3.2":["version!fly/utils/jquery-mobile-init"],"libs/backbone.marionette":{"deps":["jquery","version!fly/libs/underscore","version!fly/libs/backbone"],"exports":"Marionette"},"fly/libs/underscore-1.5.1":{"exports":"_"},"fly/libs/backbone-1.0.0":{"deps":["version!fly/libs/underscore","jquery"],"exports":"Backbone"},"libs/jquery/ui/jquery.ui.tabs-1.11.4":["jquery","version!libs/jquery/ui/jquery.ui.core","version!fly/libs/jquery.widget"],"libs/jquery/flexslider-2.1":["jquery"],"libs/dataTables.fixedColumns-3.0.4":["jquery","version!libs/dataTables"],"libs/dataTables.fixedHeader-2.1.2":["jquery","version!libs/dataTables"],"https://sports.cbsimg.net/js/CBSi/app/VideoPlayer/AdobePass-min.js":["https://sports.cbsimg.net/js/CBSi/util/Utils-min.js"]},"map":{"*":{"adobe-pass":"https://sports.cbsimg.net/js/CBSi/app/VideoPlayer/AdobePass-min.js","facebook":"https://connect.facebook.net/en_US/sdk.js","facebook-debug":"https://connect.facebook.net/en_US/all/debug.js","google":"https://apis.google.com/js/plusone.js","google-platform":"https://apis.google.com/js/client:platform.js","google-csa":"https://www.google.com/adsense/search/async-ads.js","google-javascript-api":"https://www.google.com/jsapi","google-client-api":"https://apis.google.com/js/api:client.js","gpt":"https://securepubads.g.doubleclick.net/tag/js/gpt.js","newsroom":"https://c2.taboola.com/nr/cbsinteractive-cbssports/newsroom.js","recaptcha":"https://www.google.com/recaptcha/api.js?onload=loadRecaptcha&render=explicit","recaptcha_ajax":"https://www.google.com/recaptcha/api/js/recaptcha_ajax.js","supreme-golf":"https://sgapps-staging.supremegolf.com/search/assets/js/bundle.js","taboola":"https://cdn.taboola.com/libtrc/cbsinteractive-cbssports/loader.js","twitter":"https://platform.twitter.com/widgets.js","video-utils":"https://sports.cbsimg.net/js/CBSi/util/Utils-min.js"}},"waitSeconds":300});