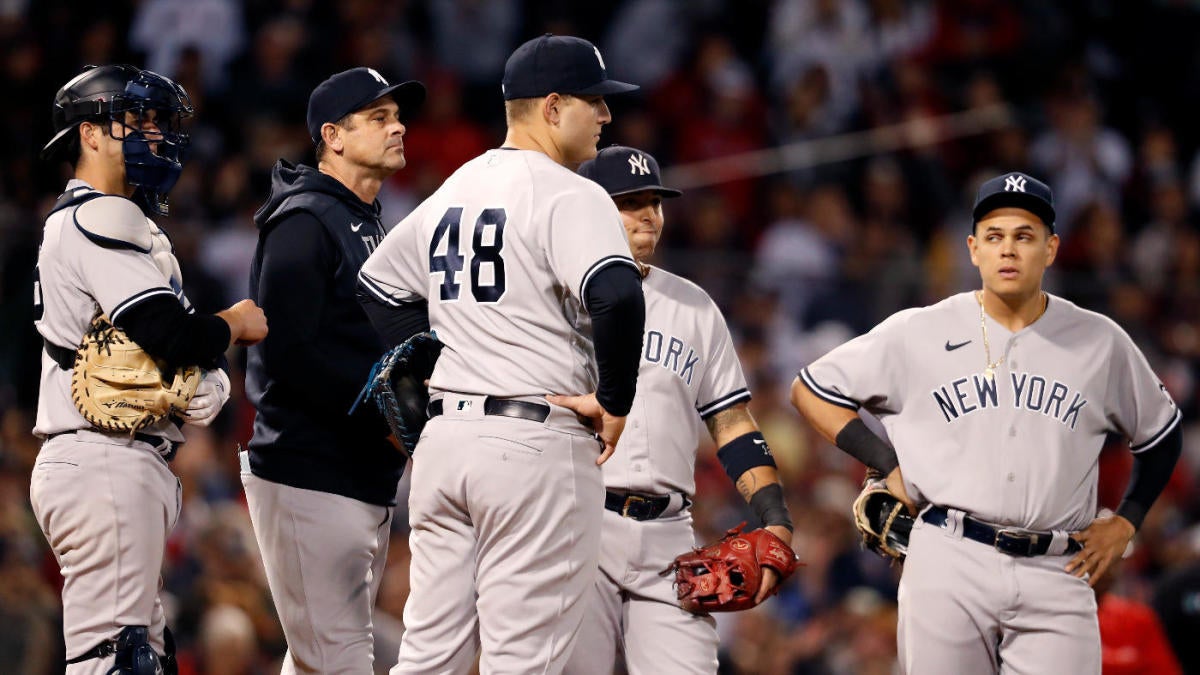 The New York Yankees are heading home for the offseason. Tuesday night, the Yankees dropped the American League Wild Card Game to the rival Boston Red Sox (BOS 6, NYY 2), advancing Boston and eliminating New York. The Red Sox will now face the Tampa Bay Rays in the League Division Series. It is the second time in four years the Red Sox eliminated the Yankees.
"We just didn't get the job done, all season long," Aaron Judge told reporters, including MLB.com's Bryan Hoch, following the Wild Card Game loss. "We've got to keep working. Individually and as a team, there's a lot of things that we need to continue to work on and continue to improve to push us to the next level. So I guess it's back to the drawing board."
By any measure, this was a disappointing season for the Yankees. They came into the season as AL East favorites — SportsLine, FanGraphs, and Baseball Prospectus all forecast the Yankees as division favorites — yet settled for 92 wins and the second wild-card spot, and did not clinch a postseason berth until the final day of the season. It was a long, difficult year.
The pitching was excellent. The Yankees finished third in the league in ERA and second in ERA+, and that was despite COVID-19 outbreaks and injuries. The offense greatly underperformed. The Yankees finished 18th in runs scored per game and were exactly league average in terms of OPS+, which is far below expectations. The defense and base running was also suspect.
As is the case every year they don't win the World Series, the Yankees head into the offseason with significant questions to answer, and the possibility of some sort of shakeup. They've resisted such a shakeup for a few years now, but another quick exit in October can change the equation. Here are the three biggest questions facing New York this offseason.
1. What is Boone's future?
The Yankees did not win the World Series, which means it's time to question the manager's job security. That's just the way it is, though in Boone's case, questions about his job security have lingered all year. His team has underperformed and it's now four straight disappointing postseason exits under his watch. Questioning whether Boone is the right manager is fair game.
"I really don't," Boone told reporters, including NJ.com's Randy Miller, prior to the Wild Card Game when asked whether he worries about his job security. "I'm sure my faith has something to do with it, my family. This is my livelihood. This has been a huge part of my life. I love it. It means a lot to me. But at the end it's not everything."  
GM Brian Cashman has backed Boone consistently — Cashman regularly says he hopes Boone will manage the team another 10 years — and so has chairman Hal Steinbrenner. In July, Steinbrenner told the New York Post's Dan Martin that "no one works harder" than Boone, and laid the blame for the team's disappointing start to the season squarely on the players.
"Myself, Cashman, Boone, the coaches, we're responsible. We're in charge," Steinbrenner told Martin. "But make no mistake about it, in my opinion, the majority of the responsibility, whether it's the inconsistent offense or bad base-running, that responsibility lies with the players. They're the ones on the field."
Perhaps feelings have changed after another early postseason exit, but all indications are Cashman and Steinbrenner do not blame Boone for the disappointing season. Or don't blame him much, really. Surely they know he shoulders some of the blame as the manager. Hal is not his father, he's much more measured, and sticking by Boone would not be a surprise.
That said, the Yankees were ousted in the postseason again, and several young players have regressed under Boone. After hiring Boone, Cashman said he prioritized "the ability to fully engage, communicate, and connect with the playing personnel," but many players Boone was supposed to connect with (Clint Frazier, Gary Sánchez, Gleyber Torres, etc.) have gone backwards. That's not all on the manager, though it does reflect poorly on Boone.
If nothing else, Boone has not distinguished himself as a skillful tactician who gets the most out of his roster. His lineup and bullpen decisions are predictable and scripted. Most of the manager's job takes place in the clubhouse behind closed doors. If Boone excels at that, it hasn't translated to wins. The Yankees underperformed across the board in 2020 and 2021.
Boone's contract is up this offseason and the Yankees could simply move on, and not bring him back. That's how they parted ways with Joe Girardi and Joe Torre, their last two managers. Their contracts expired and the Yankees opted to go in another direction. As with Torre and Girardi, the Yankees don't have to technically "fire" Boone. They can simply walk away.
Cashman and Steinbrenner supported Boone when the Yankees were at their worst in the summer months, and my hunch is they don't want to move on. At some point though, it becomes clear things aren't working, and in four years on the job, Boone has not developed into the top-tier manager the Yankees thought he'd become. How much longer will they wait to see progress?
"Obviously my contract is up, and I haven't had any conversations with anyone about that, so we'll see," Boone told reporters, including MLB.com's Bryan Hoch, following the Wild Card Game loss. "I love being here. I love going to work with this group and love going to work with this group of players. But we'll see."  
2. What is Judge's future?
By any measure, 2021 was Judge's best season since his record-setting rookie year in 2017. He avoided the injured list (other than a 10-day COVID stint) and authored a .287/.383/.544 batting line with 39 home runs and his lowest strikeout rate (25.0 percent) in the big leagues. Judge ranked eighth in MLB with 5.9 WAR and was second in win probability added.
Judge has one season of arbitration-eligibility remaining, then he will qualify for free agency next offseason. The Yankees are not all that big on extensions. Some teams are very aggressive locking up their best players to long-term contracts early in their careers, but not the Yankees. Here are the last six extensions they've given to players yet to qualify for free agency:
Only six extensions in the last two decades, and four of the six came when the player was a year away from free agency, like Judge is now. The Yankees letting a big-name star and their best player leave as a free agent seems crazy, though it happened with Canó, so there is precedent. For what it's worth, Judge recently confirmed the team has not approached him about a long-term deal.
"No we haven't (discussed a long-term contract)," Judge told reporters, including the New York Post's Dan Martin, last month. "The ball is kind of in their court. I'm just a player. I just do my job every day. I'm not going to go running to anybody and say, 'Let's talk about this.' That's their job to do. That's what they get paid for. I'm getting paid to be out here on the field."
It's easy to come up with reasons to extend Judge and reasons not to extend him. For starters, he's great! One of the best players in the game, and teams trying to win the World Series should hang onto those guys. But also, Judge has a lengthy injury history and he will turn 30 in April, so a long-term deal buys up a lot of decline years for a player who already has trouble staying healthy.
The Yankees also have to consider the other contracts on their books (they currently owe $92 million to just four players in 2025) and others way to spent that money. There's an argument to be made that giving the big long-term contract to, say, Corey Seager this offseason is a better investment given his age (27), Judge's age, their positions, etc. It doesn't hurt to consider such things.
As good as he is, Judge is not a $300 million player, and I'm not sure he's a $200 million player at this point either. Last offseason George Springer signed a six-year, $150 million contract at age 31, so essentially a year older than Judge is now. It's not a perfect benchmark given the ages and injury histories, but it's in the ballpark. That's what a Judge extension should look like.
I'm not sure there's a wrong decision here. On one hand, you're the Yankees, so sign Judge to a lifetime deal and stop pretending the luxury tax is something more than pocket change. On the other hand, Seager is going to be out there this offseason, you know. And Juan Soto is only three years away from free agency too. There are other really good (and younger) fish in the sea.
"I want to be a Yankee for life," Judge told Martin following the Wild Card Game loss. "I want to wear the pinstripes for the rest of my career. You never know what the future holds for you. Whatever happens on the flip side, with contracts and trades that are out of my control."  
3. What happens with the infield?
The case can be made the Yankees need an entirely new infield. I'm including catcher here too, because while Sánchez rebounded from his nightmare 2020, he didn't rebound all the way to his 2017-19 All-Star peak, and again found himself on the bench in favor of backup Kyle Higashioka in the postseason. The bizarre 60-game season excuse no longer applies.
The Yankees were middle of the pack at best at each infield position this year, and well-below-average at several spots. Offensively and defensively too. In the past, the Yankees could overlook some defensive concerns because their guys hit and hit big. That was not the case this season. Here's where the Yankees ranked among the 30 MLB teams this season:
C

16th

23rd

17th

1B

28th

27th

12th

2B

15th

26th

15th

SS

22nd

26th

21st

3B

25th

22nd

18th
Luke Voit's persistent knee injuries turned first base into a black hole before Anthony Rizzo arrived at the deadline. DJ LeMahieu finished in the top four of the MVP voting in 2019 and 2020, then slugged .362 in 2021. Torres has hit 12 home runs in 169 games the last two years after hitting 38 home runs in 144 games in 2019 alone. Just about the entire infield was a problem this year.
The Yankees signed LeMahieu to a long-term contract last offseason, so he's not going anywhere. Torres did perform much better in the second half than the first, and at age 24, selling low on him would be unwise. Listen to trade offers, sure. You never know when a team will blow you away with a Godfather offer. But I wouldn't give Torres away. That's a recipe for regret. 
Voit is a non-tender candidate. He turns 31 in February, his knee is an ongoing problem, and he lost his first-base job to Rizzo down the stretch. Voit started only four of his last 20 games on the active roster before the knee sidelined him again. His salary could reach $6 million through arbitration in 2022, which isn't much, but it is more than teams are usually willing to pay for this profile.
The Yankees have a history of re-signing trade deadline pickups who fit in well (Zack Britton, JA Happ, Chase Headley, etc.) and re-signing Rizzo would fit the pattern. Rizzo turns 33 next year though, and his production is starting to slip. Looking elsewhere for a first baseman is sensible (the Athletics could put Matt Olson on the trade block, for example).
Upgrading behind the plate won't be easy. The free-agent catcher market will be thin — assuming the Giants and Buster Posey work out a new deal, the best free-agent backstop will be either Tucker Barnhart or Manny Pina — and teams are generally loath to trade good catchers. They are hard to find, so when you find one, you better keep him. It's a tough, demanding position.
Heading into the offseason, it appears the Yankees need a new catcher, a new first baseman, a new shortstop, and maybe even a new third baseman. Falling back on LeMahieu or Urshela at third base wouldn't be the worst thing in the world, but there's an entire offseason coming. Why not see what shakes loose in the winter and what opportunities present themselves?
The free-agent shortstop market is loaded with impact players: Seager, Javier Báez, Carlos Correa and Trevor Story. The Yankees tried to trade for Story at the deadline, but trading for a player as a rental and signing him to a big free-agent deal are very different things. Are the Yankees willing to give out another big contract? Are they willing to give one to anyone other than Judge? Unclear.
---
Given Boone's expiring contract, Judge's impending free agency, the team's season-long underperformance, as well as another early postseason exit, this is a crucial offseason for the Yankees. Judge could leave soon and others like Gerrit Cole and Giancarlo Stanton only have so many peak years remaining. The window to win a title with his group is closer to the end than the beginning.
The collective bargaining agreement expires Dec. 1 and we don't know what it will look like yet, but unless the luxury tax threshold is raised considerably (or eliminated entirely), the Yankees will be over it next season. They have little money coming off the books this winter (just Corey Kluber) and some big arbitration raises coming, most notably Judge and Joey Gallo.
Point is, the Yankees have no reason to cry luxury tax next year. Once you exceed the luxury tax threshold, you might as well really exceed it and spend big, because going just a little over isn't worth it. You get none of the benefits of staying under and don't take advantage of already triggering the penalties. That could mean a shiny new shortstop, a starting pitcher, etc.
The Yankees should feel pressure and act with urgency this offseason. Their breakout 2017 season was five years ago now, and I am certain they expected these last four seasons to be more prosperous. The Judge era may be entering its final stages, and you have to go back to Don Mattingly for the last homegrown Yankees star to finish his time in pinstripes without a ring.
require.config({"baseUrl":"https://sportsfly.cbsistatic.com/fly-075/bundles/sportsmediajs/js-build","config":{"version":{"fly/components/accordion":"1.0","fly/components/alert":"1.0","fly/components/base":"1.0","fly/components/carousel":"1.0","fly/components/dropdown":"1.0","fly/components/fixate":"1.0","fly/components/form-validate":"1.0","fly/components/image-gallery":"1.0","fly/components/iframe-messenger":"1.0","fly/components/load-more":"1.0","fly/components/load-more-article":"1.0","fly/components/load-more-scroll":"1.0","fly/components/loading":"1.0","fly/components/modal":"1.0","fly/components/modal-iframe":"1.0","fly/components/network-bar":"1.0","fly/components/poll":"1.0","fly/components/search-player":"1.0","fly/components/social-button":"1.0","fly/components/social-counts":"1.0","fly/components/social-links":"1.0","fly/components/tabs":"1.0","fly/components/video":"1.0","fly/libs/easy-xdm":"2.4.17.1","fly/libs/jquery.cookie":"1.2","fly/libs/jquery.throttle-debounce":"1.1","fly/libs/jquery.widget":"1.9.2","fly/libs/omniture.s-code":"1.0","fly/utils/jquery-mobile-init":"1.0","fly/libs/jquery.mobile":"1.3.2","fly/libs/backbone":"1.0.0","fly/libs/underscore":"1.5.1","fly/libs/jquery.easing":"1.3","fly/managers/ad":"2.0","fly/managers/components":"1.0","fly/managers/cookie":"1.0","fly/managers/debug":"1.0","fly/managers/geo":"1.0","fly/managers/gpt":"4.3","fly/managers/history":"2.0","fly/managers/madison":"1.0","fly/managers/social-authentication":"1.0","fly/utils/data-prefix":"1.0","fly/utils/data-selector":"1.0","fly/utils/function-natives":"1.0","fly/utils/guid":"1.0","fly/utils/log":"1.0","fly/utils/object-helper":"1.0","fly/utils/string-helper":"1.0","fly/utils/string-vars":"1.0","fly/utils/url-helper":"1.0","libs/jshashtable":"2.1","libs/select2":"3.5.1","libs/jsonp":"2.4.0","libs/jquery/mobile":"1.4.5","libs/modernizr.custom":"2.6.2","libs/velocity":"1.2.2","libs/dataTables":"1.10.6","libs/dataTables.fixedColumns":"3.0.4","libs/dataTables.fixedHeader":"2.1.2","libs/dateformat":"1.0.3","libs/waypoints/infinite":"3.1.1","libs/waypoints/inview":"3.1.1","libs/waypoints/jquery.waypoints":"3.1.1","libs/waypoints/sticky":"3.1.1","libs/jquery/dotdotdot":"1.6.1","libs/jquery/flexslider":"2.1","libs/jquery/lazyload":"1.9.3","libs/jquery/maskedinput":"1.3.1","libs/jquery/marquee":"1.3.1","libs/jquery/numberformatter":"1.2.3","libs/jquery/placeholder":"0.2.4","libs/jquery/scrollbar":"0.1.6","libs/jquery/tablesorter":"2.0.5","libs/jquery/touchswipe":"1.6.18","libs/jquery/ui/jquery.ui.core":"1.11.4","libs/jquery/ui/jquery.ui.draggable":"1.11.4","libs/jquery/ui/jquery.ui.mouse":"1.11.4","libs/jquery/ui/jquery.ui.position":"1.11.4","libs/jquery/ui/jquery.ui.slider":"1.11.4","libs/jquery/ui/jquery.ui.sortable":"1.11.4","libs/jquery/ui/jquery.ui.touch-punch":"0.2.3","libs/jquery/ui/jquery.ui.autocomplete":"1.11.4","libs/jquery/ui/jquery.ui.accordion":"1.11.4","libs/jquery/ui/jquery.ui.tabs":"1.11.4","libs/jquery/ui/jquery.ui.menu":"1.11.4","libs/jquery/ui/jquery.ui.dialog":"1.11.4","libs/jquery/ui/jquery.ui.resizable":"1.11.4","libs/jquery/ui/jquery.ui.button":"1.11.4","libs/jquery/ui/jquery.ui.tooltip":"1.11.4","libs/jquery/ui/jquery.ui.effects":"1.11.4","libs/jquery/ui/jquery.ui.datepicker":"1.11.4"}},"shim":{"liveconnection/managers/connection":{"deps":["liveconnection/libs/sockjs-0.3.4"]},"liveconnection/libs/sockjs-0.3.4":{"exports":"SockJS"},"libs/setValueFromArray":{"exports":"set"},"libs/getValueFromArray":{"exports":"get"},"fly/libs/jquery.mobile-1.3.2":["version!fly/utils/jquery-mobile-init"],"libs/backbone.marionette":{"deps":["jquery","version!fly/libs/underscore","version!fly/libs/backbone"],"exports":"Marionette"},"fly/libs/underscore-1.5.1":{"exports":"_"},"fly/libs/backbone-1.0.0":{"deps":["version!fly/libs/underscore","jquery"],"exports":"Backbone"},"libs/jquery/ui/jquery.ui.tabs-1.11.4":["jquery","version!libs/jquery/ui/jquery.ui.core","version!fly/libs/jquery.widget"],"libs/jquery/flexslider-2.1":["jquery"],"libs/dataTables.fixedColumns-3.0.4":["jquery","version!libs/dataTables"],"libs/dataTables.fixedHeader-2.1.2":["jquery","version!libs/dataTables"],"https://sports.cbsimg.net/js/CBSi/app/VideoPlayer/AdobePass-min.js":["https://sports.cbsimg.net/js/CBSi/util/Utils-min.js"]},"map":{"*":{"adobe-pass":"https://sports.cbsimg.net/js/CBSi/app/VideoPlayer/AdobePass-min.js","facebook":"https://connect.facebook.net/en_US/sdk.js","facebook-debug":"https://connect.facebook.net/en_US/all/debug.js","google":"https://apis.google.com/js/plusone.js","google-platform":"https://apis.google.com/js/client:platform.js","google-csa":"https://www.google.com/adsense/search/async-ads.js","google-javascript-api":"https://www.google.com/jsapi","google-client-api":"https://apis.google.com/js/api:client.js","gpt":"https://securepubads.g.doubleclick.net/tag/js/gpt.js","newsroom":"https://c2.taboola.com/nr/cbsinteractive-cbssports/newsroom.js","recaptcha":"https://www.google.com/recaptcha/api.js?onload=loadRecaptcha&render=explicit","recaptcha_ajax":"https://www.google.com/recaptcha/api/js/recaptcha_ajax.js","supreme-golf":"https://sgapps-staging.supremegolf.com/search/assets/js/bundle.js","taboola":"https://cdn.taboola.com/libtrc/cbsinteractive-cbssports/loader.js","twitter":"https://platform.twitter.com/widgets.js","video-avia":"https://vidtech.cbsinteractive.com/avia-js/1.9.0/player/avia.min.js","video-avia-cvui":"https://vidtech.cbsinteractive.com/avia-js/1.9.0/legacy/cvui/cvui.min.js","video-cvp":"https://vidtech.cbsinteractive.com/cvp/1.2.2/cvp.min.js","video-cvui":"https://vidtech.cbsinteractive.com/cvp/1.2.2/cvui.min.js","video-ima3":"https://imasdk.googleapis.com/js/sdkloader/ima3.js","video-ima3-dai":"https://imasdk.googleapis.com/js/sdkloader/ima3_dai.js","video-utils":"https://sports.cbsimg.net/js/CBSi/util/Utils-min.js","video-vast-tracking":"https://vidtech.cbsinteractive.com/sb55/vast-js/vtg-vast-client.js"}},"waitSeconds":300});