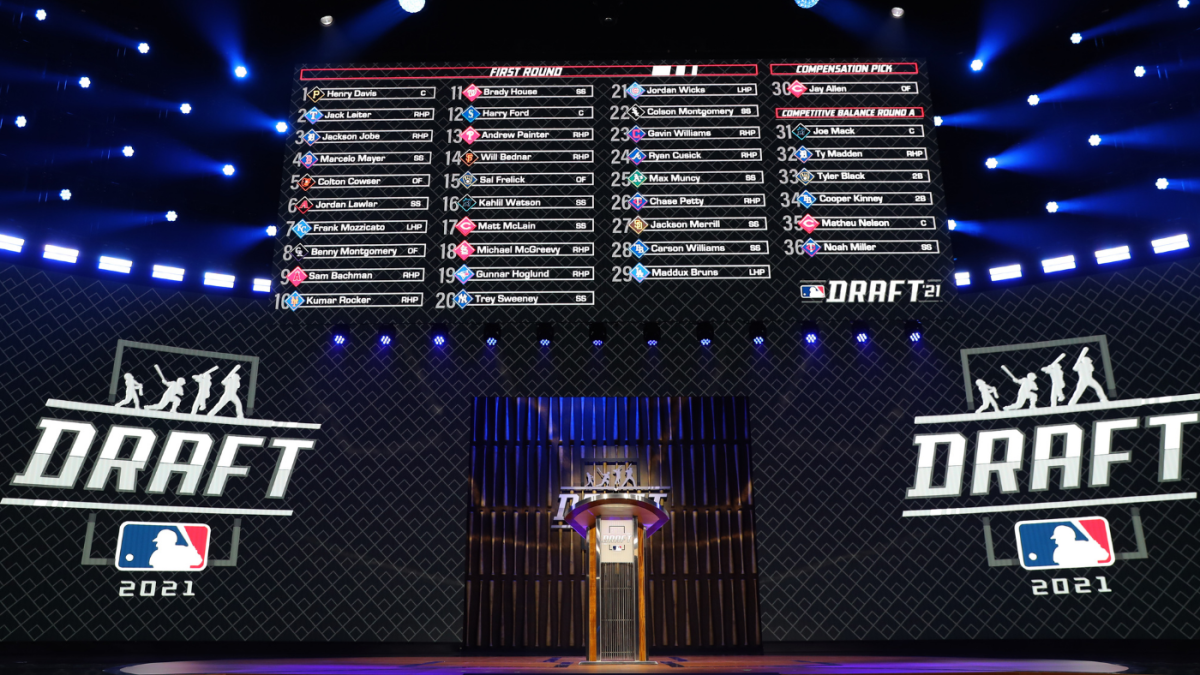 MLB's annual amateur draft is underway. The 20-round process kicked off Sunday night with the first round. The Pirates held the No. 1 pick and used it on Louisville catcher Henry Davis. Right-hander Jack Leiter went second overall to the Rangers and his Vanderbilt teammate Kumar Rocker was the 10th overall pick to the Mets. 
Overall, there were 36 picks made on Sunday night, including Competitive Balance Round A and the Reds' free agent compensation pick. Here are our takeaways from the first night of the draft. Rounds 2-10 were held Monday, with plenty of notable names coming off the board. Here's a look at six key takeaways from the second day of the draft.
The draft wraps up Tuesday with rounds 11-20. The draft was shortened from 40 rounds to five rounds last year as a cost-cutting move during the pandemic. There will be 20 rounds this year. Here's how to watch.
Please check the opt-in box to acknowledge that you would like to subscribe.
Thanks for signing up!

Keep an eye on your inbox.

Sorry!

There was an error processing your subscription.

Below is analysis of every first-round pick as well as our tracker for every pick on Day 3.
2021 MLB Draft: First Round Analysis
Compensation pick
30. Reds: Jay Allen, OF, John Carroll HS (FL)
Competitive Balance Round A
31. Marlins: Joe Mack, C, Williamsville East HS (NY)
32. Tigers: Ty Madden, P, Texas
33. Brewers: Tyler Black, INF, Wright State
34. Rays: Cooper Kinney, INF, Baylor Schools HS (TN)
35. Reds: Matheu Nelson, C, Florida State
36. Twins: Noah Miller, SS, Ozaukee HS (WI)
Second round
37. Pirates: Anthony Solometo, P, Bishop Eustace Prep HS (NJ)
38. Rangers: Aaron Zavala, OF, Oregon
39. Tigers: Izaac Pacheco, INF, Friendswood HS (TX)
40. Red Sox: Jud Fabian, OF, Florida 
41. Orioles: Connor Norby, INF, East Carolina 
42. Diamondbacks: Ryan Bliss, SS, Auburn
43. Royals: Ben Kudrna, P, Blue Valley Southwest HS (KS)
44. Rockies: Jaden Hill, P, LSU
45. Angels: Ky Bush, P, St. Mary's
46. Mets: Calvin Ziegler, P, St. Mary's Catholic HS (CN)
47. Nationals: Daylen Lile, OF, Trinity HS (KY)
48. Mariners: Edwin Arroyo, INF, Central Pointe Christian HS (FL)
49. Phillies: Ethan Wilson, OF, South Alabama
50. Giants: Matt Mikulski, P, Fordham
51. Brewers: Russell Smith, P, TCU
52. Marlins: Cody Morissette, INF, Boston College
53. Reds: Andrew Abbott, P, Virginia
54. Cardinals: Joshua Baez, OF, Dexter School HS (MA)
55. Yankees: Brendan Beck, P, Stanford
56. Cubs: James Triantos, INF, James Madison HS (VA)
57. White Sox: Wes Kath, INF, Desert Mountain HS (AZ)
58. Cleveland: Doug Nikhazy, P, Ole Miss
59. Braves: Spencer Schwellenbach, P/INF, Nebraska
60. Athletics: Zack Gelof, INF, Virginia
61. Twins: Steve Hajjar, P, Michigan
62. Padres: James Wood, OF, IMG Academy HS (FL)
63. Rays: Kyle Manzardo, INF, Washington State
Competitive Balance Round B
64. Pirates: Lonnie White Jr., OF, Malvern Prep HS (PA)
65. Orioles: Reed Trimble, OF, Southern Miss
66. Royals: Peyton Wilson, INF, Alabama
67. Diamondbacks: Adrian Del Casatillo, C, Miami (FL)
68. Rockies: Joe Rock, P, Ohio
69. Cleveland: Tommy Mace, P, Florida
70. Cardinals: Ryan Holgate, OF, Arizona
71. Padres: Robert Gasser, P, Houston
Third round
72. Pirates: Bubba Chandler, P, North Oconee HS (GA)
73. Rangers: Cameron Cauley, INF, Barbers Hill HS (TX)
74. Tigers: Dylan Smith, P, Alabama
75. Red Sox: Tyler McDonough, INF, NC State
76. Orioles: John Rhodes, OF, Kentucky
77. Diamondbacks: Jacob Steinmetz, P, Elev8 Baseball Academy (FL)
78. Royals: Carter Jensen, C, Park Hill Senior HS (MO)
79. Rockies: McCade Brown, P, Indiana
80. Angels: Landon Marceaux, P, LSU
81. Mets: Dominic Hamel, P, Dallas Baptist
82. Nationals: Branden Boissiere, OF, Arizona
83. Mariners: Michael Morales, P, East Pennsboro HS (PA)
84. Phillies: Jordan Viars, OF, Rick Reedy HS (TX)
85. Giants: Mason Black, P, Lehigh
86. Brewers: Alex Binelas, INF, Louisville
87. Astros: Tyler Whitaker, OF, Bishop Gorman HS (NV)
88. Marlins: Jordan McCants, INF, Pensacola Catholic HS (FL)
89. Reds: Jose Torres, INF, NC State
90. Cardinals: Austin Love, P, North Carolina
91. Blue Jays: Ricky Tiedemann, P, Golden West College
92. Yankees: Brock Selvidge, Hamilton HS (AZ)
93. Cubs: Drew Gray, P, IMG Academy (FL)
94. White Sox: Sean Burke, P, Maryland
95. Cleveland: Jake Fox, INF, Lakeland Christian HS (FL)
96. Braves: Dylan Dodd, P, Missouri State
97. Athletics: Mason Miller, P, Gardner-Webb
98. Twins: Cade Povich, P, Nebraska
99. Padres: Kevin Kopps, P, Arkansas
100. Rays: Ryan Spikes, INF, Parkview HS (GA
101. Dodgers: Peter Heubeck, P, Gilman School HS (MD)
Fourth round
102. Pirates: Owen Kellington, P, U-32 HS (VT)
103. Rangers: Ian Moller, C, Wahlert HS (IA)
104. Tigers: Tyler Mattison, P, Bryant
105. Red Sox: Elmer Rodriguez-Cruz, P, Leadership Christian Academy (PR)
106. Orioles: Donta' Williams, OF, Arizona
107. Diamondbacks: Chad Patrick, P, Purdue-Northwest
108. Royals: Shane Panzini, P, Red Bank Catholic HS (NJ)
109. Rockies: Hunter Goodman, C, Memphis
110. Angels: Luke Murphy, P, Vanderbilt
111. Mets: JT Schwartz, INF, UCLA
112. Nationals: Dustin Saenz, P, Texas A&M
113. Mariners: Bryce Miller, P, Texas A&M
114. Phillies: Micah Ottenbreit, Trenton HS (MI)
115. Giants: Eric Silva, P, JSerra Catholic HS (CA)
116 Brewers: Logan Henderson, P, McLennan CC
117. Astros: Alex Ulloa, INF, Calvary Christian Academy (FL)
118. Marlins: Tanner Allen, OF, Mississippi State
119. Reds: Ruben Ibarra, INF, San Jose State
120. Cardinals: Zane Mills, P, Washington State
121. Blue Jays: Chad Dallas, P, Tennessee
122. Yankees: Cooper Bowman, INF, Louisville
123. Cubs: Christian Franklin, OF, Arkansas
124. White Sox: Brooks Gosswein, P, Bradley
125. Cleveland: Ryan Webb, P, Georgia
126. Braves: Cal Conley, INF, Texas Tech
127. Athletics: Denzel Clarke, OF, Cal State Northridge
128. Twins: Christian Encarnacion-Strand, INF, Oklahoma State
129. Padres: Jackson Wolf, P, West Virginia
130. Rays: Dru Baker, OF, Texas Tech
131. Dodgers: Nick Nastrini, P, UCLA
Compensation pick
132. Astros: Chayce McDermott, P, Ball State
Fifth round
133. Pirates: Jackson Glenn, INF, Dallas Baptist
134. Rangers: Mitch Bratt, P, Georgia Premier Academy (GA)
135. Tigers: Tanner Kohlhepp, P, Notre Dame
136. Red Sox: Nathan Hickey, C, Florida
137. Orioles: Carlos Tavera, P, Texas-Arlington
138. Diamondbacks: Caleb Roberts, C, North Carolina
139. Royals: Eric Cerantola, P, Mississippi State
140. Rockies: Evan Justice, P, NC State
141. Angels: Brett Kerry, P, South Carolina
142. Mets: Christian Scott, P, Florida
143. Nationals: T.J. White, OF, Dorman HS (SC)
144. Mariners: Andy Thomas, C, Baylor
145. Phillies: Griff McGarry, P, Virginia
146. Giants: Rohan Handa, P, Yale
147 Brewers: Ethan Murray, INF, Duke
148. Astros: Quincy Hamilton, OF, Wright State
149. Marlins: Brady Allen, OF, South Carolina
150. Reds: Thomas Farr, P, South Carolina
151. Cardinals: Gordon Graceffo, P, Villanova
152. Blue Jays: Irv Carter, P, Florida Virtual School (FL)
153. Yankees: Tyler Hardman, INF, Oklahoma
154. Cubs: Liam Spence, INF, Tennessee
155. White Sox: Tanner McDougal, P, Silverado HS (NV)
156. Cleveland: Tanner Bibee, P, Cal State Fullerton
157. Braves: Luke Waddell, INF, Georgia Tech
158. Athletics: CJ Rodriguez, C, Vanderbilt
159. Twins: Christian MacLeod, P, Mississippi State
160. Padres: Max Ferguson, INF, Tennessee
161. Rays: Mason Auer, OF, San Jacinto College North
162. Dodgers: Ben Casparius, P, UConn
Sixth round
163. Pirates: Mike Jarvis, 2B, San Diego State
164. Rangers: Chase Lee, P, Alabama
165. Tigers: Austin Murr, OF, NC State
166. Red Sox: Daniel McElveny, Bonita Vista HS (CA)
167. Orioles: Collin Burns, SS, Tulane
168. Diamondbacks: Luke Albright, P, Kent State
169. Royals: Dayton Dooney, 2B, Central Arizona College
170. Rockies: Braxton Fulford, C, Texas Tech
171. Angels: Jake Smith, P, Miami
172. Mets: Carson Seymour, P, Kansas State
173. Nationals: Michael Kirian, P, Louisville
174. Mariners: Bryan Woo, P, Cal Poly
175. Phillies: Jose Pena, P, Tampa Preparatory School (FL)
176. Giants: Seth Lonsway, P, Ohio State
177 Brewers: Carlos Rodriguez, P, Florida SouthWestern State College
178. Astros: Spencer Arrighetti, P, University of Louisiana at Lafayette
179. Marlins: Sam Praytor, C, Alabama
180. Reds: Justice Thompson, OF, North Carolina
181. Cardinals: Alfredo Ruiz, P, Long Beach State
182. Blue Jays: Hayden Juenger, P, Missouri State
183. Yankees: Richard Fitts, P, Auburn
184. Cubs: Riley Martin, P, Quincy University
185. White Sox: Taylor Broadway, P, OIe Miss
186. Cleveland: Aaron Davenport, P, Hawaii
187. Braves: Justyn-Henry Malloy, 3B, Georgia Tech
188. Athletics: Grant Holman, P, University of California
189. Twins: Travis Adams, P, Sacramento State
190. Padres: Ryan Bergert, P, West Virginia
191. Rays: Mason Montgomery, P, Texas Tech
192. Dodgers: Emmet Sheehan, P, Boston College
Seventh round
193. Pirates: Wyatt Hendrie, C, San Diego State
194. Rangers: Bradford Webb, P, Virginia Commonwealth
195. Tigers: Brant Hurter, P, Georgia Tech
196. Red Sox: Wyatt Olds, P, Oklahoma
197. Orioles: Connor Pavolony, C, Tennessee
198. Diamondbacks: Scott Randall, P, Sacramento State
199. Royals: Noah Cameron, P, Central Arkansas
200. Rockies: Evan Shawver, P, Cincinnati
201. Angels: Ryan Costeiu, P, Arkansas 
202. Mets: Kevin Kendall, SS, UCLA
203. Nationals: Jacob Young, OF, University of Florida
204. Mariners: Colin Davis, OF, Wofford College
205. Phillies: Christian McGowan, P, Oklahoma State JC
206. Giants: Nick Sinacola, P, University of Maine
207 Brewers: Tristan Peters, OF, Southern Illinois University Carbondale
208. Astros: Joey Loperfido, OF, Duke
209. Marlins: Gabe Bierman, P, Indiana 
210. Reds: Kevin Abel, P, Oregon State
211. Cardinals: Alec Willis, P, Regis Jesuit HS (CO)
212. Blue Jays: Jaden Rudd, OF, Crawford Mosley HS (FL)
213. Yankees: Robert Ahlstrom, P, Oregon
214. Cubs: Parker Chavers, OF, Coastal Carolina
215. White Sox: Theo Denlinger, P, Bradley University
216. Cleveland: Jack Leftwich, P, University of Florida
217. Braves: AJ Smith-Shawver, P, Colleyville Heritage HS (TX)
218. Athletics: Brett Harris, 3B, Gonzaga
219. Twins: Jake Rucker, 3B, University of Tennessee Chattanooga
220. Padres: Ryan Och, P, Southern Mississippi
221. Rays: Logan Workman, P, Lee University
222. Dodgers: Ryan Sublette, P, Texas Tech
Eighth round
223. Pirates: Sean Sullivan, P, University of California
224. Rangers: Larson Kindreich, P, Biola University
225. Tigers: Jordan Marks, P, University of South Carolina
226. Red Sox: Hunter Dobbins, P, Texas Tech
227. Orioles: Creed Willems, C, Aledo HS (TX)
228. Diamondbacks: Gavin Conticello, 3B, Marjory Stoneman Douglas HS (FL)
229. Royals: Ryan Cepero, SS, Carlos Beltran Baseball Academy
230. Rockies: Robby Martin Jr., OF, Florida State
231. Angels: Nick Jones, P, Georgia Southern
232. Mets: Mike Vasil, P, University of Virginia
233. Nationals: Will Frizzell, 1B, Texas A&M
234. Mariners: James Parker, SS, Clemson
235. Phillies: Jason Ruffcorn, P, Oklahoma
236. Giants: Ian Villers, P, University of California 
237 Brewers: Zack Raabe, 2B, University of Minnesota
238. Astros: Colton Gordon, P, Central Florida
239. Marlins: Pat Monteverde, P, Texas Tech
240. Reds: Hunter Parks, P, Florence-Darlington Tech
241. Cardinals: Mike Antico, OF, University of Texas
242. Blue Jays: Hunter Gregory, P, Old Dominion University
243. Yankees: Will Warren, P, Southeastern Louisiana University
244. Cubs: Casey Opitz, C, University of Arkansas
245. White Sox: Fraser Ellard, P, Liberty University
246. Cleveland: Rodney Boone, P, UC Santa Barbara
247. Braves: Tyler Collins, OF, McKinney Boyd HS (TX)
248. Athletics: Drew Swift, SS, Arizona State
249. Twins: Noah Cardenas, C, UCLA
250. Padres: Lucas Dunn, 2B, Louisville
251. Rays: Patrick Wicklander, P, University of Arkansas 
252. Dodgers: Ben Harris, P, University of Georgia
Ninth round
253. Pirates: Luke Brown, OF, Louisville
254. Rangers: Liam Hicks, C, Arkansas State
255. Tigers: Garrett Burhenn, P, Ohio State
256. Red Sox: Tyler Miller, 3B, Auburn
257. Orioles: Ryan Higgins, 3B, Fresno State
258. Diamondbacks: Jake Rice, P, Kennesaw State
259. Royals: Parker Bates, OF, Louisiana Tech
260. Rockies: Cullen Kafka, P, University of Oregon
261. Angels: Braden Olthoff, P, Tulane
262. Mets: Levi David, P, Northwestern State
263. Nationals: Cole Quintanilla, P, Texas
264. Mariners: Spencer Packard, OF, Campbell University
265. Phillies: Gavin Tonkel, OF, Heritage HS (CA)
266. Giants: Matt Olsen, P, Arizona College
267 Brewers: Brannon Jordan, P, University of South Carolina
268. Astros: Aaron Brown, P, Middle Tennessee State
269. Marlins: Jake Schrand, P, Wright State University
270. Reds: Jack Rogers, OF, Sam Houston State
271. Cardinals: Trent Baker, P, Angelo State
272. Blue Jays: Conor Larkin, P, Penn State
273. Yankees: Chandler Champlain, P, USC
274. Cubs: Chase Watkins, P, Oregon State
275. White Sox: Gil Luna, P, Arizona
276. Cleveland: Will Dion, P, McNeese State
277. Braves: Liam McGill, C, Bryant University
278. Athletics: Shane McGuire, C, University of San Diego
279. Twins: Patrick Winkle, C, University of Connecticut
280. Padres: Garrett Hawkins, P, University of British Columbia
281. Rays: Alex Ayala, P, Florida SouthWestern State College
282. Dodgers: Lael Lockhart, P, University of Arkansas
10th round
283. Pirates: Justin Meis, P, Eastern Michigan 
284. Rangers: CJ Widger, P, Rowan College
285. Tigers: Austin Schultz, OF, University of Kentucky
286. Red Sox: Matt Litwicki, P, University of Indiana
287. Orioles: Billy Cook, 3B, Pepperdine University
288. Diamondbacks: Hugh Fisher, P, Vanderbilt University
289. Royals: Shane Connolly, P, Virginia Tech
290. Rockies: Zach Kokoska, OF, Kansas State
291. Angels: Andrew Peters, P, University of South Carolina
292. Mets: Keyshawn Askew, P, Clemson
293. Nationals: Darren Baker, 2B, University of California
294. Mariners: Jordan Jackson, P, Georgia Southern
295. Phillies: Logan Cerny, OF, Troy University
296. Giants: Vaun Brown, OF, Florida Southern
297 Brewers: Wes Clarke, C, University of South Carolina
298. Astros: Michael Sandle, OF, University of South Alabama
299. Marlins: Hunter Perdue, P, Florida State University
300. Reds: Donovan Benoit, P, Tulane
301. Cardinals: Osvaldo Tovalin, 3B, Azusa Pacific University
302. Blue Jays: Connor Cooke, P, University of Louisiana at Lafayette
303. Yankees: Benjamin Cowles, SS, University of Maryland
304. Cubs: Peter Matt, OF, Duke
305. White Sox: Tommy Sommer, P, Indiana University
306. Cleveland: Franco Aleman, P, University of Florida
307. Braves: Dylan Spain, P, University of Hawaii at Hilo
308. Athletics: Jack Winkler, SS, University of San Francisco
309. Twins: Ernie Yake, SS, Gonzaga
310. Padres: Colton Bender, C, Quinnipiac University
311. Rays: Austin Vernon, P, North Carolina Central University
312. Dodgers: Michael Hobbs, P, St. Mary's College
11th round
313. Pirates:
314. Rangers: 
315. Tigers: 
316. Red Sox:
317. Orioles: 
318. Diamondbacks: 
319. Royals: 
320. Rockies: 
321. Angels: 
322. Mets: 
323. Nationals:
324. Mariners: 
325. Phillies: 
326. Giants: 
327 Brewers: 
328. Astros: 
329. Marlins:
330. Reds: 
331. Cardinals: 
332. Blue Jays: 
333. Yankees: 
334. Cubs:
335. White Sox: 
336. Cleveland: 
337. Braves:
338. Athletics: 
339. Twins:
340. Padres:
341. Rays: 
342. Dodgers: 
12th round
343. Pirates:
344. Rangers: 
345. Tigers: 
346. Red Sox:
347. Orioles: 
348. Diamondbacks: 
349. Royals: 
350. Rockies: 
351. Angels: 
352. Mets: 
353. Nationals:
354. Mariners: 
355. Phillies: 
356. Giants: 
357 Brewers: 
358. Astros: 
359. Marlins:
360. Reds: 
361. Cardinals: 
362. Blue Jays: 
363. Yankees: 
364. Cubs:
365. White Sox: 
366. Cleveland: 
367. Braves:
368. Athletics: 
369. Twins:
370. Padres:
371. Rays: 
372. Dodgers: 
13th round
373. Pirates:
374. Rangers: 
375. Tigers: 
376. Red Sox:
377. Orioles: 
378. Diamondbacks: 
379. Royals: 
380. Rockies: 
381. Angels: 
382. Mets: 
383. Nationals:
384. Mariners: 
385. Phillies: 
386. Giants: 
387 Brewers: 
388. Astros: 
389. Marlins:
390. Reds: 
391. Cardinals: 
392. Blue Jays: 
393. Yankees: 
394. Cubs:
395. White Sox: 
396. Cleveland: 
397. Braves:
398. Athletics: 
399. Twins:
400. Padres:
401. Rays: 
402. Dodgers: 
14th round
403. Pirates:
404. Rangers: 
405. Tigers: 
406. Red Sox:
407. Orioles: 
408. Diamondbacks: 
409. Royals: 
410. Rockies: 
411. Angels: 
412. Mets: 
413. Nationals:
414. Mariners: 
415. Phillies: 
416. Giants: 
417 Brewers: 
418. Astros: 
419. Marlins:
420. Reds: 
421. Cardinals: 
422. Blue Jays: 
423. Yankees: 
424. Cubs:
425. White Sox: 
426. Cleveland: 
427. Braves:
428. Athletics: 
429. Twins:
430. Padres:
431. Rays: 
432. Dodgers: 
15th round
433. Pirates:
434. Rangers: 
435. Tigers: 
436. Red Sox:
437. Orioles: 
438. Diamondbacks: 
439. Royals: 
440. Rockies: 
441. Angels: 
442. Mets: 
443. Nationals:
444. Mariners: 
445. Phillies: 
446. Giants: 
447 Brewers: 
448. Astros: 
449. Marlins:
450. Reds: 
451. Cardinals: 
452. Blue Jays: 
453. Yankees: 
454. Cubs:
455. White Sox: 
456. Cleveland: 
457. Braves:
458. Athletics: 
459. Twins:
460. Padres:
461. Rays: 
462. Dodgers: 
16th round
463. Pirates:
464. Rangers: 
465. Tigers: 
466. Red Sox:
467. Orioles: 
468. Diamondbacks: 
469. Royals: 
470. Rockies: 
471. Angels: 
472. Mets: 
473. Nationals:
474. Mariners: 
475. Phillies: 
476. Giants: 
477 Brewers: 
478. Astros: 
479. Marlins:
470. Reds: 
481. Cardinals: 
482. Blue Jays: 
483. Yankees: 
484. Cubs:
485. White Sox: 
486. Cleveland: 
487. Braves:
488. Athletics: 
489. Twins:
490. Padres:
491. Rays: 
492. Dodgers: 
17th round
493. Pirates:
494. Rangers: 
495. Tigers: 
496. Red Sox:
497. Orioles: 
498. Diamondbacks: 
499. Royals: 
500. Rockies: 
501. Angels: 
502. Mets: 
503. Nationals:
504. Mariners: 
505. Phillies: 
506. Giants: 
507 Brewers: 
508. Astros: 
509. Marlins:
510. Reds: 
511. Cardinals: 
512. Blue Jays: 
513. Yankees: 
514. Cubs:
515. White Sox: 
516. Cleveland: 
517. Braves:
518. Athletics: 
519. Twins:
520. Padres:
521. Rays: 
522. Dodgers: 
18th round
523. Pirates:
524. Rangers: 
525. Tigers: 
526. Red Sox:
527. Orioles: 
528. Diamondbacks: 
529. Royals: 
530. Rockies: 
531. Angels: 
532. Mets: 
533. Nationals:
534. Mariners: 
535. Phillies: 
536. Giants: 
537 Brewers: 
538. Astros: 
539. Marlins:
540. Reds: 
541. Cardinals: 
542. Blue Jays: 
543. Yankees: 
544. Cubs:
545. White Sox: 
546. Cleveland: 
547. Braves:
548. Athletics: 
549. Twins:
550. Padres:
551. Rays: 
552. Dodgers: 
19th round
553. Pirates:
554. Rangers: 
555. Tigers: 
556. Red Sox:
557. Orioles: 
558. Diamondbacks: 
559. Royals: 
560. Rockies: 
561. Angels: 
562. Mets: 
563. Nationals:
564. Mariners: 
565. Phillies: 
566. Giants: 
567 Brewers: 
568. Astros: 
569. Marlins:
570. Reds: 
571. Cardinals: 
572. Blue Jays: 
573. Yankees: 
574. Cubs:
575. White Sox: 
576. Cleveland: 
577. Braves:
578. Athletics: 
579. Twins:
580. Padres:
581. Rays: 
582. Dodgers: 
20th round
583. Pirates:
584. Rangers: 
585. Tigers: 
586. Red Sox:
587. Orioles: 
588. Diamondbacks: 
589. Royals: 
590. Rockies: 
591. Angels: 
592. Mets: 
593. Nationals:
594. Mariners: 
595. Phillies: 
596. Giants: 
597 Brewers: 
598. Astros: 
599. Marlins:
600. Reds: 
601. Cardinals: 
602. Blue Jays: 
603. Yankees: 
604. Cubs:
605. White Sox: 
606. Cleveland: 
607. Braves:
608. Athletics: 
609. Twins:
610. Padres:
611. Rays: 
612. Dodgers: 
require.config({"baseUrl":"https://sportsfly.cbsistatic.com/fly-322/bundles/sportsmediajs/js-build","config":{"version":{"fly/components/accordion":"1.0","fly/components/alert":"1.0","fly/components/base":"1.0","fly/components/carousel":"1.0","fly/components/dropdown":"1.0","fly/components/fixate":"1.0","fly/components/form-validate":"1.0","fly/components/image-gallery":"1.0","fly/components/iframe-messenger":"1.0","fly/components/load-more":"1.0","fly/components/load-more-article":"1.0","fly/components/load-more-scroll":"1.0","fly/components/loading":"1.0","fly/components/modal":"1.0","fly/components/modal-iframe":"1.0","fly/components/network-bar":"1.0","fly/components/poll":"1.0","fly/components/search-player":"1.0","fly/components/social-button":"1.0","fly/components/social-counts":"1.0","fly/components/social-links":"1.0","fly/components/tabs":"1.0","fly/components/video":"1.0","fly/libs/easy-xdm":"2.4.17.1","fly/libs/jquery.cookie":"1.2","fly/libs/jquery.throttle-debounce":"1.1","fly/libs/jquery.widget":"1.9.2","fly/libs/omniture.s-code":"1.0","fly/utils/jquery-mobile-init":"1.0","fly/libs/jquery.mobile":"1.3.2","fly/libs/backbone":"1.0.0","fly/libs/underscore":"1.5.1","fly/libs/jquery.easing":"1.3","fly/managers/ad":"2.0","fly/managers/components":"1.0","fly/managers/cookie":"1.0","fly/managers/debug":"1.0","fly/managers/geo":"1.0","fly/managers/gpt":"4.3","fly/managers/history":"2.0","fly/managers/madison":"1.0","fly/managers/social-authentication":"1.0","fly/utils/data-prefix":"1.0","fly/utils/data-selector":"1.0","fly/utils/function-natives":"1.0","fly/utils/guid":"1.0","fly/utils/log":"1.0","fly/utils/object-helper":"1.0","fly/utils/string-helper":"1.0","fly/utils/string-vars":"1.0","fly/utils/url-helper":"1.0","libs/jshashtable":"2.1","libs/select2":"3.5.1","libs/jsonp":"2.4.0","libs/jquery/mobile":"1.4.5","libs/modernizr.custom":"2.6.2","libs/velocity":"1.2.2","libs/dataTables":"1.10.6","libs/dataTables.fixedColumns":"3.0.4","libs/dataTables.fixedHeader":"2.1.2","libs/dateformat":"1.0.3","libs/waypoints/infinite":"3.1.1","libs/waypoints/inview":"3.1.1","libs/waypoints/jquery.waypoints":"3.1.1","libs/waypoints/sticky":"3.1.1","libs/jquery/dotdotdot":"1.6.1","libs/jquery/flexslider":"2.1","libs/jquery/lazyload":"1.9.3","libs/jquery/maskedinput":"1.3.1","libs/jquery/marquee":"1.3.1","libs/jquery/numberformatter":"1.2.3","libs/jquery/placeholder":"0.2.4","libs/jquery/scrollbar":"0.1.6","libs/jquery/tablesorter":"2.0.5","libs/jquery/touchswipe":"1.6.18","libs/jquery/ui/jquery.ui.core":"1.11.4","libs/jquery/ui/jquery.ui.draggable":"1.11.4","libs/jquery/ui/jquery.ui.mouse":"1.11.4","libs/jquery/ui/jquery.ui.position":"1.11.4","libs/jquery/ui/jquery.ui.slider":"1.11.4","libs/jquery/ui/jquery.ui.sortable":"1.11.4","libs/jquery/ui/jquery.ui.touch-punch":"0.2.3","libs/jquery/ui/jquery.ui.autocomplete":"1.11.4","libs/jquery/ui/jquery.ui.accordion":"1.11.4","libs/jquery/ui/jquery.ui.tabs":"1.11.4","libs/jquery/ui/jquery.ui.menu":"1.11.4","libs/jquery/ui/jquery.ui.dialog":"1.11.4","libs/jquery/ui/jquery.ui.resizable":"1.11.4","libs/jquery/ui/jquery.ui.button":"1.11.4","libs/jquery/ui/jquery.ui.tooltip":"1.11.4","libs/jquery/ui/jquery.ui.effects":"1.11.4","libs/jquery/ui/jquery.ui.datepicker":"1.11.4"}},"shim":{"liveconnection/managers/connection":{"deps":["liveconnection/libs/sockjs-0.3.4"]},"liveconnection/libs/sockjs-0.3.4":{"exports":"SockJS"},"libs/setValueFromArray":{"exports":"set"},"libs/getValueFromArray":{"exports":"get"},"fly/libs/jquery.mobile-1.3.2":["version!fly/utils/jquery-mobile-init"],"libs/backbone.marionette":{"deps":["jquery","version!fly/libs/underscore","version!fly/libs/backbone"],"exports":"Marionette"},"fly/libs/underscore-1.5.1":{"exports":"_"},"fly/libs/backbone-1.0.0":{"deps":["version!fly/libs/underscore","jquery"],"exports":"Backbone"},"libs/jquery/ui/jquery.ui.tabs-1.11.4":["jquery","version!libs/jquery/ui/jquery.ui.core","version!fly/libs/jquery.widget"],"libs/jquery/flexslider-2.1":["jquery"],"libs/dataTables.fixedColumns-3.0.4":["jquery","version!libs/dataTables"],"libs/dataTables.fixedHeader-2.1.2":["jquery","version!libs/dataTables"],"https://sports.cbsimg.net/js/CBSi/app/VideoPlayer/AdobePass-min.js":["https://sports.cbsimg.net/js/CBSi/util/Utils-min.js"]},"map":{"*":{"adobe-pass":"https://sports.cbsimg.net/js/CBSi/app/VideoPlayer/AdobePass-min.js","facebook":"https://connect.facebook.net/en_US/sdk.js","facebook-debug":"https://connect.facebook.net/en_US/all/debug.js","google":"https://apis.google.com/js/plusone.js","google-platform":"https://apis.google.com/js/client:platform.js","google-csa":"https://www.google.com/adsense/search/async-ads.js","google-javascript-api":"https://www.google.com/jsapi","google-client-api":"https://apis.google.com/js/api:client.js","gpt":"https://securepubads.g.doubleclick.net/tag/js/gpt.js","newsroom":"https://c2.taboola.com/nr/cbsinteractive-cbssports/newsroom.js","recaptcha":"https://www.google.com/recaptcha/api.js?onload=loadRecaptcha&render=explicit","recaptcha_ajax":"https://www.google.com/recaptcha/api/js/recaptcha_ajax.js","supreme-golf":"https://sgapps-staging.supremegolf.com/search/assets/js/bundle.js","taboola":"https://cdn.taboola.com/libtrc/cbsinteractive-cbssports/loader.js","twitter":"https://platform.twitter.com/widgets.js","video-avia":"https://vidtech.cbsinteractive.com/avia-js/1.7.3/player/avia.min.js","video-avia-cvui":"https://vidtech.cbsinteractive.com/avia-js/1.7.3/legacy/cvui/cvui.min.js","video-cvp":"https://vidtech.cbsinteractive.com/cvp/1.2.2/cvp.min.js","video-cvui":"https://vidtech.cbsinteractive.com/cvp/1.2.2/cvui.min.js","video-ima3":"https://imasdk.googleapis.com/js/sdkloader/ima3.js","video-ima3-dai":"https://imasdk.googleapis.com/js/sdkloader/ima3_dai.js","video-utils":"https://sports.cbsimg.net/js/CBSi/util/Utils-min.js","video-vast-tracking":"https://vidtech.cbsinteractive.com/sb55/vast-js/vtg-vast-client.js"}},"waitSeconds":300});