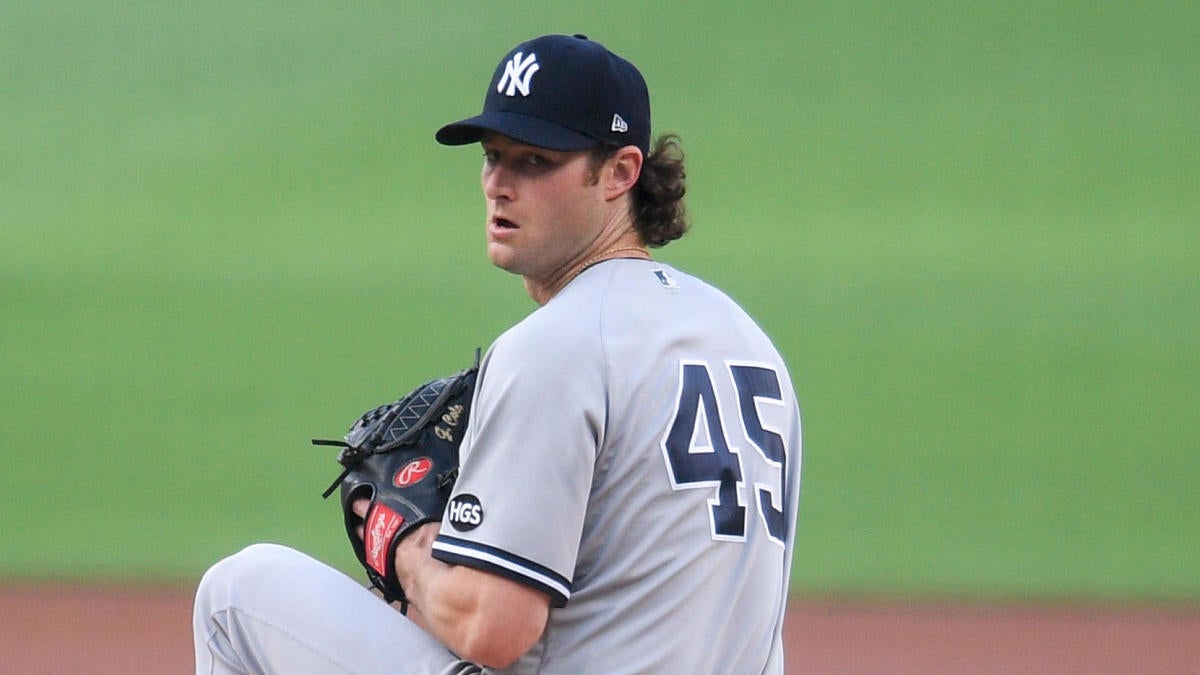 You think there's a demand for pitching in mixed leagues? It's nothing compared to AL-only.
Our first look at that half of the player pool was eye-opening in that way.
It makes sense when you take the time to break it down. Yes, Gerrit Cole and Shane Bieber play in the AL, and they're two of the top three pitchers drafted overall. But it turns out 12 of the top 15 pitchers are in the NL. The one exception apart from Cole and Bieber is Lucas Giolito, who's typically the seventh starting pitcher off the board.
He was the fifth player taken in this draft — pitcher, hitter, whatever. 
Our desperation only grew from there. Tyler Glasnow went with the very next pick. Jose Berrios was somehow a first-rounder. By the time I could make a play for an ace in Round 2, being the knucklehead who took Mike Trout with the third pick in the draft (Cole and Bieber going one and two, of course), the best I could do was Zack Greinke. 
Well, what was I going to do, not take one? Chris Towers managed to hold out until Round 6 before dipping into the pitcher pool. His ace is (gulp) Corey Kluber.
It didn't help that this was a Head-to-Head points league, the format most known for elevating starting pitchers. Maybe if it was a Rotisserie league or some other format with traditional 5×5 scoring, we wouldn't have strained so much for the top arms, instead diverting our attention to stolen bases in the early rounds.
But I actually think it's more critical to invest in those high-end hurlers in a 5×5 league. In a points league, you could plug in anyone who piles up innings and get something out of it. In a 5×5 league, those same pitchers would just drag down your ERA and WHIP.
Some other things I noticed about the AL-only player pool:
It's kind of amazing how lacking it is in high-end talent everywhere. Going by FantasyPros ADP, 17 of the top 24 players are in the NL.
Apart from starting pitcher, the weakest positions are probably first and second base. Even in a 10-team league, I didn't feel like there were enough quality options to go around.
Some of the hitter shortages at each individual position are countered by there being so many worthwhile DH-only types between Nelson Cruz, J.D. Martinez, Yordan Alvarez, Giancarlo Stanton, Jorge Soler, Franmil Reyes and Willie Calhoun. You'll want to think long and hard about filling your utility spot with someone who can play some other position, especially since those DH-only types tend to slide.
Here's who took part in this draft:
1) Nick Mimikos, Stack Attack podcast (@NMimi)   
2) Kayla Van Horn, former Podcast League participant  
3) Scott White, CBS Sports (@CBSScottWhite)  
4) George Maselli, CBS Sports
5) Jeremy Latzke, lucky reader who got to join in
6) B_Don, Razzball (@RazzBDon)  
7) Chris Towers, CBS Sports (@CTowersCBS)  
8) Rhys White, Six Man Rotation (@RhysBWhite)   
9) Frank Stampfl, CBS Sports (@Roto_Frank)  
10) Andy Spiteri, Fantasy Alarm (@gasdoc_spit)
Round By Round
Round 1
Pos
Team
Player
1
Nick Mimikos

G. Cole

SP NYY

2
Kayla Van Horn

S. Bieber

SP CLE

3
Scott White

M. Trout

CF LAA

4
George Maselli

J. Ramirez

3B CLE

5
Jeremy Latzke

L. Giolito

SP CHW

6
B_Don

T. Glasnow

SP TB

7
Chris Towers

A. Rendon

3B LAA

8
Rhys White

X. Bogaerts

SS BOS

9
Frank Stampfl

A. Bregman

3B HOU

10
Andy Spiteri

J. Berrios

SP MIN

Round 2
Pos
Team
Player
11
Andy Spiteri

D. LeMahieu

2B NYY

12
Frank Stampfl

K. Maeda

SP MIN

13
Rhys White

G. Springer

CF TOR

14
Chris Towers

B. Bichette

SS TOR

15
B_Don

L. Lynn

SP CHW

16
Jeremy Latzke

R. Devers

3B BOS

17
George Maselli

Z. Plesac

SP CLE

18
Scott White

Z. Greinke

SP HOU

19
Kayla Van Horn

J. Altuve

2B HOU

20
Nick Mimikos

A. Judge

RF NYY

Round 3
Pos
Team
Player
21
Nick Mimikos

T. Anderson

SS CHW

22
Kayla Van Horn

L. Voit

1B NYY

23
Scott White

H. Ryu

SP TOR

24
George Maselli

J. Abreu

1B CHW

25
Jeremy Latzke

W. Merrifield

RF KC

26
B_Don

E. Jimenez

LF CHW

27
Chris Towers

K. Tucker

LF HOU

28
Rhys White

N. Cruz

DH MIN

29
Frank Stampfl

G. Torres

SS NYY

30
Andy Spiteri

L. Robert

CF CHW

Round 4
Pos
Team
Player
31
Andy Spiteri

V. Guerrero

1B TOR

32
Frank Stampfl

F. Valdez

SP HOU

33
Rhys White

D. Bundy

SP LAA

34
Chris Towers

Y. Alvarez

DH HOU

35
B_Don

F. Montas

SP OAK

36
Jeremy Latzke

C. Correa

SS HOU

37
George Maselli

J. Martinez

DH BOS

38
Scott White

J. Luzardo

SP OAK

39
Kayla Van Horn

T. McKenzie

SP CLE

40
Nick Mimikos

M. Olson

1B OAK

Round 5
Pos
Team
Player
41
Nick Mimikos

L. Hendriks

RP CHW

42
Kayla Van Horn

G. Urshela

3B NYY

43
Scott White

L. McCullers

SP HOU

44
George Maselli

M. Gonzales

SP SEA

45
Jeremy Latzke

C. Biggio

2B TOR

46
B_Don

M. Chapman

3B OAK

47
Chris Towers

A. Meadows

LF TB

48
Rhys White

Y. Grandal

C CHW

49
Frank Stampfl

B. Lowe

2B TB

50
Andy Spiteri

A. Chapman

RP NYY

Round 6
Pos
Team
Player
51
Andy Spiteri

E. Rodriguez

SP BOS

52
Frank Stampfl

D. Keuchel

SP CHW

53
Rhys White

K. Seager

3B SEA

54
Chris Towers

C. Kluber

SP NYY

55
B_Don

A. Mondesi

SS KC

56
Jeremy Latzke

A. Civale

SP CLE

57
George Maselli

R. Arozarena

LF TB

58
Scott White

G. Stanton

DH NYY

59
Kayla Van Horn

J. Urquidy

SP HOU

60
Nick Mimikos

J. Karinchak

RP CLE

Round 7
Pos
Team
Player
61
Nick Mimikos

T. Hernandez

RF TOR

62
Kayla Van Horn

M. Brantley

DH HOU

63
Scott White

C. Santana

1B KC

64
George Maselli

M. Pineda

SP MIN

65
Jeremy Latzke

R. Pressly

RP HOU

66
B_Don

A. Verdugo

RF BOS

67
Chris Towers

J. Taillon

SP NYY

68
Rhys White

K. Lewis

CF SEA

69
Frank Stampfl

L. Gurriel

LF TOR

70
Andy Spiteri

F. Reyes

DH CLE

Round 8
Pos
Team
Player
71
Andy Spiteri

E. Rosario

LF CLE

72
Frank Stampfl

N. Eovaldi

SP BOS

73
Rhys White

R. Iglesias

RP LAA

74
Chris Towers

T. Rogers

RP MIN

75
B_Don

Y. Moncada

3B CHW

76
Jeremy Latzke

S. Perez

C KC

77
George Maselli

M. Kepler

RF MIN

78
Scott White

K. Yates

RP TOR

79
Kayla Van Horn

M. Semien

SS TOR

80
Nick Mimikos

D. Moore

LF SEA

Round 9
Pos
Team
Player
81
Nick Mimikos

B. Singer

SP KC

82
Kayla Van Horn

A. Puk

RP OAK

83
Scott White

J. Donaldson

3B MIN

84
George Maselli

D. Garcia

SP NYY

85
Jeremy Latzke

A. Heaney

SP LAA

86
B_Don

N. Solak

LF TEX

87
Chris Towers

M. Sano

1B MIN

88
Rhys White

C. Javier

SP HOU

89
Frank Stampfl

A. Colome

RP CHW

90
Andy Spiteri

C. Bassitt

SP OAK

Round 10
Pos
Team
Player
91
Andy Spiteri

C. Vazquez

C BOS

92
Frank Stampfl

G. Sanchez

C NYY

93
Rhys White

R. Yarbrough

SP TB

94
Chris Towers

N. Pearson

SP TOR

95
B_Don

J. Montgomery

SP NYY

96
Jeremy Latzke

J. Means

SP BAL

97
George Maselli

M. Kopech

SP CHW

98
Scott White

T. Mancini

RF BAL

99
Kayla Van Horn

A. Santander

RF BAL

100
Nick Mimikos

G. Canning

SP LAA

Round 11
Pos
Team
Player
101
Nick Mimikos

J. Soler

DH KC

102
Kayla Van Horn

B. Keller

SP KC

103
Scott White

D. Fletcher

SS LAA

104
George Maselli

J. Gallo

RF TEX

105
Jeremy Latzke

R. Laureano

CF OAK

106
B_Don

A. Benintendi

LF BOS

107
Chris Towers

J. Sheffield

SP SEA

108
Rhys White

B. Buxton

CF MIN

109
Frank Stampfl

R. Mountcastle

LF BAL

110
Andy Spiteri

D. Castillo

RP TB

Round 12
Pos
Team
Player
111
Andy Spiteri

J. Polanco

SS MIN

112
Frank Stampfl

A. Kirilloff

RF MIN

113
Rhys White

S. Manaea

SP OAK

114
Chris Towers

S. Ohtani

DH LAA

115
B_Don

J. Walsh

1B LAA

116
Jeremy Latzke

M. Boyd

SP DET

117
George Maselli

W. Adames

SS TB

118
Scott White

N. Madrigal

2B CHW

119
Kayla Van Horn

M. Garver

C MIN

120
Nick Mimikos

A. Gimenez

SS CLE

Round 13
Pos
Team
Player
121
Nick Mimikos

S. Murphy

C OAK

122
Kayla Van Horn

J. Happ

SP MIN

123
Scott White

W. Franco

SS TB

124
George Maselli

C. Sale

SP BOS

125
Jeremy Latzke

C. Frazier

RF NYY

126
B_Don

R. Ray

SP TOR

127
Chris Towers

J. Paxton

SP NYY

128
Rhys White

J. Kelenic

CF SEA

129
Frank Stampfl

D. Dunning

SP TEX

130
Andy Spiteri

M. Haniger

RF SEA

Round 14
Pos
Team
Player
131
Andy Spiteri

D. German

SP NYY

132
Frank Stampfl

T. Skubal

SP DET

133
Rhys White

L. Arraez

2B MIN

134
Chris Towers

C. Mize

SP DET

135
B_Don

J. Leclerc

RP TEX

136
Jeremy Latzke

N. Anderson

RP TB

137
George Maselli

Y. Gurriel

1B HOU

138
Scott White

M. Canha

RF OAK

139
Kayla Van Horn

R. Montero

RP SEA

140
Nick Mimikos

W. Calhoun

DH TEX

Round 15
Pos
Team
Player
141
Nick Mimikos

D. Cease

SP CHW

142
Kayla Van Horn

L. Gilbert

SP SEA

143
Scott White

L. Severino

SP NYY

144
George Maselli

M. Barnes

RP BOS

145
Jeremy Latzke

R. Tellez

1B TOR

146
B_Don

Z. Britton

RP NYY

147
Chris Towers

R. Grossman

LF DET

148
Rhys White

J. Candelario

1B DET

149
Frank Stampfl

N. Lowe

1B TEX

150
Andy Spiteri

M. Minor

SP KC

Round 16
Pos
Team
Player
151
Andy Spiteri

D. Dahl

CF TEX

152
Frank Stampfl

J. Quintana

RP LAA

153
Rhys White

H. Harvey

RP BAL

154
Chris Towers

C. Hernandez

2B CLE

155
B_Don

G. Richards

SP BOS

156
Jeremy Latzke

A. Vaughn

1B CHW

157
George Maselli

T. France

2B SEA

158
Scott White

A. Hicks

CF NYY

159
Kayla Van Horn

A. Eaton

RF CHW

160
Nick Mimikos

L. Taveras

CF TEX

Round 17
Pos
Team
Player
161
Nick Mimikos

W. Castro

SS DET

162
Kayla Van Horn

K. Bubic

SP KC

163
Scott White

J. Diekman

RP OAK

164
George Maselli

B. Dalbec

1B BOS

165
Jeremy Latzke

Y. Kikuchi

SP SEA

166
B_Don

J. Adell

RF LAA

167
Chris Towers

H. Dozier

1B KC

168
Rhys White

C. Mullins

CF BAL

169
Frank Stampfl

N. Pivetta

RP BOS

170
Andy Spiteri

R. Ruiz

3B BAL

Round 18
Pos
Team
Player
171
Andy Spiteri

G. Holland

RP KC

172
Frank Stampfl

J. Schoop

2B DET

173
Rhys White

J. Odorizzi

SP MIN

174
Chris Towers

M. Manning

SP DET

175
B_Don

J. Barria

SP LAA

176
Jeremy Latzke

Chris Archer

SP TB

177
George Maselli

D. Duffy

SP KC

178
Scott White

R. Dobnak

SP MIN

179
Kayla Van Horn

S. Torkelson

3B DET

180
Nick Mimikos

R. Hill

SP MIN

Round 19
Pos
Team
Player
181
Nick Mimikos

R. Stripling

SP TOR

182
Kayla Van Horn

J. Fleming

SP TB

183
Scott White

T. Houck

SP BOS

184
George Maselli

A. Ottavino

RP BOS

185
Jeremy Latzke

K. Akin

SP BAL

186
B_Don

M. Wacha

SP TB

187
Chris Towers

C. Quantrill

RP CLE

188
Rhys White

G. Soto

RP DET

189
Frank Stampfl

S. Turnbull

SP DET

190
Andy Spiteri

A. Hays

CF BAL

Round 20
Pos
Team
Player
191
Andy Spiteri

S. Matz

SP TOR

192
Frank Stampfl

M. Margot

CF TB

193
Rhys White

D. Kremer

SP BAL

194
Chris Towers

W. Ramos

C DET

195
B_Don

J. Wendelken

RP OAK

196
Jeremy Latzke

J. Wendle

3B TB

197
George Maselli

S. Huff

C TEX

198
Scott White

T. Roark

SP TOR

199
Kayla Van Horn

H. Renfroe

RF BOS

200
Nick Mimikos

T. Chatwood

SP TOR

Round 21
Pos
Team
Player
201
Nick Mimikos

F. Whitley

SP HOU

202
Kayla Van Horn

A. Rutschman

C BAL

203
Scott White

F. Mejia

C TB

204
George Maselli

R. Osuna

RP HOU

205
Jeremy Latzke

R. Grichuk

CF TOR

206
B_Don

T. Murphy

C SEA

207
Chris Towers

M. Fulmer

SP DET

208
Rhys White

A. Simmons

SS MIN

209
Frank Stampfl

I. Kiner-Falefa

3B TEX

210
Andy Spiteri

A. Rosario

SS CLE
Team by Team
Nick Mimikos
Rd
Pk
Player
1
1

G. Cole

SP NYY

2
20

A. Judge

RF NYY

3
21

T. Anderson

SS CHW

4
40

M. Olson

1B OAK

5
41

L. Hendriks

RP CHW

6
60

J. Karinchak

RP CLE

7
61

T. Hernandez

RF TOR

8
80

D. Moore

LF SEA

9
81

B. Singer

SP KC

10
100

G. Canning

SP LAA

11
101

J. Soler

DH KC

12
120

A. Gimenez

SS CLE

13
121

S. Murphy

C OAK

14
140

W. Calhoun

DH TEX

15
141

D. Cease

SP CHW

16
160

L. Taveras

CF TEX

17
161

W. Castro

SS DET

18
180

R. Hill

SP MIN

19
181

R. Stripling

SP TOR

20
200

T. Chatwood

SP TOR

21
201

F. Whitley

SP HOU

Kayla Van Horn
Rd
Pk
Player
1
2

S. Bieber

SP CLE

2
19

J. Altuve

2B HOU

3
22

L. Voit

1B NYY

4
39

T. McKenzie

SP CLE

5
42

G. Urshela

3B NYY

6
59

J. Urquidy

SP HOU

7
62

M. Brantley

DH HOU

8
79

M. Semien

SS TOR

9
82

A. Puk

RP OAK

10
99

A. Santander

RF BAL

11
102

B. Keller

SP KC

12
119

M. Garver

C MIN

13
122

J. Happ

SP MIN

14
139

R. Montero

RP SEA

15
142

L. Gilbert

SP SEA

16
159

A. Eaton

RF CHW

17
162

K. Bubic

SP KC

18
179

S. Torkelson

3B DET

19
182

J. Fleming

SP TB

20
199

H. Renfroe

RF BOS

21
202

A. Rutschman

C BAL

Scott White
Rd
Pk
Player
1
3

M. Trout

CF LAA

2
18

Z. Greinke

SP HOU

3
23

H. Ryu

SP TOR

4
38

J. Luzardo

SP OAK

5
43

L. McCullers

SP HOU

6
58

G. Stanton

DH NYY

7
63

C. Santana

1B KC

8
78

K. Yates

RP TOR

9
83

J. Donaldson

3B MIN

10
98

T. Mancini

RF BAL

11
103

D. Fletcher

SS LAA

12
118

N. Madrigal

2B CHW

13
123

W. Franco

SS TB

14
138

M. Canha

RF OAK

15
143

L. Severino

SP NYY

16
158

A. Hicks

CF NYY

17
163

J. Diekman

RP OAK

18
178

R. Dobnak

SP MIN

19
183

T. Houck

SP BOS

20
198

T. Roark

SP TOR

21
203

F. Mejia

C TB

George Maselli
Rd
Pk
Player
1
4

J. Ramirez

3B CLE

2
17

Z. Plesac

SP CLE

3
24

J. Abreu

1B CHW

4
37

J. Martinez

DH BOS

5
44

M. Gonzales

SP SEA

6
57

R. Arozarena

LF TB

7
64

M. Pineda

SP MIN

8
77

M. Kepler

RF MIN

9
84

D. Garcia

SP NYY

10
97

M. Kopech

SP CHW

11
104

J. Gallo

RF TEX

12
117

W. Adames

SS TB

13
124

C. Sale

SP BOS

14
137

Y. Gurriel

1B HOU

15
144

M. Barnes

RP BOS

16
157

T. France

2B SEA

17
164

B. Dalbec

1B BOS

18
177

D. Duffy

SP KC

19
184

A. Ottavino

RP BOS

20
197

S. Huff

C TEX

21
204

R. Osuna

RP HOU

Jeremy Latzke
Rd
Pk
Player
1
5

L. Giolito

SP CHW

2
16

R. Devers

3B BOS

3
25

W. Merrifield

RF KC

4
36

C. Correa

SS HOU

5
45

C. Biggio

2B TOR

6
56

A. Civale

SP CLE

7
65

R. Pressly

RP HOU

8
76

S. Perez

C KC

9
85

A. Heaney

SP LAA

10
96

J. Means

SP BAL

11
105

R. Laureano

CF OAK

12
116

M. Boyd

SP DET

13
125

C. Frazier

RF NYY

14
136

N. Anderson

RP TB

15
145

R. Tellez

1B TOR

16
156

A. Vaughn

1B CHW

17
165

Y. Kikuchi

SP SEA

18
176

Chris Archer

SP TB

19
185

K. Akin

SP BAL

20
196

J. Wendle

3B TB

21
205

R. Grichuk

CF TOR

B_Don
Rd
Pk
Player
1
6

T. Glasnow

SP TB

2
15

L. Lynn

SP CHW

3
26

E. Jimenez

LF CHW

4
35

F. Montas

SP OAK

5
46

M. Chapman

3B OAK

6
55

A. Mondesi

SS KC

7
66

A. Verdugo

RF BOS

8
75

Y. Moncada

3B CHW

9
86

N. Solak

LF TEX

10
95

J. Montgomery

SP NYY

11
106

A. Benintendi

LF BOS

12
115

J. Walsh

1B LAA

13
126

R. Ray

SP TOR

14
135

J. Leclerc

RP TEX

15
146

Z. Britton

RP NYY

16
155

G. Richards

SP BOS

17
166

J. Adell

RF LAA

18
175

J. Barria

SP LAA

19
186

M. Wacha

SP TB

20
195

J. Wendelken

RP OAK

21
206

T. Murphy

C SEA

Chris Towers
Rd
Pk
Player
1
7

A. Rendon

3B LAA

2
14

B. Bichette

SS TOR

3
27

K. Tucker

LF HOU

4
34

Y. Alvarez

DH HOU

5
47

A. Meadows

LF TB

6
54

C. Kluber

SP NYY

7
67

J. Taillon

SP NYY

8
74

T. Rogers

RP MIN

9
87

M. Sano

1B MIN

10
94

N. Pearson

SP TOR

11
107

J. Sheffield

SP SEA

12
114

S. Ohtani

DH LAA

13
127

J. Paxton

SP NYY

14
134

C. Mize

SP DET

15
147

R. Grossman

LF DET

16
154

C. Hernandez

2B CLE

17
167

H. Dozier

1B KC

18
174

M. Manning

SP DET

19
187

C. Quantrill

RP CLE

20
194

W. Ramos

C DET

21
207

M. Fulmer

SP DET

Rhys White
Rd
Pk
Player
1
8

X. Bogaerts

SS BOS

2
13

G. Springer

CF TOR

3
28

N. Cruz

DH MIN

4
33

D. Bundy

SP LAA

5
48

Y. Grandal

C CHW

6
53

K. Seager

3B SEA

7
68

K. Lewis

CF SEA

8
73

R. Iglesias

RP LAA

9
88

C. Javier

SP HOU

10
93

R. Yarbrough

SP TB

11
108

B. Buxton

CF MIN

12
113

S. Manaea

SP OAK

13
128

J. Kelenic

CF SEA

14
133

L. Arraez

2B MIN

15
148

J. Candelario

1B DET

16
153

H. Harvey

RP BAL

17
168

C. Mullins

CF BAL

18
173

J. Odorizzi

SP MIN

19
188

G. Soto

RP DET

20
193

D. Kremer

SP BAL

21
208

A. Simmons

SS MIN

Frank Stampfl
Rd
Pk
Player
1
9

A. Bregman

3B HOU

2
12

K. Maeda

SP MIN

3
29

G. Torres

SS NYY

4
32

F. Valdez

SP HOU

5
49

B. Lowe

2B TB

6
52

D. Keuchel

SP CHW

7
69

L. Gurriel

LF TOR

8
72

N. Eovaldi

SP BOS

9
89

A. Colome

RP CHW

10
92

G. Sanchez

C NYY

11
109

R. Mountcastle

LF BAL

12
112

A. Kirilloff

RF MIN

13
129

D. Dunning

SP TEX

14
132

T. Skubal

SP DET

15
149

N. Lowe

1B TEX

16
152

J. Quintana

RP LAA

17
169

N. Pivetta

RP BOS

18
172

J. Schoop

2B DET

19
189

S. Turnbull

SP DET

20
192

M. Margot

CF TB

21
209

I. Kiner-Falefa

3B TEX

Andy Spiteri
Rd
Pk
Player
1
10

J. Berrios

SP MIN

2
11

D. LeMahieu

2B NYY

3
30

L. Robert

CF CHW

4
31

V. Guerrero

1B TOR

5
50

A. Chapman

RP NYY

6
51

E. Rodriguez

SP BOS

7
70

F. Reyes

DH CLE

8
71

E. Rosario

LF CLE

9
90

C. Bassitt

SP OAK

10
91

C. Vazquez

C BOS

11
110

D. Castillo

RP TB

12
111

J. Polanco

SS MIN

13
130

M. Haniger

RF SEA

14
131

D. German

SP NYY

15
150

M. Minor

SP KC

16
151

D. Dahl

CF TEX

17
170

R. Ruiz

3B BAL

18
171

G. Holland

RP KC

19
190

A. Hays

CF BAL

20
191

S. Matz

SP TOR

21
210

A. Rosario

SS CLE
require.config({"baseUrl":"https://sportsfly.cbsistatic.com/fly-143/bundles/sportsmediajs/js-build","config":{"version":{"fly/components/accordion":"1.0","fly/components/alert":"1.0","fly/components/base":"1.0","fly/components/carousel":"1.0","fly/components/dropdown":"1.0","fly/components/fixate":"1.0","fly/components/form-validate":"1.0","fly/components/image-gallery":"1.0","fly/components/iframe-messenger":"1.0","fly/components/load-more":"1.0","fly/components/load-more-article":"1.0","fly/components/load-more-scroll":"1.0","fly/components/loading":"1.0","fly/components/modal":"1.0","fly/components/modal-iframe":"1.0","fly/components/network-bar":"1.0","fly/components/poll":"1.0","fly/components/search-player":"1.0","fly/components/social-button":"1.0","fly/components/social-counts":"1.0","fly/components/social-links":"1.0","fly/components/tabs":"1.0","fly/components/video":"1.0","fly/libs/easy-xdm":"2.4.17.1","fly/libs/jquery.cookie":"1.2","fly/libs/jquery.throttle-debounce":"1.1","fly/libs/jquery.widget":"1.9.2","fly/libs/omniture.s-code":"1.0","fly/utils/jquery-mobile-init":"1.0","fly/libs/jquery.mobile":"1.3.2","fly/libs/backbone":"1.0.0","fly/libs/underscore":"1.5.1","fly/libs/jquery.easing":"1.3","fly/managers/ad":"2.0","fly/managers/components":"1.0","fly/managers/cookie":"1.0","fly/managers/debug":"1.0","fly/managers/geo":"1.0","fly/managers/gpt":"4.3","fly/managers/history":"2.0","fly/managers/madison":"1.0","fly/managers/social-authentication":"1.0","fly/utils/data-prefix":"1.0","fly/utils/data-selector":"1.0","fly/utils/function-natives":"1.0","fly/utils/guid":"1.0","fly/utils/log":"1.0","fly/utils/object-helper":"1.0","fly/utils/string-helper":"1.0","fly/utils/string-vars":"1.0","fly/utils/url-helper":"1.0","libs/jshashtable":"2.1","libs/select2":"3.5.1","libs/jsonp":"2.4.0","libs/jquery/mobile":"1.4.5","libs/modernizr.custom":"2.6.2","libs/velocity":"1.2.2","libs/dataTables":"1.10.6","libs/dataTables.fixedColumns":"3.0.4","libs/dataTables.fixedHeader":"2.1.2","libs/dateformat":"1.0.3","libs/waypoints/infinite":"3.1.1","libs/waypoints/inview":"3.1.1","libs/waypoints/jquery.waypoints":"3.1.1","libs/waypoints/sticky":"3.1.1","libs/jquery/dotdotdot":"1.6.1","libs/jquery/flexslider":"2.1","libs/jquery/lazyload":"1.9.3","libs/jquery/maskedinput":"1.3.1","libs/jquery/marquee":"1.3.1","libs/jquery/numberformatter":"1.2.3","libs/jquery/placeholder":"0.2.4","libs/jquery/scrollbar":"0.1.6","libs/jquery/tablesorter":"2.0.5","libs/jquery/touchswipe":"1.6.18","libs/jquery/ui/jquery.ui.core":"1.11.4","libs/jquery/ui/jquery.ui.draggable":"1.11.4","libs/jquery/ui/jquery.ui.mouse":"1.11.4","libs/jquery/ui/jquery.ui.position":"1.11.4","libs/jquery/ui/jquery.ui.slider":"1.11.4","libs/jquery/ui/jquery.ui.sortable":"1.11.4","libs/jquery/ui/jquery.ui.touch-punch":"0.2.3","libs/jquery/ui/jquery.ui.autocomplete":"1.11.4","libs/jquery/ui/jquery.ui.accordion":"1.11.4","libs/jquery/ui/jquery.ui.tabs":"1.11.4","libs/jquery/ui/jquery.ui.menu":"1.11.4","libs/jquery/ui/jquery.ui.dialog":"1.11.4","libs/jquery/ui/jquery.ui.resizable":"1.11.4","libs/jquery/ui/jquery.ui.button":"1.11.4","libs/jquery/ui/jquery.ui.tooltip":"1.11.4","libs/jquery/ui/jquery.ui.effects":"1.11.4","libs/jquery/ui/jquery.ui.datepicker":"1.11.4"}},"shim":{"liveconnection/managers/connection":{"deps":["liveconnection/libs/sockjs-0.3.4"]},"liveconnection/libs/sockjs-0.3.4":{"exports":"SockJS"},"libs/setValueFromArray":{"exports":"set"},"libs/getValueFromArray":{"exports":"get"},"fly/libs/jquery.mobile-1.3.2":["version!fly/utils/jquery-mobile-init"],"libs/backbone.marionette":{"deps":["jquery","version!fly/libs/underscore","version!fly/libs/backbone"],"exports":"Marionette"},"fly/libs/underscore-1.5.1":{"exports":"_"},"fly/libs/backbone-1.0.0":{"deps":["version!fly/libs/underscore","jquery"],"exports":"Backbone"},"libs/jquery/ui/jquery.ui.tabs-1.11.4":["jquery","version!libs/jquery/ui/jquery.ui.core","version!fly/libs/jquery.widget"],"libs/jquery/flexslider-2.1":["jquery"],"libs/dataTables.fixedColumns-3.0.4":["jquery","version!libs/dataTables"],"libs/dataTables.fixedHeader-2.1.2":["jquery","version!libs/dataTables"],"https://sports.cbsimg.net/js/CBSi/app/VideoPlayer/AdobePass-min.js":["https://sports.cbsimg.net/js/CBSi/util/Utils-min.js"]},"map":{"*":{"adobe-pass":"https://sports.cbsimg.net/js/CBSi/app/VideoPlayer/AdobePass-min.js","facebook":"https://connect.facebook.net/en_US/sdk.js","facebook-debug":"https://connect.facebook.net/en_US/all/debug.js","google":"https://apis.google.com/js/plusone.js","google-platform":"https://apis.google.com/js/client:platform.js","google-csa":"https://www.google.com/adsense/search/async-ads.js","google-javascript-api":"https://www.google.com/jsapi","google-client-api":"https://apis.google.com/js/api:client.js","gpt":"https://securepubads.g.doubleclick.net/tag/js/gpt.js","newsroom":"https://c2.taboola.com/nr/cbsinteractive-cbssports/newsroom.js","recaptcha":"https://www.google.com/recaptcha/api.js?onload=loadRecaptcha&render=explicit","recaptcha_ajax":"https://www.google.com/recaptcha/api/js/recaptcha_ajax.js","supreme-golf":"https://sgapps-staging.supremegolf.com/search/assets/js/bundle.js","taboola":"https://cdn.taboola.com/libtrc/cbsinteractive-cbssports/loader.js","twitter":"https://platform.twitter.com/widgets.js","video-utils":"https://sports.cbsimg.net/js/CBSi/util/Utils-min.js"}},"waitSeconds":300});