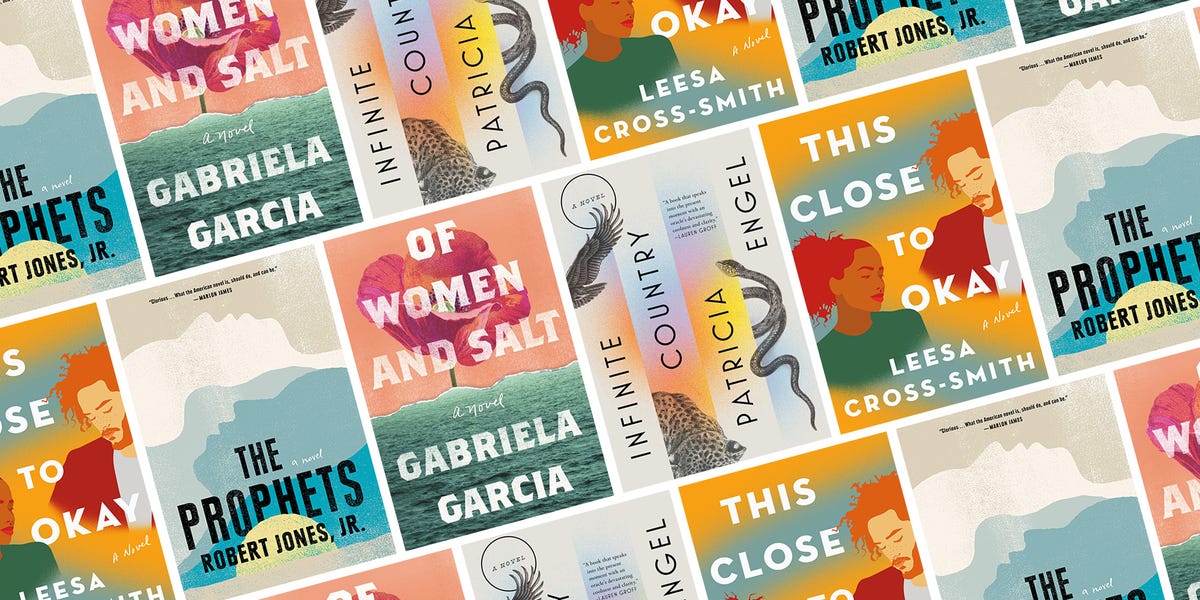 As vaccine rollouts lent a glimmer of light to the end of the long, dark tunnel we called 2020, I realized just how much hope I'd stored up in the promise of 2021. But I've learned—in my many, many hours on the couch during this pandemic—that no matter what celebrations or challenges lie ahead, I'm going to need a story. When lockdown forced me into 24-hour days in my shoebox apartment, I had books like Chelsea Bieker's Godshot and Diane Cook's The New Wilderness to lure me away from work and Twitter and general existential despair, into a world with, well…a little more fresh air. Hopefully, 2021 won't have nearly as much need for escapism and downtime, but when boredom or curiosity or nostalgia or hope strike—even in a so-called "normal" reality—books become just as necessary as they were in quarantine.
And 2021 promises not to disappoint. If the pandemic has developed your appetite for science fiction, biography, or old-fashioned dystopia, you'll find just as many delights here as fans of romance, memoir, and literary fiction will. These are the most exciting new releases headed our way. Happy pre-ordering!
1
Black Buck by Mateo Askaripour
Release date: Jan. 5
Mateo Askaripour fuses humor and social criticism in Black Buck, the tale of a once-unambitious young man swept into the sales business at a buzzy new tech start-up. As the only Black man at the company, our young hero reimagines himself as Buck, a smooth-talking and quick-witted salesman capable of doing anything to seal the deal. But when his life and family start to slip away, Buck resets with a new goal: taking down the system from the inside.
2
The Prophets by Robert Jones, Jr.
Release date: Jan. 5
In a can't-miss debut, Robert Jones, Jr. fashions a nuanced story of love and legacy. Isaiah and Samuel are lovers enslaved on the same plantation in the Deep South who build a home for each other in the safety of a shed. But their bond is threatened when their master's hateful words spread mistrust and division in their community.
3
The Push by Ashley Audrain
Release date: Jan. 5
Blythe Connor has a daughter, but their connection is…off. When she attempts to tell her husband, Fox, he dismisses her concerns as fantasy and falsehood. In turn, Blythe starts to question her sanity, only to discover a deep connection with her next child, a son. So what's wrong with Violet? This psychological drama is a twisty, shocking examination of the complicated emotions that come with motherhood. 
4
White Feminism: From the Suffragettes to Influencers and Who They Leave Behind by Koa Beck
Release date: Jan. 5
This piercing critique of the commodification of feminism—and the communities it inevitably ignores or outright excludes—is an urgent addition to anti-racist education. Koa Beck equips her readers with data, cultural analysis, and razor-sharp arguments to demonstrate why feminism must evolve and how we can start the process today. 
5
One of the Good Ones by Maika Moulite and Maritza Moulite
Release date: Jan. 5
Sisters Maika and Maritza Moulite turn a racist phrase on its head, weaving it into a sterling story of a young Black girl killed by police and the way her memory is co-opted.
6
Concrete Rose by Angie Thomas
Release date: Jan. 12
Angie Thomas makes her long-awaited return to The Hate U Give universe in this prequel to her smash YA hit. Set 17 years before the events of her first novel, Concrete Rose follows teenager Maverick Carter as unanticipated fatherhood changes everything he thought he knew about the trajectory of his life. When he decides to stop dealing drugs to focus on his child, he soon finds out going straight isn't as easy as he thought. 
7
A Swim in a Pond in the Rain: In Which Four Russians Give a Master Class on Writing, Reading, and Life by George Saunders
Release date: Jan. 12
One of the most respected authors of our time is back with a wise, whimsical celebration of the great Russian writers and all they still have to teach us. Pulled from the classes he teaches at Syracuse University, A Swim In A Pond In The Rain is a seven-essay peek into Saunders's mind, as well as Chekhov's, Tolstoy's, and more. 
8
Dog Flowers: A Memoir by Danielle Geller
Release date: Jan. 12
In this shattering memoir that combines image and text to reveal a portrait of home, Danielle Geller pieces together the story of her mother's life—what led her to alcoholism, how she loved her daughter, and why she left the Navajo reservation she once called her own. 
9
The Inland Sea by Madeleine Watts
Release date: Jan. 12
Sydney-born author Madeleine Watts draws readers into a dizzying account of anxiety in this tale of crises both intimate and global. The narrator, who remains unnamed—a clever choice on Watts' behalf—works as a 911 operator temporarily plunged into dozens of crises across Sydney that begin to color her home life. As she becomes increasingly self-destructive, readers also follow a separate story of her distant ancestor, who searched Australia for a mythical "inland sea"—and never found it. 
10
Aftershocks: A Memoir by Nadia Owusu
Release date: Jan. 12
A deeply introspective story of identity and how it affects our psyches, Aftershocks chronicles Nadia Owusu's perpetual search to understand her own body. The daughter of a Ghanaian United Nations official and an Armenian American mother, both of whom harbored secrets and dreams that intervened in young Owusu's life, she writes her way through her own depression and uncertainty to a powerful revelation. This is a magnificent, complex assessment of selfhood and why it matters. 
11
Detransition, Baby by Torrey Peters
Release date: Jan. 12
A refreshingly messy account of gender and family, Detransition, Baby follows couple Reese and Amy, trans women living simply but happily in New York City—until their relationship shifts when Amy detransitions and becomes Ames. Their relationship ends, Reese begins a series of dissatisfying hookups with married men, and Ames starts a relationship with his boss, Katrina. Then Katrina gets pregnant. Can the three of them cobble together an unorthodox family and raise this child, or are some relationships doomed to fail? 
12
Biography of A Body by Lizz Schumer
Release date: Jan. 19
Searing and intimate, journalist and Good Housekeeping staff writer Lizz Schumer's coming-of-age memoir wrestles with religion, femininity, food, and the many ways outside influences color our perception of self. Reading these deeply moving essays and poems feels like parachuting into another person's consciousness—unsettling and powerful all at once. 
13
We Could Be Heroes by Mike Chen
Release date: Jan. 26
The superhero narrative can easily follow a regurgitate-and-repeat formula, which makes it all the more enticing when a truly original take on the genre comes along. Mike Chen's novel is one such invention, following odd couple Jamie and Zoe, who both suffer from memory loss. Well, that, and they also have superpowers: Jamie's is reading and erasing memories, and Zoe's is super-speed and strength. When an ominous threat appears, they must decide whether to put aside their personal interests and team up—or continue to save their abilities for themselves. 
14
Let Me Tell You What I Mean by Joan Didion
Release date: Jan. 26
One of the most legendary figures in all of literature and journalism, Joan Didion's new collection deserves attention, in part, because it is from Joan Didion. But there's reason for additional excitement: These essays are gathered from the very beginning of her long career, which started back in the 1960s. Covering many seemingly disparate topics—WWII, Martha Stewart, the function of the press—this collection promises to reveal a side of Didion that's both familiar and strikingly fresh. 
15
The Hare by Melanie Finn
Release date: Jan. 26
As angry and unflinching as it is tender, Melanie Finn's The Hare is the tale of trapped womanhood—and all the violence and desperation that goes into escaping it. Protagonist Rosie trails her lover, the wealthy con man Bennett, to Vermont, only for his betrayal to leave her vulnerable and alone. Hardened by poverty and freezing winters, she grows into a wise but bitter woman slowly inching toward something like freedom. 
16
Surviving the White Gaze by Rebecca Carroll
Release date: Feb. 2
In this painfully resonant memoir, cultural critic Rebecca Carroll transports readers to her childhood in rural New Hampshire, where she was the only Black person in her hometown. Adopted into a loving white family, she struggled to reconcile the feelings of separation, difference, and even resentment that characterized her childhood until she left home for a series of turbulent stops in different cities. There, she slowly peeled back the layers of her identity and finds love in her chosen Black family. It makes for an intense but enlightening story of how we understand ourselves and what it takes to understand each other.
17
Land of Big Numbers: Stories by Te-Ping Chen
Release date: Feb. 2
A stirring and brilliant collection of stories probing the contradictions and beauties of modern China, Te-Ping Chen's debut is both love letter and sharp social criticism. Through scenes firmly planted in reality as well as tales of the bizarre and magical, Chen reveals portraits lovingly rendered with insight from her years as a reporter with the Wall Street Journal. 
18
This Close to Okay by Leesa Cross-Smith
Release date: Feb. 2
One of those rare feel-good novels that also crackles with wisdom, This Close to Okay introduces readers to two characters who will come to feel like cherished friends. Tallie is a recently divorced therapist who discovers Emmett on the edge of a bridge. She convinces him to stick around for another day, and the two return to her home to trade stories. Over the course of a single weekend, their many conversations on love, loss, grief, and joy coalesce into a primer on human goodness.
19
Milk Blood Heat by Dantiel W. Moniz
Release date: Feb. 2
If the "Florida Man" memes pulled from years of headlines have taught us anything, it's that the Sunshine State is its own world, unique from any other American region. In enchanting prose, debut storyteller Dantiel W. Moniz plunges readers head first into the lives of oft-misunderstood Floridians and their personal crises, stitching together a portrait that feels both original and startlingly familiar. 
20
The Four Winds by Kristin Hannah
Release date: Feb. 2
An eagerly awaited follow-up from the author of The Nightingale and The Great Alone, The Four Winds chronicles a community in the Dust Bowl. Forced to decide between her beloved but dying home and an uncertain future in California, protagonist Elsa Martinelli becomes an emblem of the American Dream—and why its promise still hold so much power today. 
21
City of A Thousand Gates by Rebecca Sacks
Release date: Feb. 2
Capturing a decades-old battle within a single story is a challenging feat, and readers might argue over whether Rebecca Sacks has accomplished it. But none can deny the ambition of City of a Thousand Gates, which employs a large cast of characters with interwoven stories that represent the many ideologies and truths at the heart of the Israeli-Palestinian conflict. As these characters fight for the future they believe in, a common humanity reveals itself in heart-wrenching ways. 
22
The Removed by Brandon Hobson
Release date: Feb. 2
A disconnected web of tragedies—loss, loneliness, dementia, and drugs—draw together a disparate Cherokee family in this powerful novel that blurs the lines between spiritual and earthly. Pulling from centuries-old Cherokee folklore to ground this present-day tale, Brandon Hobson has built a grave and unforgettable legend. 
23
Fake Accounts by Lauren Oyler
Release date: Feb. 2, 2021
An absolutely brilliant take on the bizarre and despicable ways the internet has warped our perception of reality, Fake Accounts is Lauren Oyler's tale of a young woman, her internet conspiracy theorist boyfriend, and a confused attempt to make sense of relationships and work in the age of social media and misinformation. Equal parts witty and deceptive, this is a startling critique of what we know to be true but struggle to accept.  
24
How the One-Armed Sister Sweeps Her House by Cherie Jones
Release date: Feb. 2
Cherie Jones's novel examines the calamities that occur when need and greed collide. Married couple Lala and Adan live on the beach in Barbados, and Adan has a plan: He's going to rob one of the Baxter Beach mansions. But when it all goes terribly wrong, everyone must reckon with the realities of the resort town they call home. 
25
The Kindest Lie by Nancy Johnson
Release date: Feb. 9
South Side native and debut novelist Nancy Johnson takes readers to Chicago to meet Ruth Tuttle, a brilliant Black engineer buoyed by the promises of the newly elected Barack Obama. But her husband wants a baby, and Ruth isn't so sure she's ready for one—not after what happened to her first baby, whom she gave birth to as a teenager in Indiana. Determined to face her history head-on, Ruth travels back home, only to realize her Indiana town and its people are in crisis.
26
The Gilded Ones by Namina Forna
Release date: Feb. 9
The start of a delightful new YA series for fans of Tomi Adeyemi and Sabaa Tahir, The Gilded Ones presents an inventive fantasy world where the color of your blood determines your fate. Deka's runs gold, marking her as impure, but when she's given a second chance to become a warrior in an army of girls, she heads to the capital to face a rising threat against her empire. Highly anticipated by teens and adults alike, be sure to pre-order this one before it flies off shelves. 
27
Infinite Country by Patricia Engel
Release date: Feb. 23
At once a sweeping love story and tragic drama, Infinite Country is an immigrant's tale: Two young parents decide to move from their violence-plagued home in Colombia to the United States in search of safety. But as years in America pass and their tourist visas expire, they're repeatedly forced to risk deportation—and face the intolerance of the American citizens around them. Written by Colombian American author Patrica Engel, this novel promises to deliver what American Dirt could not: an authentic vision of what the American Dream looks like in a nationalistic country. 
28
The Committed by Viet Thanh Nguyen
Release date: March 2
Long-awaited and already acclaimed, The Committed marks the return of Viet Thanh Nguyen's nameless protagonist from his award-winning 2016 novel The Sympathizer. In this thriller-cum-cultural critique, the Sympathizer roams Paris as a refugee and drug dealer, embedding himself in the French underworld of the 1980s. This successor is worthy of the praise of the original novel: hilarious and smart while challenging the genre to be far more ambitious. 
29
Klara and The Sun by Kazuo Ishiguro
Release date: March 2
Already a titan in the annals of contemporary fiction, Nobel Prize-winning author Kazuo Ishiguro is returning this year with yet another wildly inventive novel. In Klara and the Sun, we meet the humanoid solar-powered robot Klara, designed to be a child's friendly companion. Waiting in the windows of a store, she watches the world pass by and soaks in the sun; eventually, she's bought by teenager Josie, with whom she builds a very real bond threatened by disease. Like all of Ishiguro's works, this is a deeply moving story that examines our definitions of love and humanity. 
30
Firekeeper's Daughter by Angeline Boulley
In this momentous YA debut, Angeline Boulley pulls from her Ojibwe background to craft her incredible protagonist, 18-year-old Daunis Fontaine. Daunis is desperate to get away from home, but when tragedy changes everything, she finds herself pulled into an FBI investigation of a drug plaguing her community. As she exposes more and more secrets—and more and more injustices—Daunis comes into her own and learns to fight for her people above all else. 
31
How Beautiful We Were by Imbolo Mbue
Release date: March 9
Imbolo Mbue's revelatory novel of a fictional African village ruined by Big Oil is a mighty addition to the stacks. In Kusawa, pipeline spills and toxic water make everyday living impossible and a corrupt government refuses to help. Desperate, the people take their fate into their own hands.
32
The Code Breaker by Walter Isaacson
Release date: March 9
Acclaimed biographer Walter Isaacson—of Steve Jobs fame—returns with a decidedly different subject: Jennifer Doudna, a leading scientist on the team that created CRISPR, a gene-editing tool rapidly redefining how we understand genetic code. This challenging, fascinating story examines Doudna's background and excavates the moral quandaries she grapples with as her creation opens up more and more avenues for scientific advancement.
33
Three O'Clock In The Morning by Gianrico Carofiglio
Harpervia
amazon.com
$23.99
Release date: March 16
An achingly lovely coming-of-age novel that calls to mind Jess Walters's Beautiful Ruins, Three O'Clock in the Morning follows a fractured father-and-son pair who reconnect over a 48-hour period on the French coast. Deeply nostalgic and beautifully imagined, this is a warm family novel, a beach read of the best kind. 
34
Libertie by Kaitlyn Greenidge
Release date: March 30
A stupendous sophomore novel from the author of the acclaimed We Love You, Charlie Freeman, Libertie is, of course, about freedom—in particular, a Black woman's freedom to choose her own path. In Reconstruction-era Brooklyn, Libertie Sampson is expected to follow her mother's footsteps into a medical career, while the Haitian man she chooses to marry wants her to bend to his whims. Struggling to carve out a piece of her life that's truly her own, Libertie realizes her freedom is not just about herself, but about those who come after her as well. A clear-eyed, masterful story. 
35
Good Company by Cynthia D'Aprix Sweeney
Ecco Press
amazon.com
$27.99
Release date: April 6
From the bestselling author of The Nest comes another charming yet deceptively sharp tale of friendship, family, and all the things that get in the way of both. Protagonist Flora Mancini has happy, healthy relationships with both her husband, Julian, and best friend, Margot. Then she discovers Julian's wedding ring hidden away in an envelope. What does it mean? And how is Margot connected? This is a perfect book for a quick weekend read—warm, funny, yet full of insight. 
36
My Broken Language: A Memoir by Quiara Alegría Hudes
Release date: April 6
From Quiara Alegría Hudes, Pulitzer Prize-winning playwright and writer of the acclaimed musical In The Heights, My Broken Language is both coming-of-age memoir and ode to a community. Hudes details her childhood in North Philadelphia, where her friends and family wove a tapestry of differing customs, languages and stories. Infatuated with the culture that raised her, Hudes heads to Yale and begins a fight to capture that magic for the broader world to celebrate. 
37
Of Women and Salt by Gabriela Garcia
Release date: April 6
Expansive yet intimate, Of Women and Salt connects three generations of women and the pattern they trace through countries and decades alike. In present-day Miami, addiction-addled Jeanette takes in the daughter of a neighbor detained by ICE. Jeanette's mother, Carmen, struggles to care for Jeanette while processing her detachment from her own mother. And in Cuba, Jeanette's grandmother holds the key to their family's secrets. A vast account of family, culture, politics, and the traumas inflicted by all, this gorgeous debut heralds the arrival of a literary star.
38
Caul Baby by Morgan Jerkins
Release date: April 6
The astounding talent behind nonfiction must-reads This Will Be My Undoing and Wandering in Strange Lands turns to fiction with Caul Baby. Jerkins' engrossing story follows the Melancons, a family whose babies are often born with a caul—a layer of extra skin with secret healing power. Laila wants a caul to end her series of heartbreaking pregnancies, but it's her niece, Amara, who gives birth to a child with one. An exhilarating tale of family, belonging, and bodies, this promises to be one of the most exciting releases of the year. 
39
Peaces by Helen Oyeyemi
Release date: April 6
With the Gingerbread author's signature talent for the inventive—and, at times, utterly bizarre—Peaces is an enrapturing tale about a train. Otto and Xavier Shin are in love, and to celebrate their love they hop on a sleeper train to get out of town. But this is no Amtrak—it's a former tea-smuggling train outfitted with personal touches all to their liking, and they seem to be the only two riders onboard. As the oddities add up, Otto and Xavier begin to understand just how much they have to learn from each other on this trip. 
40
The Final Revival of Opal & Nev by Dawnie Walton
Release date: April 20
Delicious and deep, this fictional oral history loosely mirrors Daisy Jones and the Six. The Final Revival of Opal & Nev is a classic rock 'n' roll legend and rollicking tale of 1970s New York—but with a fascinating twist. As Opal's fanbase gains momentum in the early '70s, a rival band waves a Confederate flag at their concert, and Opal chooses to protest. Her decision will have ramifications for the rest of her life and career, information finally unearthed by music journalist S. Sunny Shelton in 2016.
41
Second Place by Rachel Cusk
Release date: May 4
The celebrated author of the inimitable Outline trilogy returns with another complex, soul-searching tale. Our protagonist invites an artist to her coastal home in the hopes that he might shed light on her convoluted history. But his presence invites additional questions, in particular the delicate dynamics between a woman's destiny and a man's privilege. 
42
While Justice Sleeps by Stacey Abrams
Release date: May 11
How Stacey Abrams had the time to write a mystery thriller in the midst of an election run-up like 2020 is confounding—but we're just lucky to get our hands on it. In While Justice Sleeps, a promising young law clerk suddenly becomes the legal guardian for a Supreme Court justice who's slipped into a coma. A swing vote on many major cases, the justice's position is paramount to justice in the Court, and it's up to Avery Keene to ensure the truth comes out. 
43
Don't Breathe A Word by Jordyn Taylor
Release date: May 18
The author of the delectable WWII novel The Paper Girl of Paris turns her attention to the 1960s in Don't Breathe A Word. In 1962, six students enter a fallout shelter for a series of tests. Only five come out. Decades later, a young girl named Eva attends a fancy prep school in New York City, only to discover the building harbors secrets that might reveal what happened all those years ago.
44
Malibu Rising by Taylor Jenkins Reid
Release date: May 25
In her hotly anticipated second novel, the author of Daisy Jones & The Six takes readers to Malibu in 1983 for yet another bewitching story of music legends and their familial fallouts. Singer Mick Riva has four children—Nina, Jay, Hud, and Kit—and together they're hosting the biggest end-of-summer party of the season. By the time the party ends, their house will be in flames. What happened that night, and will the Riva family ever recover? 
45
Somebody's Daughter: A Memoir by Ashley C. Ford
Release date: June 1
In this beautiful, delicate memoir, writer Ashley C. Ford recounts a childhood defined by her incarcerated father's absence, her own struggles with her body, and later, an assault by a boyfriend she thought could be her true love. When Ford finally learns why her father is behind bars, her real healing begins, and she starts a journey toward true and powerful selfhood.
46
With Teeth by Kristen Arnett
Release date: June 1
The beloved author behind Mostly Dead Things returns with a story of a queer family and the picture-perfect life they can't quite create. Raising their son Samson in the warmth of Florida, Sammie and Monika want to be the ideal lesbian couple. But Samson is distant, maybe even dangerous, and as he grows older he becomes downright hostile. As their relationships fall apart, Sammie must untangle how her family became this mess—and whether there's any way to fix it. 
47
One Last Stop by Casey McQuiston
Release date: June 1
No year is complete without a few show-stopping romance stories, and Casey McQuiston's One Last Stop promises to be one of the most memorable. Following the success of her debut, Red, White & Royal Blue, McQuiston weaves yet another dreamy meet-cute: Cynical August encountering the enchanting Jane on the New York City subway. But there's a twist: Jane is a literal product of the 1970s, somehow transported into the present day. This delightful love story is everything you need for a feel-good day of beach reading. 
48
The One Hundred Years of Lenni and Margot by Marianne Cronin
Release date: June 1
A bittersweet tale of love and legacy, The One Hundred Years of Lenni and Margot is about two lifetimes at their end—one at just 17, the other at 83. Both Lenni and Margot are dying in the Glasgow Princess Royal Hospital, but they're determined to leave their mark on the world before they go. They set out to create one hundred paintings representing the years they've lived, setting the scene for a gorgeous, heartbreaking story readers won't soon forget. 
49
Filthy Animals: Stories by Brandon Taylor
Release date: June 22
The extraordinary talent behind the Booker Prize finalist Real Life, Brandon Taylor is back with a collection of stories about the American Midwest and the fragile, tender lives that sustain it. With a stark and unwavering eye and a deep respect for his subjects, Taylor builds instantly recognizable tales of longing and desire. 
50
God Spare the Girls by Kelsey McKinney
Release date: June 22
Defector Media co-founder and writer Kelsey McKinney pulls from her own childhood in North Texas for this tender, aching debut novel, set in an evangelical megachurch where faith and betrayal are intertwined. Pastor Luke Nolan is the picture of purity—until his congregation learns he's having an affair. 
51
Afterparties: Stories by Anthony Veasna So
Release date: Aug. 3
An electric debut from new literary talent Anthony Veasna So, Afterparties zooms in on the complexities of growing up as the children of Cambodian refugees in California. With a surprising blend of biting wit and raw emotion, So stitches together tales of immigration, identity, queerness, and violence in a collection as bright and breathtaking as its cover.  
52
The Heart Principle by Helen Hoang
Release date: Aug. 17
A fiercely anticipated third release from the adored author of romances The Kiss Quotient and The Bride Test, The Heart Principle features a fan-favorite character from Helen Hoang's debut novel: Quan. Michael's cousin gets his own love story in this touching follow-up, meeting his match at a kendo tournament. Not much more information is available about the plot, but if Hoang's previous successes prove anything, The Heart Principle will be a joy. 
53
Harlem Shuffle by Colson Whitehead
Release date: Sept. 14
A new Colson Whitehead novel is always a reason to rejoice. Following back-to-book Pulitzer winners The Underground Railroad and The Nickel Boys, Whitehead takes us to 1960s Harlem for an alluring tale of cons, heists, and big money in a neighborhood where cash always seems to slip through Ray Carney's fingers. Determined to bend himself straight, he instead finds himself falling in with other crooks. The result is a rollicking adventure and touching family saga in one.
54
Matrix by Lauren Groff
Release date: September
Two-time National Book Award finalist Lauren Groff recently announced she's got another novel headed our way, and though there's not much we know about it yet, we do know this: It's about nuns—in particular one who joins an impoverished abbey and commits herself to leading its tenants toward a new world and new vision. Keep an eye out for a cover release in the coming months—this one promises to thrill.
55
Beautiful World, Where Are You by Sally Rooney
Release date: September
Celebrated Irish novelist Sally Rooney's long-awaited follow-up to her bestselling phenomenon Normal People is finally on its way. In Beautiful World, Where Are You, we return to Rooney's holy ground: Following four young people navigating personal and political turmoil in Ireland.
This content is created and maintained by a third party, and imported onto this page to help users provide their email addresses. You may be able to find more information about this and similar content at piano.io
Source link