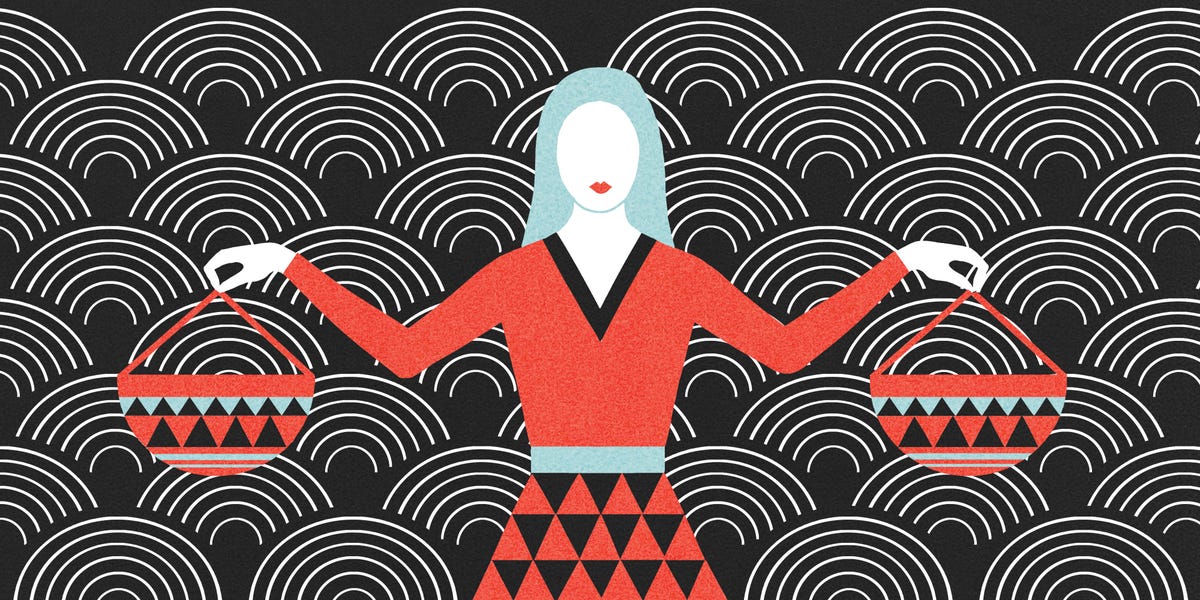 MONTH OF October
October Snapshot
Happy Libra season! Brace yourself for plenty of action this birthday month. The Sun is in your sign until October 22, powering up your first house of independence and solo projects. Try to focus on those as best you can because there will be lots going on in the stars that could hijack your attention.
For starters, October 2020 is a "blue moon" month, meaning it will be bookended by a rare doubleheader of full moons. Both will illuminate the most powerful relationship houses of your chart, putting your closest ties front and center.
Family matters are also in the spotlight when intense Pluto ends a five-month retrograde backspin through your domestic fourth house on Sunday, October 4. If things have been all over the place at Chateau Libra, you can look forward to bringing some balance back to your bonds.
Try NOT to launch anything important between Tuesday, October 13, and November 3, as Mercury—the planet of communiclass="body-el-link standard-body-el-link" cation, technology and travel—will turn retrograde . Back up your important data and files early in the month, and prepare to repeat yourself often! Until Tuesday, October 27, Mercury will back through Scorpio, interrupting your flow with work and money. Then the quicksilver planet will dart back into Libra for the duration of the retrograde. Whatever message you want to share, you'll find a much more receptive audience after November 3!
Fortunately, the Sun's warming presence in Scorpio from Thursday, October 22, to November 21 will help you feel more anchored. As El Sol heats up your sector of finance and daily routines, you'll feel most grounded by sticking to simple plans.
Major emotional or financial transformation could arrive on Saturday, October 31, when the Taurus full moon sweeps in, teamed up with disruptor Uranus, and shakes up your eighth house of intimacy, long-term wealth and joint ventures. You could find yourself suddenly in—or out of—a major partnership since the eighth house rules extremes and bonding!
Alternately, you could receive an out-of-the-blue windfall or an exciting opportunity to invest. In true Halloween style, you never know what will emerge…but whatever it is, expect the type of surprise that literally comes once in a blue moon!
Week 1: October 1-11
Focus on relationships
All your most important relationships, from romantic to business to family, are in the spotlight the first week of October. The month begins with the year's only full moon in Aries and your committed-partnership sector on Thursday, October 1.
A key alliance might reach a turning point. Are you content with your relationship status? For the next two weeks, single Libras can find surprising new opportunities to interact with intriguing people. If you feel a click, explore! For couples, it's a chance to talk next steps. Since full moons can bring turning points, duos who are at a big junction might formalize being together or decide to go your separate ways. Whatever happens now, there will be a link back to the Aries new moon of March 24, which planted the seeds that are sprouting now.
This full moon also energizes work partnerships and can mark your chance to finally seal a long-simmering deal. Could entering into a collaboration power up your career efforts? If the terms look good, this is an auspicious time to give it a shot.
Longstanding domestic disruptions start to clear up on Sunday, October 4, when shadowy Pluto ends a retrograde in dutiful Capricorn and your foundational fourth house that began on April 25. Has the energy in your home felt "off" since then? If you've been navigating difficult dynamics with a family member, Pluto's about-face can help you chart a course to healing and transformation. Use any lessons you've learned during the past five months to be clearer and more tolerant on the home front.
But steady as you go there, Libra. Pluto has one kick left: On Friday, October 9, the tiny avenger gets snared into a tense square with pugnacious Mars, repeating a volatile clash they made in the same signs on August 13. Do you remember a family feud that seemed to come out of nowhere back then? With pushy Mars in your partnership house challenging immovable Pluto in your family sector, old baggage could easily induce a deja-vu moment today. Don't be afraid to talk things through. Just make sure you're not dumping your frustrations on the other person.
Week 2: October 12-18
Do-over, please?
Hang on tight! On Tuesday, October 13, communication planet Mercury turns retrograde (backward) until November 3. For the first two weeks (until October 27), Mercury will reverse through Scorpio and your second house of work and money.
Double-check your budget and receipts for errors. Review any work before turning it in. If you're an avid online shopper, strengthen the passwords on your go-to sites. After October 27, Mercury will slip back into Libra for its final week of the retrograde—a time to tuck yourself into your cocoon and do as much behind-the-scenes catchup work as you can.
On a bright note, your "personal New Year" arrives on Friday, October 16, kicking off the weekend with the year's only Libra new moon! This time presents an ideal opportunity to reset, renew and tackle your top priorities with fresh energy. Make a wish list AND a to-do list, check 'em twice, then start your journey toward your dreams.
Alas, not everyone will support your grand goals and declarations. This new moon will be caught in a contentious square with THREE planets in stodgy Capricorn: Jupiter, Saturn and Pluto. As this trio of heavyweights throws shade from your fourth house of home and family, a relative could attempt to undermine you.
It may be as subtle as casting doubt on your ideas or as blatant as an all-out battle in your personal life. Either way, you'll need to stay true to your vision while being considerate of your nearest and dearest, even if that means you all agree to disagree. Still seeking your family's approval for your choices, especially in love? Listen to their advice up to a point, but trust your own judgment in the end.
Week 3: 19-25
Don't take the bait
No more drama! Wait…um, maybe there is. This week, combative Mars in your partnership house gets into ANOTHER cosmic fistfight, this time with outspoken Jupiter in your family zone. Just as they did on August 4, these two impatient and rash planets will lock horns. It won't be easy to find compromise, and you could feel "triangulated" by several people in your life.
Even if you try to please everyone, you're not likely to find anyone willing to meet you halfway during this testy square. Unfortunately, your most well-intentioned efforts could be taken the wrong way. Can you simply put off that big talk until another day?
A dose of relief (and stability) arrives for a solid month on Thursday, October 22, as the Sun enters protective Scorpio in your second house of work, money and security. Between now and November 21, you can make great headway on some of your birthday wishes, putting them into motion with concrete action. Keep it realistic, set a schedule and budget, and get to work!
Week 4: October 26-31
Mercury misunderstandings—and a sultry Halloween
Wave the white flag if you must because nobody's likely to understand much of what you say this week. On Tuesday, October 27, Mercury backs out of Scorpio and pivots into Libra, spending the rest of its retrograde (until Saturday, November 3) in YOUR sign. Your ideas aren't destined to meet a receptive audience. You could even feel like everyone's opposing you or that you're suddenly speaking a foreign language no one else quite understands.
Luckily, your cosmic ruler, Venus, will also shift into Libra on October 27, helping pave that bumpy path. Seductive Venus' extra dash of charm and grace will somewhat offset Mercury's mischief or help you talk your way out of a sticky situation. And if you have to indulge in a bit of extra pampering or retail therapy to make it through this week? At least you'll LOOK good amid the chaos. (Don't underestimate the importance of that for your beauty-loving sign!)
Saturday, October 31, brings the year's only full moon in your intimate and erotic eighth house. Has there ever been a better year to don a sexy "adults only" costume, set a generous bowl of candy outside your door (just in case) and turn the lights down low to celebrate an at-home Halloween?
Just be prepared to run into the unexpected. With that sensual Taurus moon conjunct unpredictable Uranus, you never know if it's going to be a treat or a trick that catches you off guard. Whatever it is, chances are it's going to bring up deep feelings in your most intimate relationships. It may also bring surprising news about a long-held investment or even a surprising legacy or other windfall. Here's hoping that whatever comes your way is one of the rewards you so richly deserve!
LOVE & ROMANCE:
There's no way around it, Libra: October will present a few challenges to navigate in the love department. It can also be a lovely time to escape into romantic bliss, but that doesn't mean you can (or should) sweep unfinished business under the rug.
From October 2 to 27, your ruler, amorous Venus, is cruising through Virgo and your twelfth house of fantasy, healing and rest. On the upside, this could be a time to go off the grid, either for a romantic getaway (camping/glamping counts as that during Covid times!) or just to take a dating sabbatical and opt instead for serenity and self-care. Slow down and savor one day—one moment!—at a time. Treat yourself to all the pampering and decadence you desire. Reconnect with friends and loved ones who support you emotionally and adore you unconditionally.
The plot twist comes via Mars retrograde, which is reverse-commuting through your seventh house of partnerships from September 9 to November 13. An ex could resurface, creating unneeded stress, or tension could erupt around an old conflict in a relationship. Don't get sucked into petty bickering, and get some third-party help if need be. If you're splitting up, avoid getting roped into the blame game or ceaseless fighting.
You might have to wait it out until October 27, when Venus moves into your sign, taking up residence in Libra until November 21. You'll be ready for a total reboot of your mojo, attitude, style, etc. But (glug), communicator Mercury, who's retrograde (as of October 13), will also backflip into Libra that same day until straightening out on November 3. It won't be a seamless start, but it is a good time to deal with things you haven't addressed in a relationship or to answer the ping from a former love interest. Hmm, could timing be on your side this second time around?
Key Dates:
October 10: Venus-Uranus trine
While it's not exactly easy to "expect the unexpected," that's about all you can say when unpredictable Uranus jabs vixen Venus in your most emotionally intense chart areas. Your feelings could go through the roof, or your love life might dramatically shift gears. Remember, you're actually in the driver's seat, just being taken for a wild ride!
MONEY & CAREER:
With the Sun in Libra heating up your first house of new initiatives until October 22, you're eager to get some projects off the ground, or at least, to put some gas in your goals. What passion projects have you been putting off from the pandemic? Revisit them now. And don't feel like you have to do it alone! This month's rare double-header of full moons, on October 1 and 31, will both touch down in the partnership zones of your chart. Team up with someone whose skills complement yours to a tee.
Try to start any new ventures before October 13 if you can, because on that day, Mercury, the planet of communication and technology, will turn retrograde (backward) until November 3. Mercury will reverse through Scorpio and your money zone until October 27, then it will back into Libra, which could leave you feeling wildly misunderstood in the last few days of the month.
But prior to that, the October 16 Libra new moon acts as a "personal New Year," a day to declare your intentions and set your sights on something YOU really want. Between now and late February, your efforts could really pay off if you work at this a little each day.
Key Dates:
October 7: Mercury-Uranus opposition
This first of three successive Mercury-Uranus face- offs across your money axis could turn managing your cash flow into a juggling act! The next two— on October 19 and November 17—could teach you some valuable lessons. Pay attention to what might be on the docket for you to learn…so you don't wind up doing anything the hard way.
Love Days: 23, 1
Money Days:9, 18
Luck Days: 7, 16
Off Days: 14, 4
See All Signs
This content is created and maintained by a third party, and imported onto this page to help users provide their email addresses. You may be able to find more information about this and similar content at piano.io
We Thank To Our Readers For Your All Contributes. We Still Seek Your Support In Pandemic CoronaVirus.
Donate Bellow For Better Future
[charitable_donation_form campaign_id=57167]