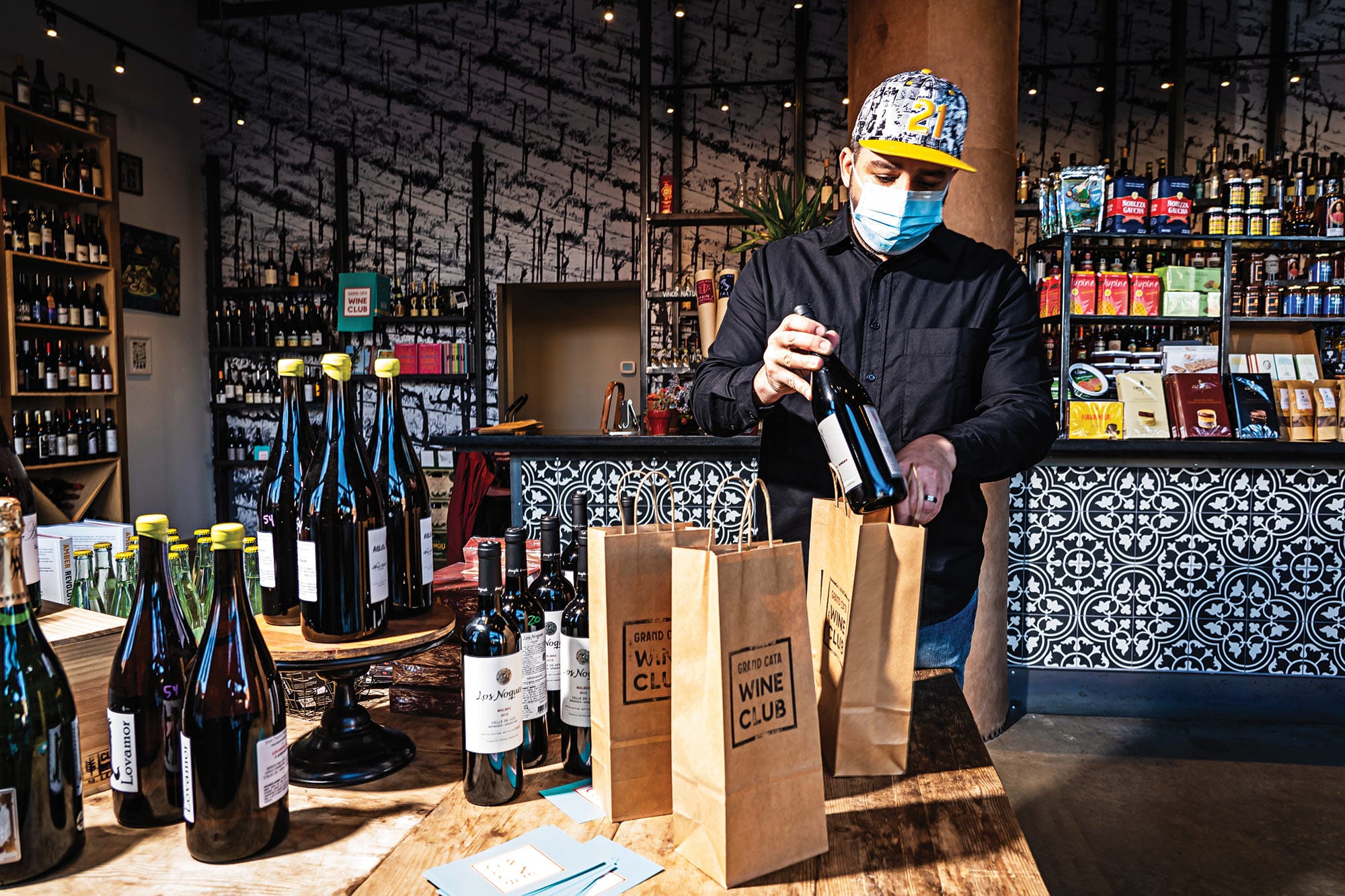 For many wine drinkers, visiting their local wine shop can be an uplifting experience. Like a bookstore to a bibliophile or an arena to a sports fan, it's a place that offers oenophiles the chance to browse with curiosity, ask questions, and happily purchase more bottles than they probably anticipated. Wine shops don't just function as retail stops—they're places where wine lovers learn more about the wines they pour into their glasses, and where they can establish personal connections to shop owners and staff.
This was all true during normal times—but in March of last year, all of that normalcy came to a halt. The pandemic required social distancing, restrictions on the types of businesses that could open and the ways they could operate, and mask wearing in public places. For wine shop owners, the pandemic not only presented a new set of challenges that immediately changed business operations, but it impacted an important tenet of their work—interacting directly with their customers.
Not that wine sales slowed down. In its midyear highlights report from last July, Sovos and Wine Vines Analytics shared that direct-to-consumer wine sales increased exponentially in the first half of 2020. Because COVID guidelines limited wine shops to restricted hours, and wine tourism to places like Napa Valley and Sonoma County was out of the question, many wine drinkers ventured online to order their favorite wines. According to the report, nearly 1 million more cases shipped in the first half of 2020 than in the first half of 2019—a 29 percent increase—adding up to $222 million more that consumers spent on wine, a growth of 15 percent compared to 2019.
While the pandemic made it easier for wine enthusiasts to have wine shipped to their homes, the pandemic's challenges gave local wine shops the opportunity to show off what makes them unique. Coly Den Haan is the owner of Vinovore, a wine and goods shop in Los Angeles, California, that specializes in natural wines made by women winemakers. Since March of last year, Den Haan moved all of the store's inventory online, offering local delivery and ways for customers to safely engage with the producers. "To give my customers a semblance of the whole browsing and one-on-one shopping experience, the Wine Window was born in August 2020," Den Haan says of the shop's retail and pickup window.
Den Haan expanded delivery and hired a dedicated driver, and the shop also has a van (called VANessa) that's used for pop-up collaborations, a safe way to promote the shop and provide a unique customer experience in the midst of the pandemic.
Across the country, Sarah Pierre, owner of 3 Parks Wine Shop in Atlanta, shifted her business model to curbside-pickup only at the start of the pandemic, but she's now welcoming customers back inside her wine shop in limited numbers. "Safety was and is still our number one priority, but we're excited to return to the true essence of our business—interacting and building rapport with our customers," she says.
Pierre hopes to also add outdoor seating in front of the shop for tastings and wine flights. "Gone are days of cramming 40-plus people inside our 750-square-foot store," she says. "We hope to be hosting tasting flights Friday through Sunday, and weekly wine tastings inside with a maximum guest count of eight, and outside with 14 at the tables. I've also partnered with a charcuterie board company who'll have prepackaged individually sized grazing boards."
While retail sales climbed during the pandemic, wine bars and restaurants weren't so lucky. Many closed temporarily or permanently, and those that remained open had to quickly retool their approach. For Brandin Myett, owner of natural wine bar and bottle shop Marseille in Seattle, the impact was positive but challenging. "The wine bar closed for more than a year," he says. "Retail sales are up in the bottle shop, but the wine bar accounted for 50 percent of my revenue, so overall sales were way down in what would have otherwise been a growth year. One upside I noticed is that many customers have been buying higher-priced wines during this time. This has been an opportunity to introduce them to another tier of wines and producers."
In Chicago, Melissa Zeman owns BottlesUp!, a community wine shop in the Lakeview neighborhood, where Zeman uses color to indicate the weight, or body, of a wine. With in-person events canceled last year, Zeman turned to technology to help her communicate with customers. In an attempt to re-create the kinds of in-store tastings that were once held weekly, Zeman established a weekly program in which customers order their tasting kits in advance, pick them up from the store, and follow a guided tasting held via Zoom. "It's been wonderful having a consistent, affordable event to offer that allows customers to taste, learn, and connect via the 30-minute evening Zoom guide," she says. Technology also allowed for easy connection with winemakers from around the world, bringing them face-to-screen with their community.
Other shops are taking similar approaches. This year, Vinovore will focus on classes and trainings that can be purchased individually or in a series. The classes include two bottles of natural, women-made wine, which can be picked up, shipped, or delivered before the class, along with work- sheets to use during Zoom presentations on each topic. "The plan is to dive even deeper into these fun and interactive educational classes," Den Haan says. "They've been really well received, and it definitely feels like we have a bit of our community back together. Times are tough—drinking wine certainly shouldn't be!"
Pedro J. Rodriguez and Julio R. Robledo, owners of Grand Cata in Washington, D.C., decided to open a second location of their business in March of last year, right as the pandemic began. Grand Cata at La Cosecha (located in the Union Market District) connects the stories of foods and wines from Latin America. "At La Cosecha we showcase the food element connecting them with the wines we love in a hybrid space: a boutique market wine shop concept," Robledo says.
Rodriguez and Robledo pride themselves on offering a curated selection of Latin pantry products, such as spices, chocolates, grains, dulce de leche, coffees, and olive oils to explore the flavors of Latin America. Their five-year-old flagship store—which highlights wines from Mexico, Peru, Uruguay, Chile, Argentina, Bolivia and Brazil—carries these items and would often serve as a place for on-demand wine classes, wine festivals, and daily tastings prior to COVID. Adapting to the pandemic, the owners aimed the shops' customer interaction in a different direction. "Along with our monthly wine club, we're collaborating with wine groups throughout the district to offer virtual tastings, and to share the joy of the foods and wines from Latin America," says Robledo.
Back in Chicago at BottlesUp!, Zeman changes the shop's inventory frequently to spotlight independent and underrepresented wine producers as much as possible. By doing so, wine lovers are able to taste grape varieties from new regions in the comfort of their own homes. "It'd simply be a disservice not to consistently seek out independent producers, and unfamiliar varieties and regions for people to try," she says. "The story, experience, and education that comes along with that is part of the beauty of the wine world."
Above all, these wine shop owners are grateful to their communities for their continued support while navigating the challenges of the past year. "Sadly, we also saw a lot of regulars leave town temporarily or permanently, but we also welcomed new customers to both locations," Robledo says. "For us, it's also kind of a new start, reconnecting with our public and sharing our passion towards wine."
For Sarah Pierre, one of the most challenging aspects of the past year was being just as fearful as everyone else about the coronavirus while having to remain open to the public. "There was a lot of adrenaline running through me, but every day feels like such a blessing, so it makes it easier," she says. "I've never worked so hard in my entire life."
The pandemic may have transformed the way people buy and experience wine, but it hasn't stopped wine shops from building meaningful relationships with their regulars. Community is still at the heart of how these businesses operate, and it's how they survive and thrive in the hardest of times. "I believe wine will always be communal, though it shifted this past year from a physical connector to more of a psychological one," says Zeman. "Virtual experiences will never replace being in the same physical space, but there's certainly been something satisfying about the mental and emotional connection with others who share my same passion for wine."