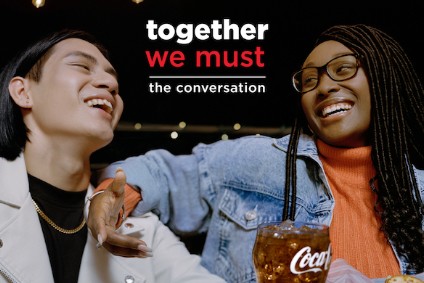 The Coca-Cola Co is to host virtual dinner parties in the US for up to 3,000 people in a bid to spark conversation on some of the country's most pressing topics.
The soft drinks maker said today it will set up six virtual events, each with a different discussion point. Up to 500 members of the public can attend each virtual dinner, which will be hosted by celebrities and influencers including NASCAR driver Bubba Wallace, Team USA Paralympian Roderick Townsend and 100 Black Men of America chair Thomas W Dortch, Jr.
"The concept was inspired by the many times Coca-Cola has showed up in its history to bring people together to advance civil rights and stand up for what's right – including convening a desegregated dinner in 1964 for Atlanta's business community honouring Dr. Martin Luther King Jr's Nobel Peace Prize," said Erica Tuggle, brand director, for trademark Coca-Cola. "Coming together over an ice-cold Coca-Cola and a great meal opens people up to new ideas and perspectives – which we know is the path to deeper understanding and greater action – so this is very much grounded in our values and who we are as a brand."
The first virtual dinner takes place on 21 October with the topic of 'Bridging the Racial Divide'. Other topics include 'Unconscious Bias', 'Belonging', 'Inclusive Culture' and 'Understanding Race'.
Coca-Cola is not the only soft drinks company ramping up inclusivity activations. This week, PepsiCo announced it will spend US$170m on an initiative to increase the representation of the Hispanic community across its US business.
Why bottled water should tap into more drinking occasions – Click here for a comment
---
We Thank To Our Readers For Your All Contributes. We Still Seek Your Support In Pandemic CoronaVirus.
Donate Bellow For Better Future
[charitable_donation_form campaign_id=57167]