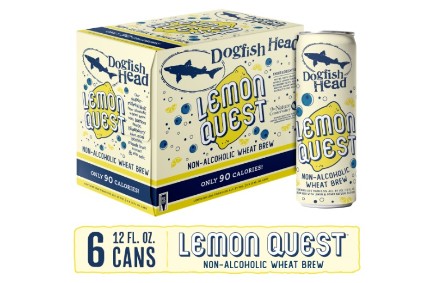 The Boston Beer Co's Dogfish Head Lemon Quest non-alc beer
Category – Beer, 0.5% abv
Available – From May
Location – The US, available nation-wide
Price – TBC
The Boston Beer Co's Dogfish Head brewery has launched a lemon-flavoured non-alcoholic beer. 
Lemon Quest is a 0.5%-abv wheat beer flavoured with lemon puree, blueberry juice, acai berries, monk fruit and sea salt. It also contains Hopsteiner Polyphenol-Rich Hop Pellets, which are made of compressed hop powder and used to enhance the feel and flavour of beer.
According to Dogfish Head, the new launch targets consumers with active lifestyles. To release the wheat beer, which contains 90 calories and 6g of sugar per 12oz (35.5cl) can, the brewer has partnered with environmental non-profit The Nature Conservancy (TNC).
"Because of its wholesome, all-natural ingredients and its connection to TNC, we've lovingly nicknamed Lemon Quest, 'the brew that gives back'," said Dogfish founder Sam Calagione.
Boston Beer merged with Dogfish Head at the start of last year.
Why craft beer is exploring the value market – very carefully – Click here for a just-drinks comment
---