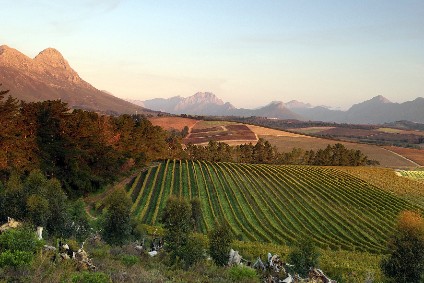 Exports of South African wine appear to have survived a short-lived ban last year as they jumped in value, new figures for 2020 have shown.
As overall volumes stayed level in the 12-month period at 319.2m litres, value climbed by 8% to ZAR9.1bn (US$607m), according to a report from trade group Wines of South Africa (WoSA) released today. The value increase came as wines priced at the ZAR40+-per-litre price point grew "steadily" in value and volumes, WoSA said.
"Despite a drop in volume at lower price points, it is heartening to see continued growth in the premium segment," the trade group added.
The increases came despite a five-week ban on transporting alcohol in South Africa that halted exports last year. The ban has since been lifted, but alcohol sales in the country are still outlawed as authorities try to limit the impact of the coronavirus.
Two of South Africa's biggest wine destinations, the US and UK, helped drive the performance. Exports to the UK jumped by 22% in value terms on the back of a 7% increase in volumes. US value was up by 20% as volumes increased 78%.
Commenting on the year, WoSA CEO Siobhan Thompson said the export figures underline the resilience of South Africa's wine industry. "The year 2020 will probably go down in history books as one of the most challenging years for the industry," Thompson said. "Despite this, we have learnt to adapt and have explored creative ways of engaging with our partners.
"While we do not know what the future holds for the South African wine industry, we hold onto the resilience that we have seen in the past."
South Africa's wine industry is on its knees and it's not just thanks to COVID – Click here for a just-drinks comment from October
---