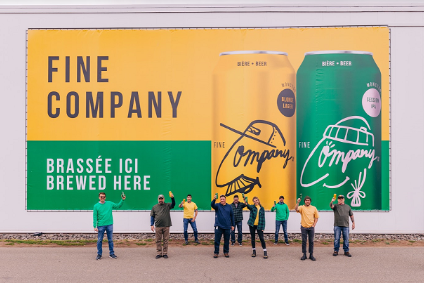 Molson Coors Beverage Co has launched a new craft beer brand that will only be available in three Canadian provinces.
Fine Company will roll out in New Brunswick, Nova Scotia and Prince Edward Island before the end of the year, Molson Coors said. Two beers will initially launch under the brand – a 4.8%-abv blonde lager and a 5.1%-abv IPA – with more to follow next year.
Fine Company beers are brewed at Molson Coors' Moncton, New Brunswick brewery and according to the company, give brewers at the site the chance to expand beyond making beers such as Molson Canadian and Coors Light. Molson Coors said the beers will also give non-craft-beer drinkers the opportunity to experiment.
"We are creating these gateway, easy-drinking styles so there is an opportunity to introduce someone to craft for the first time," said James Hall, senior manager of innovation for Six Pints Speciality Beer Co, Molson Coors' Canadian craft division.
Molson Coors opened the Moncton brewery in 2007. At the time, the facility was the company's sixth brewery in Canada. In 2015, Molson Coors sold off its downtown Vancouver brewery and last year opened a new site in Chilliwack, British Columbia.
In October this year, the company started work on a multi-year overhaul of its main US brewery, in Colorado. The refit is part of Molson Coors' restructuring programme.
How to engage consumers with your virtual event – consumer trends
---
We Thank To Our Readers For Your All Contributes. We Still Seek Your Support In Pandemic CoronaVirus.
Donate Bellow For Better Future
[charitable_donation_form campaign_id=57167]