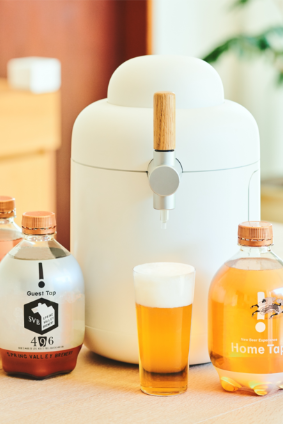 Kirin Holdings wants to increase the number of subscribers to its tabletop beer dispenser five-fold, as the groups targets new home consumption trends in Japan.
The brewer has unveiled a revamped version of its four-year-old Home Tap draught beer dispenser with a call to sign up 100,000 consumers by the end of the year, up from the current 20,000. Kirin is launching a marketing campaign for the service, which costs up to JPY12,430 (US$110) a month, and plans to release new compatible beers.
Subscribers to Home Tap receive two beer deliveries a month. Available brands include Kirin's flagship Ichiban Shibori and Brooklyn Brewery's Brooklyn Lager. As many as four limited-time beers are released every month for the platform.
Announcing the relaunch this month, Kirin Brewery president Takayuki Fuse said Home Tap can help make beer more attractive to consumers and revitalise the Japanese beer market.
"I am very excited about this new challenge," Fuse said. "I want everyone who loves beer all over Japan to enjoy quality draught beer at home."
Other major brewers have also released tabletop draught beer machines. In January, Heineken handed a share of control of its Blade system to online beer company BeerWulf. Blade uses an eight-litre disposable keg made from PET and keeps beer fresh for up to 30 days.
What will Heineken's priorities be for the years ahead? – Click here for a just-drinks analysis
---