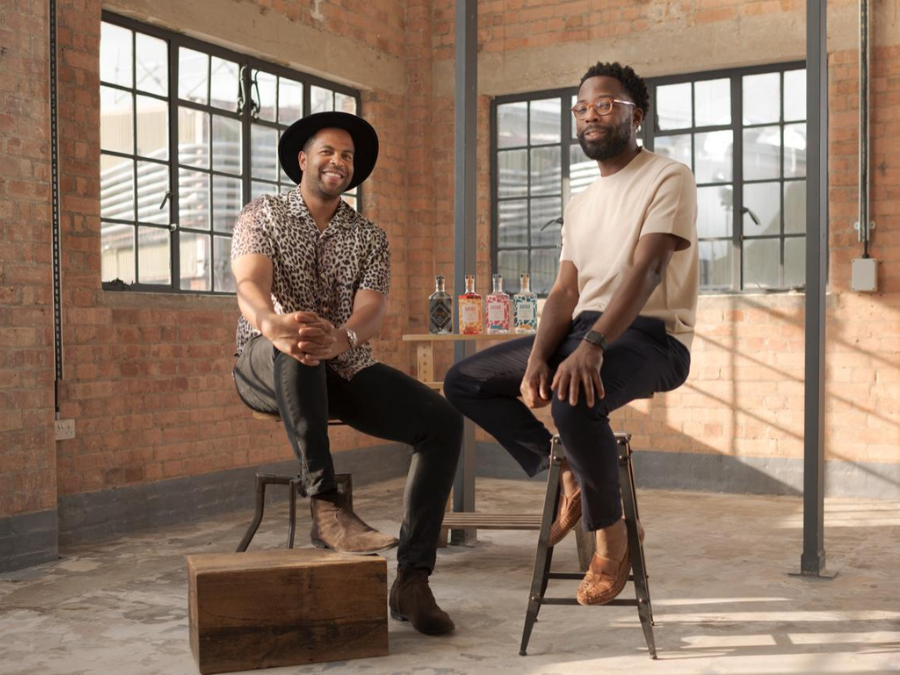 Damola Timeyin together with Chris Frederick co-founded Spearhead Spirits Group in 2021 at the height of the pandemic. Yet the South Africa-based business is growing its portfolio of premium brands, such as Bayab Gin and Vusa Vodka. It has also successfully obtained funding from investment platform Pendulum to the tune of US$3m.
Co-founder Damola Timeyin talks to Just Drinks about expanding into the US, the supply chain challenges facing the business, as well as raising capital and what to actually do with the funding when you get it.
Just Drinks: What's the key identity of the company?
Spearhead Spirits Group co-founder Damola Timeyin: The important thing for us is creating everything on the continent. So the liquid, both the vodka and gin, are produced on the continent. We want to showcase and demonstrate that you can get an incredibly good product that is made in Africa that stands up next to the best in the world.
We also feel as though there is a need to reflect the countries in which you get these kinds of ingredients. For example, we are producing SKUs that will represent the countries in which they're made. So we're looking to SKUs inspired by west African ingredients and, in doing so, really highlighting the difference and the diversity of Africa as a continent. As you know, there are many countries within Africa and what we are trying to do with our portfolio of spirits is to represent countries from across the continent, not just Africa as one homogenous region.
JD: If the company had to scale up would it produce outside of Africa?
DT: For us, it's important that we distil and bottle on the African continent. So we want to scale up within Africa and continue to deliver products from the continent itself. That is extremely important to us.
Obviously, there are challenges with that, but I think that's one of the reasons behind our successes. We've been able to successfully create liquids on the continent rather than outside of it.
We are well able to produce a high capacity to meet demand. I can't give you specific numbers. We're well equipped to meet explosive demand, should it come.
JD: How challenging has that process been?
DT: I think the challenges we face are probably not dissimilar to any new entrants. So you do liquid development and get it to something that we as brand owners love and that we think can stand up against any other liquid in that category. That takes time and effort.
Then, as many other brand owners will know, the supply chain issues that have been prevalent throughout the pandemic have also been challenging but, in many ways, we are grateful that we have launched this business in that time. We've experienced, you know, maybe some of the worst conditions from a supply-chain perspective to launch a business and so, should things calm down, we will have built this business in an environment where we've had to stress-test everything.
For us, it was the baptism of fire in many many ways. But thankfully, we've survived it. It's made us resilient both personally and from a professional perspective. Yes, there have been sleepless nights when it comes to supply chain issues, shipping and things like that. Everyone's had to cope with it. We empathise with others in the same situation.
Fortunately, we've got a great network that we ask for advice and seek counsel from and that advice has been invaluable. If things calm down, then at least we know our business can succeed in those conditions. Building a business in high winds is interesting but that's what we know.
JD: Who is the target market for Spearhead Spirits?
DT: I think at a broad principle when we think about a consumer, being a business and a brand from Africa, people will assume that we are only wanting to target African diaspora or black audiences. We're really keen that we make a product that black and diaspora audiences feel represents and speaks to them. But we also want to speak to non-black and non-diaspora audiences, because we think it's important for them to also taste and experience something that's authentically African.
We are quickly discovering that there is a desire from the on- and off-trades for something different. There are many times I go into bars and restaurants asking 'have you got anything from Africa?' A fair few times the answer's no. So they are very intrigued by the proposition and the opportunity to fill that gap.
We're definitely looking to build in the on-trade because that's a great way to introduce people to the product. But we also know that there is demand in the off-trade for both products at the moment.
JD: You just got US$3m in funding from investment platform Pendulum. What are you going to do with the proceeds?
DT: That's a great question and we are in the midst of answering that internally ourselves.
With all seriousness, I think we have big ambitions. However, in order to hit those ambitions, we need to be able to sell into markets. So there's the requirement to get boots on the ground and make sure that we're engaging with the trade in the right way.
The funds will go towards sales and marketing, as well as ensuring that we can cover the key markets in which we want to introduce a product. We are a South African product but we are entering the United States. The funds will go towards growing and establishing ourselves in the US market, as well as the other markets that we're in right now – the UK, France and South Africa. Then from there, we'll see. There's plenty to do, and when there's plenty to do you need a reasonable amount of money to do it.
JD: It seems most spirit producers have been in a rush in recent years to release a pre-mixed or ready-to-drink product. Is that something you're looking at?
DT: We're certainly experimenting. I mean, there's headroom there, and plenty of brands are experimenting. We know that there is demand for it. The question is: are we well placed to meet that demand, given our focus on building out these core products within our portfolio? We know we can do it, it's just a matter of if it's the right thing to do right now.
Should the time come, we will certainly press the green light. Right now, we're trying to shift bottles and we're doing the best we can to make that a success first.
How big can American whiskey get now that UK tariffs have gone? – focus
The post "I go into bars asking 'have you got anything from Africa?' A fair few times, the answer's no" – Spearhead Spirits on ambitions to take African spirits worldwide appeared first on Just Drinks.
Source link