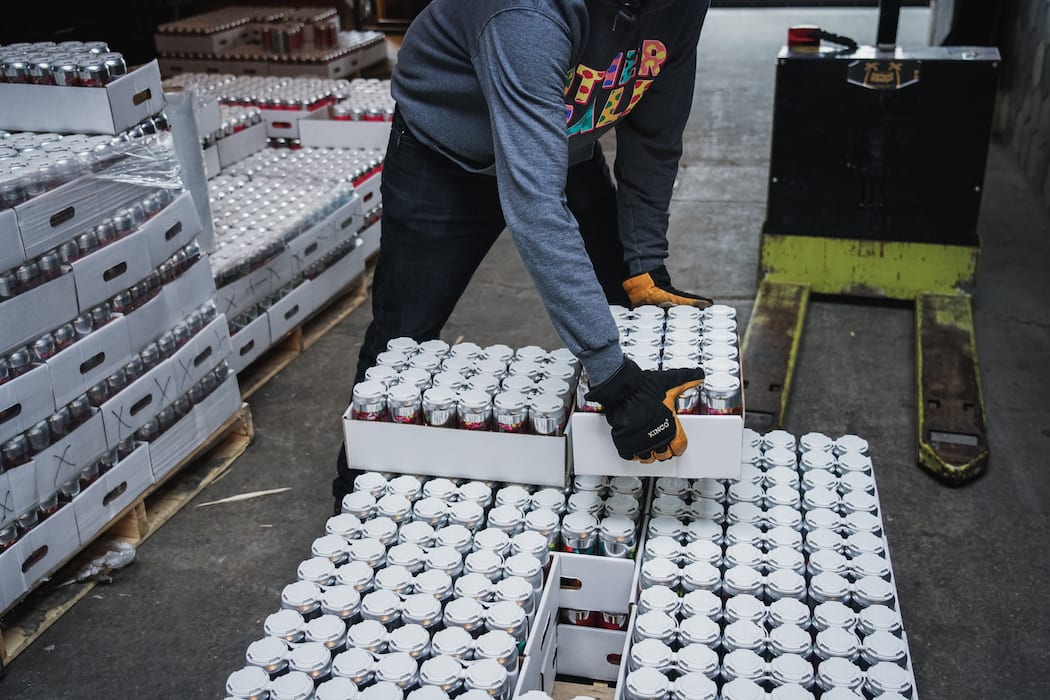 "Wow, what a week it's been," says Ben Parsons, co-founder of Baerlic Brewing in Portland, Oregon. That was the last week of March after bars, restaurants, and the majority of businesses across the country were forced to shutter in an attempt to stop the spread of COVID-19. Baerlic operates a small, 10-barrel brewing system with two taprooms and local distribution. They are also one of the country's 8,000-plus craft breweries now trying to navigate an unprecedented situation. "About 60 percent of our revenue typically comes from our taprooms, so the simple math is that our most valuable profit driver was completely gutted from the business overnight."
Depending on operation size, breweries across the country are being impacted in a variety of ways. With nearly 1,000 breweries responding to an initial impact survey from the Brewers Association, 99 percent have reported negative impacts, with more than 60 percent reporting both a slowdown in production and anticipated layoffs. "Breweries are getting hit in multiple directions as they have to close their taprooms, cancel events, and see reduced distributor orders (I'd presume mostly draught)," says Bart Watson, chief economist for the Brewers Association. "The closures of on-premise establishments are clearly necessary from a public health perspective, but that's extremely challenging when that's your primary revenue stream, as it is for most breweries."
The reality of the situation is starkly illustrated in the grim statistics of the Brewers Association's follow-up survey, which reports a drop exceeding 70 percent in on-site sales among most breweries. For many, the temporary fix—and only viable option—has been to shift all resources toward packaging beer for retail sales, which have seen a significant surge. "Craft sales were up more than 20 percent the week of March 15," says Watson. "That's likely both due to people stocking up, as well as some percentage of on-premise demand shifting to off-premise." However, the weighted average, to gauge the effect on smaller breweries, showed a bump of less than 10 percent, as much of the larger increase is happening in bigger retailers and larger package sizes.
Daredevil Brewing in Indianapolis, which operates a production brewery and two taprooms, sells beer across Indiana with roughly 80 percent of their volume going to wholesale distribution, which is down now that bars and restaurants have closed. "On the bright side, our off-premise sales are up a lot, about 40 percent compared to 2019," says Shane Pearson, Daredevil founder. "This does not make up for on-premise going to almost zero, but we are in pretty good shape compared to a lot of breweries."
Larger distribution footprints have similarly cushioned the blow for some breweries, but that comes with its own drawbacks, such as higher operational costs. Bay Area brewery 21st Amendment has their beer on shelves across 30 states, in addition to a brewpub and a taproom. "Our production spread is heavily weighted toward packaged beer—about 80 percent—in the off-premise market, which has benefited us," says co-founder and brewmaster Shaun O'Sullivan. But the mandated shelter-in-place ordinances meant the closure of both their San Francisco brewpub and San Leandro taproom, and necessitated furloughs and lay-offs of a number of employees, including reducing the brewery to a skeleton crew. "It was heartbreaking to make that decision, but the business could not sustain that cost."
Other breweries that didn't already have distribution networks in place are creating their own means of getting beer to consumers. New York brewery Other Half has relied on a self-distribution model since opening in 2014, with eager crowds lining up outside their taprooms to purchase freshly canned, limited-release brews. "When people are being asked to stay home and shelter in place, the only viable option is to figure out safe ways to get beer closer to them," says Other Half co-founder Sam Richardson. "Our taprooms in Brooklyn and Rochester are closed to guests, but we have set up curbside and to-go sales at the door at both locations. We're also offering delivery in New York City and updating the delivery route on our Instagram account daily."
"It costs a lot more to put beer in cans than in kegs, so we're entering a volume game in a very tricky time."
Back in Portland, Oregon, Baerlic also uses a self-distribution model to stock beer at accounts around the city. With taprooms closed, they too have pivoted to home delivery. "Overall, we have seen a fairly flat response—where our draft sales have bottomed out, our package beer sales have increased. The pickle there is that it costs a lot more to put beer in cans than in kegs, so we're entering a volume game in a very tricky time," says Parsons. "Right now, we are holding on. And because of the current success of our home delivery, we are able to get people back to work—which is huge. But success is a moving target right now. I need certainty to be able to say that we are going to survive this. And certainty is even more impossible today than it was 2 weeks ago."
Moving forward, breweries, as with businesses across the globe, particularly in the hospitality industry, are going to need more than nimble strategies. "The biggest challenge is that much of their cost structure hasn't stopped (loan payments, rent, insurance, etc.), but their revenue has," says Watson. "Without cash coming in, they won't be able to pay bills. The CARES Act is a good first step, but small service businesses that have been forced to close or severely curtail their offerings will need more support if they are required to remain closed more than a few weeks." When surveyed on how long they will be able to continue to operate based on the situation currently, the majority of respondents, 46 percent, said one to three months, with another 25 percent anticipating six months or less.
Uncertainty aside, breweries are banding together to do what they do best. Other Half recently launched All Together IPA, a recipe available to any brewer who wants to make it, along with label artwork and at-cost printing services, with proceeds benefitting both the brewery that makes it and hospitality relief organizations. More than 400 breweries across 29 countries are already brewing the beer. "The All Together project is only possible because of how the craft beer industry approaches business. We tend to work collaboratively and help each other where we can," says Other Half's Richardson. "For us, the craft beer industry extends beyond just breweries. It also encompasses retail—from bottle shops and taprooms to restaurants, bars and hotels—and we have to try to help the people that are the final point of contact for most customers."
"Small and independent craft breweries are fighters," adds 21st Amendment's O'Sullivan. "We all got into this industry because of our passion for beer. Unfortunately, some will not make it. With that said, craft beer is not going anywhere. We will survive."
For a regularly updated list of hospitality relief resources, click here.
---
Did you enjoy this article? Get more of the best of liquid culture when you sign up for a print or digital subscription to Imbibe Magazine. Click here for special savings!