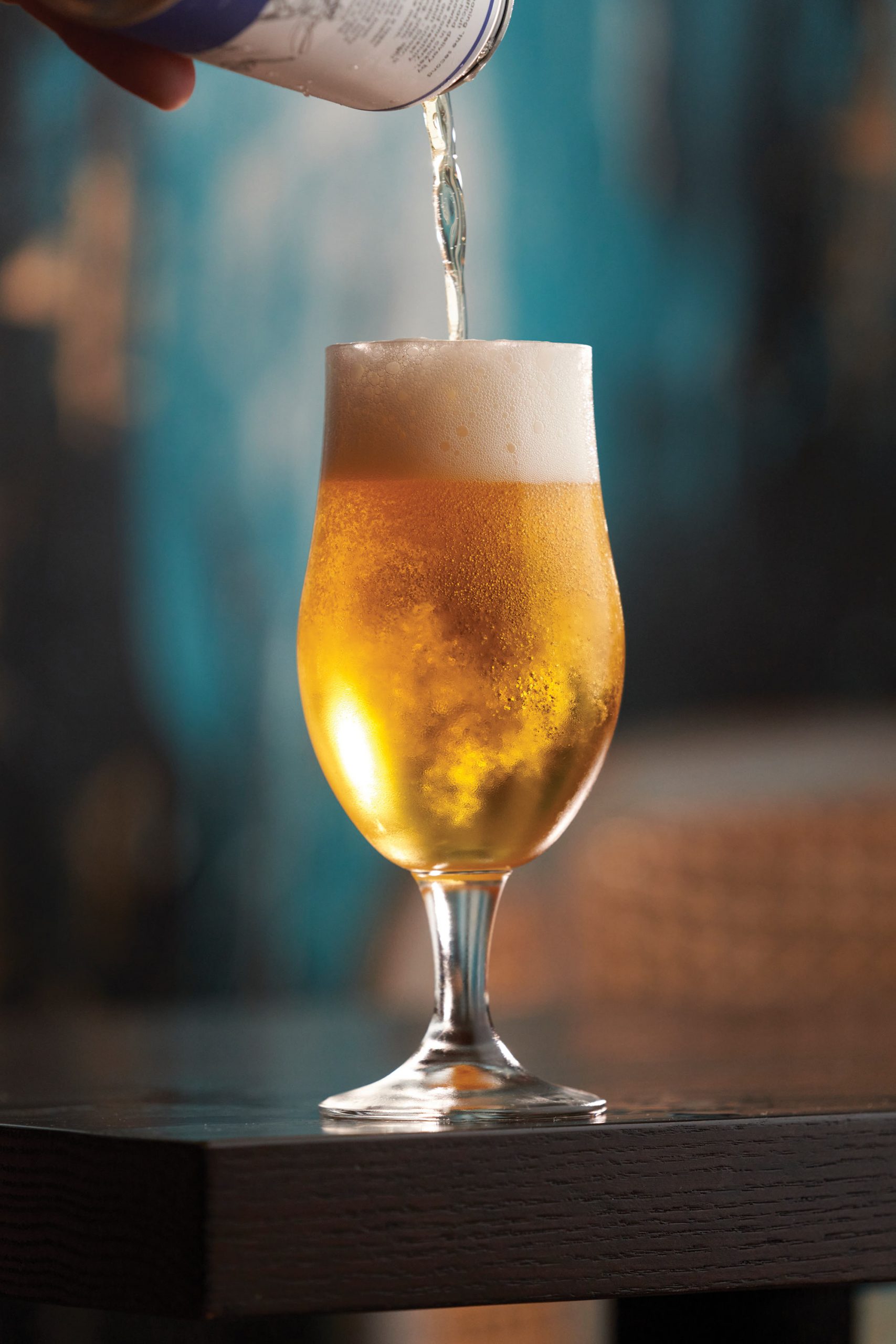 Even by today's anything-goes standards, DuClaw Brewing Company makes rather irregular beer. The Baltimore-area brewery produces candy cane stouts, Piña Colada IPAs, and fruited sour ales, notably a novelty infused with Fruity Pebbles and edible glitter. It's called Sour Me Unicorn Farts. Care for a taste? Not always. At beer festivals and tastings in the Before Times, drinkers often considered the curios and posed a different question: Do you have regular beer? You know, one of those beers that tastes like beer? "I heard that time and time again," says Brook Simmons, DuClaw's vice president of sales.
The brewery filled that niche with a crisp, pale-yellow lager lightened with rice, the bitterness slightly amped, the alcohol level near 5 percent. Naturally, DuClaw named it Regular Beer, its plain-white label bearing a reassuring slogan: "A BeerThat Tastes Like Beer." The expressly humdrum lager debuted in summer 2019 and soon became DuClaw's fastest-growing brand, now including spinoffs such as the Mexican-style Cerveza Regular. When questioning drinkers request a regular beer, Simmons has the perfect reply. "We can answer with, 'Actually, yes. Here. It says Regular Beer right on it.' "
The 2010s belonged to IPAs, first bitter and then hazy, as brewers doubled down on hops and alcohol ascended to great heights. Brewers mixed yeast strains with souring bacteria, sending beers on acid trips, then packed sour ales with puréed fruit. Decadent pastry stouts and 100-calorie hard seltzers offered excess and restraint, while slushy machines churned out frozen beer. All those flashy fermentations started feeling extra, and drinking them felt like a liquified double-dog dare.
But increasingly, craft breweries are balancing bold impulses with cool moves toward crowd- pleasing lagers. They're building bridges to different cultures, cuisines, and demographics by using heritage corn and basmati rice, embracing regionality, and innovating by aging lagers in large wooden foeders. Lagers are touchstones for generations of drinkers, a beer style that's never out of style. "Lagers are the comforting staple beers that people always want to come back to," says Ted O'Hanlan, the head brewer at Bow & Arrow Brewing Co. in Albuquerque, New Mexico.
Conventional wisdom holds that breweries will move the most volume by brewing hazy IPAs. Source tropical hops, such as Citra and Mosaic, design a colorful label, then package the IPA in 16-ounce cans and stack the credit card receipts. Last year during lockdown, the New Mexico brewery leaned into that likely sales reality by purchasing a canning line. Hazy IPAs were brewed, labels designed, including one for a popular taproom pilsner called Denim Tux. "I designed it to be my ideal shift beer," O'Hanlan says of the pilsner underpinned by a distinctive ideology and ingredient.
Shyla Sheppard and Missy Begay founded Bow & Arrow in 2016, and the brewery showcases indigenous southwestern ingredients, such as prickly pear and Navajo tea. Denim Tux uses heritage blue corn grown by the Pueblo of Santa Ana, a Native tribe. It imparts an earthier, nuttier southwestern twist on the classic corn-fueled domestic lager, refreshment with extra oomph. A quenching pilsner should sell well in sunny Albuquerque. Upon canning, Denim Tux quickly became Bow & Arrow's best-selling brand, outperforming any hazy IPA. "It just kept moving up, up, up," O'Hanlan says.
Across the country, Fonta Flora Brewery opened in quaint Morganton, North Carolina, in 2013, with an exacting vision of Appalachian farmhouse brewing. The brewery foraged and sourced vegetation such as native-grown paw-paw fruit, Bull's Blood beets, Carolina Gold rice, and Bloody Butcher corn to make rustic saisons, grisettes, and barrel-aged Appalachian wild ales. "To locals, we became known as 'the brewery that made a bunch of weird shit,'" says Todd Boera, a founder and the head of brewing operations. Being the quirky local brewery is cool when you're brewing small volumes and selling every drop through your taproom and targeted distribution. In 2018, Fonta Flora moved its brewing operations to rural Nebo, installing towering tanks at the former Whippoorwill Farm to expand farmhouse-ale production. Changing consumer tastes torpedoed that plan. "It was sort of like, 'Oh, nobody wants 30 barrels of a saison with Bull's Blood beets anymore,' " Boera says.
Fonta Flora started filling its tanks with lagers featuring locally grown heirloom corn varietals, including Cateto Orange and Bloody Butcher, maintaining its agricultural commitment and bottom line. "It was a meaningful way to use these cool ingredients in beers where they're still fitting," Boera says. Lagers now make up the majority of the brewery's production, headlined by a series named after nearby Lake James, a popular outdoor recreational area. The rotating lineup features five lagers, including a lime, watermelon, and stronger "ice" version, canned with retro labels that give Lake James top billing. "We joke that we turn into Lake James brewery in the summertime," Boera says. "We couldn't produce any more beer if we wanted to."
Staking claim to specific geography has long helped lagers stand out. Rainier Beer is synonymous with Seattle and the Pacific Northwest, while Schlitz is the beer that made Milwaukee famous. Zero Gravity launched in 2004 inside the American Flatbread pizzeria in Burlington, Vermont, later finding success in the early 2010s with its Citra-hopped Conehead IPA and a snappy pilsner brewed with European noble hops. Amid Vermont's swell of hazy IPAs, the pilsner could "differentiate us in the land of Heady Topper," says CEO and a founder Matt Wilson, naming the Alchemist's famous double IPA.
The right name was needed. Wilson had always loved lagers tied to a place, such as Vienna or Munich lagers. One day, he was chewing on ideas, gazing across Lake Champlain, when the brain zap struck: Vermont was a green state, from its mountain range to environmentalism and fertile forests. Green State Lager! The brand took off and by 2019 Zero Gravity looked to expand capacity, perhaps at the local Magic Hat Brewing facility. Turned out that Magic Hat's Costa Rican owners planned to sell the brewery and relocate production. Talks unfolded during the pandemic over Zoom, and Zero Gravity purchased the brewery in the summer of 2020, giving Green State a runway to continued growth at home and farther afield. "The goal is creating Vermont's greatest export," Wilson says.
Bottom-fermented beers still top America's beer sales chart, but it's tough for upstarts to compete with brewing giants on ubiquity, advertising brawn, and cost. But that's okay: New breweries are finding success by focusing on overlooked groups searching for a lager to call their own. Born in Mumbai, Bhavik Modi grew up in Cupertino, California, and later Cincinnati, Ohio, before becoming a strategy consultant in Chicago. Work sent Modi around the world, from Japan to South America and India, where family remained. At every stop, he consumed the local beer scene, intrigued by India's emergent craft brewing sector. Around three years ago, he contacted longtime friend Gator Schrand, who currently works at Cincinnati's MadTree Brewing. Why don't they home brew beer with traditional Indian fruits, spices, and culinary ingredients? Test batches held promise, but starting a brewery seemed like a longer-horizon plan, especially given Modi's travel schedule. But the pandemic left ample time for Modi and Schrand to fine-tune Azadi Brewing (Azadi is a Persian word meaning "freedom" or "liberty").
Last November, during the Indian holiday of Diwali, the friends launched Azadi in partnership with Chicago brewing incubator Pilot Project, which handles production, canning, and distribution. (Schrand writes recipes.) Beers such as a cardamom-flavored golden ale and an IPA infused with Indian mango found homes at high-end Indian restaurants, including ROOH. "Our beers pair so well with the food," Schrand says. Azadi also makes lagers, such as Doosra, named after a screwball-like delivery in cricket and featuring toasted basmati rice, a floral long-grain variety common to Indian cuisine. "We put an Indian twist on everything we do," Schrand says.
Meanwhile, with kimchi sour ales, pilsners flavored with tea, and witbiers seasoned with lemongrass and Sichuan peppercorn, Korean American Youngwon Lee champions Asian ingredients with Northern California's Dokkaebier. (The name references Korea's human-loving, happy-go-lucky mythical creatures called dokkaebi.) The beverage-industry vet, who ran U.S. operations for South Korea's The Booth Brewing, launched Dokkaebier with a San Francisco pop-up serving his beer paired with Korean tapas. That was in February of 2020. "We had one month to showcase our beer, but that created word of mouth in the community," Lee says.
Dokkaebier concentrated on production, distribution, and recipe formulation, including a popular series of pilsners flavored with teas, such as their Grand Qimen and Malty Assam, as well as a bamboo pilsner. Dokkaebier direct-shipped beer to customers and focused sales efforts on local liquor stores and supermarkets, including Korean retailers that typically stocked conventional Korean lagers, such as Hite. Tea pilsners suited Dokkaebier's customers to a T, and the Korean grocers are some of the brewery's best retail outlets. "We're opening up new sales channels," Lee says.
There's a common progression to becoming an American brewer. Home brew, get obsessed, turn your fermented dreams into a career. Salsa-dancing instructor Alisa Bowens-Mercado never bought a Mr. Beer kit before founding lager-focused Rhythm Brewing Co. in New Haven, Connecticut, in 2018. "You don't have to brew in your basement or kitchen," says Bowens-Mercado, the first African American woman to own a Connecticut brewery. She comes from a line of lager-drinking women, including grandmothers who favored Miller High Life. "My motto is 'live, love, lager,' " says Bowens-Mercado, whose nickname is Lady Lager. Drinking beer remained a pastime until the salsa dancer attended a beer festival and was turned off by too many strongly flavored beers. Where were the approachable lagers? Bowens-Mercado took an educational deep dive into the beer industry, hiring a contract partner to produce her flagship unfiltered lager. (It's currently brewed at Connecticut's Black Hog.)
The pandemic and accompanying social upheaval brought fresh eyes to Rhythm, the rare brewery owned by a Black woman. Drinkers grew more intentional in seeking and supporting brands aligning with beliefs and taste buds. "We wanted the brand to be inclusive of everyone," Bowens-Mercado says, appealing to women, people of color, the LGBTQ+ community, and beer drinkers looking for a break from IPAs or mainstream lagers. "Out of the chaos, opportunities started flying," she says. Rhythm recently collaborated with Boston Beer Company, makers of Samuel Adams beers, on a lager called Up Tempo. Bowens-Mercado also plans to intertwine her passions by bringing people together for dancing events and Rhythm lagers. "It's not every day that you're going to find a brewer who is a professional salsa dancer," Bowens-Mercado says.
Perfecting cover versions of German and Czech lagers can be a lifetime pursuit, but American brewers also excel at writing novel new hits. Threes Brewing is among New York City's most accomplished lager practitioners, including the flagship Vliet pilsner and a range of traditional Czech lagers. In 2017, the brewery filled a foeder with Wandering Bine, a mixed-culture saison, finding the results resoundingly oaky. Threes then added a Vliet batch to leach out oak flavor, letting it ferment inside the foeder and figuring that "if it didn't taste good, we'd dump it," says Matt Levy, the Brooklyn brewery's head brewer.
Then Levy and Co. tried that foeder pilsner, toasty and refreshing, all the angular edges sanded down by time in oak. "We all drank it and looked at each other and said, 'No way. We are going to keep this clean as long as we can.' " (That means no wild or souring microbes.) Threes now produces a foeder-aged lager every several months, rotating Kicking & Screaming—reformulated for wood aging—with the gently smoky Short Fuse helles lager and fall festbier Far Between. "The foeder is an ingredient," Levy says. "Imagine if a hop had a wood flavor. That's what the foeder is doing."
Nowadays you'll find foeder-aged lagers at Denver's Cerebral Brewing, Rockwell Beer Co. of St. Louis, and Modist Brewing Co. in Minneapolis. The latter made lagers part of its foundational brewing program from the start, and a taproom visit might reveal a foeder-aged pilsner, the Japanese-style Supra Deluxe rice lager, or Mallow, a "pastry lager" flavored with marshmallows, vanilla beans, and the milk sugar lactose. That recipe reads like a contradictory mess, a crisp lager crashing into a saccharine cavity. Yet the brewery's pastry lagers pull off that balancing act of flavor and refreshment, the vanilla hinting at dessert-like decadence. "You have to trick the senses into these experiences," says Keigan Knee, a founder and director of product development. "You should be able to easily drink two of them, or else what's the point?"
Wayfinder Beer in Portland, Oregon, built its business on lagers, including Czech-style pilsners, German-inspired helles, and more. Their charms are easy to appreciate, but Wayfinder's so-called Cold IPA is giving people galaxy brain. In fall 2018, brewmaster Kevin Davey devised an adjunct- heavy IPA lavished with hops, fermented with lager yeast at warmer temperatures like a steam beer, to create "a wester than West Coast IPA," he says. That meant an aromatic, amply bittered IPA as dry, clean, and crisp as freshly laundered clothes. Wayfinder called the release Relapse IPA, honoring the Relapse Records label, later renaming it Cold IPA. The language sought separation from the India pale lager, a distinctly different approach in Davey's mind. "We're trying to take elements from the West Coast IPA and magnify them," he says. "Cold IPA is a canvas for hops."
Fellow brewers were flabbergasted. Cold? All beers are served cold. "If you're sitting at a bar and see a cold IPA, you're assuming it's going to be refreshing." Davey says. "I could've said refreshing IPA, but that doesn't sound right." Wayfinder saw both backlash to and imitation of Cold IPA, so much so that Davey posted a definition on Wayfinder's website. The post amounted to both an origin story and a brew-by-numbers guide to breaking orthodoxy. "You're challenging a belief system on what an IPA can be," Davey says.
More than many beer styles, lagers exert a hard-wired nostalgic sway. They're often the first beers we drink, the beers we turn to time and again. Busch Light holds a cold spot in my heart, and I'll often buy a 25-ounce can from my corner Brooklyn bodega. Recently, several people came to Fonta Flora when the brewery was closed, requesting Miller Lite. "We offered to sell them to-go beer, and they were like, 'No Miller Lite? No thank you,' " Boera says. "They weren't interested in hearing what we had to say."
Altering perceptions will take time. The craft brewing industry built its name on nervy experimentation, exploring niches and not the mainstream. Five years ago, Fonta Flora might've focused on placing its complex farmhouse ales at North Carolina's choicest bars and bottle shops. Now the brewery's beers are more accessible in flavor and retail outlets, the Lake James lagers stocked at a local gas station and bar along the lake. "This is our community, and nothing makes me happier than when I'm out on the lake and I see pontoon boats of people crushing a Lake James lager," Boera says.