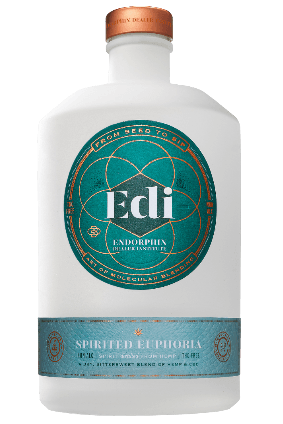 Spirited Euphoria non-alcoholic 'endorphin-led' spirit
Category – Sprits, 0% abv
Available – From this month
Location – Initially online in the UK, moving into Europe later this year
Price – SRP of GBP39.99 (US$56) per 70cl bottle
The co-creator of non-alcoholic spirits front-runner Seedlip has partnered with a former member of Diageo's 'futures team' to bring to market a distilled "endorphin-led" spirit in the UK.
Working for start-up Endorphin Dealer Institute, Anthony Wilson has come up with an alcohol-free spirit produced with hemp terpenes and CBD. The brand, Spirited Euphoria, also features Helene Locke, who spent almost eight years with Diageo focusing on innovations, in its back-office team.
According to the brand owner, co-founded by former Formula One driver Jean-Éric Vergne, Euphoria is an alcohol-alternative that " triggers feelings of pleasure and relaxation, without the downsides of alcohol".
"My focus was … to trigger endorphin pleasure … using natural uplifting ingredients," said Wilson, who is now master blender for EDI. "The result is an entirely new drinking experience – a noticeable functional effect, without alcohol, achieved from the endorphin effects of hemp and our nootranical blend."
Locke added: "Spirited Euphoria is the world's first – and currently only – non-alcoholic distilled spirit crafted using natural hemp terpenes and CBD. Alongside its functional endorphin effect … , Spirited Euphoria showcases the depth of flavour, range and variety of natural hemp." 
The brand, which is THC-, sugar- and carb-free, will become available in Europe later this year with a US roll-out projected for 2022.
Wilson, who previously worked for Diageo, teamed up with Seedlip founder Ben Branson when Branson brought his concept to Diageo's Distill Ventures incubator programme. Wilson helped "craft and develop [Seedlip] into what it is today", an EDI spokesperson told just-drinks.
Sales of non-alcoholic spirits in the UK hit GBP37m (US$48.2m) in 2019, GlobalData said last year, and is forecast to more than double in size over the next five years.
How COVID has accelerated the trend towards sobriety – consumer trends
---