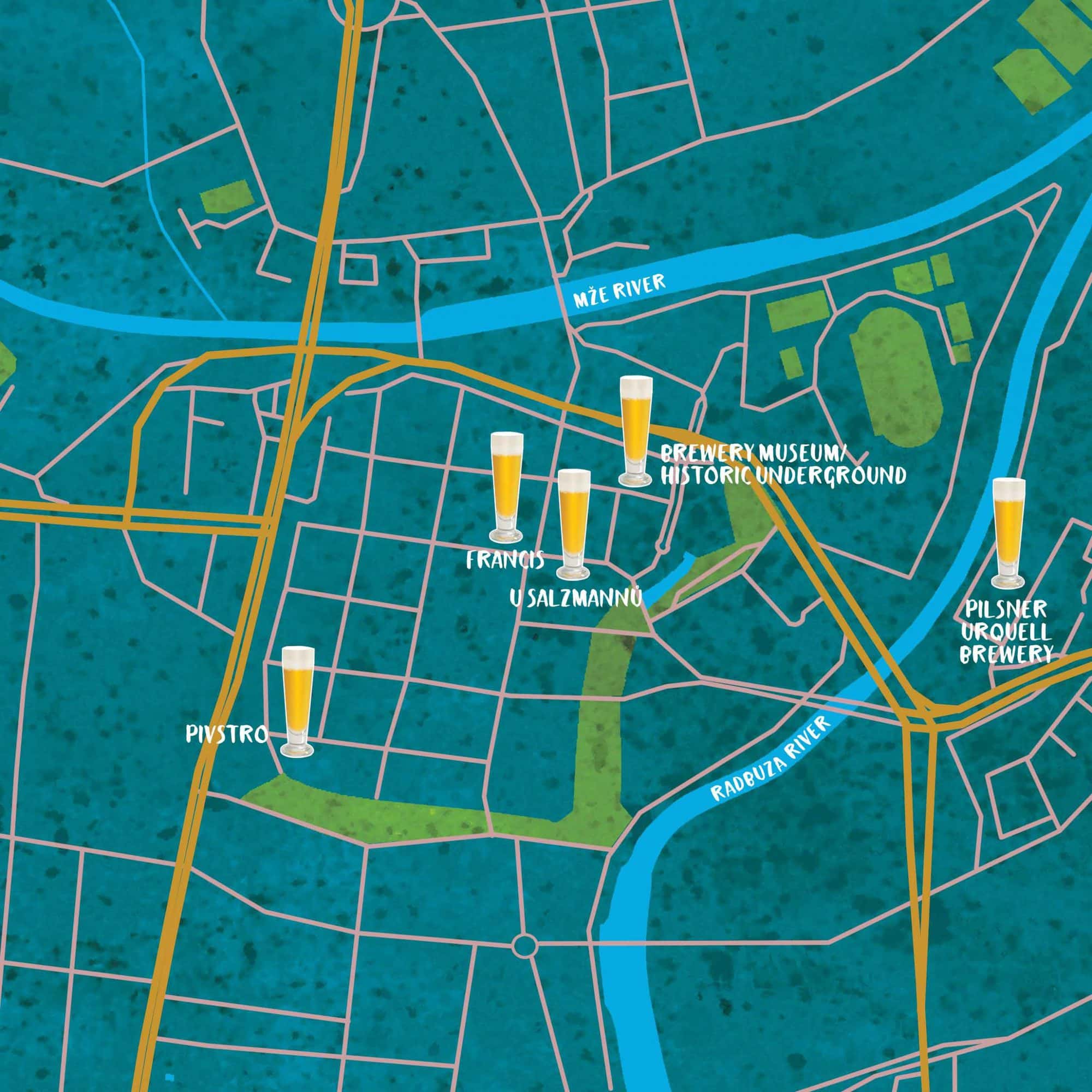 Like the genericized brand name that becomes ubiquitous, pilsner beer wears its provenance across the globe, regardless of where it may be brewed. But the birthplace of this quintessential lager dates back centuries to Pilsen (Plzeň), Czech Republic. On the western edge of the Bohemia region at the confluence of four rivers, Pilsen became an integral hub for trade. But it was the opening of the Pilsner Urquell brewery in 1842 that put the city on the global map and came to define the brew. "It's a place that literally changed the beer industry forever," says Adam Vlček, a native Pilsener whose great-great- grandfather was the brewery's master maltster. Vlček ran notable beer cafés Francis and Pivstro, and now promotes the city's native brew from his current home in Hong Kong.
Originally helmed by Bavarian brewer Josef Groll, Pilsner Urquell crafted a signature bottom-fermented lager with Moravian barley and delicate Saaz hops. By 1873, the beer was being imported to the U.S., three years before the launch of Budweiser. "It has a certain 'breadiness,' as we say; a full-body-ness that comes from the higher amount of residual malt extract. We call our beers 'liquid bread' after all," says Vlček. "Even diacetyl, which is generally considered a big no-no in beer, is actually desirable in low levels. A well-brewed pilsner is often considered the pinnacle of brewing mastery. Any potential brewing mistakes in a pilsner will show— there's no way to hide them."
Today, a growing craft scene coexists alongside Pilsen's beer stalwarts. Newer breweries like Zhůřák experiment with smoked IPAs and robust stouts, while a spectrum of brews are poured in modern beer bars like Francis, located less than 100 meters from Pilsen institution U Salzmannů, pouring beer since opening in 1637. "While Czechs drink the most beer per capita in the world, most beers have an ABV of less than 5 percent and are considered all-day beers," says Vlček. "The Czech beer culture is about socializing first—the beer comes second."
Fast FactsRunning like a labyrinth beneath the city streets, historic tunnels used for cellaring were constructed between the 13th and 19th centuries. "When the city was founded in 1295, 260 households around the square were granted the right to brew beer, and for centuries they were pretty much home brewing," says Vlček. "Obviously there wasn't any refrigeration at the time, which is the reason for more than 13 kilometers of cellars under the city houses and 9 kilometers under the Pilsner Urquell brewery."
There are three distinct methods by which a glass of pilsner can be poured to affect the amount of dense, wet foam topping the beer, and influencing its taste and aroma—hladinka, šnyt, and mlíko. "In Pilsen/Czech Republic, there's definitely a lot of attention being paid to how the beer is served," says Vlček. "We have a saying: Brewmaster brews the beer, but the tapster/beer tender makes it."
Though the beer packaged at Pilsner Urquell for export is fermented in modern stainless steel tanks, at the brewery it's still possible to sample a pour from their traditional, pitch-lined oak barrels where the beer is conditioned and served without filtering—a practice that some American craft brewers are beginning to adopt for their own bottom-fermenting beers.
5 to Try
Pilsner Urquell The Pilsen original and namesake lager, Pilsner Urquell relatively recently switched its U.S. bottles from green glass to brown, and introduced 100 percent cold-chain shipping to their exports to preserve the freshness and quality of beer sent abroad. pilsnerurquell.com
Czechvar Brewing since 1895 in the Czech city of České Budějovice (called Budweis in German), the Budweiser Budvar Brewery labels its lagers under its own name in Europe but, owing to a long-standing trademark dispute, sells its beer as Czechvar in the United States. czechvar.com
Bell's Lager of the Lakes Michigan-based brewery Bell's follows Czech tradition with a firm malt body and herbal hopped bitterness for their popular, year-round Lager of the Lakes. bellsbeer.com
Heater Allen Pils Heater Allen in McMinnville, Oregon, crafts their Pils in homage to Pilsner Urquell, leaving the beer unfiltered and lagering for a minimum of eight weeks before canning. heaterallen.com
Firestone Walker Pivo Pils Blending multiple European influences with an experimental American craft approach, Firestone Walker's Pivo Pils emphasizes spicy, herbal notes in the beer by dry hopping with German Saphir hops. firestonebeer.com