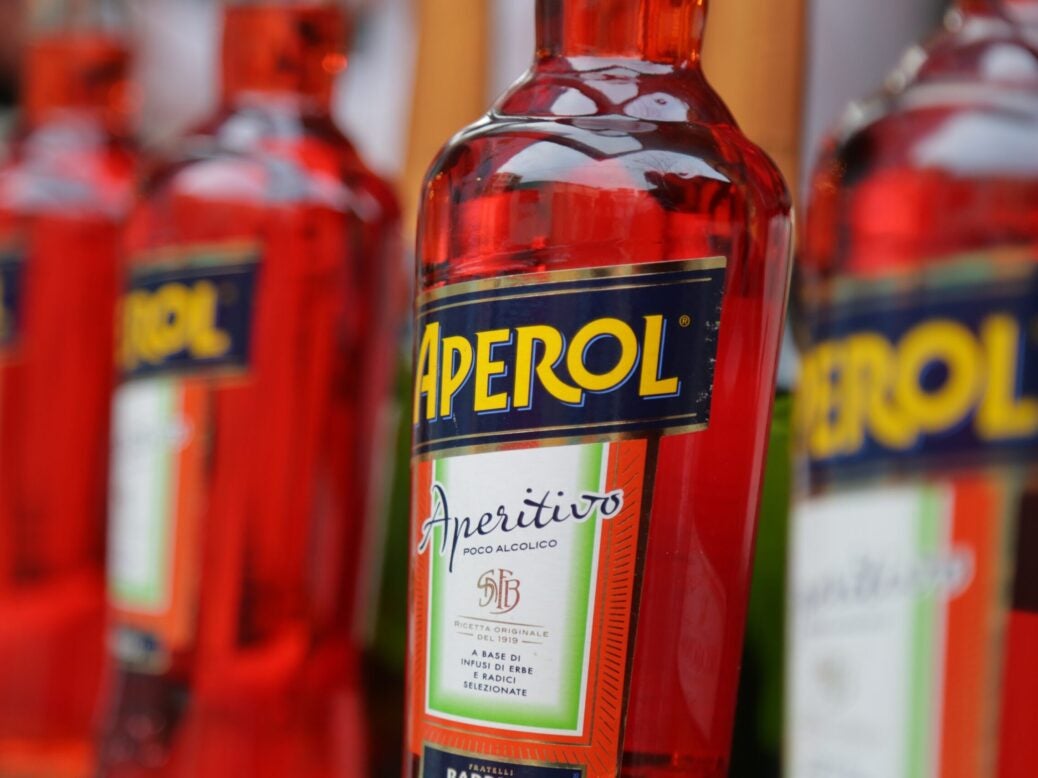 Over the past 15 years or so, Campari Group has gradually transformed itself from a company mainly focused on its key aperitif products and their heartland in Italy to a global player of note in beverage alcohol, with a growing and increasingly diverse basket of international brands.
In the process, the business has gained a reputation for picking up slightly dusty, neglected brands, such as Wild Turkey, Appleton Estate and Grand Marnier, and breathing new life into them – sharpening up their act in terms of liquid, packaging and marketing, and bringing them to new audiences and markets.
Now that tried and tested formula is set to be applied to the latest acquisition, the relatively unknown bitter liqueur Picon acquired from Diageo for EUR119m (US$125m) in May 2022. No doubt company CEO Bob Kunze-Concewitz has strong ambitions for Picon to spread its wings beyond its traditional markets of France and Benelux.
For a company historically strong in the on-premise – the channel accounted for 40% of sales before 2020 – the Covid-19 pandemic came as quite a jolt to Campari. However, the business showed remarkable resilience, tapping into the lockdown thirst for at-home mixology and making a shrewd investment in e-commerce platform Tannico, now reimagined as a joint venture with Moët Hennessy.
What is more, in its recently-announced results for 2021, Campari bounced back in style from the worst effects of the pandemic, recording double-digit growth in all of its four regions – not just compared to 2020, but also versus pre-pandemic.
The company retains a strong presence in its 'home' market of Italy but strategic acquisitions in the US and Brazil have made the Americas its largest reporting region in revenue terms, where strong growth for Aperol and Campari has been supplemented with investment behind rum (Appleton Estate) and Tequila (Espolòn and Cabo Wabo), and a recent revamp for American vodka brand Skyy.
Elsewhere, inroads have been made in markets as diverse as South Africa, the UK and France – the latter the scene of much activity in the past five years – but Asia Pacific remains a work in progress, still accounting for well under 10% of global revenues. A new push behind luxury products is partially aimed at redressing this imbalance.
Speculation has mostly centred on a notional large-scale acquisition that might dwarf Appleton or Wild Turkey, fuelled by the move of Campari's registered office to the Netherlands, finalised in July 2020. The accompanying revision of voting rights might add a substantial sum to the company's reputed 'war chest' of EUR4bn – but rumours of a deal to buy leading Tequila brand Jose Cuervo are yet to come to fruition.
Instead, Campari and Kunze-Concewitz have remained content with a series of strategic, bolt-on acquisitions in areas including Champagne, mezcal and rhum agricole – and, now, liqueurs with Picon – that have brought yet more variety to an increasingly diverse and well-rounded brand portfolio.
Campari's regional performance trends
Campari splits its markets into four reporting regions as follows:
The Americas
Southern Europe, Middle East & Africa (SEMEA)
North, Central & Eastern Europe (NCEE)
Asia-Pacific
The Americas accounts for the largest slice of global sales, although this fell slightly between 2017 and 2021, from 43.7% to 42.7%. Second comes SEMEA (including the company's Italian heartland), at 29.4% in 2021, virtually unchanged from 29.5% in 2017.
Growth in Germany and the UK is partly responsible for the increasing share taken by NCEE – 20.7% in 2021, up from 19.9% in 2017 – but the company is notably underweight in Asia-Pacific. Recent growth in the region has seen its share increase, but only from 6.9% in 2017 to 7.7% in 2021.
The Americas
Excellent long-term performance trends for Campari Group in the Americas have been driven by both acquisitions (Wild Turkey, Appleton Estate, Grand Marnier, Espolòn and Cabo Wabo) and organic revenue growth for the likes of Aperol and Campari.
The opening of the company's new regional HQ in Midtown Manhattan in March 2019 was a statement of intent for Campari's Americas strategy, but the company's plans were thrown into disarray by a difficult 2020, impacted by the pandemic and large-scale destocking in the US.
However, even then the business could point to positive underlying trends and this was borne out by an impressive 2021, when revenues were up 23% (+20% on 2019), buoyed by an 18.9% sales hike in the US, where Espolòn, Aperol and Grand Marnier enjoyed double-digit revenue growth. Wild Turkey and Campari, meanwhile, were up in the high single digits.
Canada and Jamaica both registered double-digit sales growth in 2021 but Campari's strategy has misfired somewhat in Latin America and Brazil in particular, where its Dreher arm was "challenged" during 2020.
In response, Kunze-Concewitz has admitted the company got it wrong in prioritising local products in Brazil – Dreher brandy, Sagatiba cachaça – over glossy international imports. Scenting potential especially for Aperol and Campari, the company revamped its approach at the end of 2020 – and double-digit revenue growth has been the result in both FY2021 and the first quarter of 2022.
Now Campari hopes to further this trajectory with a new distribution deal in Brazil with Coca-Cola FEMSA subsidiary SPAL Indústria Brasileira de Bebidas, although Kunze-Concewitz admits that this will be a long-term play for the company.
Southern Europe, Middle East & Africa
This is a heterogeneous region with priorities ranging from the traditional heft of Campari in Italy, the fresh target destination of France and the high-potential countries of sub-Saharan Africa.
As elsewhere, growth was interrupted by Covid-19 in 2020, when the company's exposure to the on-premise and alcohol bans in South Africa had a major impact, sending revenues down 18.6%.
The bounceback in 2021, however, was hugely impressive. Buoyed by what Kunze-Concewitz has dubbed "revenge conviviality" as customers flocked back to bars and restaurants, regional sales rose 36.7% (+15.5% on 2019), with core aperitifs (Aperol, Campari, Campari & Soda) rising by high double digits.
Headline activity in South Africa includes the opening of a local Campari office there in 2017, and the EUR52.5m acquisition of Bisquit Cognac (since relaunched as Bisquit & Dubouché) from Distell in December 2017.
France has been another recent priority for the business, including the acquisitions not only of Picon in May 2022, but also of rhum agricole producer Bellonnie & Bourdillon Successeurs in September 2019, Baron Philippe de Rothschild Distribution in December of that year and an 80% stake in Champagne Lallier in April 2020. Sales growth of above 22% was the result in 2021.
North, Central & Eastern Europe
This region proved the most resilient for Campari in the Covid year of 2020, when revenues rose by 6.8%, thanks largely to continued growth in Germany and the UK. Russia has been volatile, but was hugely impressive in 2021 (sales up by more than 40%) before trading was curtailed by the invasion of Ukraine.
Across the region, revenue growth continued in 2021, rising 18.6% (up 25.8% on 2019), thanks to a solid performance in Germany (Aperol and the Aperol Spritz RTD were highlights) and stellar growth in the UK (+39.1%), where the company launched the Campari & Soda RTD for the first time in August 2021, some 100 years after its creation.
Asia-Pacific
Volatility is the dominant factor in Campari's smallest trading region, where an attempted reset of activities was impacted by the severe impact of the pandemic during 2020. The move of Campari's regional HQ from Sydney to Singapore in 2020 proved largely symbolic as a result.
Historically, Australia has been a key market, thanks to growth for a basket of the company's brands, including Wild Turkey, Glen Grant, Skyy, Campari and Espolòn. The 4.6% sales rise in 2020 for the region as a whole came thanks to a 20%-plus hike in Australian revenues; in the rest of the region, sales slumped by almost 30%.
A year later, the positions were reversed: regional revenues up 22.9% (+27.9% on 2019), despite sales in Australia being flat thanks to poor weather and trans-ocean supply constraints. China and South Korea helped revenues outside Australia to soar by almost 110% on the year.
That performance confirmed the signs of increasing activity around Aperol and Grand Marnier's higher-end expressions in China prior to the pandemic. Now Campari is aiming to sharpen its luxury focus through initiatives such as Rare Attico, an invitation-only space in its Singapore offices devoted to its high-end spirits and wines.
Campari's brand/category performance trends
Much of the noise around Campari in recent years in brand terms has centred on acquisitions such as Wild Turkey, Appleton Estate and Grand Marnier but the company still looks to its old Italian double act of Aperol and Campari to bring dynamic revenue growth around the world.
Aperol in particular, buoyed by the hugely popular (and much imitated) Aperol Spritz serve, has successfully spread across Europe and into North America via its 'oil spill' strategy of gradual geographical expansion.
Despite the vital role played by the on-trade in pushing this agenda, Aperol managed to achieve "flattish" sales in 2020, and would have been up by double digits without the negative impact of Italy and global travel retail.
In 2021, impressive growth returned, with Aperol sales rising by almost one-third on the reopening on-trade and efforts to deseasonalise the brand's appeal. Meanwhile, Campari has also enjoyed a positive past five years, with sales rising by just over 30% in 2021 despite a difficult 2020.
Back to those acquisitions. The Campari playbook here is to take brands that have suffered some form of neglect, give them a tune-up and, particularly in the past few years, add some high-end luxury lustre through NPD.
Thus Jamaican rum Appleton Estate was revamped in 2020 and has seen a succession of higher-priced line extensions such as the 15-year-old Appleton Estate Black River Casks in June 2021 and 35-year-old five-rum blend Appleton Estate Ruby in January 2022. Appleton Estate revenues rose 22.7% in 2021, thanks to positive trends in the US, Canada, Jamaica and the UK.
In similar fashion, Campari has set about axing lower-priced Grand Marnier expressions such as Cordon Jaune, preferring to focus on luxury lifestyle ventures, most notably the twin releases of Grand Marnier Quintessence ($3,500) and Révélation ($700) in February 2022 – which appear designed to appeal to a wealthy Asian and US audience.
Wild Turkey – which Campari has now owned since 2009 – is at a different stage of its evolution, but there's still an unmistakable scent of premiumisation in the air through extensions such as Wild Turkey Master's Keep One (priced at $175 a bottle in the US). A wholesale redesign of the range has kicked off with the repackaging of Wild Turkey 101, unveiled in March 2022.
July 2021 also saw the relaunch of another acquisition, Bisquit Cognac, now regaining its historic title of Bisquit & Dubouché four years after it was acquired from Distell. The new range was rolled out to the vital US market in October 2021.
One brand that has suffered a difficult few years is Skyy vodka, beset by the difficult trends experienced in the whole category in its core market of the US. A complete relaunch in the first quarter of 2021 encompassed fresh liquid plus new packaging and positioning, with promising early signs – but Skyy's revenue growth of 8.2% in 2021 was built on international markets, with the US still "slightly negative".
The Campari Group brand portfolio is relatively well-balanced – somewhat light on whisky, although there are renewed efforts behind single malt Scotch Glen Grant – with a decent presence in agave spirits (Espolòn and Cabo Wabo Tequila; Casa Montelobos mezcal) and a few gins, of which Bulldog is the standout. Kunze-Concewitz has expressed caution in the past over what he sees as an overcrowded gin category.
Now attention is turning to two new ventures from the past 12 months: in July 2021, Campari announced an e-commerce joint venture with Moët Hennessy targeted at Europe. The 50/50 initiative, built on the Tannico business in which Campari bought a 49% stake in 2020, sees the company contribute its stakes in Tannico and French business Ventealapropriete.com, while Moët Hennessy has paid in EUR25.6m
The idea is to develop an arms-length, independently-managed, e-commerce business with a comprehensive offer, expanding beyond the existing platforms' heartlands of Italy and France – in a similar vein to Pernod Ricard's recent activities in the same sphere.
The second fresh initiative is Campari's acquisition of bittersweet orange liqueur brand Picon. The cash deal looks canny – less than ten times acquired profits, with annual sales of EUR21.5m in 2021 – but only if Campari can successfully build Picon's appeal beyond France (80% of revenues) and Benelux. Kunze-Concewitz clearly believes – he has said the company thinks Picon "has the value to resonate on a wider international level" in the future.
Campari – the future?
Campari Group has a number of challenges and opportunities in the months and years ahead, including:
Acquisitions: scale or agility? Analyst speculation in recent years has centred on Campari securing a mega-deal of the magnitude of Jose Cuervo (if the owning Beckmann family would sell for the right price). But the recent Picon acquisition – and those that have come before it – suggest a different narrative of mid-sized but scalable bolt-on acquisitions.
Mind the gaps: With annual revenues now above EUR2bn, Campari has decent scale but is underweight in some categories, such as whisky (not just Scotch) and gin, although Kunze-Concewitz appears reluctant to buy more of the latter. Again, however, the Picon move hints at a less predictable strategy focusing on underpriced brands, and perhaps categories, too, that can be expanded incrementally.
Why pick Picon? At first glance, Picon fits the historic Campari acquisition template: somewhat unloved by its previous owner, and with the potential to expand its appeal. But it's not a rum, a whisky or a Cognac, and the likely playbook to build its global presence through the on-premise is more reminiscent of the approach taken with Aperol and Campari. The key will be to achieve this without cannibalising either of the company's star aperitif brands.
Aperol and Campari – where next? The past several years with Aperol have been a masterclass in the building of a global brand with a deceptively simple strategy of recruitment and a classic serve – and Campari the brand has also enjoyed excellent growth. As the US grows increasingly mature, Asia beckons as the next destination for the pair. But can European and American success be repeated once again?
Campari de luxe: The creation of a new luxury unit under the 'Rare' banner in May 2021 was a clear signal the company wanted to make inroads in the luxury space – as was the more recent opening of its Rare Attico venue in Singapore. But Campari will need to redouble its efforts if it is to capture a meaningful slice of the crowded high-end market in Asia, especially with currently doubtful macroeconomic trends. Might some fresh targeted acquisitions help it on this journey?
Believing in e-commerce: Jumping into bed with Moët Hennessy on the Tannico e-commerce joint venture is an intriguing move. Sure, the French company adds some luxury expertise, but perhaps the most vital ingredient needed for success is credibility – as with Pernod Ricard's e-commerce operations, the rest of the industry has to believe that these companies are genuinely independent. If that doesn't happen, their entire raison d'être – that they are comprehensive one-stop shops stocking the brands of rivals – is lost.