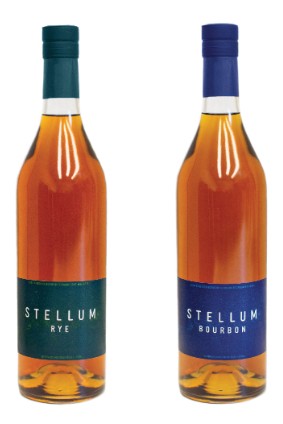 Barrell Craft Spirits has created an umbrella brand for a line of cask strength American whiskies in their home market.
Stellum Spirits, unveiled this week, will initially comprise a Bourbon and a rye whiskey. The pair will be joined by single barrel bottlings going forward, said Kentucky-based Barrell Craft.
Available through selected off-premise outlets in 45 states, and online through stellum.com, the debut expressions are:
Stellum Bourbon (blue label) – 57.49% abv, and

Stellum Rye (green label) – 58.12% abv
Both retail at US$54.99 per unit.
"We wanted to create a brand that brings American whiskey into the modern age with simple elegant blends and single barrels selected with care and intention," said Barrell Craft founder Joe Beatrice. "Our whiskeys are created through a rigorous process of study, observation and experimentation. We are driven by progress … and attention to detail. We will always think critically about how to make our whiskey better."
Barrell Craft, which sources liquid to blend and bottle, owns a portfolio of limited-release American whiskies and rum under the Barrell brand name.
How COVID is opening up aged spirits to a whole new world – Click here for a just-drinks comment
---