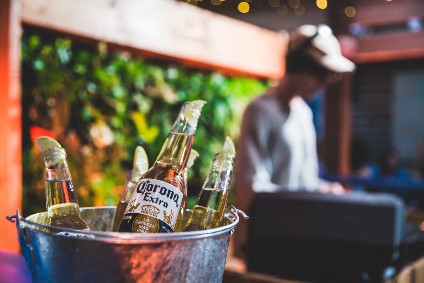 Three of Anheuser-Busch InBev's Canadian breweries will brew Corona from next year as the group continues to expand the beer brand's international production footprint.
A-B InBev's brewery in London, Ontario will start brewing Corona late next year, a spokesperson for the company's Canadian unit, Labatt Brewing Co, has told just-drinks. The facility will join A-B InBev breweries in Montreal and Edmonton, which started producing Corona for the domestic market in the second half of this year.
The move furthers A-B InBev's efforts to brew Corona outside of Mexico, the brand's country of origin. Late last year, the brewing giant started producing Corona in-market for the first time in some countries, starting with China in October, before adding the UK, Belgium, Brazil and Colombia to the list a few weeks later.
Corona is a major focus for A-B InBev, which counts the beer as one of its three "global brands" alongside Budweiser and Stella Artois. The Canadian breweries are already brewing Stella Artois, which was originally a Belgian beer brewed in Leuven, the home of A-B InBev's corporate headquarters.
Bottles of Corona and Stella made in Canada will carry the message "Brewed in Canada" on labels.
Commenting on the labels, the Labatt spokesperson said: "It is not a regulatory requirement however we want to share our pride, with consumers, in being selected to brew these iconic brands in Canada. Stella Artois and Corona labels will continue to honour and reinforce their Belgian and Mexican heritage, respectively."
The spokesperson added that the Canadian breweries have to pass a "rigorous" certification process before they can brew Corona and Stella.
A-B InBev owns Corona globally, with the exception of the US where the brand is owned by Constellation Brands.
How hops could become part of beer's marketing lexicon – Click here for a just-drinks comment
---