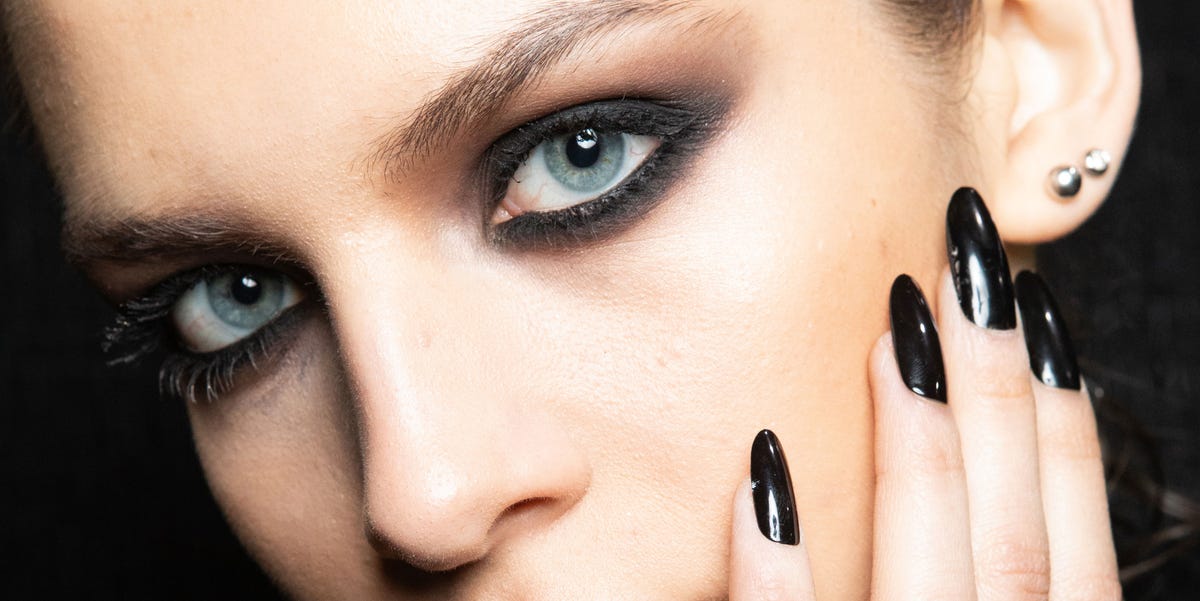 ICYMI, nail color has come a long way in recent years. No longer are we reserved only to easily chipped polish, potentially damaging acrylics, or UV-set gel manicures (though we're not saying we don't love those options, too!). There's a new nail color trend in town, and it's definitely here to stay; We're talking about the dip powder manicure.
What is a dip powder manicure?
Dip powder manicures are longer-lasting than their gel counterparts (they can typically last up to one month), and they also don't require any UV light to harden. They also yield similar, even-coated results as acrylic manicures—but since there is no harsh UV light or fake nail tips involved, dip powder manis are also said to be less damaging to your nails in the long-term.
Here's how to give yourself a dip powder manicure at-home
This is how the at-home process typically works. First, you'll want to apply a base coat onto clean, freshly buffed nails (this helps to smooth out any ridges so that the powder can coat the nail evenly). Next, instead of painting the nail color on with a brush, as with a traditional or gel manicure, you'll dip your nail into a pot of pigmented powder. Then, simply tap or brush off any excess powder (many kits include a buff brush) and repeat the process one more time to ensure an even coat. After two go-rounds of dipping, you'll paint on a clear activator polish. This activator turns the colored powder into a glossy lacquer and essentially bonds it onto the nail itself. Once that's dry, you'll apply a clear coat of polish as a top coat, and voila! Your DIY dip powder manicure is done, and it should last at least a few weeks (or more). Of course, these are general guidelines—always follow the instructions of the specific kit you're using, as each one may differ slightly.
How do you remove dip powder manicures?
Again here, you'll want to refer to the instructions included in whichever kit you've purchased. However, dip powder manicures generally always have to be soaked off with acetone—do not, under any circumstances, try to peel or pick off the color. Doing so will literally rip off the top layer of your actual nail. Ouch!
Instead, your best bet is to wrap each nail in an acetone-soaked cotton ball (or round) or dip it into in a small bowl of acetone, for at least ten minutes. In order for dip powder color to be removed, the bond between the lacquer and the nail must be dissolved. The best part is, though this soaking process may seem tedious, once the color is dissolved it should wipe off easily and cleanly (no scraping required).
You can also remove with clippers
Invest in some nail polish remover clips to make the process easier (and less messy). While many manicurists will admit that, ideally, you should really leave dip powder manicures (and their subsequent removal) to the professionals, but monthly trips to the nail salon can get expensive, and more and more companies are offering affordable at-home powder nail kits for novices and experts alike. Below, we've rounded up 14 of the best of them.
1
Dip Kit Essential
nailboo
nailboo.com
$85.00
Vegan, cruelty-free, and non-toxic, Nailboo's nail kit has everything you need for a quick and professional-looking mani. 
2
Essentials Kit
Rossi
rossinails.com
$22.99
Most kits come with a set of colors, but Rossi gives you the option to choose with its Build Your Own Kit. Select from a range of colors and finishes, including soft neutrals and glam glitters. 
3
Starter Kit All 4 Powders
avva
avvanails.com
$44.99
Your nails will retain its strength and durability thanks to this vitamin E and calcium-enriched formula. 
4
Nude Set
Beetles
beetlesgel.com
$23.99
Prepping for a wedding? All the nudes you need can be found in this kit from Beetles, along with manicure tools for buffing and tidying cuticles.  
5
Starter Kit
cuccio SOMATOLOGY
amazon.com
$40.84
This Amazon pick is beloved for its long-lasting formula, with up to two weeks of no-chipping. 
6
Dip Powder Kit Starter
modelones
amazon.com
With more than 1,000 reviews on Amazon, customers have raved about Modelones's vibrant colors and easy application process. "Works and looks great! I found it was a lot easier to use than other ones I saw online," one reviewer wrote. "I watched a ton of application videos only to find I didn't need to do a bunch of dips to achieve the desired color. Just TWO dips did the trick. I was impressed."
7
Classic Dip Powder Nail Kit for Starters
doubledipstore.com
$46.99
If you're feeling a bit intimidated by this expansive kit, have no fear. Double Dip has detailed YouTube tutorials with step-by-step instructions for the perfect at-home manicure. 
8
EdenRays Nail Dipping Powder Starter Kit
EdenRays
amazon.com
$23.99
Get great nails on the go with this travel-friendly starter kit. Featuring neutral colors like nude, pink, and white, and two glitter options, you'll find the right manicure for any occasion. 
9
Dip Nail Powder Nail Starter Kit Acrylic Dipping Nail Powder System Clear Liquid Acrylic Pigment for French Nail Manicure Set
Nicole Diary
amazon.com
$9.99
An ideal option for beginners, this dip powder nail kit comes with everything you need to get started—including five different color options, including two classic pale pinks, one bold red, a muted gray and one pure pink glitter.
10
Dipping Powder Starter Kit
Joya Mia
groupon.com
$84.99
This salon-quality set comes with basics like top and base coats, clear powder and three color powders, plus a nourishing vitamin oil to keep your nails healthy and strong. 
11
Dip Nail Starter Kit – Classic Collection
DipWell
amazon.com
$54.97
Dipwell makes a dip powder kit for every occasion and color combination—including pastels, French tips, classic colors, glitter and even neon hues. The polish and powder formulas don't include any harsh chemicals, are low odor and also contain calcium to help fortify and strengthen your nails.
12
Latorice Dipping Powder Nail Set for Nail Art 5 Colors Collection
Latorice
amazon.com
$19.98
This non-toxic and odorless dip powder nail kit is (per my own amateur searching) the top-rated of its kind on Amazon. The chip-resistant formulas are also surprisingly thin, so your dip powder mani won't weigh down your nailbeds.
13
Salon Dip Starter Kit
This no-fuss dip color starter kit includes all the basic tools you'll need to get the job done, plus one pale pink powder. Reviewers particularly love how easy it is to use—even for beginners—and how long the color stays on.  
14
Aikker 12 Glitter Color Dip Powder Nail Kit Gift Set with Recycling Tray Brush File for Winter Party AK16
If you're a glitter kind of gal—and really, who isn't—then look no further. This dip powder nail kit includes 12 different bright and bold glittery hues, plus a nail file, buff brush and reusable tray for the powders.
This content is created and maintained by a third party, and imported onto this page to help users provide their email addresses. You may be able to find more information about this and similar content at piano.io
Source link