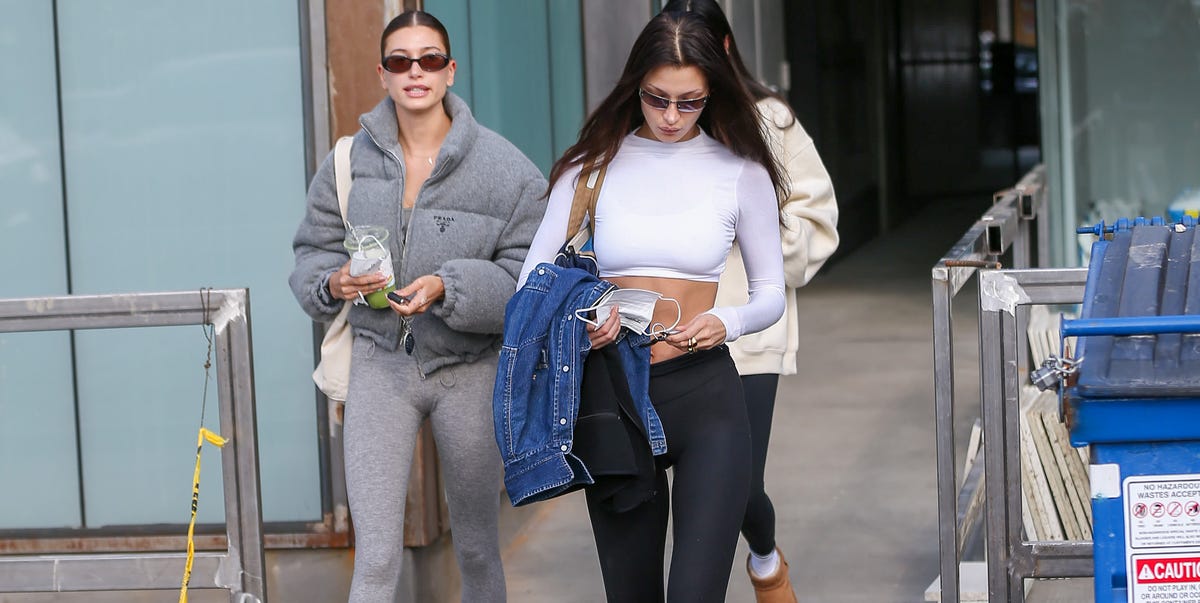 Bellocqimages/Bauer-GriffinGetty Images
Whether or not you're actually a bona fide yogi is irrelevant. Everyone needs good leggings in their repertoire, and Alo Yoga makes some of the best—just ask any one of the brand's celebrity fans, like Hailey Bieber, both Hadids, or the Jenner sisters.
From vinyasa-ready cropped styles to bike shorts perfect for wearing with oversized tees, the athleticwear brand has you covered for all your comfy chic needs. Alo uses durable, compressive, and moisture-wicking materials that stay in place as you move, meaning there's no rolling down during downward dog. Another perk? Alo's leggings and shorts wash incredibly well, so you don't have to worry about fringing seams or pilling after one wear. Combine these factors with an already lower price point than certain popular competitors (and that was before pre-Amazon Prime Day markdowns!), and you've got yourself a winner.
Amazon Prime Day is nearing its end, running now through July 13. So, check out some of the styles from Alo Yoga that are marked down for the summer shopping event and save on your next workout 'fit while you can. Nama-stay saving that money!
Advertisement – Continue Reading Below
Women's High Waist Airbrush Legging
Style: Full length; high-waist
A flattering high waist that stays in place and the perfect shade of teal. The best-dressed person in the studio? You, obviously.
Women's High Waist Airbrush Capri Legging
Style: Cropped; medium rise
I'm not exaggerating when I say you can't have too many pairs of solid black leggings, and a cropped rendition is ideal for the warmer months.
Women's High Waist Biker Short
Style: Short; high-waist
These flattering bike shorts are perfect for sweaty summer workouts and running errands alike.
Women's High-Waist Vapor Legging
Style: Ankle length; high-waist
Alo's Vapor fabric is extra breathable for a true second-skin feel. And this subtle camouflage? It's also available in black, hunter green, and putty brown.
7/8 High Waist Airlift Leggings
Style: Ankle length; high waist
The pairing of a just-above-the-ankle crop and a waist-cinching rise is a personal favorite, FWIW.
High Waist Goddess Legging
Style: Footie; mid-rise
It's giving ballerina off-duty in the best way.
Misses High-Waist Sequence Legging
Style: Ankle length; high-waist
Stylish reflective detailing also serves as a safety measure, making these perfect for outdoor workouts after the sun has gone down.
Raise your hand if you're a big fan of clothes that can do double duty. This asymmetric tank is made for HIIT or happy hour—the choice is yours.
Women's Double Take Pullover Relaxed Fit
Go ahead and show off the fruits of your labor in a midriff-bearing crop. As it turns out, planks really do work.
Sports bras are one of those items you don't give much thought to until you're behind on laundry and have to make the tough decision to rewear that stinky one you've already reworn once. This Prime Day, do yourself a favor and stock up.
This content is created and maintained by a third party, and imported onto this page to help users provide their email addresses. You may be able to find more information about this and similar content at piano.io
Advertisement – Continue Reading Below
Source link