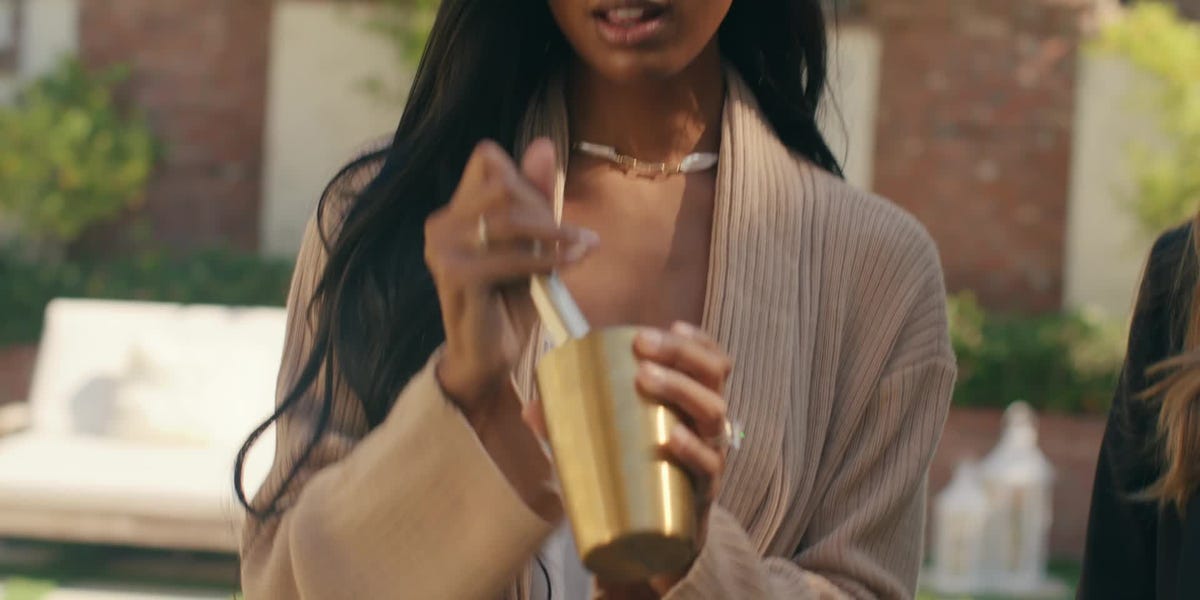 If anyone knows how to look glam in an ugly holiday sweater, it's models Josephine Skriver and Jasmine Tookes. They've recently teamed up with Tanqueray to share their styling secrets—plus their best holiday hosting tips for a small ugly sweater themed get-together—in a brand-new video.
The best friends and co-creators of the fitness account @joja have all the answers for dressing up an ugly holiday sweater (it's funny but you still want to look cute!) and some decorating obsessions (one collects crystals; the other has a candle closet!). Read on for all of the ideas, then check out the video above to see more of their holiday hosting how-tos.
Give a festive cocktail the ta-da treatment.
Skriver and Tookes like to have their holiday drink—a "Merry Mule" made with muddled sage and Tanqueray No. TEN (see the video for the full recipe)—ready and waiting for guests to enjoy right as they arrive. "One detail I always love to do with my table settings is to set out my drinks a few minutes beforehand on a cute tray," says Tookes. "It creates such a nice vibe and makes your guests feel very welcome." The finishing touch? A seasonal garnish of sugared cranberries.
Need clothing advice? Think contrasts.
Imagine your ugly holiday sweater as the "star" of your outfit—you'll want to tone down the rest of your pieces to let that over-the-top one shine, suggests the duo. Josephine pairs hers with a leather pencil skirt and Jasmine layers a classic blazer on top. "I love yours with the blazer," Skriver tells her in the video. "It's so much more elevated that way."
When in doubt, platter it out.
Entertaining, to these two, means keeping the food super-simple: light, fresh, and easy to arrange on trays or platters so guests can help themselves. (Some of their go-tos: hummus and veggies, guacamole and chips, and Vietnamese spring rolls.) And don't forget to throw in a sweet treat, says Skriver. "You've got to have a little chocolate when it's the holidays."
Make it magical.
An ugly sweater theme calls for extra-cozy elements, even when the get-together is held in a grassy LA yard with a pool. Their must-haves for a merry setting include elements of hygge, the Danish concept of creating a serene and cozy space: faux fur throws, flickering votives, and twinkling string lights. When it all comes together, says Tookes, "it really feels like you're in a fairy tale."
PLEASE ENJOY RESPONSIBLY. TANQUERAY NO. TEN Gin. 100% Grain Neutral Spirits. 47.3% Alc/Vol. Imported by Charles Tanqueray & Co., New York, NY
This content is created and maintained by a third party, and imported onto this page to help users provide their email addresses. You may be able to find more information about this and similar content at piano.io
We Thank To Our Readers For Your All Contributes. We Still Seek Your Support In Pandemic CoronaVirus.
Donate Bellow For Better Future
Registered before? Log in to use your saved details.
If you registered an account, please enter your details below to login. If this is your first time, proceed to the donation form.