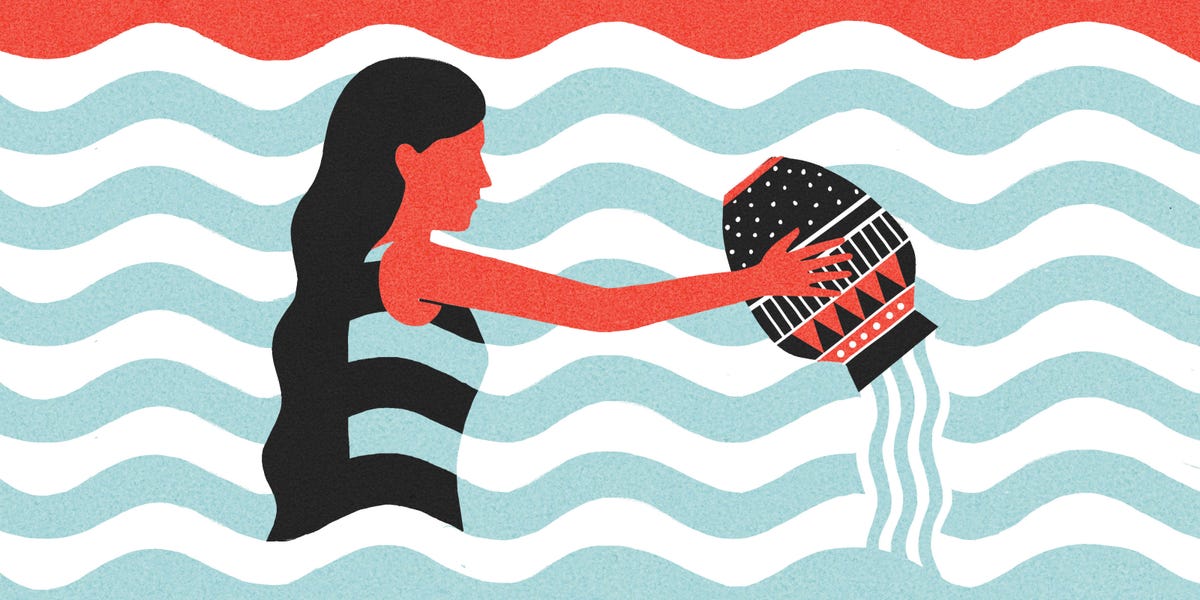 MONTH OF October
October snapshot
Nothing can bring you down this month, Aquarius—at least, not for long. With the Sun in Libra and your optimistic, growth-driven ninth house until Thursday, October 22, you're focused on a starry-eyed mission. Sure, there are plenty of things to fret over and freak out about, but under these resilient skies, you'd be wise to keep your focus on the biggest possible picture. There's always opportunity, even in the worst of times. Sometimes, those are the BEST moments to try something new or take a bold risk. During the first half of this month especially, you might just agree!
October is no exception to the weirdness of 2020—and it will deliver. For starters, the month is bookended by a rare doubleheader of full moons, also known as a "blue moon" month. On Saturday, October 1, the Aries full moon could bring exciting news while Halloween's homespun full moon will bring a domestic situation to a peak.
But you don't need to trick-or-treat to tap into all things esoteric. Until late December, Jupiter and Saturn are both spinning through Capricorn and your mystical, healing twelfth house. You could be feeling more tired or internal than usual (and not just because of Covid stress), perhaps working through some grief or dealing with a life transition.
On Sunday, October 4, subterranean Pluto will end a five-month retrograde in Capricorn, further powering up this zone. Your psychic powers could magnify over the next couple months. Pay attention to dreams, intuitive flashes and signs.
But read those tea leaves over a few times, Aquarius! Mercury, the planet of communicclass="body-el-link standard-body-el-link" ation, technology and travel, will turn retrograde from Tuesday, October 13, to November 3. Back up all your electronic data and files, especially at work.
Mercury's mischief will largely impact your career sector and professional dealings. You know those horrifying videos of the person on Zoom who thought their sound and video was off and takes a work call in the bathroom or talks smack about a colleague and everyone witnesses it? Yeah, Aquarius, that could be you if you're not careful!
Week 1: October 1-11
Chamber of secrets
Extra, extra! There's big news afoot right from the get-go, thanks to the year's only Aries full moon in your third house of communication on Thursday, October 1. Collaborative projects can heat up now, so give them adequate attention. If you've been stalled, fire up your social media and start connecting with kindred spirits and like-minded people again. Wondering where to focus your thoughts? Search your email threads from around March 24, when the Aries new moon planted the seeds that are ready to bear fruit now. Once you've energized your dream team, the sky's the limit.
On Sunday, October 4, shadowy Pluto ends a five-month retrograde through Capricorn and your twelfth house of closure, healing and transitions. Chances are, you've done some pretty intense inner work since April—hopefully experiencing the catharsis that comes from letting go of old heaviness and making amends. As Pluto shifts gears, you may need to rally support because some tough feelings you thought you'd gotten past could resurface.
On Friday, October 9, Pluto will get snared in an intense square with hotheaded Mars, repeating a volcanic clash they made in the same zodiac signs on August 13. With Mars in Aries and your communication sector, you've got the urge to give someone a piece of your mind or just say the first thing you think of. This time, you'd be wise to hold off for another day.
Not sure where you stand with a certain someone? A conflicting agenda arrives courtesy of Pluto in your chamber of secrets and hidden agendas. People won't be upfront today. There could be more to the story, and you won't get the whole scoop if you rush through negotiations. Rather than being an open book, ask clarifying questions and let others reveal their hand. Best to know what you're dealing with, Aquarius!
Week 2: October 12-18
Mercury moonwalk
Time out! On Tuesday, October 13, messenger Mercury starts its final retrograde backspin of 2020, which will last until November 3. The first part of Mercury's U-turn (until October 27) will happen in Scorpio and your tenth house of career and public image.
With Mercury meddling in your professional affairs, guard your reputation with extra vigilance and be careful about taking on any hefty responsibilities. Reassess your master plan during mischievous Mercury's moonwalk. Look back over progress you've made so far and plot improvements moving forward. Hold off on accepting any major offers if you can—and if you must, make sure to read the fine print carefully!
Your optimism returns with a thrilling surge on Friday, October 16, when the year's only Libra new moon lands in your ninth house of global connections, adventure and risk-taking. You'll see far beyond the horizon now and feel ready to take some (responsible) risks—especially if they relate to a long-distance client or exciting new educational opportunities.
The Libra new moon could even bring a chance for pandemic-proof travel. But wait! The one "vacation" you don't want to go on is a guilt trip. This new moon will square off against Jupiter, Saturn AND Pluto in stodgy Capricorn and your empathic twelfth house. With this trio activating your subconscious (and possibly poking a few unhealed wounds), limiting beliefs could interfere with your dreams of going big. Be vigilant about catching that voice of doubt, whether it comes as a flash from within or from a well-intentioned loved one projecting their fears onto you.
Do you have unfinished business to attend to before hurtling down a new path? The twelfth house rules endings. Make sure you've wrapped up your responsibilities and closed all doors before you stride into this giant new venture. Remember that new moons can take up to six months to unfold. Draft and craft your plans this week, but make sure you clear the decks so you can give any promising projects your full focus.
Week 3: 19-25
Make it so
This week gets off to a feisty start, so watch that it doesn't turn into a power struggle again. On Monday, October 19, Mars is misbehaving, this time repeating its August 4 face-off with Jupiter. In the same zodiac signs as their last clash, these impulsive and impatient plants will stir up drama in your communications sector, fanning retrograde Mercury's flames.
Should you blurt it out or hold it in? Assertive Mars is in Aries and your communication zone, prodding you to be direct. But since Mars is retrograde, the full-frontal honesty approach might backfire. With outspoken Jupiter muted by its presence in Capricorn and your twelfth house of hidden agendas, you could get backlash for being too blunt. This would be THE day to "save to draft" or to vent to a trusted confidante. Yes, you'll need to get these feelings out before you explode. But you don't want to burn a bridge by doing it impulsively.
On Thursday, October 22, the Sun enters focused Scorpio and your tenth house of career success for a full month. Is it time to make some adjustments to your goals? Think about where you'd like to be by this time next year and then reverse-engineer the process. What concrete steps can you take in the next 30 days to gain traction? Line up mentors and a support system; sign up for any certification programs. Do what it takes to make those beautiful aspirations a reality.
Week 4: October 26-31
Waiting to launch and a homey Halloween
Sit tight one more week before you launch, Aquarius! On Tuesday, October 27, Mercury retrograde backs into Libra and your visionary ninth house for the duration of its backspin—which will blessedly end on Saturday, November 3. Suffice to say that your colorful and world-changing ideas might not find the appreciative audience they deserve before then.
Focus on matters close to your heart this week since Halloween will serve up an electrifying full moon in Taurus and your domestic fourth house. It's a great time for sentimental bonding and to connect with the people under your roof. If you have kids or live with relatives, make this a family fiesta, including crafts, comfort food and, of course, candy.
Live by yourself or with roommates? Invite the closest members of your quarantine crew over to make dinner and watch scary movies. Or just curl up with a great book and devote the day to pampering. Need ideas? The folks at Tulip and Sage (www.tulipandsage.com) have compiled five dozen quick Halloween-inspired self-care ideas (pumpkin-seed face mask, maybe?) to give yourself a spooky boost.
Just watch for a curveball or two on the home front. This October 31 full moon will ride in a tight conjunction with your ruler, unpredictable Uranus, which can bring unforeseen changes to your domestic and family life. If you've been trying to buy or sell a home, you could get word today—and you'll want to have your paperwork prepped so you can act fast! For Water Bearers looking to grow their families, this full moon-Uranus combo could bring pregnancy or adoption news.
Make sure you manage your moods by eating and resting enough because emotions can bubble up out of nowhere today. You don't want to unwittingly snap at trick-or-treaters or, worse, someone close to you. Ask for what you need and tune into what's really stressing you out instead of alienating your supporters.
LOVE & ROMANCE:
If sparks flew with a friend or recent love interest this past summer, you could feel things slow down this month. Lusty Mars is cooling off during a retrograde backspin through Aries and your third house of communication and kindred spirits from September 9 to November 13. Couples may argue more, an old conflict could rear up again, and petty bickering could get ugly. Do your best to improve communication by identifying each other's triggers—and avoiding them!
The other love planet, vixen Venus, will be touring Virgo and your house of intimacy and merging from October 2 to 27. You'll need to be extra sensitive during this transit because your skin may be thinner than you realize. A strong sexual chemistry, deep emotional bonding or a powerful soulmate attraction could come on suddenly, especially around October 19, when Venus harmonizes with supersizer Jupiter in your twelfth house of divine serendipity. This is one of those super-rare moments when something that feels too good to be true could actually blow your mind!
You'll feel more adventurous starting October 27, when Venus swings into simpatico air sign Libra and activates your expansive and worldly ninth house. You may find yourself drawn to someone from a different background or considering a long-distance relationship. Couples might make plans to travel (safely), even if you have to put them on the calendar for months in the future. Make sure everything's refundable before you hit "book now" because Mercury is retrograde in Libra from October 27 to November 3, which can cause things to come unglued.
Key Dates:
October 10: Venus-Uranus trine
Expect the unexpected as volatile Uranus throws your love life a plot twist. Someone could reveal a secret or blurt out feelings. With the side-spinning planet making a supportive angle to romantic Venus, the news may open an exciting new chapter. An attraction might spark up out of the blue.
MONEY & CAREER:
You've got big dreams and plans this month, as the Sun soars through Libra and your expansive ninth house until October 22. Let yourself explore these blue-sky visions. The Libra new moon on October 16 could bring an opportunity to teach, start a business or connect with a long-distance client. Then, when the Sun moves into Scorpio and your ambitious tenth house from October 22 to November 21, you can start crafting your big ideas into something tangible.
Take your time, though. Mercury, the planet of technology and communication, will turn retrograde (backward) from October 13 to November 3, reversing through both Scorpio and Libra. Go ahead and dream, but wait until next month to fully launch or commit to anything. Dive into study and brush up your skills. Do some additional research. Your pitch will be that much stronger in November if you put in the additional time.
Key Dates:
October 7: Mercury-Uranus opposition
Don't take it personally! With chatty Mercury at odds with temperamental Uranus, people won't think before they speak. A colleague might give unsolicited feedback without taking time to understand the context. Disassociate from the fray until things cool down.
Love Days: 7, 11
Money Days: 18, 26
Luck Days: 16, 23
Off Days: 9, 14, 21
See All Signs
This content is created and maintained by a third party, and imported onto this page to help users provide their email addresses. You may be able to find more information about this and similar content at piano.io
We Thank To Our Readers For Your All Contributes. We Still Seek Your Support In Pandemic CoronaVirus.
Donate Bellow For Better Future
[charitable_donation_form campaign_id=57167]