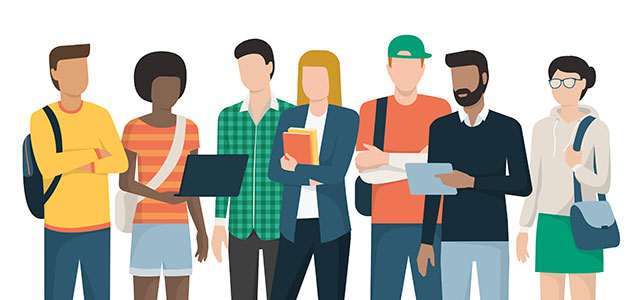 We all make mistakes as we learn. They say that an intelligent person makes mistakes and learns from them, but a wise man finds an intelligent person and learns the lessons without making mistakes. This is true for this article. It is designed to help you be like a wise person.
There is no specific way to go through your first semester. However, some tips can make you enjoy your college life from the start to the end. You do not have to make many mistakes when you can read such articles and avoid them. We will help you avoid many problems, but that does not mean you will make one or two mistakes. By the way, some mistakes are sometimes a positive part of the experience. This article contains pieces of advice from people who have passed through the same stage. They will help you understand what you can do and what you must avoid altogether. The tips provided here will help you set a good foundation in education and elate well with others. Many learners waste a lot of opportunities they will never get in life again. So, following professional advice helps you to seize time and make good use of it.
Learners are always obsessed with some majors because of the potential job prospect. This is one of the mistakes that students make. They spend their time doing the majors they dislike because they feel that letting them go will not allow them to get a better job. Most students who do the majors they hate end up failing. Yes, some succeed, but they spend the rest of their lives frustrated because they get themselves in fields they hate. You can overcome that. If you are not comfortable with the majors, be free to change, work hard, and earn a good grade. You will undoubtedly get a job. Again, use your time well and do not say no to extracurricular activities. Join clubs and play games. You can find something new. Besides, the job market needs people with soft skills. Taking part in extracurricular activities will help you develop skills such as excellent communication and teamwork.
Talking about time is precious, and do not waste it because you will have much less after graduation. Everyone will be looking for a job and settling after college. The time you had will be no more. Therefore, make good use of the time before it is too late. Find the games you can play, sing if you can, join clubs, make friends and socialize. A time is coming when you will want to have free time, but the schedule will be tight. Learn something new. College life is not all about studying. Cut loose sometimes and make fun. Take time to party responsibly and meet new people. Most of the relationships you create in college last a lifetime. Taking time to interact with others also develops your interpersonal skills. So, do not ignore what is around you. Find out what is happening and be a part. Many students miss out on great opportunities for being conservative learners. Take advantage of the available resources. Many extra programs in college are cheap but expensive when one is out of college. Interact with others to know such provisions and take advantage. Interact with your tutors and know them personally. A time will come when you will need a recommendation letter. You will be glad you made them your friends while in college. You may also need them for editing academic papers and help to complete projects. Know the resources around you and use them to your advantage. Do not write off anything immediately because college is a learning place. You can try new things like playing instruments. There are some more mistakes that learners make.
The college has a lot of fun and testing new things. The culture is different, and if you are not keen, you will end up lost. You will have a lot of time in your first semester because you have few units. This is time to set a good standard. Ensure you know the right time to party and when to attend classes. Do not start missing classes because you partied too hard. An excellent work-life balance will help you juggle part-time jobs, study, and socialize as well as exercise. So, plan well ahead of time to avoid the stress associated with college workload.
Lack of future academic paths
Failing to research future academic paths makes many students stuck. What do you want to achieve? What are your future educational goals? Your first semester provides the right time to answer those questions. You should not be in a rush to declare your majors. Start by researching your academic paths and see the classes necessary to graduate on time. You can take other courses that are not directly linked to your majors. However, you should not take them randomly.
Locking yourself to one path
Many learners come to college with the mindset that they have to stick to particular majors to get specific jobs. The truth is that college life will give you a new light when you are open-minded. You can change your path and get a new course. Your major should not lock you down because employers look for experience and the ability to learn, not majors. You should search for potential goals while in the first year as you experience different disciplines.
Failing to use free or discounted student services
Why spend a lot of cash when you can get free or discounted services? The problem is that many students do not know about such services because they do not interact with others. You can tour different places with your student's ID card and get discounts. Make sure you learn about such services and use them.
Create good relationships from the start. Know how to communicate and live with your roommate. We behave and act differently. We also have diverse attitudes. It is okay, but we all need to be treated nicely. Therefore, learn how you can stay with your roommate and interact well. This helps you to develop your interpersonal skills. Relating well with your roommate will allow you to have ample time to study. You can get away without reading in high school but not in college. The courses you do demand hard work to pass. You must have a good study habit to help you achieve your educational goals. Review notes regularly, make study groups, and read to understand as opposed to cramming. Poor time management is another blunder that students make. Fresh students have a lot of time, but they do not know how to make good use of it. They end up piling work and failing to complete tasks on time. Set a good discipline from the start. Avoid procrastination and disorganization because that is what most of your peers will be doing. College life will be stressful if you will not manage time properly. Use a planner to stay up-to-date. Know exam and due dates for your tasks. You will also suffer if you do not make use of your finances. The common mistakes regarding finances include:
Misuse of credit cards
Lack of budgets
Missing financial aid deadlines
No emergency food
You can avoid all these when you are organized. We have presented many areas where students get it wrong while in the first semester. Some rectify as they progress, and others miss it to the end. It is good to experience some things but do not take chances with these common mistakes because the consequences are not good. Avoid personal mistakes such as having too many distractions. Learners are distracted because they do not prioritize their time. If you plan well, nothing will distract you. Also, get enough sleep. There is time for everything. Ensure you schedule enough time to sleep. It helps you to rejuvenate and start another day's activities when you are fresh. In everything you do, do not forget to have a support system. Things sometimes do not go as you have planned. You will also have problems that need help. Taking the journey alone will be tiresome, and you will likely faint. It is the reason why you need a support system. These are people who believe in you and have your back no matter what happens. With such individuals, you can be sure to overcome every hurdle.