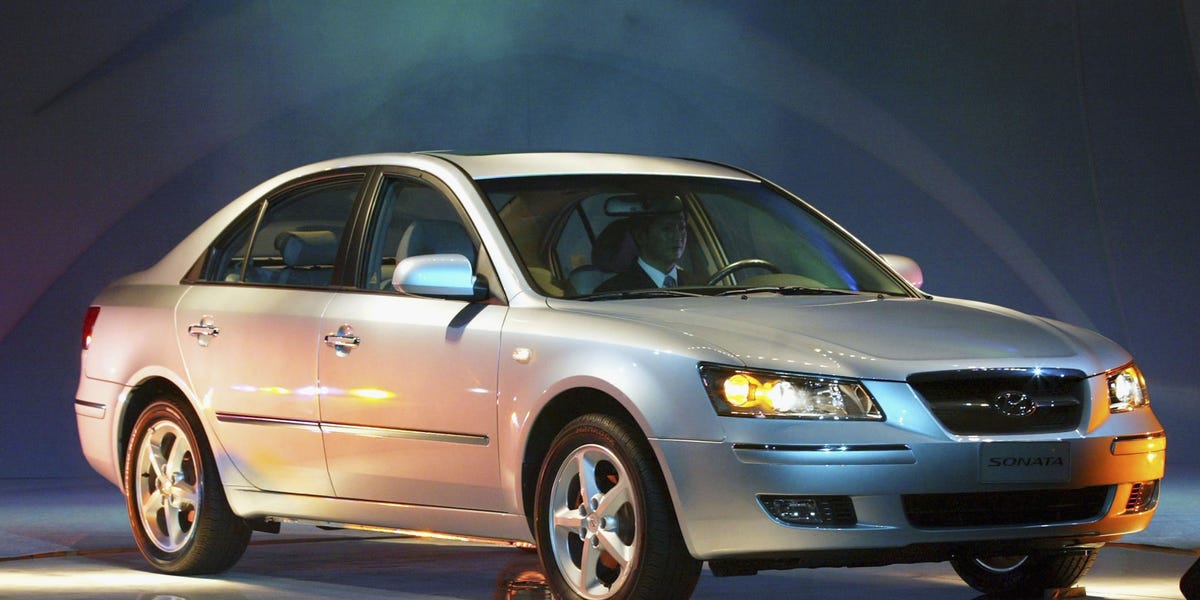 Chung Sung-JunGetty Images
One of the easiest ways to protect the interior of your Hyundai is with floor mats. Whether you live in an area with inclement weather or you have young children, protecting your floors can help you maintain the resale value of your vehicle. The right floor mats can also help you keep your vehicle fresh and clean, making your daily commute more enjoyable.
What Are Hyundai Floor Mats?
Hyundai floor mats are custom-made floor coverings that protect your vehicle's carpet. They are usually designed to prevent spills and debris from touching your carpeting. Hyundai floor mats are a good addition to your vehicle for the following reasons.
Reduce costly clean-ups: Some spills can be costly to clean. With durable floor mats, you can skip some of these expensive detail bills.
Increase the value of your vehicle: Whenever you're ready to sell or trade in your vehicle, you'll want to get as much as possible for it. Good floor mats can help you get a better value.
Drive your vehicle year-round: With good floor mats, you no longer have to worry about bad weather preventing you from driving your favorite vehicle when it's raining or snowing.
Keep your shoes protected: Good floor mats protect not only your carpets but also your feet. With design elements that direct liquids away from your feet, floor mats can keep your shoes clean, too.
Hyundai floor mats are usually an affordable solution to protecting your carpet and maintaining the value of your vehicle.
Types of Hyundai Floor Mats
Here are a few types of Hyundai floor mats to consider:
High-Performance Floor Mats
High-performance floor mats, or heavy-duty floor mats, are thicker than traditional floor mats. They are made with a larger piece of rubber to prevent spills from leaking through them. They are a good option for frequent travelers or those who spend a lot of time outdoors. The materials won't crack or break, and the mat itself won't skid or slide. These mats are available for both the front and back seats in your Hyundai.
Laser-Fit Floor Mats
These laser-fit floor mats by WeatherTech give you a perfect fit because a laser machine cuts the specific dimensions of your Hyundai vehicle. These mats are also all-weather, meaning they are built to withstand the harshest of climates. They also feature a rear over the hump system that perfectly fits your backseat. The exact fit makes it easy to remove, clean, and replace these mats.
All-Weather Floor Mats
All-weather floor mats are similar to high-performance floor mats but are designed for different types of weather conditions. While some all-weather floor mats are designed specifically for Hyundai vehicles, others need to be cut to size before being installed. These mats have a rubber nib on the bottom of each mat, which prevents them from moving.
OEM Floor Mats
OEM floor mats refer to the original equipment manufacturer. They are replacement floor mats for your Hyundai model and year. They may resemble the same floor mats you're replacing, including the Hyundai logo. They may be made with a black plastic material that can protect the carpet underneath from some spills.
How To Choose Hyundai Floor Mats
When choosing the right Hyundai floor mats, you want to keep fit and material in mind. You can have floor mats customized to fit your vehicle, or you can measure and cut them yourself. There's also a variety of materials available. Carpet floor mats usually come with your vehicle, but many people choose to upgrade them to a higher-strength, more durable material for better protection. Additionally, with leather, rubber, or plastic materials, you can easily clean up spills without further stains.
You can also choose Hyundai floor mats in a variety of colors. Traditional colors include black, brown, beige, and blue. However, you may find less traditional colors available, such as burgundy or charcoal blue.
The type of floor mats you choose will depend on your vehicle and your driving habits. Drivers who have more adventurous needs may find better results with heavy-duty all-weather mats. Choosing Hyundai floor mats based on your driving habits ensures that you install the level of protection needed.
How To Replace/Install Hyundai Floor Mats
Disclaimer: The guidelines in this story are general and not meant to replace instructions for your specific vehicle. Please consult your owner's manual or repair guide before attempting repairs.
Installing Hyundai floor mats can be easy, as long as you choose the right mats. You can install your Hyundai floor mats with the following steps:
Remove your existing floor mats. The first thing you will need to do is to remove your existing floor mats. Be careful, when removing them, not to spill any collected debris on the carpets.
Carefully clean the carpeting. You'll want to thoroughly clean the carpeting underneath the previous mats before installing new ones. This can help prevent stains.
Unfold the mats and measure. Depending on the type of floor mats you buy, you may need to measure and cut them. If you don't, however, you'll still want to determine where each mat goes.
Place the mats in their locations. Places the mats in the correct areas. Be sure the placement is not interfering with the gas or brake pedals.
Install grommets. Some floor mats have a grommet that secures them to the floor. If your floor mats or vehicle doesn't have this grommet, you can skip this step.
Test the floor mats. You want to make sure that the floor mats are secure and that they don't affect the pedals. Manually test them before driving the vehicle.
The good thing about many after-market floor mats is that they tend to last for a long time.
This means that instead of replacing them every time you need to clean them, you can simply remove them, clean them, and reinstall them.
Where To Buy Hyundai Floor Mats
This content is created and maintained by a third party, and imported onto this page to help users provide their email addresses. You may be able to find more information about this and similar content at piano.io
Source link