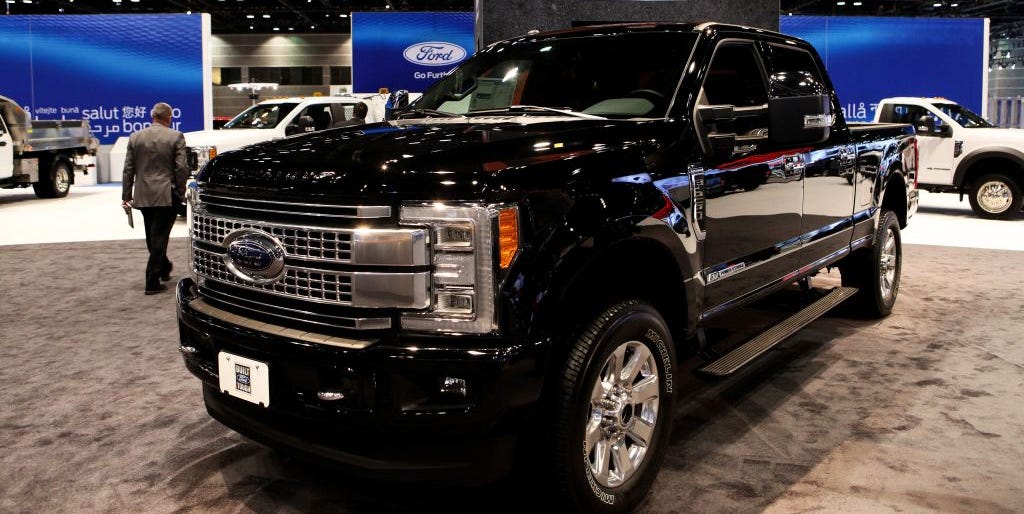 A gooseneck hitch gives pickup trucks the additional capacity needed to tow extra-large loads. You may want to consider outfitting your Ford F-250 with this equipment if you frequently tow travel trailers, horse trailers, or similarly sized vehicles. We've analyzed reviews from industry sources like Test 10 Best, Pro Car Reviews, and Outdoor Chief along with ratings from real buyers like you to provide the top F-250 gooseneck hitch selections.
What Is a Ford F-250 Gooseneck Hitch?
A gooseneck hitch is a heavy-duty trailer hitch for trucks that can accommodate large loads. The gooseneck is categorized as a Class V hitch, which means it can carry a trailer that weighs at least 12,000 pounds or distribute a load weight of at least 17,000 pounds. Some hitches can tow trailers that weigh up to 30,000 pounds, making the gooseneck appropriate for almost any use.
Benefits of adding a gooseneck trailer hitch to your Ford F-250 include:
Increased towing and hauling capabilities. Gooseneck trailer hitches are perfect for heavy equipment and livestock, as well as travel.
Versatility. You can choose a hitch that doubles as a fifth-wheel hitch or choose a flip-down model that provides full access to the pickup's bed when needed.
Types of Ford F-250 Gooseneck Hitches
F-250 drivers can choose from either above-bed or under-bed gooseneck hitches. The above-bed version attaches to the fifth-wheel rails on your F-250. This choice makes sense if you often switch hitches and need easy access. The most common type of gooseneck hitch, however, is the under-bed hitch. As the name suggests, these hitches attach beneath the bed of your truck.
You can also select either an OEM hitch, which comes directly from Ford, or an aftermarket hitch designed specifically for your F-250. In the latter category, we recommend the CURT 60700 Factory Original Equipment Style Gooseneck Hitch, an Amazon's Choice product. It has a capacity of 30,000 pounds and an industry-standard 2-5/16-Inch ball. This hitch installs seamlessly on your Ford F-250 for a sleek factory appearance. Fans of this product appreciate its easy installation and corrosion-resistant finish, not to mention the innovative flip and store hitch ball that stows when you don't need it and engages in an instant when you do. Universal hitches fit a range of different pickup truck models.
How To Choose a Ford F-250 Gooseneck Hitch
Keep these considerations in mind when selecting a gooseneck hitch for your Ford F-250:
Quality and durability. Your best bet is a heavy-duty hitch from a well-regarded brand with lots of positive user feedback. Look for materials designed to withstand moisture and corrosion.
Compatibility with your vehicle. Some gooseneck hitches attach to an existing fifth-wheel hitch, like the industry-leading CURT 16055 Bent Plate 5th Wheel to Gooseneck Adapter Hitch, Fits Industry-Standard Rails, 25,000 lbs, 2-5/16-Inch Ball. Made from powder-coated carbide steel, this hitch has nearly 1,000 five-star reviews on Amazon. It can tow up to 25,000 pounds and accommodate a vertical weight of 6,250 pounds. Benefits of this model include easy drop-in installation and an industry-standard fit, as well as the versatility to use a gooseneck hitch in the morning and tow a fifth-wheel in the afternoon.
Special features like a foldable hitch ball that stows away when not in use. The highly recommended CURT 60683 Double Lock EZr Gooseneck Hitch boasts this cool stow-and-go feature, not to mention the ability to tow up to 30,000 pounds. Made from powder-coated corrosion-resistant steel, this hitch is compatible with standard gooseneck hitches. It offers easy installation with the security of a double-locking pin.
How To Replace/Install a Ford F-250 Gooseneck Hitch
Disclaimer: The guidelines in this story are general and not meant to replace instructions for your specific vehicle. Please consult your owner's manual or repair guide before attempting repairs.
While the installation method for the specific gooseneck hitch depends on your vehicle's owner's manual, these basic instructions can help you understand the general process.
Access the Underside of the Truck Bed
Take off your F-250's spare tire so you can reach the underside of the bed. If you need more room, you may need to remove the wheel well liners, heat shield, or other components of the truck's trim. Follow the instructions that came with the hitch for more guidance.
Create an Opening for the Hitch
Place the ball hole just above the pickup's rear axle precisely between the wheel wells. When you've measured the correct size opening, check your measurements and use your drill to make a pilot hole. Then, use the correct hole saw to drill the full-size hole. Touch-up paint around the edges of the opening can help ward off corrosion.
Place Brackets
Go through the rear wheel well to install the rear cross-arm bracket, carefully avoiding wires and brake lines. When the bracket is centered in place, rotate it with a wrench to put it in the proper position for your specific hitch. Follow the same process to install the front bracket.
Place the Center Section of the Gooseneck Hitch
You may need help or special tools to lift this section of your hitch into place since it could weigh at least 50 pounds. Once you have it in the correct position, secure it with the included hardware. Bolt the side plate brackets into the insides of the wheel wells, then attach those to the hitch plate as well.
Prepare To Tow
Check the manufacturer's instructions for torque adjustment and set all hardware to the provided values. Drill holes into the bed of your F-250 for the safety chain anchors. After attaching the safety chains, install the handle to operate the hitch using the locking pin mechanism and the appropriate fasteners.
For a drill-free installation, try the B & W Hitches GNRM1016 Rail Kit. This powder-coated alloy steel gooseneck hitch attaches to existing holes in the frame of your Ford F-250.
This content is created and maintained by a third party, and imported onto this page to help users provide their email addresses. You may be able to find more information about this and similar content at piano.io
Source link