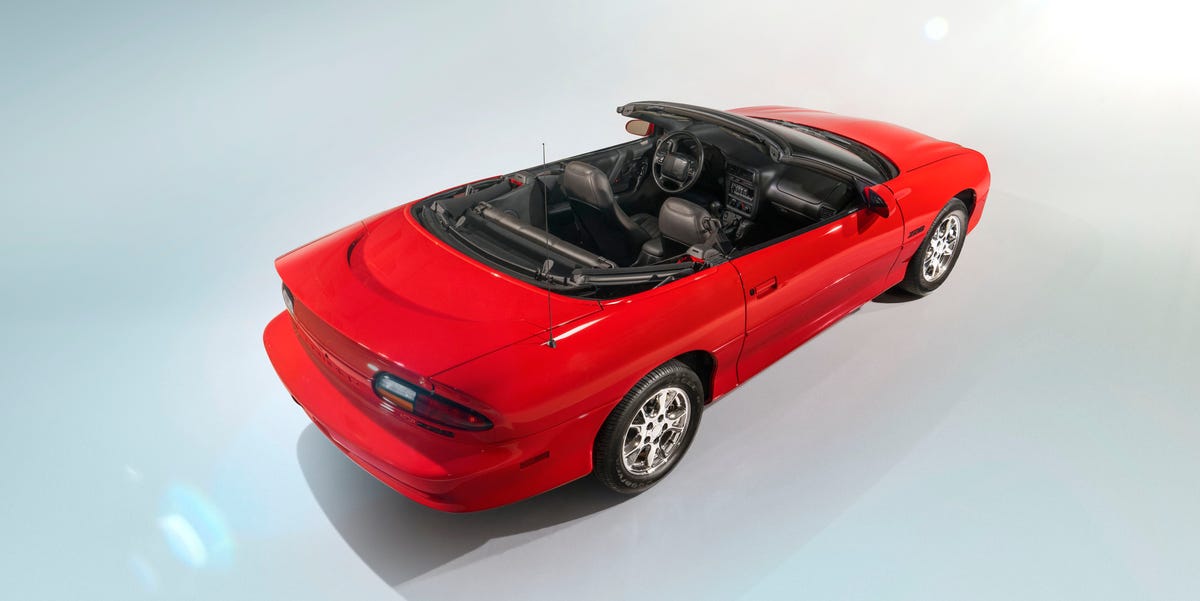 From the September 2021 issue of Car and Driver.
For 10 years, the fourth-generation Chevrolet Camaro dominated Mustangs on the street and the strip as it bridged the gap between GM's legacy-small-block era and its LS-powered future. The last Camaro to offer T-tops, the fourth gen paid tribute to the windblown, big-hair '80s while its sleek and stylized body looked forward to the wind-tunnel-optimized days ahead. As '90s cars become collectible, this Camaro's aero emphasis and V-8 options make it both a fun driver and a worthy investment that (we think) hasn't quite reached its potential.
Muscle-car fans in search of a good deal should focus on the initial Z28 with the 275-hp LT1 or the SS model with the 305-hp V-8 that came out three years later. For those with a bigger budget, the 1998–2002 Camaros borrow the Corvette's aluminum-block 5.7-liter LS1, rated at up to 325 horsepower. All V-8 cars could be had with either a six-speed manual or a four-speed automatic. A six-speed plus some suspension upgrades and a set of sticky tires will net you a canyon carver that can hang with sports cars while leaving you enough money for the nostalgic purchase of a Warrant cassette.
Value
Spend a little more for a low-mileage car. Values for Camaros in excellent condition range from $12,000 for a first-year Z28 to $24,000 for a last-year LS1-powered SS, with special-edition cars commanding higher prices. If you're picking cherries, 1997's 330-hp SS LT4 30th Anniversary cars are among the rarest; those in great condition nudge up against $40,000. Don't be afraid of a well-kept modified car losing its value, as this era's Camaro hasn't reached the "keep it stock" stage of collecting. The later LS cars can deliver a significant boost in output with camshaft, cylinder-head, intake, and exhaust upgrades. So get out there and hot-rod your Camaro as nature intended.
Problem Areas
The interiors, especially on the T-top and convertible cars, hold up with typical '90s-plastic durability, which is to say not so well. Watch out for delamination on the doors and exterior roof caps too.
This content is created and maintained by a third party, and imported onto this page to help users provide their email addresses. You may be able to find more information about this and similar content at piano.io
Source link