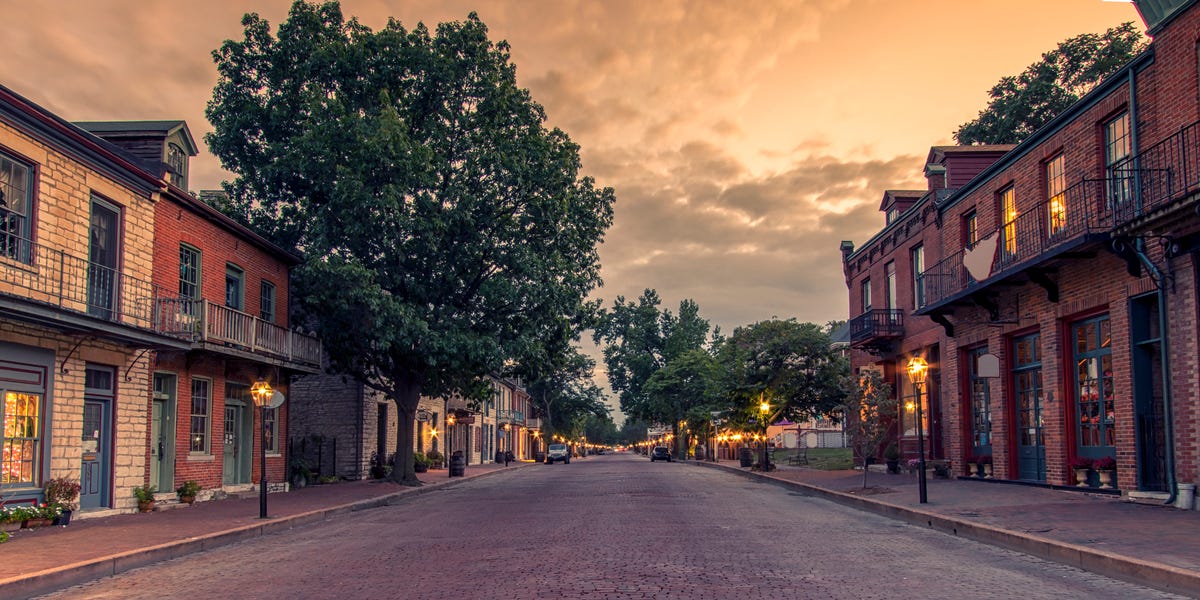 Clicked by Avik ChakrabortyGetty Images
According to auto insurance website The Zebra, drivers who live in Springfield, Missouri, pay approximately $1667 on average for annual vehicle coverage. That estimate falls above the national average cost of $1548 per year but below the overall state average of $1736 per year. If you're looking for the cheapest car insurance in Springfield, Missouri, review the factors that affect your auto insurance quotes, such as driving history, credit profile, and age.
Cheapest Auto Insurance in Springfield by Company
The Zebra recommends comparing auto insurance quotes to save money on your coverage. The website reports that State Farm has the lowest rates for most Springfield drivers. These are the average premium prices by company:
American Family: $1612
Farmers Insurance: $1717
GEICO: $1549
Progressive: $1599
State Farm: $1163
Insurify gathered insurance quotes based on a 30-year-old male driver with a 2012 Honda Accord and a clean motor vehicle history. This hypothetical driver living in Springfield received these quotes by company for minimum liability coverage with a $1000 deductible:
Allstate: $68 per month
Direct Auto: $76 per month
Progressive: $145 per month
Travelers Insurance: $133 per month
State Farm: $112 per month
According to WalletHub, Missouri drivers, including those who live in Springfield, can save money by choosing Travelers Insurance, Missouri Farm Bureau, or USAA (only for military members and their families) for car coverage. The website reports these quotes for monthly coverage:
Allstate: $76
Auto Owners: $73
Esurance: $70
Cameron Mutual: $70
GEICO: $81
Nationwide: $84
State Farm: $61
Missouri Farm Bureau: $42
Travelers Insurance: $52
USAA: $42
Auto Insurance Cost by Age in Springfield
Drivers in their 50s pay the lowest average auto insurance rates in Springfield, about $1383 for annual coverage, followed by 60-something drivers who pay $1402 per year on average.
You'll pay the most for coverage in Springfield if you fall into the 16- to 19-year-old age bracket. When you turn 20, your rates will drop by an average of $4143, based on data from The Zebra. The website reports the average premium cost by age for Springfield motorists:
$6401 for teens
$2258 for drivers in their 20s
$1615 for drivers in their 30s
$1497 for drivers in their 40s
$1383 for drivers in their 50s
$1402 for drivers in their 60s
$1708 for drivers in their 70s
Impact of Driving History on Auto Insurance in Springfield
Having a clean driving record improves your chances of finding cheap car insurance in Springfield. Insurify reports that premiums increase by an average of $382 after a speeding ticket, $616 after an arrest for driving under the influence, and $620 after a reckless driving charge.
These are the average annual car insurance prices for Springfield drivers after common driving incidents:
$2048 for traveling 16 to 20 miles per hour over the posted limit
$2276 for an at-fault accident claim of less than $1000
$2283 for a DUI charge
$2287 for a reckless driving ticket
$2504 for an at-fault accident with damages exceeding $1000
Impact of Credit Score on Auto Insurance in Springfield
Drivers who have excellent credit can get much cheaper auto insurance than drivers who have poor credit. The Zebra reports that even increasing your credit score above the Very Poor category of 300 to 579 can lower your coverage rages by up to $1691 per year. On average, Springfield drivers pay these average rates by credit tier:
Excellent: $1255
Very Good: $1457
Good: $1667
Fair: $2052
Very Poor: $3743
Impact of Marital Status and Gender on Auto Insurance in Springfield
The Zebra reports that single drivers pay about $155 more than married drivers in Springfield do for auto insurance coverage. Statistically, single people file auto insurance claims more frequently than married people. Widowed drivers also pay less for car insurance than single people.
Gender influences insurance costs in Springfield, as well. Resident male drivers pay about $16 less annually than female drivers.
Best Insurance Companies in Springfield
Insurify created a composite score to rate insurance companies based on financial strength, reliability, and quality service. The site compiled customer surveys and data from sources such as Consumer Reports, J.D. Power and Associates, Fitch, Moody's, Standard & Poors, and AM Best. Springfield insurance companies received these Insurify composite score ratings:
Travelers Insurance: 80, $126 per month for average coverage
Liberty Mutual: 82, $189 per month for average coverage
Safeco: 86, $170 per month for average coverage
American Family: 89, $218 per month for average coverage
Understanding Springfield Auto Insurance
Springfield drivers must adhere to the state's minimum liability coverage for auto insurance. Missouri requires motorists to carry at least $25,000 per person and $50,000 per accident to cover bodily injury liability. This policy pays the medical expenses of injured individuals if you cause an auto accident. Your insurance company will denote this type of coverage as a 25/50 policy.
Drivers also have to carry at least $10,000 in property damage liability coverage, which pays the cost of repairing or replacing a vehicle or other damaged property after an auto accident. This policy will also pay your legal costs if another driver sues you after an accident.
Springfield drivers must purchase uninsured and underinsured motorist coverage, which pays for your medical expenses if you get into an accident with a driver who does not have insurance or has only limited coverage. Missouri requires $25,000 per person and $50,000 per accident in bodily injury uninsured motorist coverage.
Understanding the characteristics that increase your auto insurance rates can help you find the cheapest car insurance in Springfield. Shopping around is the best way to save, because every insurer has its own pricing model that weighs driver risk based on annual average mileage, vehicle make and model, credit history, gender, age, and marital status.
Check this out if you need additional information, resources, or guidance on car insurance.
Sources:
Springfield, MO Car Insurance | thezebra.com
Cheap Auto Insurance Quotes in Springfield, MO (2021) | insurify.com
2012 Honda Accord | caranddriver.com
Best Cheap Car Insurance in Missouri | wallethub.com
Car Insurance | caranddriver.com
This content is created and maintained by a third party, and imported onto this page to help users provide their email addresses. You may be able to find more information about this and similar content at piano.io
Source link