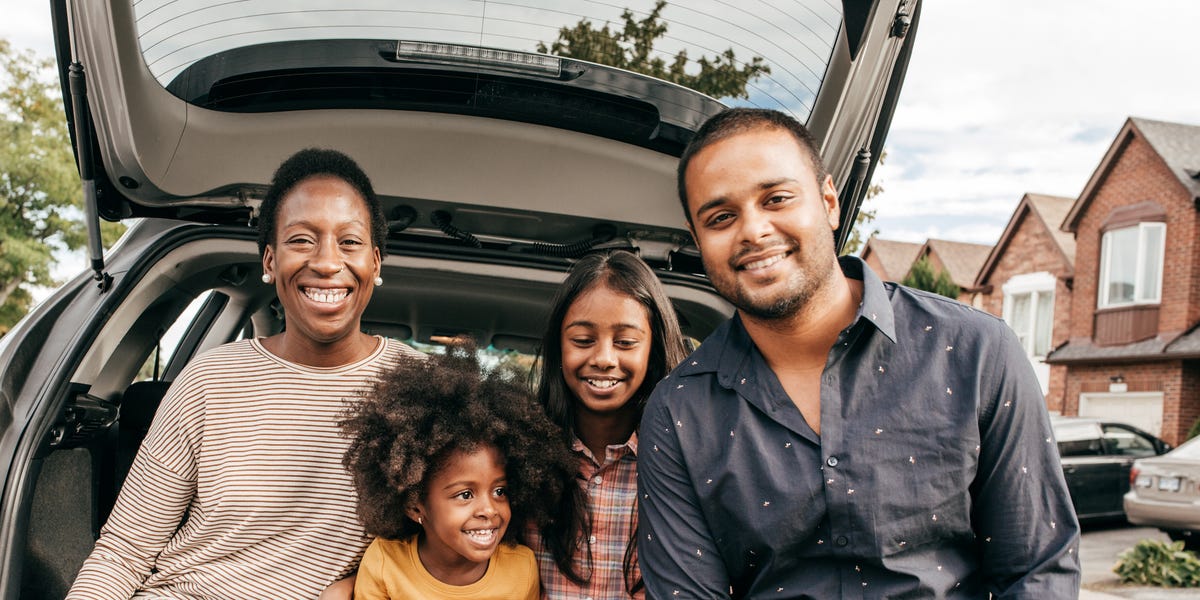 Weekend Images Inc.Getty Images
If you're in the market for newer car cheaper insurance, you may need to shop around. Newer cars can be more expensive to insure because they are more expensive to replace. By comparing quotes among providers, you can find the right level of coverage for your new vehicle at a price that fits in your budget.
What Is Newer Car Cheaper Insurance?
Finding insurance for a new car is not always easy, but comparing rates among providers and knowing what factors go into the insurance rates, can help you find cheaper insurance, even for a newer car.
It's impossible to list one insurance company as the cheapest because insurance prices depend on many factors, including:
Driving history
Make and model of your vehicle
Level of coverage
The specific insurance company
Newer car cheaper insurance will also vary, depending on the features equipped in the vehicle. It is always a good idea to compare quotes among different vehicles before choosing to buy.
Types of Coverage Needed for a New Car
One of the biggest differences between insuring a new or used car is the level of coverage you need. If you have a loan, you may be required to carry full coverage insurance. Even if you don't have a loan, you may want to consider full coverage to ensure the full value of your vehicle is covered if you are in an accident. For a new car, consider the following types of coverage and add-ons:
Comprehensive coverage covers damages to your vehicle that are not accident-related. This could include weather-related damage or theft.
Collision coverage covers damages to your vehicle if you're in an accident and is often included in comprehensive coverage plans.
Gap insurance covers the difference between your payout from the insurance company and the total amount left on your loan. Lease payoff may be available for newer cars that are a lease.
Personal injury covers injured drivers and passengers, including yours, in an accident.
Property damage covers property damaged in an accident.
New car replacement coverage covers the cost to replace your vehicle if it is totaled in an accident. Insurance companies usually have specific requirements on who qualifies for this, but if it is available, it is a good add-on for new cars that ensures you'll be able to replace it as closely as possible.
Once your auto loan is paid off, you can usually determine the level of coverage you need for yourself. Most states have a minimum level required to drive legally, so be sure to check local laws when reducing your coverage. According to The Zebra, if your vehicle is worth more than $4,000, then you may want to consider keeping full coverage.
Who Has the Cheapest New Car Insurance?
When buying a new car, you may have a lot of insurance options. The dealership may even offer you a few choices while you're buying the car. It may seem convenient to go with the dealership, but they don't usually offer the best rates or coverage. You will find better rates for the coverage you need by comparing quotes yourself. The Zebra reports the following insurance providers to be affordable for new vehicles based on their average 6-month policy prices, based on basic insurance:
Nationwide: $668

GEICO: $698
Liberty Mutual: $912
Farmers: $933
Progressive: $935
Allstate: $1,213
USAA may also be an affordable option for active military members and their families. The actual insurance rates will also vary depending on other factors, like the make and model of the vehicle and the individual's driving record.
Factors That Affect Insurance Rates
Regardless of who you choose as your insurance provider, you can usually expect higher rates for a new car than a used one. However, new cars are more likely to come with upgraded safety and anti-theft features, which can decrease rates. A car's risk of being stolen, which is based on the make and model, also affects insurance rates. The National Insurance Crime Bureau releases a report annually that lists the top 10 vehicles most frequently stolen. Following this list can help you choose a newer vehicle with a lower theft rate.
Your location will also make a difference in your insurance rates. If you live in a busy city with a lot of traffic and higher crime rates, you can usually expect higher insurance rates. You may be able to offset this by equipping anti-theft devices in your vehicle or storing it in a secure location, like a garage.
Car insurance rates are also heavily influenced by other factors that have nothing to do with the age of the vehicle such as the driver's age or credit score.
New Cars that are the Cheapest to Insure
The type of vehicle that you drive will also make a difference to your insurance rates. According to NerdWallet, some cars have cheaper rates, on average. These include:
Subaru Forester
Ford Escape
Ford F-150
Jeep Cherokee
Toyota Tacoma
Toyota RAV4
These vehicles are likely to be cheaper to insure because they have good safety equipment and ratings. But, the specific features and year of the vehicle will affect exact rates.
When to Get Car Insurance for a New Car
If you already have auto insurance on another vehicle, you can usually transfer it to your new one. Most dealerships require that you show proof of insurance before even driving the vehicle off the lot. If you don't currently have insurance, then you will need to buy a policy before taking your car home. Give yourself enough time to compare quotes and find the best policy for you.
One of the things you will need to do when buying a new car is to buy an insurance policy. You can find the cheapest rates for a new car by shopping around and comparing different prices.
Check this out if you need additional information, resources, or guidance on car insurance.
Sources:
https://www.thezebra.com/auto-insurance/vehicles/new-vs-used-car-insurance-comparison/
https://www.nerdwallet.com/blog/insurance/cars-cheapest-auto-insurance-rates/
https://www.caranddriver.com/car-insurance/a35865225/cost-for-comprehensive-car-insurance/
https://www.caranddriver.com/car-insurance/a35864568/bumper-to-bumper-insurance/
https://www.caranddriver.com/subaru/outback
https://www.caranddriver.com/news/a35451792/jeep-wrangler-ev-concept-teaser/
https://www.caranddriver.com/reviews/a35639550/2021-honda-crv-hybrid-touring-reliability-maintenance/
https://www.caranddriver.com/chevrolet/equinox
https://www.nicb.org/HotWheels2019
https://www.caranddriver.com/car-insurance/a35727047/basic-car-insurance/
This content is created and maintained by a third party, and imported onto this page to help users provide their email addresses. You may be able to find more information about this and similar content at piano.io
Source link