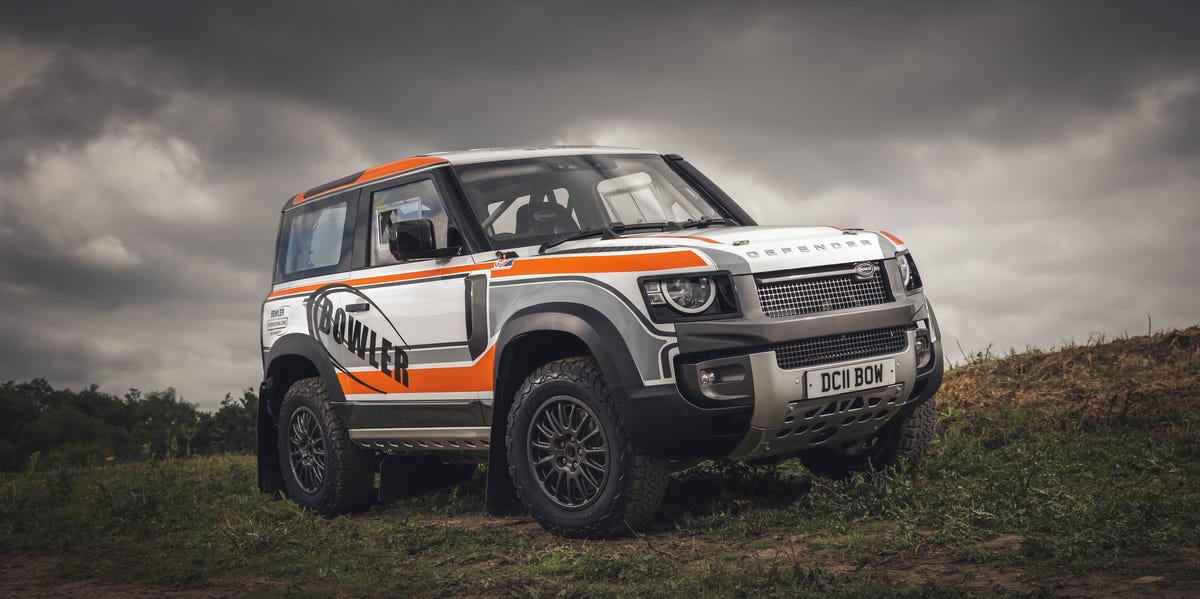 The Bowler Challenge is a rally-prepared Defender, and up to 12 identical cars will be competing in a six-round championship in the U.K. next year.
1 of 55
Power comes from the same 2.0-liter turbocharged four-cylinder engine as the basic P300 Defender and is delivered through the street version's eight-speed automatic transmission and open differentials. It also uses standard brakes.
2 of 55
The big changes are structural, with a welded-in roll cage plus fire extinguisher and battery-isolation systems.
3 of 55
Bowler has added a single paddle shifter. Push it to downshift, pull to upshift.
4 of 55
Rally cars crash, and the Bowler Challenge has been designed to be easily repairable with a single-piece fiberglass front bumper and 2.8 inches trimmed from the base of the doors
5 of 55
he suspension uses taller and stiffer springs and remote-reservoir dampers from Fox Racing.
6 of 55
Bowler has been creating race-prepared versions of Land Rover products since 1985, and the company is now part of JLR's Special Vehicle Operations division.
7 of 55
U.K. pricing makes the Bowler version almost exactly the same price as the new Defender V8, and that figure includes entry into a six-round championship series next year.
8 of 55
Bowler is hoping to create Challenge championships in other countries, with the U.S. at the top of the list.
9 of 55
Land Rover Bowler Defender Challenge
10 of 55
Land Rover Bowler Defender Challenge
11 of 55
Land Rover Bowler Defender Challenge
12 of 55
Land Rover Bowler Defender Challenge
13 of 55
Land Rover Bowler Defender Challenge
14 of 55
Land Rover Bowler Defender Challenge
15 of 55
Land Rover Bowler Defender Challenge
16 of 55
Land Rover Bowler Defender Challenge
17 of 55
Land Rover Bowler Defender Challenge
18 of 55
Land Rover Bowler Defender Challenge
19 of 55
Land Rover Bowler Defender Challenge
20 of 55
Land Rover Bowler Defender Challenge
21 of 55
Land Rover Bowler Defender Challenge
22 of 55
Land Rover Bowler Defender Challenge
23 of 55
Land Rover Bowler Defender Challenge
24 of 55
Land Rover Bowler Defender Challenge
25 of 55
Land Rover Bowler Defender Challenge
26 of 55
Land Rover Bowler Defender Challenge
27 of 55
Land Rover Bowler Defender Challenge
28 of 55
Land Rover Bowler Defender Challenge
29 of 55
Land Rover Bowler Defender Challenge
30 of 55
Land Rover Bowler Defender Challenge
Advertisement – Continue Reading Below
This content is created and maintained by a third party, and imported onto this page to help users provide their email addresses. You may be able to find more information about this and similar content at piano.io
Source link